10-word review
Looks promising in the trailer; not fantastic in the movie.
The skinny
The titular Anna (played by Sasha Luss) is a KGB agent. Roped in by Alex (Luke Evans) and managed by Olga (Helen Mirren), Anna's deepening ennui with the spy life forces her to find a way out of the organisation or die trying.
---
Here be spoilers…
---
What we like
I like my strong female protagonists. From Kill Bill to Mad Max: Fury Road, a woman can maim, kill, and carry a movie just as easily a man can. Given the current movie landscape and #metoo movement, it is also gratifying to see a woman rise up on her own merit in a typical male-oriented world. Anna is the latest addition to this genre.
Sasha Luss, who first appeared as an alien princess in Luc Besson's Valerian and the City of a Thousand Planets, now plays the titular assassin in Anna. As a KGB agent, Anna's cover is as a supermodel, travelling to far-flung places for photoshoots, while killing her targets during her off-hours. Luss' portrayal as a model is convincing because—surprise, surprise—she is a model in real life.
But there is something about Luss' profile: from her dead-eye look during a loveless intercourse with her boyfriend to her face of worry after she made a deal with the CIA. Luss is able to display a respectable range with her character and looks good doing it.
There is also Anna's interaction with her handler, Olga played by Helen Mirren. The banter is entertaining; you can clearly see Anna's impertinence and Olga's warming up to said sass.
What we didn't like
Putting aside Besson's recent alleged impropriety with women, there's plenty about Anna to be disappointed with.
The film takes place in many locations, many countries but the spoken language isn't consistent. In the beginning, you have Anna conversing with her junkie boyfriend in Russian. But later in the KGB, everybody speaks in Russian-accented English? Even the readout on their computers is in English. What happened? Did Russia lose to some war with England that I wasn't aware of? The faffing about with the language diminishes the world of Anna.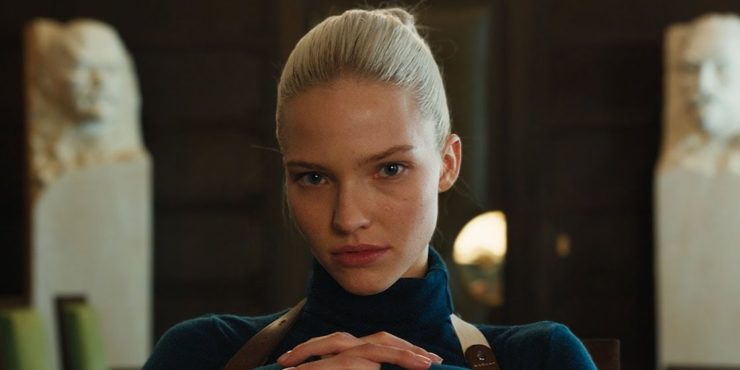 I'm sure Luss has undergone Systema training or gone through firearm lessons but some of her fight scenes didn't look authentic. Even the person next to me remarked, "there's no way she can choke out that guy. There's no definition on her arms!" Charlize Theron from Atomic Blonde makes you believe that she's taking the blows as she delivers them; Besson should take a page from that.
Anna deals in twists. Every time a scenario goes one way, the movie rewinds to show you the other side of the story. It's fine once but after the third time, it feels like it's trying to be clever than it already is. In fact, for a spy film, its spycraft is left wanting. Never mind the crazy-ass plot, some of the plans that the CIA and KGB concoct do not make a lick of sense.
There is a plot where Anna has to assassinate someone but instead of being stealthy about it, she just straight-up put a bullet in his head. In a building that's populated with KGB agents.
Or when Anna calls for a meeting with the CIA and KGB and as collateral in exchange for her freedom, she returns the stolen intel to each of the organisation. AND THEY JUST ALLOWED HER TO WALK AWAY?
In the movie, not only is Anna a trained killer, but she is also a chess prodigy. This fact is pointed out ever so often that the idea of 'thinking several steps ahead of your opponent' will pay off in the movie. But when the reveal comes, it's not as strong as it could be. The denouement doesn't live up to the hype. It's as though instead of regular chess, Anna is playing a different sort of chess; it's a chess that I'd like to call 'stupid chess' and it uses pieces found in between the cushions of the couch while using an irregular cutout of a shag carpet as the board. Stupid chess: the rules don't make any sense but it works out in the end.
It's a shame. The movie is filled with a formidable cast and Luss shows promise as an actor but Anna isn't doing them any favours with a lacklustre story and paper-thin character development.
What to look out for
The countdown on your watch as you have to slog through this two-hour movie.
Anna is out now.