10-word review
A protagonist you'll hate and root for all at once.
The skinny
---
Here be spoilers…
---
What we like
The comparison is bound to come up so we might as well get it over with: we're getting major Gone Girl vibes with Rosamund Pike's characterisation of Marla Grayson.
But that's an initial observance. Although Amy Dunne (from Gone Girl) and Grayson have that common manipulative streak, that's where the similarity lies. In fact, Grayson feels more fleshed-out and compelling of a figure than Dunne. Whereas Dunne uses her sexuality to achieve her goals, Grayson is ambitious without resorting to her feminine whiles.
I Care a Lot makes no bones about who the villain is (hint: that person rhymes with 'barla blayson'). Guardianship in America is not a perfect system. It can be exploited and Grayson shows how easily she can use the court system against the elderly. Yes, she's pursuing her American Dream but it is at the expanse of other people. I find that whose who prey on the elderly are scumbags with a special corner in hell just waiting for them. So, immediately, I felt vitriol for her.
So, therein lies the problem: how do you have the audience still root for someone like that?
It is a magical thing to see how it unfolds. J Blakeson, director and writer of I Care a Lot, crafts a story that does the rare thing not often seen in films and literature: how to have sympathy for the devil.
After the court upholds the order that forbids Feldstrom (Macon Blair) from seeing his mother, who is the ward of Grayson, he confronts her and assails her with "bitch" and "I hope you get raped". He spits at her. The use of gender dynamics and suddenly, your affinity swings towards Grayson. Blakeson, then casts doubt onto your support by having Grayson become the guardian of a sweet and seemingly-harmless old lady, Jennifer Peterson (Dianne Wiest).
The women in I Care a Lot are strong and independent people. Even as Wiest displays a vulnerability in her powerlessness against the court's decision, there's a defiance in her scowl. Even when she's heavily medicated, there is a menace in her loopy smile. "I'm the worst mistake you'll ever make," she says to Grayson and you believe it, even Grayson starts to wonder if she has bitten off more than she can chew.
But those fears give way to ambition. Grayson, whose ice-queen demeanour and constant vape-puffing posturing, this appearance is not only essential to her survival, it is also the product of her upbringing. There are moments where it would make sense if Grayson would just give in, back away and fight another day but no, she forges ahead. It is not in her nature to shrink from danger. Instead, she uses her smarts and steely determination into getting what she wants.
Quite succinctly, she does not give a fuck. Even when she faces off with Roman (Peter Dinklage) a mobster who wants Grayson to relinquish guardianship of Peterson. Grayson contending with a really evil sonouvabitch now has us simpatico with her. I can't remember a film that has ping-ponged my affections for a character so shrewdly than I Care a Lot; we are either rooting for Grayson or just waiting for her to get her comeuppance.
What we didn't like
Throughout the film, we get the sense that Peter Dinklage's character is not someone to fuck with. It's an effective character-building tool when you see how others react to Roman. Every time, they have to deliver bad news to him, they are terrified.
But that can only suspend our disbelief for so long. After a while, we needed to see why Roman is a force to be reckoned with but it never really pays off.
Also, this show is rated R21, which meant that I Care a Lot is "strictly for adults aged 21 and above". But why is that, you ask? Is it because of the violence? Or drug use? Nah. It's because it has homosexual content. *gasp* Heavens to Murgatroyd! Same-sex love! PROTECT THE 20-AND-BELOW!
For a film that has gay people in it, do you know which group should have restrictions placed on from watching it?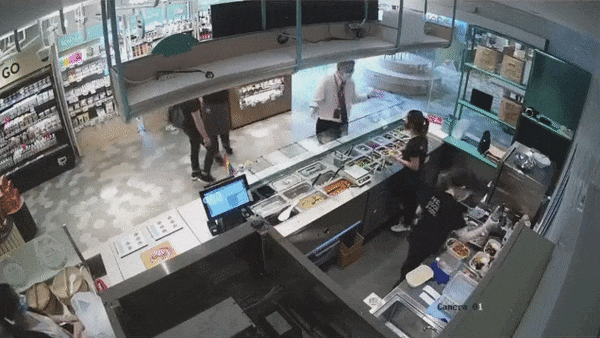 What to look out for
A quotable quote that's uttered by Oscar-winning and respected thespian, Dianne Wiest: "Then have at it, you little crock of cunt."
I Care a Lot is streaming on Netflix.