10-word review
Better than Joss Whedon's but not that great a movie.
The skinny
---
Here be spoilers…
---
What we like
It's a step up from Joss Whedon's tonally messy version (as to how Whedon's vision came to be, we provided a recap of it). For one, there's no CGIed Superman's upper lip and gone are the light-hearted Marvel-ness tone (it felt off when placed next to Zack Snyder's Man of Steel and Batman v Superman: Dawn of Justice).
Many of the plot points are fleshed out to provide more context to the film. In fact, Snyder's Justice League used all his footage that was excised from Whedon's version and then filmed more scenes (the budget has ballooned to USD70 million by then) to give us a four-hour movie (if that's too long, the film is broken up into six acts and an epilogue so you can stop after one and pick it up again at your convenience).
You have Cyborg's story that's now brought to the fore. He is a more active character with an arc that proves to be the film's beating heart as he wrestles with his new-found abilities and father issues. There are more characters added like Ryan Choi (played by Ryan Zheng Kai), who is the Atom from the comic books; Darkseid and his right-hand man, DeSaad (Peter Guinness) and Martian Manhunter (Harry Lennix).
Steppenwolf, the film's Big Bad, now has a believable motivation to assemble the Mother Boxes: winning favour with Darkseid, his master. For Steppenwolf, his path is one of redemption and it is an impetus that is enough to fuel his agency.
The CGI is better now. The quills on Steppenwolf's armour, moves and bristles; like its a living thing on its own. Cyborg's artificial bits are more articulated. And visually, Snyder is the best there is. He can deliver a fight scene that Michael Bay can take a few pointers on: a stunning display, without the mess, that you can follow through. And it's not a Zack Snyder's film if there isn't a gratuitous amount of slow-motion scenes… and that brings us to our next point.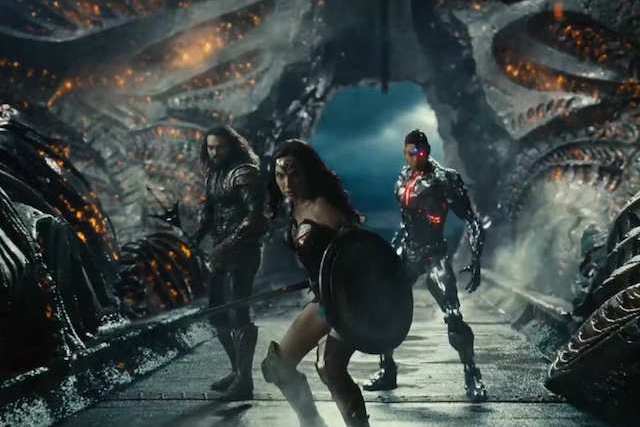 What we didn't like
I mean, I can understand the use of slow-motion when the Flash is running but it's utilised so liberally that I'm starting to think that's why this film is four-hours long. So more doesn't mean great. It could have been a four-episode series but here we are, a four-hour movie with extraneous scenes.
For example: there's a scene where the heroes climb the stairs.
I repeat: BATMAN, WONDER WOMAN, CYBORG AND THE FLASH WALKED UP THE STAIRWELL. It's not a scene showcasing how mundane the heroes can be ("They use the stairs, they are just like us!") and I don't think it's meant to be ironic or played for laughs. Maybe it's there to as a transition from one scene to another, which is weird because if a group of people enter the threshold of a building and it cuts to them on the rooftop, we can already infer that they took the stairs; we just don't need to see them actually taking it.
The logic leaps are also glaring. Here's an example: In their first battle with Steppenwolf at the abandoned facility under Gotham Harbour, the Flash is instructed to help the scientists escape. So, what does he do? He goes to scout ahead and helpfully telling them that the way ahead is safe.
BRO, WHY DON'T YOU CARRY EACH OF THEM OUT TO SAFETY? YOU'RE THE GODDAMN FLASH. THE WHOLE ORDEAL WILL BE COMPLETED IN A BLINK, EVEN WHEN WHEN SNYDER PUTS THAT SEQUENCE IN SLOW-MOTION.
Do you need another example? Sure, here's one more. Superman (Henry Cavill) goes to his Fortress of Solitude to pick up his super-costume and then we see him going to Batman's hideout to ask Alfred where the rest of the Justice League went.
BRO, YOU ARE THE GODDAMN SUPERMAN. YOU HAVE SUPER HEARING OR VISION. COULDN'T YOU FIND THEM DUKING IT OUT IN A NUCLEAR WASTELAND WITH STEPPENWOLF?
Also, remember the line, "we all live in a society…" uttered by the Joker (Jared Leto) in the trailer? Yeah. The Internet went apeshit over that, (#memefordays) except… the fan service only goes as far as the trailer. Aside from this subterfuge, the sequence with the Joker is just… cringey?
I could go on but I've The Falcon and the Winter Soldier to start on.
Look, someone wrote that Zack Snyder's Justice League "exists because of the troubles that plagued its production, not in spite of them." Snyder is a competent filmmaker and no one sets out to make a terrible film; they set out to make the best thing they can do in the circumstances.
So, this is what we have and we have to judge it with the knowledge of its troubled production. Zack Snyder's Justice League is still watchable and will appease any DC fan and the curious.
What to look out for
The ending. You get to see the Knightmare that Snyder intended that sets up the rest of his vision (if it comes to pass).
Zack Snyder's Justice League is now out on HBO Go Asia.