Generally speaking, when it comes to the four major men's fashion weeks, New York offers up red carpet looks (complete with celebrity-packed FROWs); Milan is sartorially inclined (dapper dudes aplenty); Paris carves it up with streetwear (laced with an insouciant je ne sais quoi); and London beats with a punk heart (a nihilistic rebuttal to generations of buttoned-up menswear). Which is why, given it's spirit of rebellion, London Fashion Week Men's is always an exciting affair—you never really know what to expect on the runway.
Here, we round up our 9 best things (categorised around our favourite shows) from LFWM for the fall 2019 season.
1. David Beckham introducing womenswear at Kent & Kurwen
Just to be clear, David Beckham doesn't design for Kent & Kurwen—Daniel Kearns does. Beckham isn't sketching looks alongside wife Victoria while kicking around the football with son Brooklyn. Got it. But, as a co-owner, he helps shape the future direction of the British brand. And for fall 2019, there was the surprise introduction of three womenswear looks (see exits 4, 11 and 29). It wasn't so much flowing dresses as it was coats, shirts and blazers that look just at home on a woman as they would on a skinny male model—that is, reimagined British classics made just for women that will (hopefully) stop her from stealing your clothes.
Look 4
Look 11
Look 29
2. Chalayan sending out male models with lipstick
A bold statement by designer Hussein Chalayan that the power of fashion lies in the make believe. Entitled 'pre-tension', his fall/winter 2019 offering contrasted riding and army outerwear (often in dark sombre hues) with fetish and pops of colour (besides the bold lippie, there were neon yellow camouflage prints) as a way to embrace and reclaim the liberating practice of pretending. In short, it's okay to be someone else. Fashion, after all, is meant to be transformative.
Look 4
Look 5
Look 6
Look 8
Look 18
3. The major Shark Boy vibes at Xander Zhou
There was also major Chewbacca vibes, dystopian human cyborg walking on stilts vibes, crazy surgeons wearing face masks and orthopedic footwear vibes, all-white twinning vibes, and colour-blocked Star Trek uniform vibes. What goes on in the head of Xander Zhou? It was an LSD trip with healthy doses of AI and galactic references. As always, a welcome jolt to the senses.
4. Hairy business at Kiko Kostadinov
"Who says monsters can't look smart?" asks Kostadinov in his show notes. And with that, paraded a runway full of male models with their faces covered with hair interlaced with bejewelled dreadlocks; faceless characters inspired by the hysteric glamour of Doris Day in the 1960 film, Midnight Lace. Showmanship aside, we're loving the inverse-butterfly bombers, bone-like darting on jackets with matching trousers, and that silver trench coat backed with black patent leather.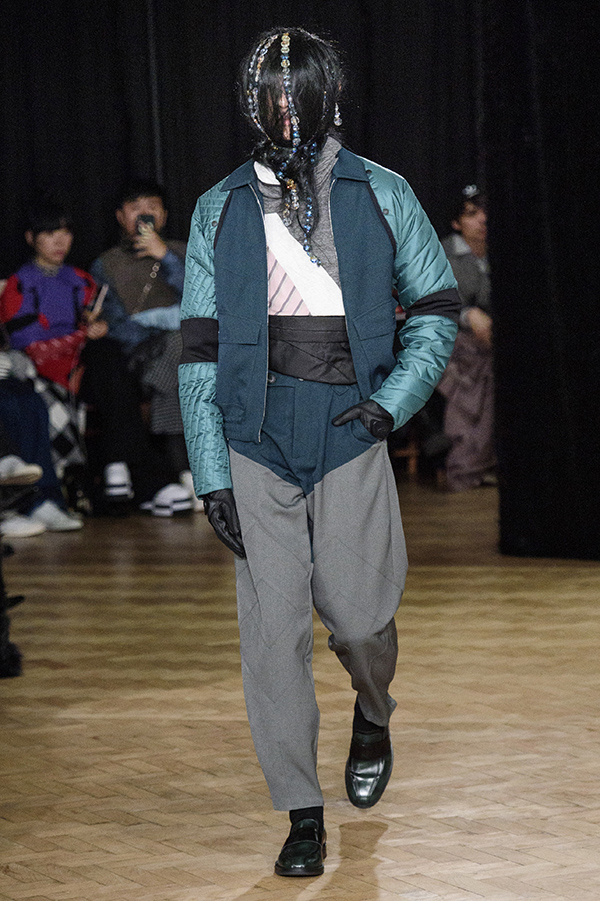 5. Christopher Raeburn reusing off-cuts from his collection
A long-time advocate for sustainable fashion, Raeburn has always crafted his pieces with the tenets of 'Remade, Reduced and Recycled' squarely in mind. And for his tenth anniversary show, he has even shredded the off-cuts from the collection to use as fill in his transparent puffer jackets and snoods. Say what? Talk about closing the fashion loop.
6. Craig Green showing us why 'plastic' isn't always a dirty word
But only when you can shock and awe with visceral monotone looks cast in crimson, flamingo, cobalt, mustard and cyan—all crafted from bunched, knitted and billowing plastic; somehow sewn into sweaters and trousers. At times monastic, with headgear loosely resembling a nun's cornette; but, at other times, very homebody—how about those tartan tunics?
7. Art for art sake at A-Cold-Wall
A runway flanked by two pools of water. Six performers—three in each pool, and each wearing gormless black robes and faces painted dark—writhing in the shallows. A barking Rottweiler sent out mid-show. Models sent out with transparent plastic shards harnessed to the body like sails. There was so much ambient storytelling that you'd be forgiven for missing the menswear. Hits included the opening look of a cut-out collarless blouson over padded white trousers; the bright orange suit in look 8 with a notch-shawl lapel hybrid; and that black-and-white grid paper print applied to a belted mac in look 12 with a matching briefcase.
8. Hu Bing opening for Oliver Spencer
If you haven't already realised: the future is Asian. Chinese actor Hu Bing kicked off proceedings for Oliver Spencer wearing a grey double-breasted coat over a speckled charcoal turtleneck; a reverent outfit befitting of the show's surrounds—the lecture hall at the Royal Academy of Arts in Piccadilly, Mayfair. But for something a little more 'look at me', then turn your attention to the closing green velvet suit worn by silver-haired model, and street style star, Richard Biedul.
9. Feng Chen Wang launching the padded hoodie-scarf
Sit up and take notice, this female Chinese designer is creating some seriously cool sh*t. Sure, she's dressed Rihanna, but we're more interested in the hoodie-scarf. Why? Why not. Stylistically, we're digging the pairing of a white turtleneck under hoodies, shirting and zip-up windbreakers, all tucked into trousers or track pants. And then there's that opening salmon pink suit with panelled patch pockets. Win.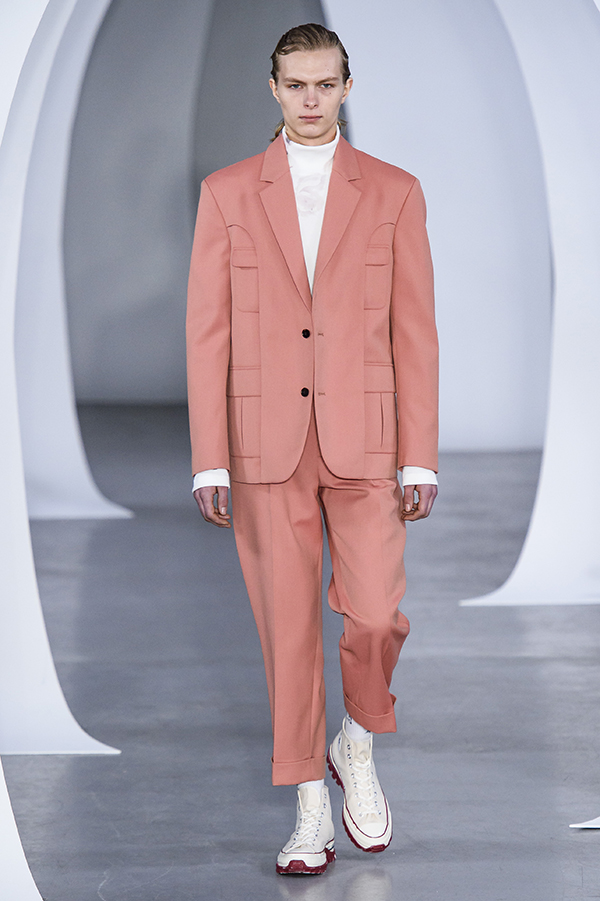 Related story:
First look at the Timberland x Raeburn FW19 capsule collection