There's something about talking with Paul Andrew—his proper English demeanour, the way he leans in to tell a story—that feels like he's sharing confidences.
"It comes more naturally," he says.
"More so than womenswear?" I ask.
"I think so," he continues. "I get to wear the pieces I design."
He steps back, flashes a wry smile and draws both halves of his blazer together at the waist. He's dressed in a vermillion red Ferragamo suit, his turn-down shirt collar held in place with a slim, black leather tie, and although there's more than 100 people in the restaurant, he commands the room with a quiet confidence. Handsome, composed and fully embodying his newly appointed role as Ferragamo's creative director.
We're in Beijing for the reshowing of his debut men's collection for the luxury Italian house—first launched in June last year during Pitti Uomo; on a hot Tuscan summer day that's a far cry from the bitingly cold winter evening here in the Chinese capital—and Andrew is keen to steer Ferragamo to new waters.
"You know, I think menswear today is in a pretty atrocious place in general, I'm sorry to say," he tells me, discreetly yet rather directly, earlier that day.
"How so?" I prod.
"I think that if you look at so many of our so called 'luxury competitors', they've all engaged with sportswear and tried to elevate it. There's hoodies, sweatpants, T-shirts and sweatshirts on the runway and, you know, I feel like that isn't luxury to me and it doesn't belong at a house like Ferragamo."
He scans the room, checking to see if his aides are within ear shot, before continuing: "There's also so many brands designing a product that is just for a photograph and I feel that also doesn't belong at a house like Ferragamo." 
As we sit, knees-to-knees inside a historic Beijing temple—the venue for the menswear presentation—with exposed beams above us and a series of mannequins dressed in his latest collection to my left, Andrew generously shares more confidences: returning to Florence for his men's collection, tapping into young Hollywood with Hero Fiennes-Tiffin, and why, when it comes to leather craftsmanship, everything old is new again.
ESQ: It's your debut menswear show as Ferragamo's creative director, but looking at the collection, there is such continuity from previous seasons when you designed in tandem with Guillaume Meilland, who oversaw the men's ready-to-wear, and you the women's line. Take the colour palette for example, it continues to be vivid and diverse.
PAUL ANDREW: I thought that this collection should be somewhat of a homecoming. So I decided that I wanted to show the collection in Florence during Pitti Uomo and, somehow, organically made the entire collection about Florence. When I started walking through the Uffizi Galleries and saw the series of Bronzino paintings, I was drawn to the colours—they are so unique and beautiful and somewhat rare. You're not supposed to take pictures in the gallery, but I snuck some photos of the paintings when no one was looking and came back to the office and had my design team extract those colours to create the palette. That's how the palette was born for this season.
ESQ: Talking about connecting the show to Florence, you also took inspiration from the Fountain of Neptune that the house of Ferragamo recently restored and applied Neptune prints to generously cut shirts in pastel hues.
PAUL ANDREW: That's right, the Ferragamo family had just finished paying for the renovation of the statue of Neptune in Piazza della Signoria. And as I was working on the prints for the collection—I actually had so many other prints I was thinking about—I suddenly thought, 'Oh my gosh, I should really make Neptune the motif of the season', and so that's how that was born. The prints are inspired by late '60s and early '70s Italian illustrations that I found in the archive, and the final Neptune motif that you see in the collection is hand-drawn by my print designer. And then that got me thinking: where to do the fashion show?
ESQ: So you thought about holding your show next to the Neptune statue?
PAUL ANDREW: Yes, I wanted to do it next to the statue and everyone told me I was crazy, that it's never been done and we'd never get permission from the mayor. But after being quite persistent, somehow, we managed to convince the relevant authority in Florence. It was a great privilege. 
ESQ: How do you work with Guillaume now that you're Ferragamo's creative director? I understand that your working relationship with him was symbiotic. A partnership of sorts?
PAUL ANDREW: The relationship has been so great since I started working on clothing with him. He's such a gem, he's like my brother. That first season when I was working on women's and he on men's, I said to him why don't we work together and do the fashion show with men's and women's in one show? To really show that we have one, singular vision for this house because this had been a major problem up until that point—that there were different designers overseeing different product categories, no one spoke to the other one and it ended up being a schizophrenic nightmare when it went into the store. You didn't really understand what the brand stood for, what was the aesthetic that season.
ESQ: So in your new role, it's important to continue working closely with Guillaume?
PAUL ANDREW: Definitely. We have a female model and a male model in the studio when we do fittings together—taking a coat off him and throwing it on her, taking a pant off her and putting it on him, and seeing how things look—it creates this wardrobe that is not unisex, but it's definitely, connected.
ESQ: Who is the Ferragamo man and woman then? Are they related? Do they share the same house?
PAUL ANDREW: They are friends, they could be boyfriend and girlfriend, they could also be brother and sister. There's definitely this unity and shared aesthetic.
ESQ: Hero Fiennes-Tiffin seems to be one of your male muses. He closed your debut men's show in Florence, was dressed in Ferragamo for the Met Gala last year and he's now the face of your new Ferragamo fragrance. Do you have him in mind when you design menswear?
PAUL ANDREW: He's definitely my buddy. I hang out with him a lot and really enjoy his personality, he's also such a talented actor. In terms of being a muse, he encapsulates what I envisage for the brand—he's very sensitive and sophisticated at the same time. He's one of the most polite people I've met in my life, but for the formality he has, he also dresses in the most casual way. So I guess his personality does inform the way I'm thinking and designing. He also loves colour and that's also something I love to engage with too. 
ESQ: Is it important to tap into young Hollywood? 
PAUL ANDREW: Well, he comes from a Hollywood acting background. And Ferragamo was born in Hollywood so it sort of made sense for me to engage with Hollywood in a new way. I think he's one of the up-and-coming talents who is going to be massive in seasons to come. So I'm glad we've got him on-board as an ambassador. 
ESQ: With such a crowded fashion market, it's so important for a brand to have a clear identity. How would you define the identity that you are building for Ferragamo? 
PAUL ANDREW: The aesthetic that I've created is somehow related to the fact that I understand people want to be casual and want ease in the way that they dress, but it's not sportswear-inspired. I've been looking at '80s and '90s workwear pieces more, reworking them in terms of fabrication and silhouette in more luxurious ways. Now you might find a jumpsuit in beautiful nappa leather or a workwear shirt or pant in the highest quality tropical wool twill fabrications. So there's an ease and an effortless to the wardrobe and there's also a vibrancy with colour.
ESQ: You've infused a lot of leather into your ready-to-wear pieces; it's no longer just the Ferragamo shoes and bags that are crafted from leather. For example, last season you showed a long leather scarf for womenswear.
PAUL ANDREW: Yes, it's leather on one side and cashmere knit on the other. When I embarked on this journey, I tried to identify what the codes of this house were. And leather made sense because we are a luxury leather goods brand. So I thought, we need to own leather in ready-to-wear also. It wasn't something my predecessors were particularly engaged with. So now I'm working with some of the best leather ready-to-wear manufacturers in Italy. Our leather ready-to-wear sales have skyrocketed. 
ESQ: There must be a lot of leather innovation in order to create your collections. You are applying leather in a way that we haven't seen in a while.
PAUL ANDREW: Well, it started by going back to our archives. Salvatore left behind 15,000 pairs of shoes when he passed away. And there's so many awesome details on those shoes. So every season I take something out of the archive and then try to rework it in some way. We've gone back to some of these leather artisans in Tuscany and had them tanning skins in ways that they haven't done in many generations. I'm doing a lot of work with deer skin now, which is not a leather people have been using very much recently. It is very light and soft. And then also with the accessories, I've been doing a lot of woven leather pieces.
ESQ: So what is old is new again?
PAUL ANDREW: Yeah. We are asking these artisans to reopen leather looms that have not been used in 20 to 30 years and start weaving again; doing those things completely by hand. So there's an amazing effort in craftsmanship now.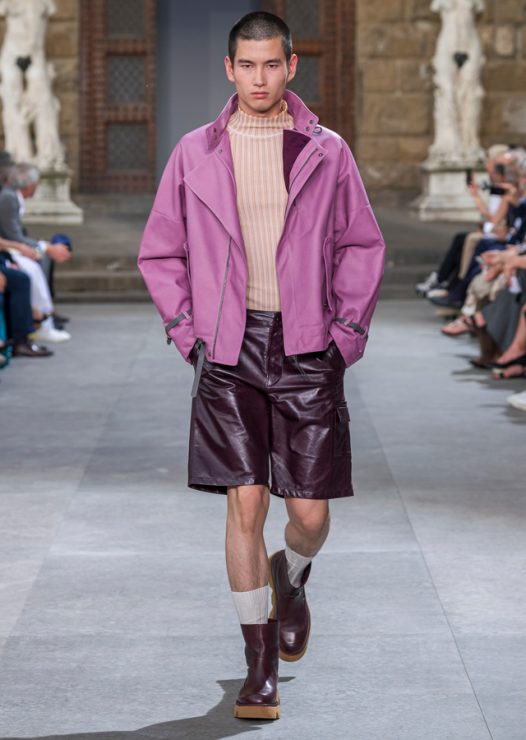 ESQ: Is there a design detail in the current collection that might not be obvious by just watching it on the runway or flipping through lookbook images?
PAUL ANDREW: There are so many hidden details in this collection. One of the things I love is the use of leather trim. There are all these coats with double collars. If you put your fingers between the collars they open, you can flip one side up and in the centre it's lined with nappa leather. Also, I've styled the show with a lot of different layers that might look heavy, but if you feel them in the store, you will realise that they are so lightweight; they are super easy to wear during summer.
ESQ: The wardrobe is full of easy-to-match colourful separates. It's energetic yet aspirational and there's a premium polish to it all. 
PAUL ANDREW: Thank you. But I still have a lot of work to do. It's just the beginning. We've introduced, hopefully, a new vision and now I'm very engaged in elaborating that and bringing forward product that is going to resonate in a massive way with the marketplace. We've done that definitely with women, with the Studio bag and now this new Viva shoe on the runway.
ESQ: And for the men? What is the your male equivalent?
PAUL ANDREW: I've launched this new bag for men's, which again is in deer skin in a couple of different sizes. I'm excited about it. I feel men are carrying backpacks again.
ESQ: What about a key garment for men this spring and summer season?
PAUL ANDREW: It's not a Paul Andrew collection if there isn't a jumpsuit. It's something I've started since I began as creative director of women's, and now overseeing men's as well. Whether it be in leather or a technical lightweight nylon for this summer collection, you always need a jumpsuit. And they are always designed in a way that can be drawn in at the waist to give you form, and often in a way that you can take off the sleeves and let them back hang, so it becomes a pant with details. As well as this season, the tank top.
ESQ: We shot Harris Dickinson on our February cover wearing one of your tank tops.
PAUL ANDREW: Oh really? That's great. I have so many friends in their '20s and seeing the way they dress today, it's incredible how the tank top has become the new wardrobe staple. I've introduced those in these beautiful, technical cottons with two tones. They feel youthful and fresh.
For more stories like this, subscribe to Esquire Singapore.