Time flies. It's yet another Apple Keynote event. For Fall 2020, the tech conglomerate revealed major updates for both Apple Watch and iPad. Furthermore, new services such as Apple One, Fitness+ and Singapore-exclusive app LumiHealth made their debut. And nope, there are no traces of iPhone 2020 for this announcement though, as Tim Cook mentioned outrightly. Nevertheless, these highlighted upgrades are definitely worthy of your attention.
Apple Watch Series 6: A trusty fitness and health buddy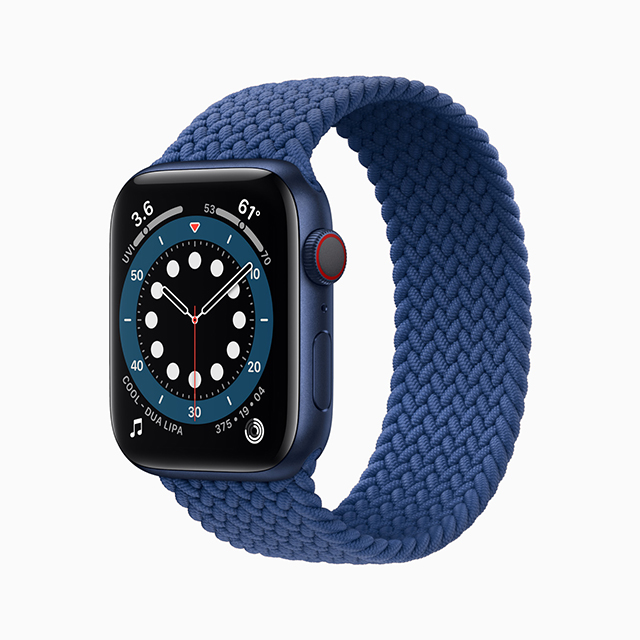 Following its in-built ECG capabilities which can perform an electrocardiogram, Apple introduces a Blood Oxygen sensor in the latest Apple Watch Series 6 which helps measures oxygen saturation in the wearers' blood.
Why? Oxygen saturation, or SpO2, represents the percentage of oxygen being carried by red blood cells from the lungs to the rest of the body and indicates the presence of oxygenated blood throughout the body. An advanced custom algorithm built with the Blood Oxygen app then measures blood oxygen between 70 percent and 100 percent.
Wearers can obtain on-demand measurements staying still, and periodic background measurements occur when they are inactive, including during sleep. All data will be visible in the Health app, and wearers can track trends over time to see how their blood oxygen level changes.
Performance-wise, Apple Watch Series 6 gets a boost via a new dual-core processor based on A13 Bionic in iPhone 11. Thus, its S6 SiP (System in Package) runs up to 20 percent faster while maintaining the same all-day 18-hour battery life from an improved full charge in under 1.5 hour.
Apple Watch Series 6 preps itself to be the next-generation digital car key. Enabled by the U1 chip and Ultra Wideband antennas, short-range wireless location support new experiences and possibilities. Aesthetically, the new Series 6 gains blue and (PRODUCT)RED aluminium case options with exclusive matching bright red bands for the latter.
Apple Watch Series 6 is now available starting from $599 for Apple Watch Series 6 (GPS) and $749 for Apple Watch Series 6 (GPS + Cellular).
Apple Watch SE: Familiar yet affordable
If you hadn't taken the plunge in owning an Apple Watch, now is the time to do so. Instead of getting a previous series, the Apple Watch SE is equipped with most essential features from before and latest functions like the same accelerometer, gyroscope, and always-on altimeter as the Series 6.
Its Retina face display, with thin borders and curved corners, is 30 percent larger than the Series 3 which support bigger fonts and enlarged app icons. S5 System in Package (SiP) and dual-core processor ensures a speedy performance of up to two times faster than Apple Watch Series 3.
Apple Watch Series 3 is now available starting from $419 for Apple Watch SE (GPS) and $499 for Apple Watch SE (GPS + Cellular).
WatchOS 7
Seven new watch face options will be made available to use interchangeably. New health and fitness features, like low-range VO2 Max, sleep tracking, automatic handwashing detection, and new workout types better personal well-being. Other included apps such as Maps provides cycling directions and Siri offers language translation.
WatchOS 7 is now available for download and requires iPhone 6s or later running iOS 14. Not all features are available on all devices.
iPad Air
The refreshed iPad Air is certainly light in weight, but it performs just as effective as the updated iPad Pro. Imbued with an A14 Bionic chip, the all-screen 10.9-inch large Liquid Retina display device handles demanding tasks with ease.
A notable unique design of this iPad Air is the integrated Touch ID sensor in the top button. Since masks are mandatory, this provides the same fast, easy, and secure way to unlock iPad Air, log in to apps, or use Apple Pay without a hitch.
Other impressive upgrades include a 7MP front-facing FaceTime HD camera and 12MP rear camera supporting 4K video capture. The new design of iPad Air also positioned its stereo speakers in landscape mode for an improved audio experience. Now all that's left is to select your favourite colour out of five finishes—silver, space grey, rose gold, green, and sky blue.
iPad Air will be available starting next month. Wi-Fi models of iPad Air will be available with a starting price of S$879 and Wi-Fi + Cellular models start at S$1,079. The new iPad Air, in 64GB and 256GB configurations, will be made available in five different finishes.
iPad (Eighth Generation)
The OG iPad isn't neglected either. Its newest update sports an A12 Bionic Chip with Neural Engine that powers up the entry-level favourite. This enables advanced machine learning capabilities in areas such as augmented reality (AR) apps, photo editing, and Siri performance.
Both thin and light in design, the iPad is portable and durable with fast wireless performance using gigabit-class LTE connectivity. Having an all-day battery life also makes it versatile for work, learn, and connect at home or on the go.
The eighth-generation iPad is now available with a starting price of S$499 for the Wi-Fi model and S$699 for the Wi-Fi + Cellular model and comes in silver, space grey, and gold finishes in 32GB and 128GB configurations.
Apple One
Nothing beats having an all-in-one subscription and Apple is offering that. Combining Apple Music, Apple TV+, Apple Arcade, Apple News+, Apple Fitness+, and iCloud into a single plan, it removes the hassle of keeping tabs on your billing list and only one invoice will be issued.
Choose from 'Individual' that includes Apple Music, Apple TV+, Apple Arcade, and 50GB of iCloud storage. Or 'Family', which includes Apple Music, Apple TV+, Apple Arcade, and 200GB of iCloud storage for $19.95 per month. The latter can be shared among up to six family members.
Starting this fall, the Apple One Individual and Family plans will be available in over 100 countries and regions. The Premier plan will only be available in Australia, Canada, the UK, and the US, where Apple News+ is available, and Apple Fitness+ will join later this year.
LumiHealth
Available exclusively in Singapore, LumiHealth is an app spearheaded in partnership of Apple and Health Promotion Board. This health-focused personalised program conceived via Singapore's Smart Nation initiative uses technology and behavioural insights to encourage Singaporeans in keeping healthy and complete wellness challenges through Apple Watch and iPhone.
Gamification and incentives motivate users to adopt healthy habits with tailored tasks based on their demographic data. Thus, an active lifestyle is achieved from this mix of personalized reminders, programs, and activity coaching. Through the app, an intergalactic explorer will guide users through these wellness-based tasks and even remind users to go for health screenings and immunizations. Complete them to earn rewards worth up to S$380 over the two-year duration of the program.
LumiHealth is free for all Singaporeans with a valid SingPass, Apple Watch and iPhone. Data gathered on the voluntary LumiHealth program will be encrypted to protect privacy and never be sold or shared for marketing purposes.
Available in the App Store for pre-order now, the two-year LumiHealth program will be offered from late October 2020.