In lieu of Apple's March 2019 Special Event (which usually announce the newest iteration of its devices), the tech behemoth has quietly revealed the upgraded hardware details of AirPods, iMac, iPad Air and iPad Mini for 2019 without hitting the stage. This move certainly caught us off guard. So what's more to expect at the event itself? Rumour hints it's a TV-related service. Stay tuned to esquiresg.com for more updates.
In the meantime, here's the lowdown on the souped-up specifications of the announced Apple devices.
The second generation of Apple's statement wireless earphones comes equipped with the new Apple-designed H1 chip. Developed specifically for headphones, it's touted to deliver up to 50% more talk time compared to first generation AirPods. Individuals concerned on efficiency can expect increased seamless connectivity with two times faster connect times. Also, AirPods can now command Siri for easier hands-free song selections, make a call, adjust the volume or get directions just by saying, "Hey Siri."
No acknowledgement from Siri? Keep your AirPods' battery charged by housing them in the new Wireless Charging Case which can be powered with Qi-compatible charging solutions. Existing AirPods customers can purchase the standalone Wireless Charging Case. Not a fan? Stay put with the original standard charging case then.
This will appeal to multimedia designers and video industry professionals. Speed and graphics performance gets an upgrade with the inclusion of up to 8-core Intel 9th-generation processors and powerful Radeon Pro Vega graphics options. The smaller 21.5-inch iMac gets a massive amplification with an 8th-generation quad-core, and for the first time 6-core processors, delivering up to 60 faster performance. Otherwise, the 27-inch iMac gets up to 9th-generation 6-core and 8-core processors, which delivers up to 2.4 times faster performance.
Both are outfitted with 4K and 5K Retina displays that presents sharper photos with more detail and the ability to edit 4K video at full resolution.
Following the footsteps of the 2018 iPad Pro, Apple's newest iPad Air and Mini both obtain the speedy A12 Bionic chip found currently in the iPhone XS and iPhone XR. In addition, the 2019 iPad Air expands to a 10.5-inch display (same as 2017 iPad Pro) and supports both the original Apple Pencil and snap-on Smart Keyboard cover that allows you to work on the go. Note that it has two speakers (instead of four) and a lower display refresh rate compared to the iPad Pro.
The new iPad Mini obtains identical upgrades such as compatibility with the original Apple Pencil. Sketch artists will be pleased with new advanced Retina display with True Tone technology and wide colour support that matches the screen's colour temperature to its surrounding.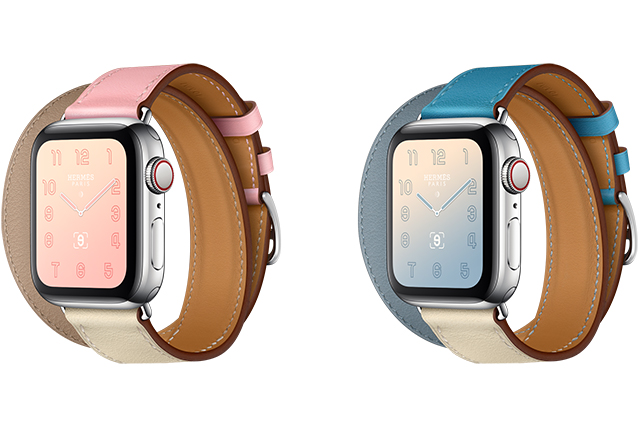 Apple Watch Hermès Double Tour in Rose Sakura/Craie/Argile and Bleu Iin/Craie/Bleu du nord Swift Leather
Apple Watch Hermès Single Tour in Rose Sakura/Craie/Argile and Bleu Iin/Craie/Bleu du nord
Apple Watch Leather Loop in Cornflower and Sunset
Apple Watch Modern Buckle in Cornflower, Sunset, Lilac
Apple Watch Nike+ Sport Band in Black/Hyper Grape, Teal Tint/Tropical Twist, Spruce Fog/Vintage Lichen
Apple Watch Nike+ Sport Loop in Hyper Grape, Teal Tint, Spruce Fog
Apple Watch Sport Band in Delft Blue, Papaya, Spearmint
Apple Watch Sport Loop in Cerulean, Papaya, Spearmint, Lilac
Apple Watch wearers bored with their current straps can expect an array of pastel-coloured bands soon. The Sport Bands, Sport Loops for Apple Watch, Nike+ and Hermès variations will obtain unique colourways that'll match with new colour watch faces for Apple Watch and Apple Watch Nike+, as well as an exclusive "gradient" watch face for Apple Watch Hermès that transitions with the passage of the minute hand. These watch faces will be available with the upcoming watchOS 5.2.