Apple's Worldwide Developers Conference (WWDC)—or affectionately bantered around by attendees as "Dub Dub"—is the annual Apple event held in San Jose, California, that unveils the tech giant's latest software developments. Historically, there are no product launches; that's reserved for the Apple Keynote held inside the Steve Jobs Theatre in Apple Park, Cupertino, during the month of September. However, the rumour mill is hinting at new product launches, replacement of iTunes, and an update for Apple TV.
This feverish gossip, compounded by the fact that 'Dub Dub' attracts 5000 attendees from around the world (like moths to a digital Mecca flame)—and, as such, is five times the size of the September Keynote that only houses 1000 attendees inside the Steve Jobs Theatre—it's a beehive of palpable expectation.
Reverberating throughout the San Jose Convention Centre: Dub Dub! DC! Dub Dub! DC… It's like a frat party, but with developers.
Reporting live from the San Jose Convention Centre, we bring you the latest news from WWDC as it drops; sifting through all the tech talk to bring you all you need to know.
Apple TV+ and tvOS 13
New immersive home screen for Apple TV with tvOS 13.
New 4K DHR screen savers filmed under the sea.
Synopsis:
New Apple Original shows including space-race feature film, 'For all mankind' dropping this fall
Apple TV+ is powered by tvOS 13 and it has been updated with multi-user support and immersive new home screen
XBOX and PlayStation is now supported by tvOS
New 4K HDR screen savers filmed under the sea
What this means for you: No more fighting over Apple TV+. With multi-user support, family members are able to watch different shows (or play games through XBOX and PlayStation) through multiple TVs throughout the home.
Apple Watch OS 6
New Noise app to help manage your hearing health.
Record voice memos directly on your Apple Watch.
Calculator app is now available on your Apple Watch with Watch OS 6.
New Cycle Tracking app to help women manage their menstrual health.
Cycle Tracking for menstrual health.
Listen to audio books straight from your Apple Watch.
New cornflower colour Apple Watch face.
New Trends tab in Activity App to better track progress.
Synopsis:
Apple Watch OS 6 updated to include new Apple Watch faces (favourite: cornflower face)
New Trends tab in the Activity app on iPhone now give users a long-term view of their activity behavior
Calculator App introduced to Apple Watch (with built in tip calculator and split bill calculator)
App Store is now available on Apple Watch
Developers can now build Apple Watch-only apps without an iOS counterpart (no need for an iPhone)
New Noise App helps users monitor hearing health, sending a notification if the decibel level reaches 90db (as recommended by the World Health Organization)
Cycle Tracking introduced to help menstrual health (available on both Apple Watch and iPhone)
Product update: new Pride rainbow Apple Watch band
What this means for you: No iPhone? No worries! Independent apps are now available on the Apple Watch and you can even download apps directly to your Apple Watch straight from the App Store. Highlights include Cycle Tracking for women to monitor menstrual health and recognising songs with Shazam built right into Apple Watch.
iOS 13
Introducing Dark Mode on iOS 13.
Memojis can now be personalised with makeup and more accessories. Memoji Stickers are also available.
New 'Sign in with Apple' to protect your information rather than signing in with social media apps.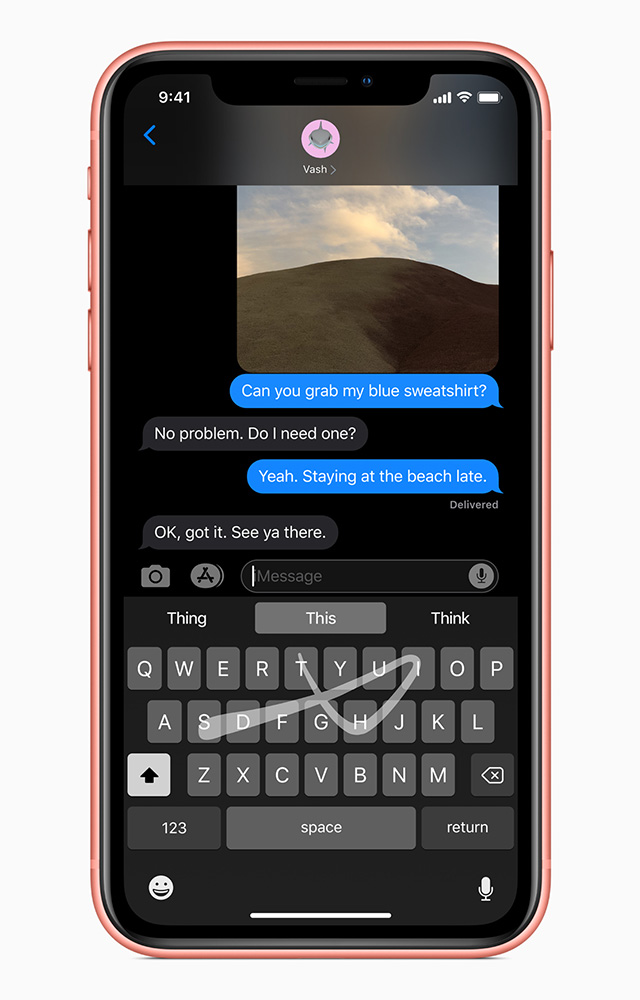 New quick path typing, allow you to swipe and type.
Photos arranged by day, month and year in new easy-to-navigate formats.
Maps app allows you to group locations into 'Collections' to share with friends.
Synopsis:
85% adoption for iOS 12 (compared to 10% for Android 9)
With iOS 13, Face ID now unlocks 30% faster
App launch speeds are now 2 times faster with iOS 13
Introducing new dark mode colour scheme for iOS 13 (great in low-light environments)
Faster typing with quick path typing that allows users to swipe and type (as opposed to traditional tapping)
Reminders App redesigned to be more intuitive (including ability to tag people in your Contacts)
Maps App rebuilt with more land and aerial data (entire US rolled out by the end of 2019)
Introducing 'Sign in with Apple' to sign into different apps (as opposed to social media logins) to protect your personal information
Memojis updated with more options including makeup, jewellery, accessories and AirPods (Memoji stickers also available)
Videos can now be rotated and edited with filters
Photos App now cleaned up with machine learning to help declutter your photos (including removing duplicates) and you can choose to view your images according to date (days, months and years) in a cleaner new format
AirPods with Siri can now announce messages to you and you're able to respond with a dictated message
Audio Sharing enabled on iOS 13 to share music and audio on video files
HomePod with iOS 13 is now able to recognise voices to identify who is speaking
What this means for you: Besides everything been faster and quicker to load, we're loving the updated Maps App that allows for easier navigation with the higher detailed land and aerial data (oh, that's what that building looks like!). You're also able to group locations on the Maps App under 'Collections' to share with friends, as well as tap on locations when navigating for more detailed information with the 'Look Around' feature; an interactive way to visually explore a city using ground-level 3D imagery.
Logging in with social media for apps and wifi? Well, forget that. 'Sign in with Apple' allows you to sign into different apps with a touch a button without sharing your personal information, including hiding your email address by randomly generating a fake email for you to login. Brilliant.
Your Memoji not really… you? Memojis can now be more personalised. Think: makeup, hair styles, jewellery, hats, and even AirPods to complete your look. You can also create Memoji Stickers to share on Messages; a package of stickers is created using your personalised Memoji.
Here's one for fitness junkies. In the gym or spin class when a message comes through? With your AirPods, Siri now announces the message to you and you're able to reply to the message by dictating your response. Talking about AirPods, you can now share audio with your mates with Audio Sharing. No more gross sharing of physical AirPods to listen to music or watch videos.
iPad OS
You can now access File Servers with your iPad. Need to amend that document from the work server? Sorted.
Quick path typing now available on the iPad.
iPad OS also features the new Dark Mode colour scheme.
iPad OS also supports 'Sing in with Apple' to protect your personal data when signing into different apps.
Synopsis:
Introducing iPad OS to maximise the experience on iPad
Able to pin widgets straight onto the home screen
Multiple tasking and multiple window capability now enabled
File Server sharing enabled
USB and SD card connectivity enabled
Desktop-class browsing to Safari on iPad (as opposed to mobile browsing)
Download manager is now available for iPad
Able to download fonts directly onto iPad
More shortcuts including three-finger pinch to copy, three-finger zoom to paste, and three-finger swipe to the left to undo
Apple Pencil improved with latency dropping from 20 to 9 milliseconds
What this means for you: Why carry a MacBook when you can just carry an iPad. The whole suite of changes implemented through the introduction of iPad OS means that your iPad basically functions like a laptop. This includes desktop-browsing on Safari (no more annoying limited mobile browsing), multiple window capability (allowing you to copy and paste between files and documents), and talking about files, you can also download directly to iPad or upload photos from your camera do your iPad with USB and SD connectivity.
But we're most excited about File Server access; you can access your work server wherever you are in the world—gallivanting around Europe for fashion week or holidaying in the Maldives—so there's no excuse for not been able to make those document changes. On second thoughts, maybe not sure a great idea after all.
Hardware alert: New Mac Pro
Introducing the new Mac Pro and Pro Stand XDR.
The Pro Stand XDR boasts a 32-inch Retina 6K display with gorgeous P3 wide and 10-bit color.
Synopsis:
Processor with 28-core Intel Xeon and over 300 watts of power
1.5 terabytes of system memory
16 PCIe connectors to allow for expansion (known as MPX Module)
World's most powerful graphics card
Video editing improved with Apple Afterburner accelerator card capable to process 6 billion pixels per second and play back of three streams of 8K ProRes RAW video at the same time
1.4kW power supply cooled with 3 enormous fans
Optional wheels make it easy to transport new Mac Pro
New Pro Display XDR: Retina 6K display with Extreme Dynamic Range (XDR) featuring 10-bit colour with nano-textured glass to reduce flare and reflection (as opposed to anti-reflective coating that reduces contrast) and is able to maintain 1000 nits of full screen brightness indefinitely (with 1600 nits at its peak) with 1 million: 1 contrast ratio and a Pro Stand that is able to rotate to Portrait Mode
What this means for you: In short, more power, bigger memory, faster speeds, world's most powerful graphics card and with workstation-class processors means you can now do a whole lot with just one computer. Compose an orchestral score to accompany an 8K video? Easy. Want to colour correct 8K video whilst viewing? Done. You know what, whey don't we edit three 8K videos all at the same time? Sorted. All this on a gorgeous, and the world's best Pro Display XDR.
Starting price: New Mac Pro for USD5,999 (available this Fall); USD4,999 for Pro Display XDR (USD5,999 with nano-texture screen)
macOS Catalina and Developer Tools
Apple introduces the Sidecar App to enable your iPad as an extended display for Mac.
Swift UI is a revolutionary development framework that makes building powerful user interfaces easier than ever before.
macOS Catalina is packed with new features, fresh new apps and powerful new technology for developers.
Synopsis:
4K HDR playback on the Mac
macOS Catalina replaces iTunes with three apps (Apple Music, Apple Podcast and Apple TV) that simplify and improve the way Mac users discover and enjoy their favorite music, TV shows, movies and podcasts
Sidecar introduced so you can use your iPad as a second display to your Mac
Voice Control allows you to control your Mac entirely with your voice for improved accessibility
Find My app combines Find My iPhone with Find My Friends apps to allow you to find Apple devices that are offline (encrypted and anonymous by using the Bluetooth signals sent by missing Apple device picked up by surrounding online Apple devices)
Project Catalyst allows you to create apps for the Mac based on existing iPad apps
Augmented Reality (AR) improved with 'people occlusion' and 'motion capture' feature with ARKit 3
Reality Composer and Reality Engine let's you create AR experiences whilst in AR without the need for coding
SwiftUI allows to build better apps with way less code with drag-and-drop features and real-time previews
What this means for you: Improved tools for pro users and developers, but we're most impressed with Voice Control for Mac and iOS allowing people with accessibility issues to maximise their Mac experiences, and the introduction of 'people occlusion' (AR objects working around humans) and 'motion capture' features on ARKit 3 to make augmented reality even more… well, real. All this made easier with SwiftUI that enables for quick (and less) coding to build better apps with real-time preview. Yup, basically anyone can code now.