In case it escaped your attention, Audi's first production electric car, the e-tron, is coming later this year, and we just drove it.
In case it escaped your attention, the e-tron (yes, we know it sounds like one of those 80s pop stars without a last name) is but one in a long line of cars to bear the nameplate. From hatchbacks, R8-esque cars, small coupes to SUVs… just about any automotive archetype you might care to name, really.
You might also notice that the production e-tron is a full-sized SUV thing, which is a far cry from the first concept car to ever be named as such. Remarkably enough, the latter, R8-shaped car made its debut all the way back in 2009 at the Frankfurt Motor Show…
Audi e-tron (September 2009)

It's remarkable how far we've come in a decade—what was once revolutionary is middling at best these days. When the first e-tron made its debut in 2009, it had 313hp, could accelerate from 0-100km/h in 4.8 seconds and had a claimed range of just 248km. That said, the four electric motors powering each individual wheel, with the ability to surgically send power where needed, is still a pretty darn cool notion.
Audi e-tron Detroit showcar (January 2010)

Four months after the launch of the e-tron in Frankfurt, Audi debuted a concept with an identical name at the Detroit Motor Show. Thankfully, it looked rather different from the Frankfurt car, with the Detroit showcar vageuly resembling a modern homage to the legendary Sport quattro coupe. The Detroit car, though, had just the two electric motors powering each rear wheel, with a combined output of 204hp.
Audi A1 e-tron (March 2010)

Back in the bad old days of poor battery density, carmakers had to resort to range-extender tech. Simply put, it's a tiny internal combustion engine whose sole function is to act as a backup generator to charge the batteries. In the case of the experimental A1 e-tron, it was a 254cc Wankel rotary engine housed in the boot, where the spare tyre would be. This gave the A1 e-tron an additional 200km of range, though it'd be truly dire without—it could run just 50km.
Audi R8 e-tron (June 2010)

With identical drivetrain to the original e-tron showcar, the R8 e-tron made its debut at the 24 Hours of Le Mans race, running demonstration laps around La Sarthe. A highly symbolic move, an prototype powertrain in a production body was proof that Audi's electric ambitions could be a mass-production reality some day. Unfortunately, concerns over range resulted in several false starts, with Audi relenting eventually and producing a small number on a built-to-order basis.
Audi e-tron Spyder (October 2010)

It's not the retro-modern low-windshield speedster styling that marks the e-tron Spyder out as very much a product of the late 2000s. It's a plug-in hybrid, with an electric motor powering the front wheels and a 3-litre turbodiesel engine driving the rear. Remember, this was a far more innocent time in the car industry, with Dieselgate still five years out. Anyway, this concept did have one feature that's still very of-the-moment, an all-digital instrument cluster.
Audi A3 e-tron (April 2011)

Following a design preview for the A3 Sedan shown off at the Geneva Motor Show a few months prior, the related concept presented at the Shanghai Motor Show also showed that sporty plug-in hybrids in the compact class can be a thing. Its 1.4-litre turbo motor and electric motor provides 238hp, a 6.8 seconds century sprint time and it can also boast an electric-only range of 54km. Not bad for 2011.
Audi A6L e-tron (April 2012)

A year later at the Beijing Motor Show (it alternates with Shanghai) came a plug-in hybrid two size classes up from the A3. Said to fulfil the transportation needs of Chinese executives who also have an eye toward greener motoring, the A6L e-tron had a purely electric range of 80km. Speed in that mode was restricted to 60km/h, pokey enough, but more than sufficient for navigating the Chinese capital's notorious gridlock.
Audi A3 Sportback e-tron (February 2013)

Will the real A3 Sportback e-tron please stand up? The first was revealed some time in 2011 as an all-electric prototype, and the second burst onto the world stage at the 2013 Geneva Motor Show as a plug-in hybrid. Where the two converge is how both cars hide their charging port behind the Audi badge in the front grille. Audi claimed it could cover some 50km on electric power alone, with a combined range in the neighbourhood of an astounding 900km.
Audi R8 e-tron Piloted Driving (May 2015)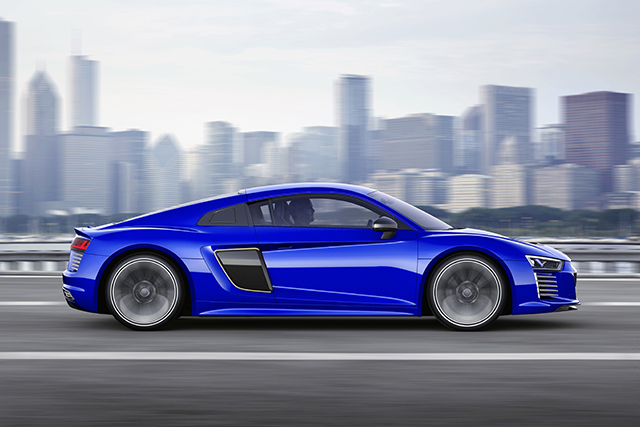 Unveiled at the Chinese edition of the Consumer Electronics Show, the R8 e-tron Piloted Driving ostensibly shows off Audi's advances in autonomous driving tech. However, we think the carmaker's advances in electric powertrain tech since the last time the world saw an electric R8 is arguably more interesting. This R8 e-tron gets 456hp, has a 0-100km/h time of 3.9 seconds and has a claimed range of 450km. Proper numbers all round, in other words.
Audi e-tron quattro (September 2015)

The car that would eventually become the production e-tron was first exhibited at the 2015 Frankfurt Motor Show, and it swaggered in with such things as 430hp, an eye-popping 0.25 drag coefficient, range in excess of 500km and a century sprint time of 4.6 seconds. What makes all those numbers above even more amazing is how the concept car isn't a low-slung supercar, but a tall-ish SUV.
Audi e-tron Sportback (April 2017)

Riddle me this: what happens when you jack up an A7 Sportback and give it some seriously muscular wheels? Why, the e-tron Sportback, of course. It's a virtual clone of the e-tron quattro on the powertrain front, with only marginal differences in performance. The bigger takeaway is the e-tron Sportback is that it's a preview of the second production model in Audi's burgeoning electric car lineup, with the carmaker stating from the outset it will be coming this year.
Audi e-tron Vision Gran Turismo (April 2018)

While some other carmakers are content with having a virtual concept car feature in the Gran Turismo driving simulator, Audi isn't. And it didn't just build a non-running showcar, it built one that actually runs… and quickly. Audi says its system output is 815hp and it'll get from 0-100km/h in under 2.5 seconds. That the e-tron Vision Gran Turismo is finished in classic IMSA livery is just the icing on the cake.
 Audi PB18 e-tron (August 2018)

The worst thing about the stunning concept Audi exhibited at last year's Pebble Beach Automotive Week is its chances of making production is essentially nil. Its striking shooting brake silhouette is likely to polarise the conservative set, and movable driver's seat that can be slid into a central, F1-style position is likely to cause all sorts of problems with regulators. A pity, since it's one of the most daring concepts from any carmaker in recent memory.
Audi e-tron GT (November 2018)

If you needed even more evidence that Audi is dead serious about this electric car thing, there's the e-tron GT. Not that there's anything particularly radical about its four-door coupe shape (pretty though it may be), 590hp output, "over 400km" range or even that's it's going to be built by Audi Sport, the carmaker's performance arm. It's that it will hit the roads next year, making it the third new all-electric Audi model in as many years.