Here's what you need to do in order to prepare yourself to drive Audi's most advanced vehicle, the all-electric, all-singing, all-dancing e-tron SUV.
First, you push that big silver button at the bottom of the centre stack (or top of the centre tunnel console, depending on your point of view) marked with the universal symbol for power; pull the little silver nubbin sticking out the end of the cantilevered gear lever/handrest towards you into the D position; take your foot off the brake and you're away.
Congratulations, you are now driving the future.
And if you thought that driving the future feels suspiciously like driving in the present, that's entirely the point, the Audi staffer who rode along with us and who was involved with the e-tron's development said.
Well, we say that the e-tron is familiar, but also in some ways, quite alien. Thumbing the aforementioned big silver button results not in an engine coughing to life, but with a cheery melody. It's not unlike the chime of your phone as you turn it on.
Or the fact that flooring the throttle results in a near-instant surge of acceleration that makes even the most savage hypercar feel a little dim-witted by comparison. That's not to say the e-tron is particularly rapid—a 0-100km/h time of 5.7 seconds is brisk, but certainly not searing.
But it's the responsiveness of the e-tron (and indeed, any other electric car) that sets it apart. In a conventional car, there's a fraction of a second's delay as the gearbox kicks down and engine revs climb, but with the e-tron, it'll go as soon as you think about it. Or at least as soon as your brain sends a signal to your right foot to flex downwards.
Well, there is one thing you'll definitely need to get used to in the e-tron, but that's only if you tick the appropriate box and give Audi an appropriate amount of money to include the "virtual exterior mirrors".
Taking the form of a pair of insectile pods located where regular wing mirrors would be, they're a pair of rearward-facing cameras projecting a high-resolution, high refresh rate image onto a pair of OLED screens (Samsung panels, if you must know) just above the door handles.
It's not that they don't work, because they do, and beautifully, even under the midday Abu Dhabi sun. But when compared to the Dumbo ear-sized wing mirrors on other SUVs in its size class, a 7-inch screen just seems a little small. To say nothing of how judging distances is also difficult.
We relied on pure guesswork, the accelerative urge of the e-tron with its 664Nm and the comparative thinness of the Emirati traffic to ensure we weren't the first people on the planet to meet with an accident in Audi's spanking-new electric car.
Oh yes, one other surprising thing—the e-tron handles better than any high-riding, 2,490kg SUV has any right to. Put it down to the battery system (the car's heaviest component, weighing around 700kg) mounted low in the chassis, between the front and rear axles, rigidly mounted to the body in a reinforced aluminium honeycomb tray.
There's also the first all-electric implementation of Audi's quattro all-wheel-drive, which made short work of the twisty 11.7km route up 1,249m-tall Jebel Hafeet, one of the Emirates' tallest peaks. Electronics apportion power between the front and rear axles, and can brake the inside wheel slightly, so the e-tron handles less like a full-sized SUV and more like an oversized hot hatchback.
Up Jebel Hafeet, we felt those systems at work shuffling thrust around, giving the e-tron a nice, neutral attitude. It really is quite remarkable stuff.
And that's just another example of the e-tron's incredibly advanced nature at play. You just know countless Audi engineers agonised for countless hours making the e-tron seem normal on the surface and as intuitive as one of its conventionally powered cars.
Its brakes, for instance. Under braking loads of up to 0.3g, it feeds the energy back into the batteries, with the mechanical brakes only called into play when that limit is exceeded. Audi says this "is the case well over 90 percent of the time", but not like we'd know because the transition between regenerative and mechanical brakes is so seamless. We only could tell when a tablet equipped with a special telemetry app was brought into the car on our descent down Jebel Hafeet.
Another example is in its form. It boasts a coefficient of drag (Cd) as low as 0.27, which isn't too far off a Toyota Prius, which is frankly ridiculous for an SUV, and a crucial component in its claimed range of "over 400km". Amongst other aerodynamic measures, the e-tron has a flat undertray with golf ball-like, air turbulence-reducing dimples.  
Audi says that for every improvement of 0.01 Cd, it can go a further additional 5km. Chump change for a conventionally powered vehicle, but those extra kilometres could mean the difference between an embarrassing tow and making to a much-needed charging point.
And so, apart from the wing mirror cameras and the exceptional quietness that all electric cars are wont to being, the e-tron feels just like any other Audi. That is to say, sculptural exterior styling, great handling and stunning interior quality.
A deliberate attempt, reiterated the Audi staffer from earlier, to help it feel familiar to people unfamiliar with electric cars, with more-than-decent legroom in the back and a big 660-litre boot.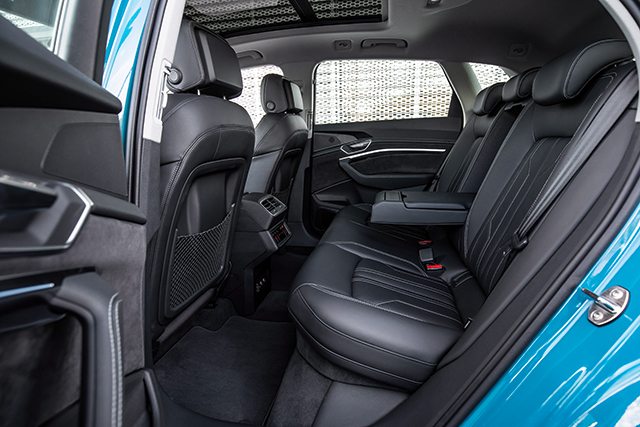 It even looks just like any other Audi SUV, save of course for the subtle e-tron badges and safety orange accents that mimic the colour of high-voltage electrical cables.
It's nowhere near as dramatic as a Tesla Model X with its "Falcon-Wing" doors or the other symbol of conspicuous electric vehicle consumption, the BMW i3 city car.
Why Audi went the safe route and decided to make this e-tron its first all-electric car, instead of the two other electric cars it has in the pipeline—the e-tron Sportback (think of it as an A7 on stilts) or the e-tron GT four-door coupe—is a rather baffling.
There's no doubt the e-tron is extremely Vorsprung, what with its too-many-to-list-here advancements, but the problem is it doesn't look very Vorsprung. In all fairness, however, the e-tron's apparent normalcy might just be the reason to cause more conservative buyers to dip their toes in the electric car pool (not while it's still plugged in, of course).
Make no mistake, the e-tron is an exceptionally convincing proposition, and we're sure it'll be one of our top cars of 2019, but if you ask us, we just wish it could have gone that little bit further.
SPECIFICATIONS
ENGINE Dual asynchronous electric motors
POWER ​ 408hp total system output
TORQUE 664Nm
0-100KM/HR 5.7 seconds
TOP SPEED 200km/h (electronically limited)
TRANSMISSION Single-speed
ENERGY CONSUMPTION To be confirmed
VES BAND To be confirmed
PRICE To be confirmed