You've watched the movie, done all the quizzes and bought all the merch you can afford. What else is left for a Marvel fan to do now that the Avengers series has finally come to an end? Aside from getting all psyched up for the new Spider-Man movie, how about accessorising like a Marvel superhero? We think the Infinity Gauntlet is a perfect place to start.
But before you start searching 'Infinity Gauntlet' on eBay, wait. Don't take it so literally yo. Create your own look! Do you really want to be walking around with one giant armour glove that—let's be honest—is going to give you sweaty hands? Hard pass.
The stylish way forward is to pile on coloured gemstone rings à la Endgame stars ScarJo and Brie Larson. See how the actresses took the Infinity Gauntlet as the inspiration behind their red carpet looks? That is how you should do it.
Men, too, can try out this look with signet rings studded with semi-precious stones.
Colin Jost and Scarlett Johansson attend the world premiere of Avengers: Endgame at the Los Angeles Convention Center on April 22, 2019
This Infinity Gauntlet-inspired wrist jewellery is already trending on social media
Brie Larson arrives for the world premiere of Avengers: Endgame at the Los Angeles Convention Center on April 22, 2019
Cop this look rn
Here's a recap of the six Infinity Stones and what they do, plus where to find the right accessories to create your very own Infinity Gauntlet.
Soul Stone
Gives you: Limitless manipulation of souls both alive and dead. Also has shown to be able to evolve or devolve a being's physical and mental capacities.
Wear: Rings featuring orange stones like citrines and spessartites. Brands like Ross Simons and Marco Bicego do it well, while Effy Jewelry ships to Singapore via Macy's right here
Ross Simons Italian 3.50 Carat Citrine Ring in 18kt Gold Over Sterling, US$129.50
Marco Bicego 18K Yellow Gold Citrine Medium Stackable Ring, US$1,200
EFFY Citrine (1-3/4 ct. t.w.) & Diamond (1/6 ct. t.w.) Ring in 14k Gold, S$1,289.90
Power Stone
Gives you: Control of all of the power in the universe. It can be used to augment or inhibit any force.
Wear: Rings with purple stones such as amethysts and purplish-pink agates. Again, kudos to Marco Bicego; David Yurman also has a number of interesting designs available on Nordstrom.
Marco Bicego 18K Yellow Gold Amethyst Medium Stackable Ring
David Yurman 'Wheaton' Petite Ring with Semiprecious Stone & Diamonds, from S$725.60 to S$916.16
Time Stone
Gives you: Total control over all aspects of time including time travel, stopping time, slowing down or speeding up the flow of time, and to accelerate or slow down ageing.
Wear: Green stones such as peridot, emeralds, green chalcedony and tsavorites. Shop Frederik Ix, Blue Nile and Monica Vinader on Nordstrom
Frederik Ix IX Oval Signet Ring Green Marble Gold, €189
Monica Vinader Siren Semiprecious Stone Stacking Ring, S$197.89
Blue Nile Bezel-Set Pear-Shaped Emerald and Diamond Stacking Ring in 14k Yellow Gold, S$364
Mind Stone
Gives you: The power to tap into the universal consciousness, allowing for unlimited manipulation of psionic powers including telepathy and telekinesis.
Wear: Yellow gems such as sapphires, amber, and yellow diamonds. Marco Bicego and David Yurman offers lemon citrine rings in varying styles.
Marco Bicego 18K Yellow Gold Lemon Citrine Medium Stackable Ring, US$1,200
David Yurman 'Châtelaine' Ring with Lemon Citrine and Diamonds
Reality Stone
Gives you: Locally or universally alters the natural laws of the universe to the wielders will.
Wear: Red stones such as garnet, ruby, red jasper, coral, and carnelian. Consider the Gurhan rhodalite ring available on Sak's Fifth Avenue, as well as more options from David Yurman and Macy's
Gurhan Rainbow One of a Kind 24K Yellow Gold & Rhodalite Ring, S$2,785.12
David Yurman Guilin Octagon Ring with Garnet and Diamonds in 18K Gold, S$2,198.78
Macy's Men's Garnet (5 ct. t.w.) and Diamond Accent Ring in 10k Gold, $989.40
Space Stone
Gives you: Limitless manipulation of space, allowing for teleportation, dimensional manipulation, the creation of wormholes, etc.
Wear: Blue stones such as blue topaz, sapphires, lapis lazuli, blue diamonds, turquoise and aquamarines. Mejuri here provides stylish designs at a friendly price, while fashion rebels might like what Thomas Sabo has to offer
Mejuri Mini Boss Signet in solid yellow gold with London blue topaz, US$215
Mejuri Cabochon Signet in solid yellow gold with turquoise, US$250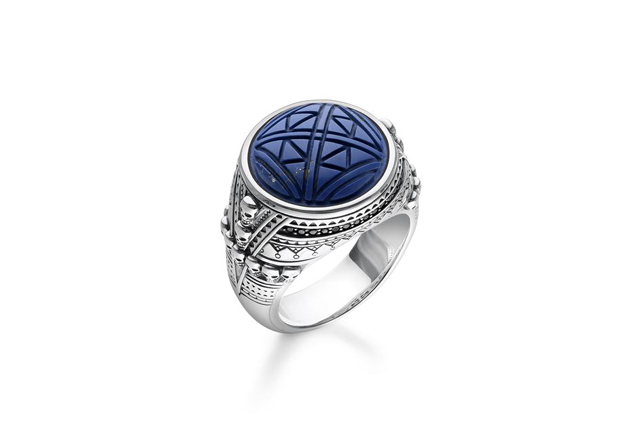 Thomas Sabo Sterling Silver Rebel at heart ring "Ethnic Skulls Blue", S$479
The Watches To Match
Yes don't leave your wrists bare! Arm yourself with these equally colourful timepieces.
Rolex Oyster Perpetual Yacht-Master with gem-set bezel
Jaquet Droz Grande Seconde Off-Centred Aventurine
Piaget Altiplano Watch with green malachite
Piaget Possession Watch with various headstone dials