This isn't so much a bar as a hip record store that serves alcohol. A collaboration between three audiophiles—Sharon Seet (co-founder and curator of record store The Analog Vault), Kurt Loy (DJ, digital strategist and co-founder of social e-commerce #vinyloftheday), and Darren Tan (DJ, co-founder of #vinyloftheday and audio-visual collective Syndicate)—White Label Bar & Records is a booze-filled playground for music enthusiasts in Singapore, whose idea of a perfect nightcap is thumbing through records with a drink in hand.
In a city where it's cool for a bar to be hush-hush, there's something refreshing about a watering hole that isn't afraid to be out there. White Label is hard to miss: A huge vintage cinema light-box with changing puny phrases like "You make my heart spin" hangs above the entrance. Inside is — and unexpectedly so for an "analog bar" — warm and bright with a clean-lined layout, ample lighting, white and pale concrete walls, and a white and green marble tiles that would be great for #ihavethisthingwithfloors posts. Furnishings like stools, vinyl crates, and wall shelves are, however, kept dark for a stark contrast.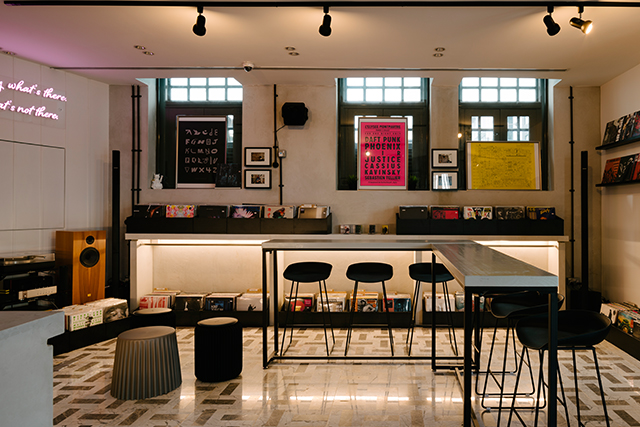 You won't find as many records here as at The Analog Vault, but the inventory, which features currently-trending albums as well as highlights from various eras, changes regularly with a curated selection of offerings from local and regional stores. A Singapore record store map, pointing to all the places you can go and get your vinyl fix, will be available later this year.
The booze list is modest, but drinks are strong and well-priced (just how we like it). Signature cocktails include a vodka-based fresh fruit mojito, the White Label Iced Tea, as well as a chrysanthemum vodka martini. The bar also stocks a seasonal selection of single malts (a glass of Glenfiddich 18 YO goes for a mere $26), gins, craft beer, boutique Champagne and wines if you're not in the mood for cocktails. Food-wise, snacks here lean towards Japanese flavours, with simple offerings like tsukune skewers, cup-sized Japanese beef curry with rice, pickled cucumber and more.
As White Label is run by two DJs and a music pro, you can expect many special themed nights to follow, ensuring nobody stays seated for long. In fact, there's recording room carved out in the space (where the neon sign is) specially for SGCR, short for Singapore Community Radio, which streams live DJ sets and acts. Like what you hear? Just ask the friendly staff to help you track down a copy.
White Label Bar & Records is located at 28 Ann Siang Road, #01-01, Singapore 069708.