2020 has been a year fraught with uncertainties and new challenges, but there's no doubt that it was also packed with some of the best fashion collaborations we've seen thus far. We were treated to a host of well-executed coming together of fashion brands (that were rather unexpected at times), especially when collaborations have become commonplace.
From Dior Men's season-after-season devotion to marrying craft and culture, to the return of a beloved designer collaboration at Uniqlo, we take a look back at some of the best and perhaps, historic fashion collaborations of the year.
If we had to pick just one fashion collaboration that we'd love to see over and over, it would have to be the Fear of God exclusively for Ermenegildo Zegna collection. The entire collection was a seamless application of luxury streetwear combined with contemporary cuts and tailoring that's been designed to be a staple in one's wardrobe. We won't be entirely surprised if the collaboration gets a sophomore effort in 2021, especially after such positive reception.
While the Dior Men summer 2020 runway show was replete with decadent couture-like creations, it was the accessories done in collaboration with RIMOWA that had everyone talking. The attention was specifically on the crossbody cases that took on the appearance of mini RIMOWA luggage in an array of colours. It marked the luggage brand's official foray into lifestyle accessories and spurred the creation of its own Personal case that's now set to be a common fixture in its repertoire. How brilliant of a move was that?
2020's Moncler Genius project saw the return of many of Moncler's previous collaborators, as well as a couple of new ones in the mix. One of them was British label JW Anderson, helmed by fashion wunderkind Jonathan Anderson. In line with the brand's fluid approach to clothing, 1 Moncler JW Anderson was a revival of some of its well-loved silhouettes (a ruffled short, for example) but done in technical down. There was also a play in textures and proportions—just goes to show the versatility of Moncler's renowned fabrication and Anderson's creative genius.
Converse has been amping up on its roster of collaborations of late. One definite standout in 2020 was the A-COLD-WALL* x Converse Chuck Taylor All-Star Lugged. The weatherproof version of the classic Chuck got a more hybridised update (was it a boot or a high-top sneaker?) thanks to Samuel Ross of A-COLD-WALL* and his hiking-inspired design. The result was a heavy duty pair fitted with a chunky rubber outsole and toe cap set against a lightweight ripstop upper.
Futura x COMME des GARÇONS SHIRT
Rei Kawakubo of COMME des GARÇONS is known for many things, and among them, the queen of collaborations. The Japanese designer is constantly partnering up with artists and other designers, and incorporating their works into her designs. 2020 saw graffiti artist Futura delivering three prints that were then used in a small capsule collection of some of COMME des GARÇONS SHIRT's signature pieces, including the coveted plastic-covered paper totes.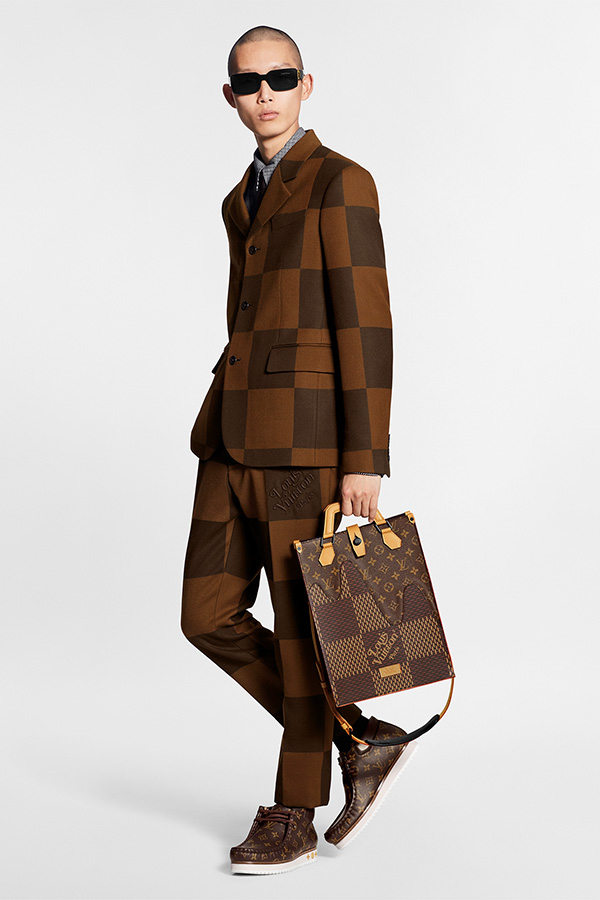 Virgil Abloh has been at Louis Vuitton for over two years now and 2020 marked his first big collaboration for the luxury fashion house. Partnering up with streetwear icon Nigo, the LV² Louis Vuitton Squared collection deftly made use of the house's icons (specifically the Damier check) and reinterpreted them in ways that we hadn't seen before, including mixing them up with Nigo's signature design aesthetics. While the collection definitely skewed streetwear, tailoring played a big part too and showed that Abloh has no qualms about tackling time-honoured tailoring techniques.
Études x Keith Haring
The late Keith Haring and his artwork will continue to be referenced and idolised in fashion. And with good reason too. The lively graphics are instantly recognisable and are the sort of art that's non-elitist. French brand Études returned with another collaboration featuring Haring's art for spring/summer 2020 and done in the most respectful manner. They were feature prominently in their truest forms on simple silhouettes that's synonymous with Études. There's no sense in trying anything different when the graphics are so strong, and this collaboration excelled at that.
Craig Green has been part of Moncler Genius from the beginning, and even collaborated with Moncler before the establishment of the project. It's amazing then to see how he's constantly conceptualising something completely new with Moncler every single time. For the 2020 iteration of 5 Moncler Craig Green, the designer sought to create the thinnest expression of Moncler's down fabric and in turn, explored new ways of construction and fabrication while still staying through to his own aesthetic. Astounding.
Casablanca x New Balance
Casablanca's a relatively new fashion brand, but it has scored some pretty impressive collaborations. The most noteworthy to date is its treatment of the New Balance 327s. The Casablanca x New Balance 327 sneakers' original colourways came in orange on white and green on white—both simple in execution and were inspired by Moroccan oranges and tennis uniforms respectively. It's easy to over-embellish collaborative sneakers but these were so effortlessly done.
Jil Sander returned to Uniqlo after almost ten years for the autumn/winter 2020 season. The beloved collaboration was a combination of the best of both Sander and Uniqlo, creating a collection of uniform-esque staples that were founded on simplicity and functionality. Crisp shirts with minimal flourishes and razor sharp suiting that are signatures of Sander's were done in an easy-to-wear palette, with the less-is-more approach evident in the styling of the collection as well. It was the perfect collaboration that was in line with 2020's essentials-only mindset.
Marine Serre x Airinum
Marine Serre has been creating face masks and showing them as part of her collections since well before COVID-19. The collaboration with Airinum started with spring/summer 2020 (shown in 2019) and has been one of the leaders in fashion's face mask hype. The Marine Serre x Airinum masks ranged from the simple to the most printed iterations emblazoned with the Serre's iconic moon prints.
It'd be remiss of us to not include another Dior Men collaboration that's one for the historic books. The Air Dior collection was arguably the most hyped collaboration of 2020, featuring none other than the Air Jordan 1 OG Dior sneakers. Available in both low and high variations, the sneakers had all the distinct details of the AJ1s but crafted to perfection by Dior's artisans and peppered with luxurious, signature Dior details. If there was one sneaker that was on everyone's lips in 2020, this was it.