Fashion has always been about looking forward and never being stuck behind. And a surefire way to do so is through collaborations. By combining existing brand visions, collaborations have sought to offer fresh perspectives for brand supporters as well as evoke a sense of curiosity and uncertainty of what's to come.
2021 has seen not shortage of brands coming out with collaborative capsule collections. From those fronted by celebrities known for their army of fans as much as their personal style to the continuation of streetwear-luxury pairings, here are our top picks of the collaborations that have made the year so far.
Gucci and Balenciaga's The Hacker Project
Luxury fashion houses Gucci and Balenciaga are steering away from calling their combined The Hacker Project a 'collaboration'. And while the project is somewhat unlike the typical coming together of two brands—in the way that both houses were given free access to anything and everything of each other's icons and silhouettes—it still was a collaborative effort albeit in an unprecedented form. For the first time, the project resulted in two separate collections that made use of both house's distinct signifiers in two very different ways. It was so monumental that Fendi and Versace followed suit.
Dior and sacai
Dior Men, especially under Kim Jones, is no stranger to collaborations. One of its more memorable ones in 2021 would have to be the Dior and sacai collection that was part of the Dior Men spring 2022 collection. Dior's more tailored nuances and couture heritage juxtaposed beautifully with sacai's more deftly calculated approach to contrasting constructions and penchant for technical fabrications. There was a heavy emphasis on workwear, especially in the way that the Japanese have adopted the aesthetic. In other words: another stellar Dior Men collaboration.
4 Moncler HYKE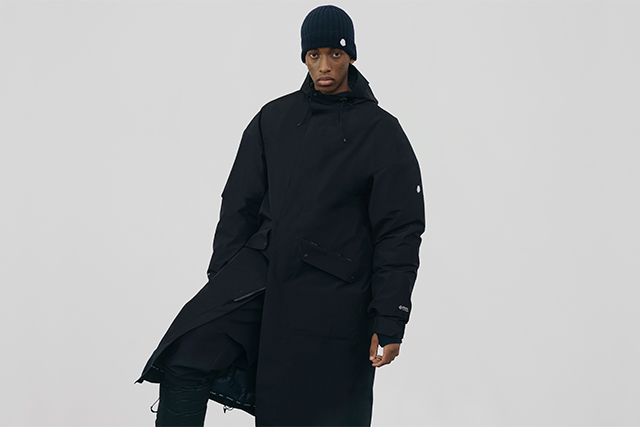 HYKE may not have been household name in mainstream fashion. But all that definitely changed with its collaboration with Moncler as part of the latest iteration of the Moncler Genius project. The Japanese brand's super minimal aesthetic—a constant harmonious balance of form and function—showed just how simplicity in design could work when it comes to Moncler's more technical side. The entire 4 Moncler HYKE collection consisted of only two colours with womenswear and menswear pieces blending throughout.
Indya Moore x Tommy Hilfiger
Transgender model and activist Indya Moore has teamed up with Tommy Hilfiger for a size-inclusive, non-gendered capsule collection. Parked under the Hilfiger People's Place Program—a three-pillared platform focused on the advance of representation in fashion and beyond—the collection includes a series of apparel, intimates, accessories, footwear, jewellery and eyewear. A slew of Tommy Hilfiger archival pieces such as polo shirts, button-down Oxford shirts, bandeau tops and pin-striped blazers have also been co-designed by Moore herself as an extension of a wearer's own self-expression.
Palace x Juergen Teller
After years of photographing Palace's campaigns and lookbooks, renowned photographer Juergen Teller has taken a first step into designing for the skate brand. The partnership is centred around Teller's stark-styled images (both archival and new) printed on a series of T-shirts, hoodies, tote bags as well as skateboards. From a topless self-portrait of Teller posing with a football to a close-up of cigarettes smoked by Norwegian author Karl Ove Knausgard, the capsule collection captures an energy that's at once borderlines on grotesque and art.
Ambush x Gentle Monster
Ambush teamed up with Gentle Monster once again, following the success of their first partnership back in 2019. The latest climbing-inspired capsule collection, 'CARABINER', consists of two sunglass designs—Carabiner 1 and Carabiner 2—with three colour options each. The name of the collection is materialised in the D-shaped carabiner hinge design featured on the temples of the eyewear. Carabiner 1 is designed with a square acetate frame—a Gentle Monster classic—while Carabiner 2 takes on a more cat eye-shaped frame for a softer rendition. To top it off, the packaging also features bold coloured drawstrings that are iconic to Ambush and a silver carabiner to symbolise the joining of the two brands.
Converse x Telfar
New York-based brand Telfar has taken another step towards collaborating with other fashion labels as a means of exploring different mediums. Following its partnership with footwear brand Ugg, the brand has recently teamed up with Converse for a collection consisting of a duffle bag, footwear, T-shirts, ringer tanks and a lightweight jersey hoodie. The athletic-inspired collection is centred around the idea of 'sports is for everyone', reworking the Converse Pro Leather series with upgraded graphics of the Telfar and Converse logo, as well as introducing a unique unisex ballet flat design.
Jil Sander x Birkenstock
Footwear brand Birkenstock joined hands with Jil Sander creative directors Lucie and Luke Meier for a new footwear initiative based around the idea of nature, life outside of the city. The capsule collection also combines luxury and comfort based on a minimalist aesthetic. The collection features three reworkings of classic Birkenstock models and one new design that's been named Velan, an interpretation of a Berlin closed-toe sandal. The Jil Sander x Birkenstock collection comes in either raw-edged calfskin leather or suede rendered in cream, olive or black colourways—maintaining both Jil Sander and Birkenstock's common love for neutrals.
Aries x Umbro
London-based label Aries partnered up with sportswear brand Umbro for a unisex capsule collection inspired by playing football at home. Aries founders Sofia Prantera and Fergus Purcell along with photographer Lea Colombo took playing sports during isolation as a reference point and combined it with Dutch photographer Rineke Dijkstra's work to create the visuals for the collection. The capsule features a series of football jerseys in red, pink and blue colourways, training sets in monochrome pixelated graphics, and classic Umbro drill pieces in lilac and black tie-dye.
RIMOWA x Chaos
RIMOWA debuted a collection in partnership with London-based brand Chaos which featured travel suitcases as well as accessories. The collaboration was a reimagining the common ground of sensibility and functionality shared by both brands. The suitcases were designed with a bold graphic resembling paint dripping down the exterior and was available in two complementary colour options: Saffron Yellow and White as well as Cactus Green and Black. The collection also consisted of collectible leather luggage tags that were emblazoned with city names and individually sported different styles that referenced each destination.
LV x NBA
The LV x NBA collaboration was an expansion of the ongoing partnership between the luxury house and the professional basketball league. Inspired by the three dress modes of basketball players—travel, game and press conference—the collection consisted of casualwear, informalwear and formalwear respectively. Blousons and shirts took reference from the typeface of NBA teams and came with graphic multi-coloured letters spelling out 'Louis Vuitton', while shorts were emblazoned with the luxury house's varsity-style logo.
Nike and sacai
sacai is a force to be reckoned with and its collaborations with Nike only serves to cement its position. For 2021, the fashion brand continued its beloved Nike x sacai LDWaffle silhouette but amped up with additional input by a trio of brands. Fragment, CLOT and Undercover each added their own touches to the collaborative sneaker—essentially a three-way collaboration—varying in colourways, treatments and textures. And all while retaining that now-signature design that every sneakerhead appreciates.
Gucci x Kai
The Gucci x Kai capsule collection was announced after the K-pop idol's two-year ambassadorship for the luxury brand. The collaboration took inspiration from his childhood love for teddy bears and was eventually made into a recurring motif used throughout the collection. Found on an array of ready-to-wear pieces and accessories that included handbags, T-shirts, hats, small leather goods as well as sneakers, the teddy bear motif reminded us of nostalgic childhood days filled with joy and laughter.
Polaroid x Lacoste
Lacoste took colours to a whole new level for spring 2021 with a collaboration with Polaroid. Inspired by Polaroid's famous rainbow logo from its first instant colour film developed in 1963, the collection saw oversized polo tees, hoodies, T-shirts, track pants and sneakers in bold mixture of red, blue, green and yellow. On top of that, a limited-edition Polaroid 600 instant camera was also part of the mix as a tribute to joy, boldness and freedom—common values shared by both brands.
Puma x Maison Kitsuné
The debut collaboration between Puma and Maison Kitsuné saw the marriage between vintage and modernity. Puma x Maison Kitsuné was a harmony of sportswear mixed with Japanese heritage through a series of apparel and accessories that were reworked from classic silhouettes and given a tonal and earthy colour palette. The Maison Kitsuné signature fox logo—a symbol of versatility according to Japanese folklore—was manipulated in a few ways throughout the collection, adapting to the colour scheme or each piece, and at once, a representation of how the collection itself was designed to be versatile.
Vans x Opening Ceremony
The long-term partnership between Vans and Opening Ceremony saw the two brands collaborating on a series of footwear, apparel and accessories. Taking reference from Vans's iconic checkered board print, creative directors of Opening Ceremony Humberto Leon and Carol Lim reimagined a new print with abstract snake and leopard patterns which were incorporated as a motif for some pieces in the collection. The footwear design utilised the original Vans deck shoe so as to retain the brand's classic shape and comfort.
Loewe x My Neighbour Totoro
Rooted in the mutual love for craft and artisanal techniques, the Loewe collaboration with Studio Ghibli was a nature-inspired and fantasy-driven capsule collection. The partnership also took nostalgia as a form of reference with a series of My Neightbour Totoro protagonists and scenic landscapes from the film reimagined onto ready-to-wear pieces, leather products as well as accessories.
Maison Margiela x Reebok
Maison Margiela x Reebok has been one of the most active partnerships around. The outcome has been a combination of Margiela's design ethos and Reebok's best-known silhouettes. Since Margiela first revealed the footwear collaboration with Reebok in the spring/summer 2020 haute couture collection, the two brands have been coming up with new takes on their collaboration. The classic Margiela split-toe Tabi was first combined with the futuristic Reebok Instapump Fury giving it a human-meets-technology look—a key inspiration for Galliano while working with the sports label.
This year, the Margiela reworked Reebok's Classic Leather in the maison's 'Bianchetto' technique which utilises hand-painting that chips off with wear. They also launched another series that featured low-top editions of the Classic Leather Tabi and the Club C in triple red and triple grey. Following that, the leather Tabi High was most recently introduced. Inspired by gladiator sandals, the shoe design revealed core structures and framework that showcased Margiela's deconstruction ethos to its full effect.