Whether it's the desire to stay in for more movie nights or the realisation that you are slowly turning into an audiophile (who doesn't love an ASMR), creating a home theatre from scratch can be a daunting task. From terms like soundbar and subwoofer, as well as choosing between speakers that either sit on bookshelves or stand on the floor, there's quite a bit to consider when all you want to hear is Dolby 7.1's all around you from the comfort of your own living room or building bedroom.
For those less acquainted with Dolby and the cinematic world of sound, Dolby's 7.1, the tech responsible for cinema sound, is actually not the most cutting edge in sound tech development today. It is Dolby's Atmos that is the latest update, and expands upon the existing 5.1 and 7.1 surround-sound set-ups with surround channels coming from overhead. Originally developed in 2012, the key innovation of Atmos lies in its placement of speakers not just along walls (at all heights) and behind the screen itself, but also in the ceiling—essentially creating for audiences a dome of sound. Up to 400 speakers can be used in the top Dolby Atmos cinemas, but since that's nearly impossible in a domestic environment, sound technicians came up with a more compact, and sometimes more affordable solution: higher-functioning multi-speaker systems and soundbars.
So to make things easier, we have collated a list of five of this year's newest and best speakers for homes below, each catered to creating that cinematic soundscape for different people and different spaces. Think value for money, suitable for small rooms and best of all, the best of the best if you are willing to invest in them.
All-rounder: Sonos Arc
Whether you're in the mood for an immersive gaming session or the first play of your favourite artist's long-awaited new album (e.g. Adele's 30), this premium soundbar is a dynamically deft powerhouse that for its price, is definitely one of the best picks in the market. Designed to partner bigger TVs, it's brilliantly realistic sound makes you question how you've been watching and listening to things on the TV all this while when the option of actually feeling sound, as one would in person, was always there. On top of its svelte silhouette, its compatibility with Dolby Atmos's is 3D sound and built-in Amazon Alexa and Apple AirPlay 2 (app and voice control functions), expect only one of the most immersive home Dolby Atmos experiences.
Sonos Arc retails for $1,599 (including GST) and is available at Sonos, Harvey Norman and Lazada.
High-end: Sennheiser AMBEO Soundbar
Sennheiser's first consumer speaker is a no-frills, jet black panel that provides a rare, rich yet natural sound. The AMBEO's bigger-than-normal size may come with with a larger-than-normal price tag, but it's above-average quality and all-in-one system (that has no need for unnecessary additions like subwoofers) more than make up for it. The built-in equalizer and three bespoke AMBEO 3D technology modes ensure whatever you're playing sounds extra visceral even to the biggest of audiophiles. The best part? Advanced room calibration that tailors the experience to your surroundings without the stress of manually changing the settings each time; literally just plug-and-play.
Sennheiser AMBEO Soundbar retails for $3,890 (including GST) and is available at Sennheiser, AV One and Lazada.
Small rooms: Amazon Echo Studio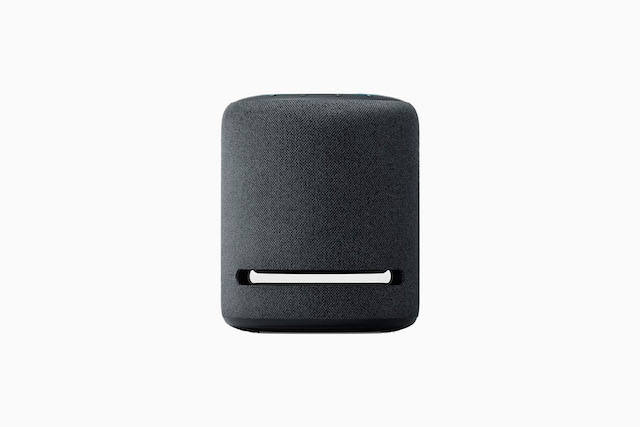 If you are someone who prefers movies in bed or the privacy of a more personable "sound pod", here is one to consider. Small but mighty, the Amazon Echo Studio is wrapped in a charcoal fabric covering that's easy on the eyes, and rather than overpower, produces a sound that blends right into the room. It automatically senses the acoustics of your space, fine-tuning playback for optimal sound. On top of five individual speakers that perform powerful bass, dynamic midranges and crisp high notes, this smart speaker has all the typical features of Echo devices; set timers, reminders and alarms; control smart home devices; play music; get facts and trivia, all by asking questions or barking orders at Alexa.
Amazon Echo Studio retails for $378 (including GST) and is available at Lazada.
Best value for money: Sony HTX8500
The Sony HTX8500 is not a new release but has been a classic choice for reliable, quality home speakers for a long time. It champions a large soundstage, which means a wide-reaching surround-sound effect that is enhanced with its Dolby Atmos compatibility. This system comes with dual built-in subwoofers for deep bass and loud noise without any crackling or hesitation and seven different custom fit sound modes for home entertainment. It's the kind of speaker that enhances the sound of your space without drawing attention to itself—a humble performer made just for homes.
Sony HTX8500 retails for $649 (including GST) and is available at Sony and Courts.
Aesthetics: Monitor Audio Silver 100 7G
Monitor Audio Silver 100 7G is a bookshelf speaker that with its clean silhouette and option of real-wood veneers, looks bespoke to the eye. Featuring Rigid Surface Technology, a new tweeter design and a new crossover system that intelligently combines the tweeter and bass driver, it eliminates distortion wherever possible to provide richer sound and deeper bass than a floorstander. Whether you choose between Satin White, High Gloss Black, or Black Oak, Natural Walnut, Ash finishes, this speaker will speak volumes about both your knowledge of home cinemas and taste in home design.
Monitor Audio Silver 100 7G retails for $1,699 (including GST) and is available at AV One and Lazada.