It's not your average cup of Joe for sure. We already have Taiwanese bubble tea given the artisan coffee treatment with custom-made espresso machines (not mentioning names because #NoFreePub), but apart from the seasonal drinks at that place you get your overpriced coffee, there aren't as many variations to caffeine. Cold brews and flavoured lattes where the most exciting ingredient is oat milk have nothing on this new brew house.
You have more than 20 concoctions to choose from across four series. The coffee-based Signatures are where you'll find your adventurous blends, the tea-based Crafted collection would be the democratic option for diehard tea fans, while Addiction carries either base—or neither—with matching ingredients on the heftier side. Not forgetting the purists are the Classics which come with an additional shot of espresso, though you are given the freedom to add toppings like Gula Melka boba for a dollar.
Must-try
Melaka Rhapsody.
Glamour.
Needless to say, the Tomato Tango is likely the reason you're reading this, and it goes top of the Signature list for good reason. With actual cherry tomato slices, a piece of seaweed (you still here?) and topped with mint, the combination sounds like a bad idea, but is strangely pleasantly refreshing.
Glamour gives you a bang for your buck with its size and extensive flavour with three types of fruits, three types of toppings, profiled with Jasmine tea and layered with savoury cheese foam. Melaka Rhapsody matches either coffee or tea base with Gula Melaka boba, sizeable coffee jelly squares, and—you guessed it—cheese foam.
The Star(s)
Something About Mary.
Crack Me Up.
Of course, this is highly subjective, especially with the individual's mood-susceptible choices often dictated by the meal prior. In other words—don't send me hate mail if you disagree. Something About Mary sits closer to a mocktail with its seamless meld of rosemary, passionfruit, and apple. The ratio subtly enhances the coffee and is easily a repeat order. Alternatively, if prefer your drinks to be the liquid equivalent a full meal, Crack Me Up, a smoothie of salted egg yolk biscuits and black sugar popping boba, might just keep you full for three days.
Averaging from SGD7 a cup, they're on the pricier side if you're going in with the boba tea mentality, but factor in the cold press juices and roast of Ugandan and Colombian beans and it seems justifiable. It's only a pity no sustainable practices are incorporated into the packaging.
How we feel about it in a gif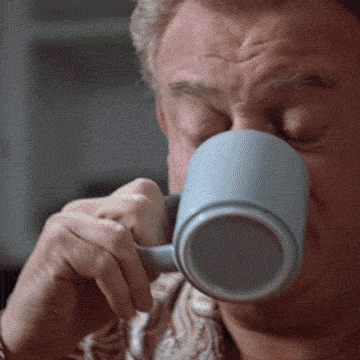 Beyond Coffee is located at VivoCity #02-135, Singapore 098585 .