If you asked me to describe the new, third-generation 1 Series (with all-new front-wheel drive architecture, but more on that in a moment) in one word, I would say 'pleasant'.
Not that it's a bad thing or anything. After all, it's hard to argue with a car that has interior space that would make a 3 Series from the 1990s blush, will happily sit at speeds of over 150km/h all day long and comes with technology that wouldn't look out of place on a new 5 Series.
All this coming from a car that nominally sits in the compact class and will, as it has for three model generations, serve as the entry point to the vast BMW product family.
That said, you'd be forgiven for thinking that all the standout features in the new 1 Series are a little, well, un-sexy. This is a car that for some 15 years had the distinction of being the only rear-wheel drive vehicle in its segment and the only one to come equipped with a six-cylinder engine.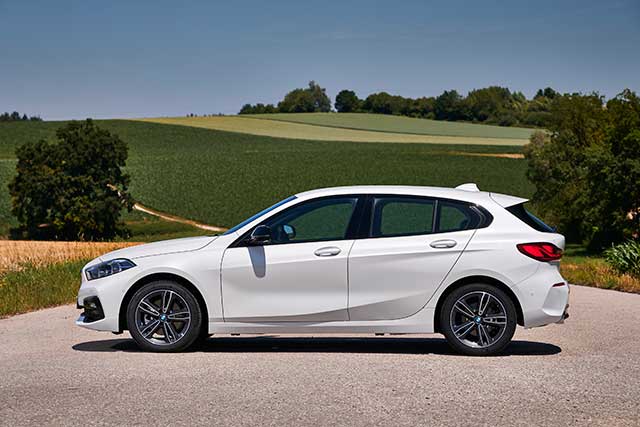 Incidentally, the rear-drive and six-pot motor, along with the three-door body style, have all been shown the door with the new 1 Series, ostensibly due to low take-up rates among the buying public.
So essentially, the things that made the 1 Series the 1 Series is now gone. When all is said and done, the new 1 Series is just like the Audi A3 and Mercedes-Benz A-Class, with the only differentiators being price, equipment levels and the badge perched on their respective prows.
However, that would be a reductionist way of looking at the new 1 Series. And even if the newest and smallest BMW wasn't entirely unlike its biggest rivals, that's not a deal-breaker, because out in the real world, you'd struggle to tell that the new 1 Series has gone the way of the devil with front-wheel drive.
Perhaps it's the modern chassis engineering and electronics, or perhaps BMW has learned a lesson or two from its ownership of the Mini brand for the last two decades, but either way, it works.
Sure, the 1 Series' front end is considerably less nippy than a Mini, but in all fairness, the BMW has a rear bench you can put regular-sized humans in and it has a boot that can fit more than a weekend bag.
And even more so now with the 1 Series' new front-drive architecture that allows for more efficient packaging of the car overall. The boot is now 20 litres larger than before, for a total of 380 litres; there's 42mm more elbow room in the front seats, while rear-seat passengers get 13mm more elbow room and 33mm more knee room.
And unless you're out on the race track, or you drive it at eight-tenths on public roads (if you are of the latter persuasion, how are you even still in possession of your licence?), it's likely you won't be able to tell too much of a difference.
I drove the new 1 Series as hard as I dared around the Austrian Alps near Tyrol and I found it handled better than its supposedly more feisty rear-driven predecessor.
Its forebear had that delicious rear-drive punt out of corners, but I felt its nose sluggish and in some cases, I had to wrestle it into corners fighting understeer along the way.
In the case of the new 1 Series, I could brake late, flick it into corners and trust the nippy turn-in and electronic differential (that works by imperceptibly braking the inside wheel) to quell most of the understeer on the way in and out.
In other words, like a proper little sporting hatchback, unlike the 'small big car' thing its predecessor had going for it.
It's all a bit Mini-esque, come to think of it. But like a big Mini, so kind of like a Maxi. But I digress.
What it doesn't have is the Mini's hyperactive handling, the so-called 'go-kart feeling'. While you could drive the new 1 Series like an absolute maniac if you so chose, it does quiet really well too.
Really, really well, in fact.
Like I said earlier, the new 1 Series will sit at Autobahn speeds (that is to say illegal in Singapore) all day long without so much as a peep.
It's high-speed refinement that would be completely incomprehensible in a small car all but a model generation or two ago.
Ah, the miracle of modern chassis engineering, something that's also given us the new 1 Series' staggeringly high levels of equipment.
My test car in Germany came specced to the nines, with adaptive LED headlights, lane departure systems that will gently guide you back into your lane if it senses you're straying, and autonomous parking systems.
Even then, local cars come standard with LED headlights, a 10.25-inch touchscreen infotainment system with gesture controls, a digital instrument cluster, LED-backlit interior trim strips and a reverse camera.
At a glance, its interior bears more than a passing resemblance to the 3 Series, a car one class bigger.
But in all honesty, the new 1 Series needs to come with all this kit, if only so it can keep pace with its segment rivals. The Mercedes-Benz A-Class has similarly high levels of equipment and it's a near certainty the forthcoming (sometime in 2020) Audi A3 will have it too, if not more.
It might seem a little prosaic to call the new 1 Series the leader in its segment simply based on price/spec, but that's the reality of the modern car industry for you when new products are so evenly matched. Local prices for the 118i, the only variant currently on sale, are pegged at SGD150,888, and sweetening the deal further is how those cars will come with M Sport body styling. Compare that with the Mercedes-Benz A180, priced at SGD156,888 that only comes in the mid-tier Progressive trim level.
Ah wait, we take it back. The new 1 Series is still the segment's dynamic benchmark. Against the Mercedes-Benz which can best be characterised as languid, the BMW is keen, peppy and if driven with gusto, a hoot.
Not bad for a BMW that has a 'wrong' driven axle and engine orientation, huh?
SPECIFICATIONS
ENGINE 1,499cc, 12-valves, inline-three, turbocharged
POWER  140hp at 4,600-6,500rpm
TORQUE 220Nm at 1,480-4,200rpm
0-100KM/H 8.5 seconds
TOP SPEED 213km/hr
TRANSMISSION Seven-speed dual-clutch
FUEL CONSUMPTION 5.7L/100km
VES BAND C1 ($10,000 surcharge)
PRICE SGD150,888 (including COE, excluding options)