This is not a sentiment we express often, given how well the internet (and car manufacturers, for that matter) take to hot takes and unpopular opinions, but it has to be said.
BMW's product line in the past decade or so has taken a rather disturbing turn. Let's go over the ways, shall we?
There was the introduction of the X5M/X6M; the inclusion of a front-wheel-drive MPV to the core product range; the monstrous new X7 SUV with its equally monstrous grille; the insufferable blandness of nearly every last-generation BMW.
And that's only naming the more egregious sins for the BMW faithful, who were left feeling a little like Obi-Wan below.   
So, that's left us with the new, seventh-generation BMW 3 Series. A car with quite a lot riding on it, given that BMW has pretty much built its modern reputation of being "the ultimate driving machine" on the back of its ability. A car that is not only expected to be luxurious with top-notch materials, construction and equipment, but also great fun to drive.
The sixth-generation car was, if we're being charitable, a little wanting. Far larger than the car it replaced, far heavier-feeling and most damning of all, about as lively as a plank of wood.
In all fairness, the new 3 Series is larger than the car it replaces, though not in a bad way. At 4,709mm, it's 76mm longer overall, but crucially it's also 16mm wider and just 1mm taller. That, and the new sinuous profile, swollen wheelarches and blocky bumper styling makes the car look more purposeful and less reedy than its predecessor.
The more hunkered-down stance, its squinty headlights and jutting, dark-tinted rear light cluster, makes it look like it's positively spoiling for a fight.
On a side note, the first time the 3 Series appeared in four-door form in the early 1980s, it measured 4,325mm. These newfound proportions make the new 3 Series only marginally shorter than a late-1980s 5 Series, a car a size class up.
Though we suppose that's more than appropriate, since the new 3 Series, particularly in range-topping (for now) 330i guise is packed with equipment comparable even to a 7 Series.
LED headlights are standard items (ultra-bright phosphorous 'Laserlight' headlights with an adaptive high beam are optional), an all-digital instrument cluster, and if you're one of those techy types, a suite of autonomous driving functions can be had as cost-optional extras.
Then, there's the quality of the cabin itself. It's gorgeous, and thoroughly redeems the dull, monochromatic BMW interiors from just a generation prior. Of course, the standard ambient lighting strips contribute to making the cabin a far nicer place to be, but credit also has to be given to the design.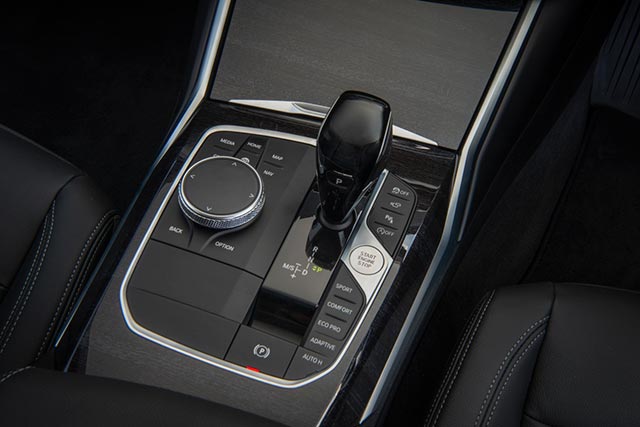 It's technical without being intimidating… and oh goodness, those sculpted metal interior door handles.
Though all that interior quality and equipment is pretty much par for the course. The 3 Series, despite its roots as a entry-level premium car, has steadily been gaining more and more gear in recent years.
What it has lost in times gone by is its mojo. That old 3 Series magic of being the most fun-to-drive car in its class. The previous-generation 3 Series being thoroughly competent, but also thoroughly dull. Yes, that vanilla appellation even applied to the M3 and its coupe sibling, the M4.
The new car, thankfully, is supremely good. Its 258hp, 2-litre turbocharged motor helps here, as does the M Sport suspension, which makes the car ride lower and firmer.
The fact that BMW says the 3 Series is up to 55kg lighter model-for-model also no doubt goes some way to contributing to the new model's improved handling demeanour.
Or the 50:50 weight distribution, which makes the new car such a joy to string through corners. The steering meaty, predictable and the car pivots so beautifully around you.
But while we could speculate for days as to why the new 3 Series completely redeems itself, and how much more of a coherent product it is against its forebear, its biggest triumph is how it appeals to people both familiar and unfamiliar with the model.
Newcomers will surely appreciate the amount of features it's loaded with, and for fans of the model, the lithe chassis so characterised the 3 Series is alive and well here.
Of course, some will point to how one would expect the top-end 330i variant to be good. In the fullness of time, you can expect entry-level variants like the 320i to arrive, and that will be the true litmus test of the seventh-generation car.
But we're pretty optimistic the new car will do well there, too. While you can expect lower levels of equipment and a less punchy motor, it doesn't really matter all too much, since the fundamentals of the car are just that strong.
It's also still too early to tell if this seventh-generation 3 Series can be counted as among the all-time greats, but we can at least take heart in the fact that, after two generations of cars that could best be described as meh, this one is brilliant.
SPECIFICATIONS
ENGINE 1,998cc, 16-valves, inline-four, turbocharged
POWER  258hp at 5,000-6,500rpm
TORQUE 400Nm at 1,550-4,400rpm
0-100KM/H 5.8 seconds
TOP SPEED 250km/h
TRANSMISSION Eight-speed automatic
FUEL CONSUMPTION 6.1L/100km
VES BAND B (No rebate/surcharge)
PRICE $231,888 (including COE, excluding options)