Every season, countless new designer names join the ranks of fashion week schedules, multi-brand retailer lists and your Instagram feed. But once in a while, a designer comes along that has the power to radically alter the very course of the industry, such is the unique nature of vision. Bode is one such brand. The namesake of New York City-based Emily Adams Bode, a piece from the designer is instantly recognisable and yet uniquely individual, made as they are from a mix of deadstock fabrics, vintage garments and reclaimed decorative objects, such as quilted equine show blankets.

On paper, it's not a style that instantly spells out a recipe for success in the global menswear business, and yet Zayn Malik, Harry Styles, Donald Glover, Ezra Miller and Leon Bridges have ably demonstrated the innate childlike appeal of Bode's one-of-a-kind pieces, with their boxy, 1950s silhouettes and sepia-hued colour palette. But aesthetics aside, Bode is representative of a market shift towards handmade, local; clothes imbued with the imprimatur of their makers' hands. "We aim to change the way individuals understand luxury consumerism through our vision," explains the designer. "Our focus is to educate and preserve history through craft and storytelling. We are dedicated to telling the narratives of historic designs and patterns whilst using contemporary, sustainable and domestic manufacturing."
This month, after some unavoidable Covid-induced production and shipping delays, Bode's collection for the International Woolmark Prize arrives in stores. Having competed as part of the historic talent competition at an event in London back in February, where she won the Karl Lagerfeld Award for Innovation, Bode was part of a cohort of 10 globally-selected designers that committed to producing fully traceable collections, adding transparency to the supply chain process of a fashion collection that's very often glossed-over. "This competition completely changed the way we work with our mills and factories," Bode says. "Going forward, we will strive to only use natural, circular materials to produce our garments. All textiles entering the studio will be archived with date and origin, into a system in order to track and preserve the story of our garments."

For her Woolmark Prize collection, which crosses over with her fall/winter line, Bode found inspiration in the developmental work of her friend Benjamin Bloomstein and his Green River Project, exploring the relationship between agricultural communities, sustainability and alternative education. And in a nod to the source of the collection's hero fibre – Australian wool – BODE shines light on a 150-year-old tradition. "Our Merino wool felt patchwork pennant set illustrates the lost practice of collecting and repurposing souvenir pennants for the home, a tradition that began in Australia in 1895," says Bode.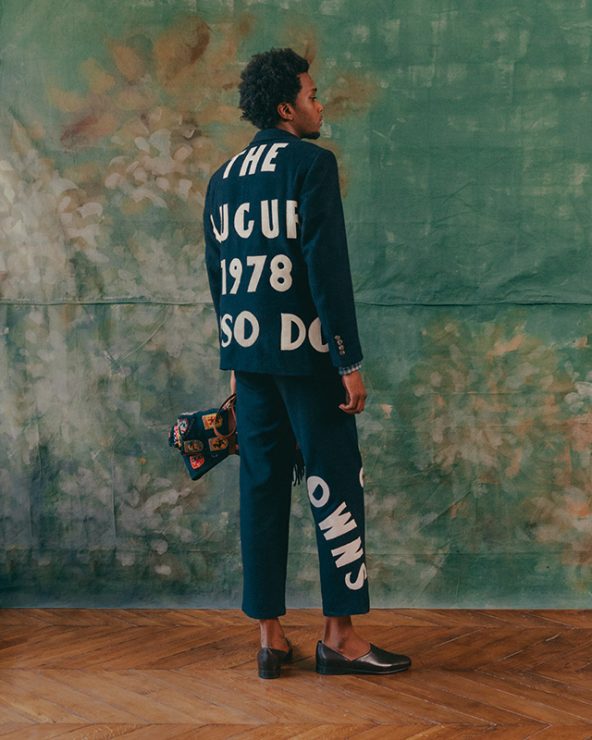 From her store and workshop in Manhattan's Chinatown, Bode has built a loyal community around her brand that demonstrates the long-term resonance of her approach to fashion. Recently, she's been scouting locations in London for a second boutique, but testament to her love of the craft behind her clothes, the phenomenal business growth of Bode is not her biggest achievement. "I am always most proud to incorporate historical techniques in new materials to aid in the preservation of craft narratives," says the designer. "I am also proud to use antique materials and trims alongside sustainable new fabrics to create wearable clothes."
Bode's Woolmark Prize-winning collection is sold at Matches Fashion, Ssense and Bode. See Emily Adams Bode in conversation as part of Esquire Neighbourhood.