With a duo concept between the two floors of the restored 1920s building (which once was an actual garage), Botanico is the fancier sister sitting above casual cafe concept Bee's Knees with its own wine cellar and bar. It's apt that both are headed by Chef Sujatha Asokan, who brings great nuance to her explorations and expressions of local heritage through her mixed parentage. You'll surely find something unique in the combination of regional produce and ingenuity of classic Southeast Asian flavours.
The Space
True to its name, the restaurant completes the clean, wood-accented interior by bringing the green in. Though, the adjacent alfresco terrace is the one that many opt for, and it's obvious to see why it's a popular wedding and event venue with the outdoor air-conditioning and fairy light canopy.
Must-try
You're forgiven if your reaction to the Tacos is surprise because it has nothing to do with the Mexican favourite. Well, except the way it's consumed. Sort of. You place the Australian beef tongue within the subtly relished baby bokchoy, top it with the cashew cream and jicama slaw before popping it in. The result is yet another surprise—a distinctly Vietnamese palate. It's a good sampler of the menu's many intricacies.
We're in the camp where it's somewhat a sin to use the word umami for food, but the vague reference to a complex savoury taste is the accurate descriptor for the Crab Rissoni. With a mix of Japanese deep-sea red crab and blue swimmer crab meat for the right balance, the pearl-like pasta is infused with toasted Japanese nori before rounded off with a Comte custard and sprinkle of cured and smoked octopus bottarga.
The desserts are another worthy mention for not being overtly sweet while elevating familiar local delights without pretentiousness. The Ondeh Ondeh and Black Glutinous Rice have their respective mochi cake cubes—that's apparently a staff guilty-pleasure—served with blended foam and ice cream in according flavours.
The Star(s)
The Corn Panipuri is one of those that lights you up when you take it in one mouthful as the airy pastry husks breaks apart to let the spiced baby corn and rich vadouvan Japanese corn foam ooze out. It's a tribute to Chef Sue's Indian heritage and also an impressive corn dish considering that she only began to enjoy corn only three years ago.
Whether you're a fan of pork or not, the 65° Kurobuta Pork Belly does the animal's death justice (sorry not sorry, vegans). Brined for 24 hours then sous vide for 18 before pansearing and smoked in an Inka oven, it's served with a flawless housemade soy-vinegar sauce that's infused with Szechuan peppercorns.
How we feel about it in a gif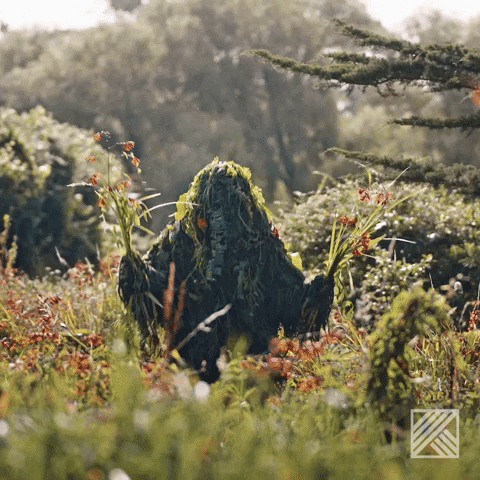 Botanico at The Garage is located at 50 Cluny Park Road Level 2, Singapore 257488. For reservations, call 9831 1106.