Sustainability in fashion is a tricky issue. The idea is not constrained to merely a particular segment of the fashion supply chain or the materials that are used in creating products—it's an overarching concept that should be adopted from the initial stage of material sourcing to our collective consciousness as consumers.
Yes, the onus is on us as buyers of fashion to be well informed and educated on what exactly we're spending our money on. The act of purchasing sustainable fashion isn't only about buying items that are made from environmentally friendly or ethically sourced materials. It's also about ensuring that they're not off-the-cuff purchases that end up discarded in donation bins, or worse, thrown away, because they're no longer sartorially relevant.
Seeking out pieces that will not only stand the test of time, but also our ever-changing tastes, takes some practice. Visualising how a piece would be able to work in different situations and with already-existing pieces in one's wardrobe helps, as well as taking into account that certain materials age differently and sometimes resulting in an even better iteration than it originally was. Like any prudent investment, being sustainable in our fashion purchases requires a bit more consideration.
As autumn/winter 2020 fashion starts rolling, we take a look at some of the pieces that would make for some savvy style investments. Buy fashion, but also buy better so that you can buy less for greater returns.
Taking it a step further with circularity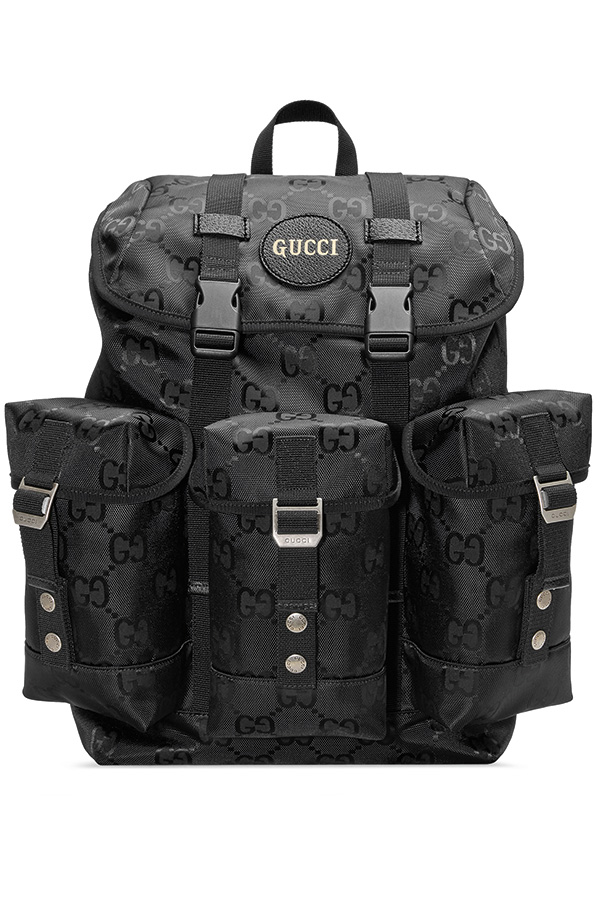 Off The Grid backpack, by Gucci.
Off The Grid gilet, by Gucci.
Off The Grid track jacket, by Gucci.
Off The Grid trousers with gaiter, by Gucci.
Gucci's Off The Grid collection isn't part of its autumn/winter 2020 collection, but it'd be remiss of us not to highlight its significance. The collection consists of some pieces of ready-to-wear and a rather extensive range of accessories and shoes that are all made from a combination of recycled, organic, bio-based and sustainably sourced materials. But the main bulk of the collection is created from ECONYL, regenerated nylon derived from nylon offcuts as well as pre- and post-consumer wastes—including fluffs from washing synthetic materials and discarded fishing nets.
Off The Grid is the fashion house's first debut as part of its Gucci Circular Lines initiative. The aim is to work towards a future where the fashion house depends less on new materials and employs the use of more regenerated materials for its luxury creations. And with ECONYL at the heart of Off The Grid, this means that the collection can be continuously recycled and reworked into base materials for future use without any reduction in quality.
Even so, the Off The Grid collection doesn't differ from the usual Gucci aesthetic. The core material features the GG monogram in all of its glory in three distinct hues of orange, yellow and black. But most importantly, it's difficult to see a characteristically Gucci, water-repellent crossbody bag or hoodie be out of fashion anytime soon.
A new-normal essential
100 organic cotton sleepwear, by Tekla.
100 organic cotton sleepwear, by Tekla.
100 organic cotton sleepwear, by Tekla.
100 organic cotton sleepwear, by Tekla.
100 organic cotton sleepwear, by Tekla.
100 organic cotton sleepwear, by Tekla.
100 organic cotton sleepwear, by Tekla.
100 organic cotton sleepwear, by Tekla.
Now that working from home has pretty much become a routine for most of us, style investments also include pieces that we wear at home. And that includes proper sleepwear; the best kinds are the ones that you can rock up to your work-from-home desk without looking like you've just woken up and well, rocked up to your desk in your pyjamas.
Denmark-based brand Tekla solves that issue with its newly launched sleepwear series. The brand was founded by Charlie Hedin in 2017, and started out with bedding and bath before expanding into sleepwear this year. With a background working for Acne Studios and co-founding Eytys, Hedin's sleepwear collection is crisp and function-first without compromising on style.
The Tekla sleepwear collection is designed to be unisex and consists of a coordinated pairing of a pyjama shirt and either a pair of trousers or shorts. They're made from 100 percent organic cotton (less negative impact to the environment) and most importantly, look and fit well enough to, dare we say, wear out. Sleep is essential and so is investing in comfortable (and stylish) sleepwear.
Repurposed fabrics with a purpose
Bode autumn/winter 2020.
Bode autumn/winter 2020.
Bode autumn/winter 2020.
If you haven't heard of Bode, you've been missing out on one of the most exciting brands to come out of New York in recent years. The brainchild of Emily Adams Bode—she was named 'CFDA Emerging Designer of the Year' in 2019—the brand is known for its use of vintage and deadstock fabrics from an array of sources, including table cloths, blankets and curtains. These are either used as inspirations to be reproduced as new textiles or individually repurposed into Bode's often colourful and crafty designs.
It goes without saying that Bode's ethos of making something entirely new from something that's already existing is one of the ways that fashion can be sustainable. The brand also makes it a point to underscore time-honoured techniques such as crocheting and couched embroidery, as well as highlighting whenever an item is made by women or a woman-owned factory. The latter is one of the key tenets of Bode—as a female designer creating categorically menswear pieces, Adams Bode juxtaposes masculine workwear with female-centric traditions of craft and workmanship.
Buying a Bode piece has that same sense of emotional nostalgia and storytelling as buying vintage. And thus, we'd recommend getting a hold of the brand's coordinates that can be worn as is seen on the runway, or broken as separates and paired with basics.
Hermès leather is never a mistake
When it comes down to leathers, Hermès is most certainly at the top. The storied fashion house does a complete line of ready-to-wear too but its leather bags and accessories are where its true level of craftsmanship lies.
While Hermès has its regular staples of iconic silhouettes such as the Haut À Courroies (or HAC for short), Bolide and the famed Birkin, it hasn't stopped the house from coming up with new designs. Autumn/winter 2020 sees the introduction of a top-handle tote bag in a roomy 50cm size that's designed with a cord-closure system at the top and comes with a removable shoulder strap. It's a highly practical piece with ample storage but has that simplicity in design coupled with Hermès elegance and sophistication.
A leather bag is a straightforward investment piece that, with consistent and proper care, is bound to last and age well. The Hermès bag in question is crafted in Volupto calfskin that already has a supple and lightweight feel to it. Over time, the leather is poised to soften and acquire a patina, adding a unique character to the exterior. It's something that you'd have to wait for, and like most good things, definitely worth the time and effort.
Simple forms marked by quality design
Rim Pilot sunglasses, by RIMOWA.
Bridge Square Mirrored sunglasses, by RIMOWA.
Bridge Square sunglasses, by RIMOWA.
Luggage brand Rimowa has expanded into eyewear with its first Rimowa Eyewear collection. The idea isn't so farfetched given how the brand has been exploring other travel complements through its many collaborations over the years. And with global warming increasingly becoming an issue, we could all do with solidly designed protective sunglasses.
Rimowa Eyewear takes the same design cues as the brand's famed series of luggage—clean lines, simplified design and the use of mixed materials. They're not completely unfamiliar eyewear silhouettes, but rather, Rimowa's take on the classics. The Rim Pilot sunglasses, for example, are inspired by classic aviators in lightweight acetate and then enhanced with grooved metal temples and sleek double bridges.
While there are a host of designs that feature colourful reflective lenses in bold colours, we recommend leaning towards the classic blacks and mirrored iterations. These will serve you well sartorially and become a go-to staple with any outfit.
A new classic based on a longstanding heritage
Virgil Abloh's appointment at Louis Vuitton has graced us with one of the French fashion house's most indelible creations in recent memory: the Soft Trunk.
Taking reference from Louis Vuitton's trunk-making heritage, the Soft Trunk is essentially what it's named after. The body of the crossbody bag is crafted from leather and is designed to resemble a more pliable Louis Vuitton trunk.
It's a simple invention that's owed to Abloh's 'three percent approach' to design, where a new design can be borne from tweaking an original by three percent. Yet, the fact that no creative director has ever conceptualised a smaller and more user-friendly version of a Louis Vuitton trunk before, makes the Soft Trunk one of Abloh's greatest success stories so far.
Louis Vuitton men's autumn/winter 2020 collection was themed around surrealism with hints of René Magritte-inspired prints. But look to the more simplified exteriors of the season's Soft Trunks—stark black with brown trims for an overall dégradé effect—which have been engineered in such a way that they curve inwards. This allows for a shape that moulds quite nicely around the body when worn. If there's ever a time to invest in a Soft Trunk, this particular season is it.
Suits made from offcuts
Ermenegildo Zegna XXX autumn/winter 2020.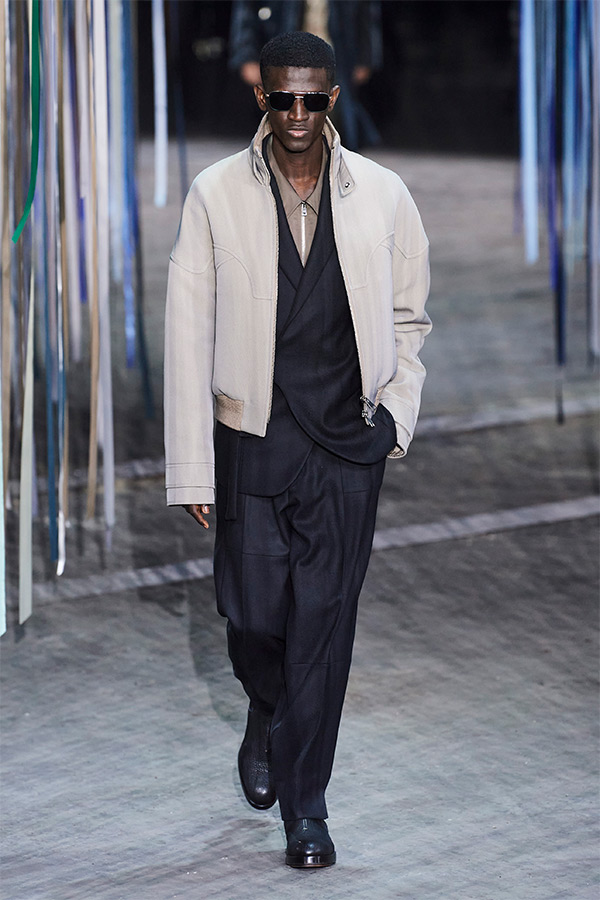 Ermenegildo Zegna XXX autumn/winter 2020.
When is a suit more than just a suit? When it's been crafted by Ermenegildo Zegna. Or to be more specific, when it's been made from upcycled materials by Ermenegildo Zegna. The brand introduced its #UseTheExisting project back during Ermenegildo Zegna XXX's autumn/winter 2019 collection as a significant commitment to sustainability.
As a textile manufacturer, Ermenegildo Zegna has been able to create its own fabrics using recycled yarns derived from offcuts of unused fabrics in its production chain. But not only are #UseTheExisting garments made from recycled fabrics, they've also been designed to be fully recyclable in its next incarnation.
Ermenegildo Zegna had 20 percent of its autumn/winter 2019 collection created using #UseTheExisting materials. That number has now gone up to 50 percent for autumn/winter 2020 with a focus on reused wool that has been collected from Ermenegildo Zegna's Achill Farm in New South Wales, Australia. Quite literally, some of the Ermenegildo Zegna XXX suits this season are made from the remnants of other suits. And then there's also the fact that they can be further recycled into new yarns to create new fabrics; if this isn't a smart and informed purchase, what is?
The staple that's been made better
As cliché as it sounds, a pair of white sneakers goes with just about anything. German brand MCM is proposing one this season that is not only simple enough to be an accent and not a statement, but one that's been completely made in materials that are better for the environment.
The Terrain Lo sneaker is MCM's first sustainably designed sneaker. The silhouette isn't far off from the typical court sneakers but crafted from non-polluting, vegetable-tanned leather. The sneaker's off-white and speckled outsoles are made from upcycled materials, and natural cork wraps the footbed to provide all-day comfort and moisture control. The sneaker is then topped off with organic cotton canvas shoelaces for an overall clean design.
Prada always
Prada autumn/winter 2020.
Prada autumn/winter 2020.
Prada autumn/winter 2020.
Prada autumn/winter 2020.
Prada autumn/winter 2020.
This is perhaps something that ardent fans of Prada can attest to. Once you've bought into the idea that wearing Prada is quintessential to your being, you'd find that there's a comforting consistency to its designs season after season. Sure, Miuccia Prada would take inspiration from odd references every now and then and include a collaboration with an artist or two, but the clothes are always aesthetically dependable.
Like any great designer, Miuccia has cemented a look for Prada—one that's always timeless but also young and fresh at the same time. A Prada collection is almost always a signifier of the times that we're in yet never goes out of style. You'd be hard-pressed to find a print or a piece from seasons past that would be out of place when paired with any Prada item from autumn/winter 2020. The latter marks a return to colour-blocking and signature geometric prints that when taken apart, can be easily matched with a host of other Prada and non-Prada clothes.
There's also the continuous use of nylon in ready-to-wear. Prada's aim as a company is to convert all virgin nylon to what it's calling 're-nylon' (essentially ECONYL nylon) by 2021, making it more environmentally friendly and better style investments too.
For more stories like this, subscribe to Esquire Singapore.