Few watches are as definitive as the Cartier Tank. Designed by the creative visionary Louis Cartier himself, and said to have been inspired by the caterpillar tracks of military tanks of WW1 battlefields, the Tank is known for its rectangular case, the two vertical bars on its sides called brancards, its fastidious use of Roman numerals, and that single blue sapphire cabochon on the crown.
More so than the Santos which was Cartier's first official wristwatch, it had been the Tank that established the timeless aesthetic codes of Cartier watchmaking. Close your eyes and imagine a Cartier timepiece, chances are high you'll see the Tank.
Yet, as iconic as the classic Tank or its dressier sibling the Tank Louis Cartier may be, this watch didn't remain static through the decades—that would have been unthinkable given Louis Cartier's dynamic personality. So newer and more creative variations of the watch followed quickly after the original Tank's birth. Between 1917 and 1936, multiple incarnations of this elegant gentleman's timepiece emerged from 13 Rue de la Paix, one of which is the quirky but extraordinary Tank Asymétrique.
The standard classic model looks almost strait-laced when compared to the Asymétrique. One of now four legendary Cartier designs in the exclusive Privé collection, this intriguing shaped watch was first called the Parallélogramme or Losange and it marked a dramatic break from Cartier's usual milieu.
With a dial tilted 30 degrees to the right, the Asymétrique also did away with Roman numerals, using instead Arabic numerals and interspersing even digits with baton indexes. The first Tank Asymétrique very elegantly featured traditional pomme hands and a flat crown that sits flush with the case.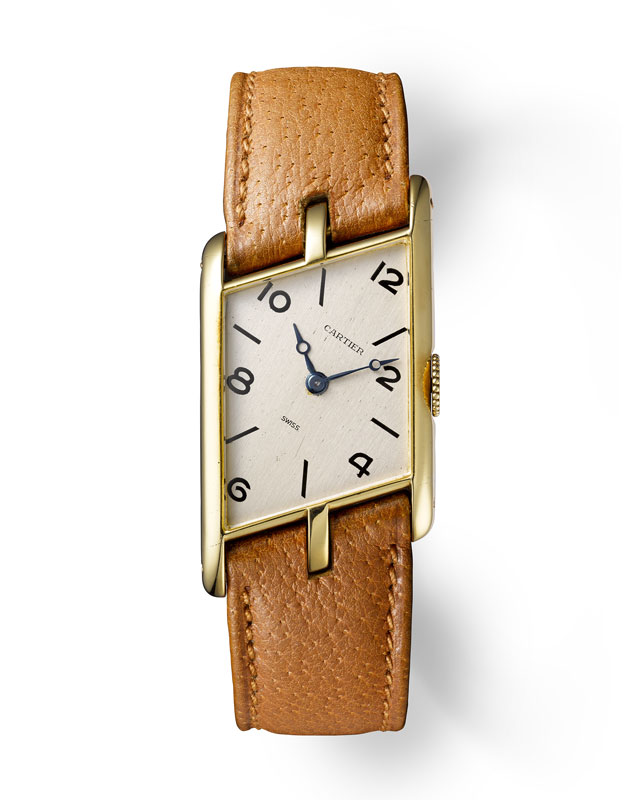 The asymmetric Tank is a reflection of Louis Cartier's dynamic personality.
This model also appeared in Cartier's 2006 CPCP collection.
An asymmetrical Tank however involved more than simply setting the case askew. The torsion effect caused by this diamond shaped case necessitated a specific strap design that was harmonious to the case and comfortable on the wrist. The 1936 model, for instance, came with triple horn lugs—a distinctive feature preserved in the contemporary references.
Updated in a trio of precious metals, platinum, yellow gold and pink gold, the new Tank Asymétrique sports elongated numerals and sword shaped blue steel hands on silver, champagne or black sunburst dials. Each limited and numbered to 100 pieces, they run on the manual-wind Calibre 1917 MC.
Like all the other Privé watches, Cartier offers solid and skeletonised versions of the Tank Asymétrique, and even a diamond-set skeletonised model for a glamorous slant.