Apart from the usual fare of bejewelled Rolexes and grande complication Patek Philippes, which—let's be honest—everybody loves, the ultra-rich in Asia, nowadays known as the Crazy Rich Asians are known to have a far more eclectic palate for timepieces as compared to their European or American counterparts.
Where the Western world is typically less inclined to veer off the path well-trodden by such time-honoured brands as IWC, Jaeger-LeCoultre, Omega, and the like, Crazy Rich Asian buyers in the East have an almost voracious appetite for anything new and new-fangled. If it's got two hands and a dial, we'll buy it, if it's got no hands and two dials, we'll also buy it.
Haven't you seen the kind of watches flaunted by Indonesian billionaires on Instagram? It's literally the crazier the better for those Crazy Rich guys and gals. And who wouldn't be awed by the insane watch collection of @santa_laura?
But scroll through enough of these IG feeds and you'll start to notice that a pattern starts to form: These crazy-rich Asians keep buying watches from the same few brands with only very few exceptions. Not only that, when it comes to design or creative concept, the louder it is, the better. Can't imagine choosing a timepiece over an apartment or a new car? Well, then just sit back and eat your heart out. Here are the top 10 crazy watch brands favoured by the Crazy Rich in Asia.
Richard Mille
It seemed so long ago that Richard Mille was but a fledgling independent company whose founder nonchalantly tossed a six-figure tourbillon watch onto a hardwood floor just to prove the shock-resistance of his watches. Today, it is the number one brand among the crazy rich in all parts of the world, especially Asia, and even among women. The RM007 for instance is notoriously difficult to score and the ultimate symbol of wealth, more so than a Birkin.
Star pieces, especially those made in small production numbers and in collaboration with various sportsmen and women, are like cocaine to the collectors, reducing grown men to tears if they can't get their hands on one. And some of the watches aren't even objectively good looking. If anything, Richard Mille watches are getting weirder and weirder as they come—haven't you seen the RM70-01 Alain Prost? Even that doesn't keep the collectors away. Talk about crazy.
Hublot
Now here's a brand with enough crazy in its DNA to start a fire. Hublot began life as a brand of sports watches that blended high-brow materials with low brow materials—think gold and rubber. It might be common today but in the early 1990s, this was completely novel. Several decades later, mad horological alchemy has become its calling card—think watches made of titanium, carbon fibre, ceramic, tungsten, aluminium, magnesium…
Then came the wonderfully odd shaped timepieces only their maker—and some crazy rich collectors—could love. Watches in the MP series such as the MP-02 Key of Time, the MP-05 LaFerrari, the MP-09 Tourbillon Bi-Axis, and the MP-07 40 Days Power Reserve hilariously nicknamed the fax machine all defy the conventions of aesthetics. Who could realistically wear such a behemoth? Oh the crazy rich billionaires love them. Fully set with baguette diamonds? Even better.
Greubel Forsey
There is only a very thin line between genius and madness but Greubel Forsey toes it perfectly. Again, what appears normal today was quite revolutionary when the watchmaking duo made their debut in the early 2000s. Putting design at the behest of technicity, Greubel Forsey makes some of the most technically sublime complications, including such models as the Quadruple Tourbillon which packs not one, not two but four tourbillons in a wristwatch, all set at an incline.
Those watches with an asymmetrical design reminds people at first of a misshapen metal case—or that time when your dog's face got stung by bees. But they're technically very sound, complete with the most exquisite hand-finishing money can buy, speaking of which, be prepared to pay upwards of $300,000 for the most entry-level Greubel Forsey, while pieces like the Quadruple Tourbillon can break the one million-dollar mark, and that's without diamonds. Not small change even for the crazy rich Asian.
URWERK
From making watches that look like an iRobot—we're talking about the UR-101—to such stunning sculptural masterpieces as the UR-210, UR-110, the UR-CC1 and the EMC, URWERK has never been known for subtlety from day one. It's like they never run out of ways to reinterpret time-telling and their unique design language keeps extending year after year. What makes an URWERK even cooler is that it's not just about watchmaking or aesthetics, but attitude. Combining pop culture and subversive designs inspired by tattoo art or gun engraving with its futuristic timepieces, URWERK paved the way for new avenues in watchmaking never-before explored by any other watch company.
Audemars Piguet
It's hard to argue with the allure of an Audemars Piguet, whether you're looking at a classic Royal Oak Ref. 15202 or one of the more out of this world pieces such as the new Royal Oak Offshore Tourbillon Chronograph. Or maybe you still remember the weapons-grade Royal Oak Offshore Survivor which was an exercise in pure badassery by the Le Brassus manufacture? And they do it so well! It's no wonder the crazy rich amongst us can't help but gravitate towards Audemars Piguet, even if it's just to score the latest neon-coloured Royal Oak Offshore Diver so as to pair it with their neon-coloured Lamborghini. It's not awfully expensive too, especially in comparison with the glamazonian models like the full diamond-set Royal Oak Offshore Chronograph.
HYT
Before HYT, who knew that time could be told by water? Oh right, the Egyptians have done water clocks eons ago but then again, this is seriously legit next-level stuff. Watchmaking at HYT involves a unique fluidic technology where a luminescent substance moves along a glass vial thereby indicating the hours. This indication is controlled by a pair of bellows that pump the fluid in either direction. It's Swiss made, all mechanical and nothing is achieved by electronics, so the question remains: Do we need it? Not really. But do we want it? Hell yes! Why? Because we're crazy rich Asians.
HYT's watch collection has grown steadily over the years, beginning with the H1, through H2, H3 and now H4—all straight-up crazy designs—but nothing compares to the Skull series which pulses the fluid through a skull-shaped vial. It even has a version called the Axl Rose and yes the Guns N Roses lead does indeed wear the Skull in blue.
Konstantin Chaykin
The Russian watchmaker went from relative obscurity to an international sensation when his watch named Joker—not joking—became the object of every watch collector's desire. A kinematic piece of pop art, that watch had two googly eyes for the hours and minutes, and a wide gaping smile for the moon phases. This watch has since spun off a parade of different tongue-in-cheek designs such as the Clown, the Dracula, all kinds of animals, and we kid you not, a Minion one. Why? Cause it's funny, no?
Franck Muller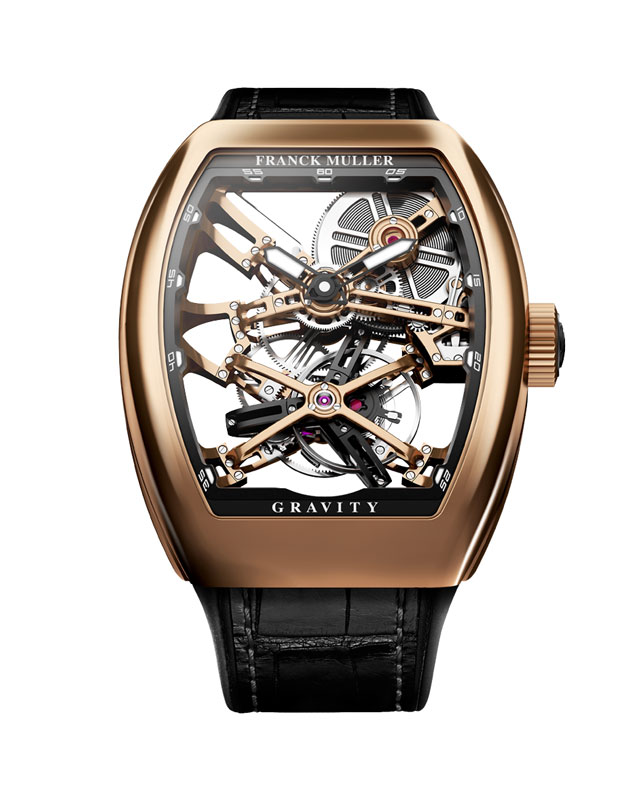 The original bad boy of modern watchmaking, the enfant terrible extraordinaire, Franck Muller has always been a crazy one—he did make a watch called the Crazy Hours. True story: Muller was incensed by the constant barrage of stuffy rules imposed by an arrogant hotel manager at a luxury resort and between finding ways to circumvent the dress code and playing tricks on the manager, he decided that luxury should never be about restrictions but rather, freedom and enjoyment. And that was how the idea for the Crazy Hours was born.
Specialising in unique complications, Franck Muller has covered the entire gamut of technical functions, and was the first brand to feature the tourbillon on the dial side. The brand's most iconic model, the Cintree Curvex, is also its most difficult to produce and photograph no thanks to the curved sapphire crystal that crazy rich collectors love and shutterbugs hate. Some of the wilder designs in recent years include the Vanguard Krypton Carbon, a pockmarked Vanguard Backswing, and a Vanguard Heart Skeleton that's got all the kitsch you can stomach.
MB&F
The undisputed expert in making watches that don't look like watches, MB&F has produced timepieces that resemble space crafts, vintage cars, binoculars, cassette tapes, rockets, spiders, jellyfish, and frogs. Even its classical line, the LM series, aren't anywhere near traditional by any measure. This poster child for three-dimensional timekeeping thrives on outrageousness as long as it makes sense—makes sense? Never mind. The point is, there's always an interesting story behind every new Horological or Legacy Machine and if that doesn't rock your boat, go back to buying Rolexes, do not pass go, do not collect $200.