It's now that odd time of the year for fashion. The autumn/winter 2019 collections have completely been released in stores and online by now, and all the best, can't-be-missed pieces have either sold out or you've already got them.
That's where pre-collections come in. While they were initially concocted as transitional collections that sit in between the regular autumn/winter and spring/summer collections, they've now become as extensive and purposefully thought out. Gucci, for example, showed off an impressive 97-look cruise 2020 collection within the walls of the Capitoline Museums in Rome; definitely more than enough looks until the main collection drops.
Fashion is a year-round business after all. And our attention span has only gotten shorter. It's little wonder then that fashion houses are putting almost equal emphasis on pre-collections.
We break down the cruise 2020 collections that are worth noting, not necessarily for their breadth, but because they don't seem to be done just for the sake of it.
Bottega Veneta Spring 2020 Collection.
Bottega Veneta Spring 2020 Collection.
Bottega Veneta Spring 2020 Collection.
Bottega Veneta Spring 2020 Collection.
Bottega Veneta Spring 2020 Collection.
THE EASE AT BOTTEGA VENETA
For a fashion house that's working on solidifying a new artistic vision and instilling it into the consciousness of existing and potential customers, Bottega Veneta is expectantly not backing down.
Creative director Daniel Lee has quite successfully made the Italian fashion house the talk of the town again. His penchant for an elevated sense of elegance comprising reworked classics, loose silhouettes and a rejection of logo-mania offers a more artful take on Bottega Veneta's heritage. The house's signature Intrecciato technique has been reinterpreted for ready-to-wear in the form of slouchy knitwear—a panel of knit fabric stretching from one shoulder to the next on a generously cut jumper.
What Bottega Veneta's cruise 2020 collection offers is a collection that's a seamless transition from autumn/winter 2019 (Lee's first runway collection for the house) to the recently shown spring/ summer 2020. The use of a triangular motif—as seen on belt buckles and pocket closures on tailoring—continues in the cruise 2020 collection and is a smart way of preserving the new minimal aesthetic while making a new Bottega Veneta piece instantly recognisable.
The clothes are easy to slip into and incorporate. Similarly, so are the shoes and accessories. An exaggerated calf-high boot, heavy- duty derby shoes and an array of genderless bags and pouches are all done in luxurious applications.
Sure, it's almost difficult to avoid mentioning that Lee's approach is somewhat Céline by way of Phoebe Philo. But is that even a bad thing?
Gucci Cruise 2020.
Gucci Cruise 2020.
Gucci Cruise 2020.
Gucci Cruise 2020.
Gucci Cruise 2020.
GUCCI: AS YOU ARE
A Gucci collection is always a smorgasbord of old-timey references and artistic inspirations, all spun into an eclectic collection. What it rarely is, is a political statement. For cruise 2020, creative director Alessandro Michele chose to take a stand on a woman's freedom and right to choose, by depicting slogans—My Body My Choice— and even embroidered a uterus on a cream gown.
Michele and Gucci's reaction to the abortion rights debate that was going on in the US during that period wasn't exactly out of the ordinary. The work that the house does with its Chime for Change initiative focuses on championing gender equality.
And out of all of Gucci's collections since Michele took over, the cruise 2020 collection highlights this the most thus far. The range of the collection is rather wide. There are the overt references to Greek dress, ostentatiously embroidered and printed coordinates, but also pieces that focus more on cut and silhouette—there's something for everyone, no matter where in the Gucci style spectrum you belong to.
Highlights include the Mickey Mouse prints that are adorned on ready-to-wear as well as a myriad of accessories. Gucci's poster boy, Harry Styles, has even been spotted carrying a trunk that features the Gucci-Mickey Mouse hybrid monogram. But if you're less likely to be seen with one, there are the messenger bags, bucket bags (a key item in the collection) as well as a coat. Basically, Gucci's cruise 2020 collection features a lot of products, each representing a slice of the Italian label that could speak to you.
Dior Men Spring 2020 Collection.
Dior Men Spring 2020 Collection.
Dior Men Spring 2020 Collection.
Dior Men Spring 2020 Collection.
Dior Men Spring 2020 Collection.
DIOR MEN'S MARRIAGE OF NATURE AND ART
There has been much fanfare for what Kim Jones has done at Dior Men since his first collection for spring/summer 2019. And they're all warranted. Jones's ability of fine-tuning the design codes of Christian Dior for the now has shifted the way a collection is materialised.
Instead of being the sole person to dictate how a collection looks, Jones has extended invitations to creatives for collaborations. Matthew Williams of 1017 ALYX 9SM and Ambush's Yoon Ahn, for example, injected contemporary nuances to Dior Men's couture sensibilities to create (dare we say) a new generation of 'couture', but one that no one knew they needed.
Dior Men's cruise 2020 collection is an extension of that collaborative spirit. British artist Alex Foxton created an exclusive artwork of flowers to create hommes fleurs—flowers that are imbued with a masculine sensuality, that are complements to Christian Dior's femmes fleurs. Foxton's floral artworks are applied in many forms but most effectively as an update to the Dior Oblique canvas.
Foxton also had a hand in interpreting the Dior logo and designed one that's exclusive to the collection, just like the artistic collaborators before him; a unique seasonal collectible for both new and old fans of the fashion house.
Ferragamo Spring 2020 Collection.
Ferragamo Spring 2020 Collection.
Ferragamo Spring 2020 Collection.
Ferragamo Spring 2020 Collection.
Ferragamo Spring 2020 Collection.
FERRAGAMO IS BRINGING THE HEAT
It's always relatively easy to spot a Salvatore Ferragamo collection. The colour palette is always consistent. It's not so much that the Italian fashion house sticks to the same colours, but rather, the tones used are a signature of the house. They're always a bit burnt yet vibrant.
As a fashion house that was founded in footwear, Salvatore Ferragamo's strength has always been in its shoes. The Gancini is the hallmark of the house's craftsmanship and in shoes. It has evolved from just being the metal bit on a pair of leather loafers (though that silhouette is always an option). On a pair of high-cut boots and Oxfords, the Gancini is shrunken and extended as a subtle detail along the backs of the heels. And on sneakers, the Gancino (its singular, one-sided form) is translated into embroideries and raised reliefs on chunky soles.
It would be remiss to not pay attention to the clothes though. Since being appointed as creative director of the house, Paul Andrew has created an aesthetic that's inspired by workwear; a look that's always a winner in the menswear realm.
The cruise 2020 collection takes inspiration from the desert. In Andrew's own words: "These are clothes built for travel, heat and pleasure." And with that in mind, the collection is a heady amalgamation of shirting—done oversized and fixed with hoods— and versatile outerwear that will protect you from the beating sun but also when the temperatures dip. 'Pleasure' comes in the form of a luxurious leather shirt, and for the more literal, the revival of swimwear in the form of printed swim shorts.
Givenchy Spring 2020 Collection.
Givenchy Spring 2020 Collection.
Givenchy Spring 2020 Collection.
Givenchy Spring 2020 Collection.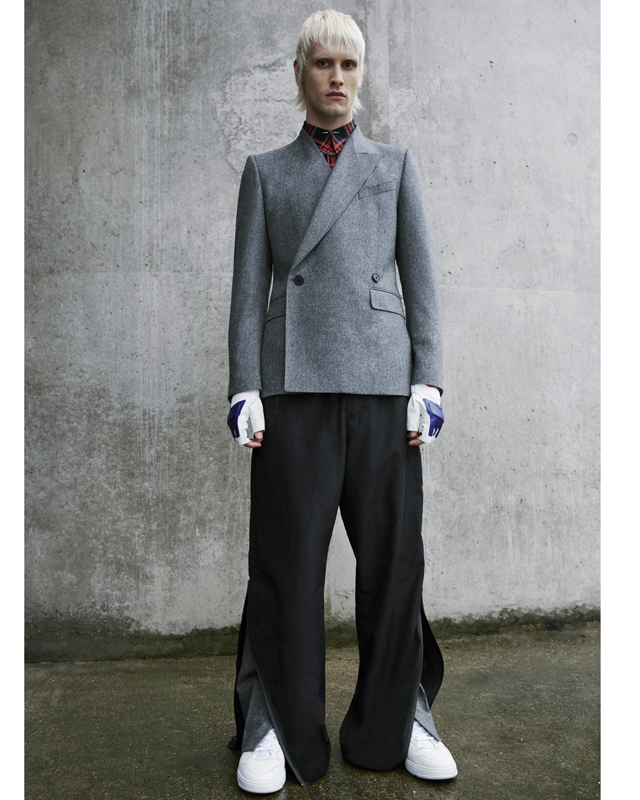 Givenchy Spring 2020 Collection.
ON THE MOVE AT GIVENCHY
At Givenchy, artistic director Clare Waight Keller cuts some of the best tailoring around. Her design vocabulary for Givenchy is one that's not too far-off from what Hubert de Givenchy would have created, but in a more modern context. The cruise 2020 collection though, sees her veer towards more unfamiliar territory with a collection that's probably her most utilitarian yet.
At a glance, Givenchy's cruise 2020 collection could have easily been mistaken for a watered-down version of former creative head Riccardo Tisci's. There are bold graphics, an incongruent use of prints and his penchant of mixing streetwear with tailoring, but not as severe. They're all done in the same restrained elegance that Waight Keller has championed for the house.
The collection borrows details from the world of motoring. The use of prints and patches are taken from brand sponsorship logos that typically cover racing suits. Reflective fabrics give the sense of a gentleman who's always on the move, worn over tailoring that's cut for ease of movement.
As with every Givenchy collection, there's a range to suit every facet of the Givenchy man's lifestyle. But they're not vastly different in aesthetic. Even the evening looks appear suited for hopping from one party to the next. Essentially, the Givenchy man is not many men with multiple personalities; he's more than just one straight-laced definition. Givenchy isn't trying to cater to a different range of individuals. Rather, it's proposing a collection that an urban character can relate to and can see himself in every varied look.
Louis Vuitton Men's Pre-Collection Spring 2020.
Louis Vuitton Men's Pre-Collection Spring 2020.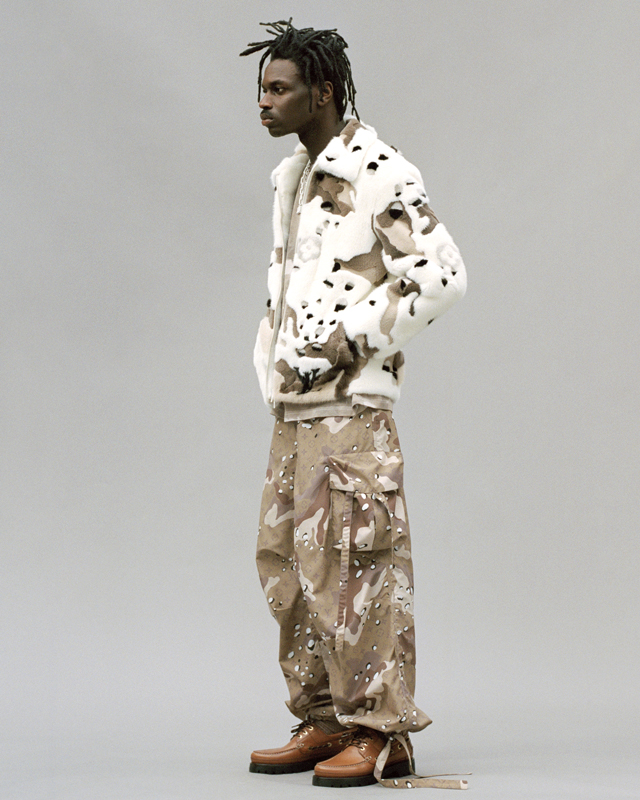 Louis Vuitton Men's Pre-Collection Spring 2020.
Louis Vuitton Men's Pre-Collection Spring 2020.
Louis Vuitton Men's Pre-Collection Spring 2020.
LOUIS VUITTON: STREETWEAR RECONTEXTUALISED
Louis Vuitton is not just any luxury fashion house. It's a luxury fashion house that has managed to seep into the consciousness of streetwear even before Virgil Abloh came to the fore. It was largely the African-American community—hip-hop artists, B-boys and the like—that appropriated the Louis Vuitton Monogram, seeing the luxury giant as a status symbol. The idea that Louis Vuitton is far removed from streetwear holds no truth.
For the house's cruise 2020 collection, Abloh aims to recontextualise the meaning of 'streetwear'—clothes that are timeless and trendless. He does that by taking staples that are already familiar in the menswear universe and elevating them further, starting with typical streetwear tropes.
Cargo trousers are taken to new heights of craftsmanship with oversized pockets, desert camouflage prints are translated onto voluminous bombers and a particularly soft intarsia mink blouson, and Abloh's signature application of integrating accessories into clothes is used in even bigger pieces.
One of the most curious (and quite possibly will be the most sought-after piece) is a jumper that features a group portrait of members of the Louis Vuitton menswear studio, but done in a way that only the silhouettes are seen. They are then numbered and listed like credits—a statement to show that the physical attributes of a person aren't important; it's the work that matters most.
In true Abloh form, it's the banal that gets the most attention for its ingenuity. The cruise 2020 collection's accessories take the form of milk cartons and toolboxes, but deftly constructed in Louis Vuitton's Monogram canvas. Genius.