It's a bittersweet end to an illustrious career as French duo Daft Punk break up without so much as an encore. On February 22, they announced their retirement through a video titled 'Epilogue', which features a snippet from their 2006 movie Daft Punk's Electroma.
Wearing embroidered jackets and their iconic helmets from the Human After All era, the pair are seen walking through a desert expanse. It almost feels like an album announcement, apart from the distinct lack of background music. That is, up until the end, when the final reprise from Touch fades in to the sight of the setting sun, along with an overlay which reads '1993-2021'.
Featuring vocals from Paul Williams, with a medley of orchestral strings and futuristic leads in the background, Touch feels like a fitting note for Daft Punk to close on. 'If love is the answer, you're home' harmonize the vocoded robots, and in that moment, they're nothing but human.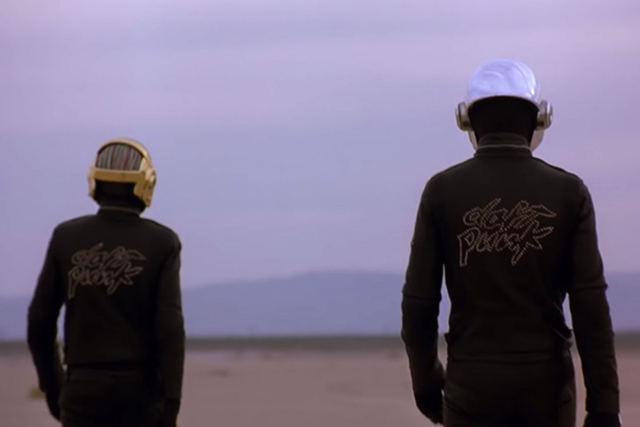 Why did Daft Punk break up? Well, that's a question which remains unanswered. Their final project Random Access Memories came out in 2013, and in the years since then, they were only found working on features — most notably, The Weeknd's hit 2016 singles Starboy and I Feel It Coming. Five years on, their retirement comes as a surprise to say the least.
Nonetheless, the robotic aliases of Thomas Bangelter and Guy-Manuel de Homem-Christo have forever claimed their place in the halls of disco. In homage, here's a look at our favourite Daft Punk songs of all time.
Get Lucky – Random Access Memories (2013)
Starting off with the most accessible of Daft Punk songs and the one which everyone has probably heard before. Get Lucky won 'Record Of The Year' at the GRAMMYs 2014. The duo performed the song live at the event, and hard as it may be to believe, they made it even funkier, courtesy of a live band and harmonies from Stevie Wonder.
Lose Yourself To Dance – Random Access Memories (2013)
Another pick from Daft Punk's 2013 classic 'Random Access Memories'— regarded by many as their magnum opus. Lose Yourself To Dance builds off of an unforgettable guitar progression. Pair that with Pharrell Williams' disco melodies and the duo's signature vocoded voicings, and the result is a song which captures the visceral feeling known as disco.
Harder, Better, Faster, Stronger – Discovery (2001)
A song definitive in paving the way for electronic music through the early 2000s, Harder, Better, Faster, Stronger, has lost none of its memorability over the years. Kanye West fans might better recognize the chopped-up vocals from the rapper's 2007 hit Stronger.
Around The World – Homework (1997)
Around The World is about as simple and repetitive as a song can get. Featuring, for the most part, a pulsing kick, an accompanying bass, and a single melody lead, it's inexplicably captivating. The song features a single lyric — the phrase 'around the world' — which is repeated over a hundred times. On paper, it reads like a terrible idea. On speakers, it's a classic.
Within – Random Access Memories (2013) 
Ending off on a personal favourite, Within is a heartbreaker. It feels like a ballad sung by a robot of newfound sentience. Daft Punk's unique ability to manifest human emotion out of digital sounds stands at full display here. It's a quality which truly set them apart from their contemporaries.