With the recent announcements that entertainment venues are being closed until further notice and more of us are staying home in a bid to practise social distancing, there is no better time to be a pet owner. Sure, pets are great, and can be a massive distraction (how can they not be with their super squish-able faces) but they are also known to help improve productivity.
But if we are being honest, both you and your pet have learnt to live without spending most of your days with each other. With most of us progressively staying indoors, there is a sudden surplus of time together. To help you navigate this, we've found activities that you and your pets can enjoy during this COVID-19 season while also maximising productivity.
1. Foster a pet
You know the common reason why you have never got on the pet train: 'I am always working in the office till late', 'I enjoy going out with my friends' and of course, 'Who is going to take care of the pet when I am not at home?' Well, COVID-19 has solved all those problems for you, so if you were keen but held back on getting a pet, there's no time like the present.
But getting a pet is still a massive commitment, and we would not recommend that you head out to adopt a pet just to tide you through the crisis. Perhaps, consider fostering one. It's slightly less of a commitment as compared to adoption, and it would help you get the hang of having a pet. Just make sure everyone in your family is onboard before doing so.
Consider these shelters: SPCA, ASD, SoSD
2. Play Tic-Tac-Toe with them
The Olympics have been postponed, major sports leagues are being shut down, and with limited options for genuine competition, consider Tic-Tac-Toe. It's easy enough for your pets to grasp the concept, and you never know, they might surprise you.
"how's self quarantine going?" pic.twitter.com/6dzU8UjoeZ

— iqra (@iqraanabi) March 15, 2020
3. Start an Instagram account for them
You know what they say, idle hands are the key to starting surprisingly viral Instagram accounts. Look no further than @dogsworkingfromhome, @cats.workingfromhome, and @fashionpoopers for inspiration. You might come out of this COVID-19 episode finding your true calling: a mom-ager for your dog.
4. Have them sit in on Zoom meetings to spread joy
While we cannot promise that it improves productivity, but having your pet sit in on Zoom meetings is one of the best things ever. It is an instant perk-me-up—one that's better than coffee—to help you and your colleagues get through those 9am Zoom meetings. Also, your pet would love all the extra attention.
5. Practise martial arts with them
If you are familiar with the Kung Fu Panda series, then you would know that true Chinese martial arts are birthed from mimicking the movements of animals. When we are done with the COVID-19 season, we're bound to see the rise of a brand new style: 'The Hundred Fists of the Golden Retriever'.
6. Do workouts with them
If there is one thing you need to know about COVID-19 is that it transmits itself from people to people via the form of respiratory droplets produced when an infected person coughs or sneezes. That means a sweat-filled environment with strangers, like at the gym, is not the best place to be working out right now. Consider working with your pets, which will not only add some furry weight resistance, but also some levity to the process of being beach body-ready when this blows over.
7. Practise cooking for them
Dry and canned foods are alright for your pets, but nothing beats some TLC in the form of a home-cooked meal. It is tastier and healthier for your furry loved ones. Plus you need not be a master chef-level cook for them to show their appreciation; food is food, after all.
8. Unlock your pets' hidden art talents
Tillie on Conan 2006 from Tillamook Cheddar on Vimeo.
You'll never know if your pet has an artistic side until you attempt to unleash it. Now with time on your hands, get some water-based paint and canvas, and let them express themselves. Worst case scenario is having to shower them right after. Best case? You have a Tillamook Cheddar—a Jack Russell Terrier, one of the pre-eminent canine artists, that has over 20 solo shows around the world and has sold over a 100 paintings, with the most expensive piece priced at USD1,000.
9. Play Hide-and-Seek
This is an oldie, but a goodie. There is nothing like a little hide-and-seek with your dog to get both of your hearts going. It takes less commitment than a full-blown workout, and it tires them just enough for a few hours before you bring them down for a walk.
10. Have them buy essentials items for you
Dog goes on cheeto run.
Dog goes on cheeto run.
Dog goes on cheeto run.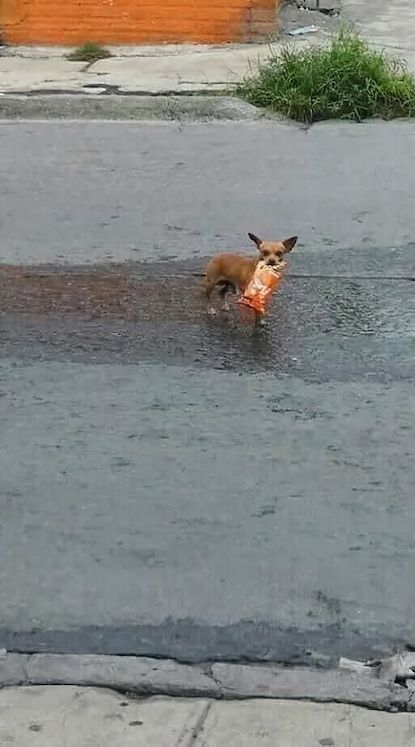 Dog goes on cheeto run.
Ran out of snacks but can't leave the house? Take a page out of this guy's playbook. Antonio Munoz of Mexico sent his beloved chihuahua with a note around the collar, and a 20-dollar bill on a Cheeto run. The chihuahua came back with the bag of Cheetos as well as change. If that's not the definition of a good boy in these hard times, then we do not know what is.