No matter which Targaryen you think has been the one carrying House of the Dragon so far – the Internet is split down the middle between Milly Alcock's Rhaenyra and Matt Smith's Daemon – one thing that we can definitely all agree on are the dragons. To watch them soaring through the skies, stretching those wings in their full mythical glory is so utterly gratifying we might actually start to forgive the atrocity known as Season 8 of Game of Thrones. Then there's Amazon Prime's The Lord of The Rings: The Rings of Power which promises to acquaint us with the OG dragons of the First Age of Middle Earth. But whether you're Team GOT or Team LOTR, this epic timepiece by Swiss watchmaker Jaquet Droz will leave you in complete awe.
Revered for its exquisite timepieces that meld haute horlogerie with fascinating micro-artistry, Jaquet Droz unveils its latest custom-made masterpiece. It's crafted in collaboration with a name that's known only to the most ardent fans of Peter Jackson's trilogies: John Howe. The artistic designer for all of Jackson's best works, Howe has for 30 years lived in the Swiss town of Neuchatel, which happens to also be the home of Jaquet Droz and its fantastical automaton museum. Together, the two artistic forces and extraordinary storytellers in their own rights have jointly created a timepiece known simply as the Dragon.
Equal parts sinister and admirable, powerful and deadly all at once, the dragon's serpentine form dominates the timepiece, its sinuous frame almost bursting out of the sapphire crystal. It is sketched by Howe exclusively for Jaquet Droz, and styled as a wingless dragon from JRR Tolkien's universe. An example from the books would be Glaurung, the very first terrestrial fire-breathing dragon bred by Morgoth himself.
Notably, Tolkien's beasts differ significantly from those in George RR Martin's A Song of Ice and Fire universe, where they are more accurately known as wyverns instead, given Martin's preference for the two-legged winged definition. Tolkien's, and therefore Jackson's, dragons range from winged to wingless, and may be footed or non-footed as well.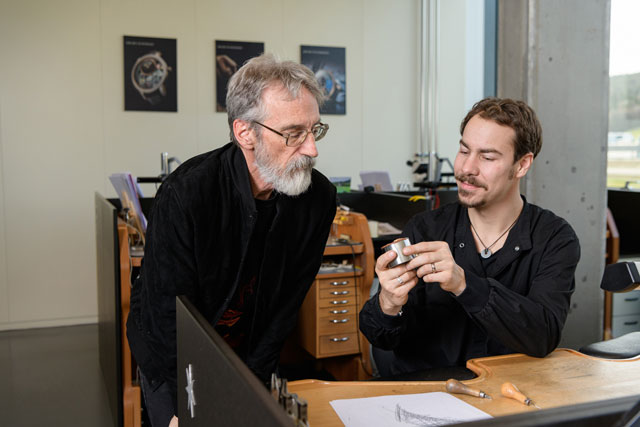 And what Howe has conceived through pencil and paper was brought to life by Jaquet Droz's inimitable craftsmanship. The dragon glitters in hand-engraved 18K rose gold, its scales, horns, claws, and eyes all shimmering with fearsome loathe. But it is not only figurative in appearance. Thanks to Jaquet Droz's expertise with traditional automata, it moves with a life of its own – that is only if you remember to wind the movement, of course.
Push the button at 11 o'clock and the dragon awakens. You meet its steely gaze as flames escape its jaws. That serrated spine flexes menacingly as the dragon arches its body, culminating in a final whiplash of its tail, all while the magic ball in its claw spins, as if by ominous magic.
This 43mm timepiece will be custom created for bespoke clients, which means complete freedom in choice of case material, dial material, and medallion stone. One could also have the case engraved, and the dragon's scales fleshed out to one's exact desires. This highly exclusive timepiece will exist in a total of just nine different variations, all fully customisable in accordance with Jaquet Droz's new Vision 8.0 to produce only unique orders. Customers may also stay connected with the watch from start to finish once the manufacture's dedicated phygital platform takes off.