Here's the thing about first-person shooter games. It's all about the effects, and you want them to look real, sound real, and feel real. With its sixth installation set to drop this 7th October, the Far Cry games are as realistic as they come. Far Cry 6 revisits its success formula of exotic location meets ruthless villain meets all manner of weaponry and gadgetry. So what's new this time? A watch that helps players run faster, defend better – and get this – you can wear it IRL. In a nutshell, the Hamilton Khaki Field Far Cry 6 Limited Edition might actually be Far Cry's most realistic feature ever.
Not Just A Prop
Created exclusively for the game, this watch was thoughtfully conceptualised for the Far Cry 6 world, which is set in the fictional war-torn country of Yara. Its military-inspired design fits perfectly on the wrist of game protagonist Dani Rojas, who comes with an intriguing backstory. But this watch doesn't just come with the character. You've got to earn it by completing a guerrilla mission first, and – cue plot twist – it's got its own dark past.
"Hamilton's Khaki Field isn't merely an accessory choice or functional asset but is truly integrated into Yara's history with a connection to the island's deposed leader," said Omar Bouali, game content director of Ubisoft Toronto. "It's a small detail that adds immense authenticity to the cinematic world we've created."
Details are obviously minimal at this point but it appears that the Hamilton Khaki Field watch in the game isn't some plain ol' BNIB military issue – it's better. The story goes that it was once owned in the year 1983 by Santos Espinosa, the former ruler of the island. Who was killed. By assassination. Of course.
Not only that, the in-game timepiece is more than just a watch. It also functions effectively as defensive wrist gear. With a unique and original "keeps on ticking" function, it apparently helps players defend themselves better during sprints, moving away from danger quickly and efficiently. We're not exactly sure at this point how it works, but you'll get to sample its prowess soon enough.
From Virtual To Reality
And the watch keeps on ticking even IRL. The Hamilton Khaki Field Far Cry 6 exists virtually as well as physically, bringing players closer than ever to the Far Cry world. Rugged, resilient, and reliable, the 42mm titanium watch sports classic modern military gear aesthetics. So it's all about unquestionable legibility with practicality and comfort, and you find a host of interesting details throughout the watch.
For instance, the titanium case is brushed rather than polished, which is not only cool but smart too. Because over-reflective surfaces are never a good idea for covert operatives.
Its black vinyl dial also stays lowkey with a matte centre displaying 24 hour time, and features two discreet references to the game. First, a split '6' hour numeral alluding to the game logo's typography. Second, a revolutionary red seconds hand dressed in the game colours, chosen as a tribute to Yara's guerrilla forces.
This limited edition watch comes with a tool set and leather carrier.
The H-10 automatic movement gives it 80 hours of power reserve.
As is custom for military watches, this titanium model is primarily worn on a brown leather NATO strap. But if your sartorial side demands, a more classical option also comes with, in the form of a light brown nubuck leather strap.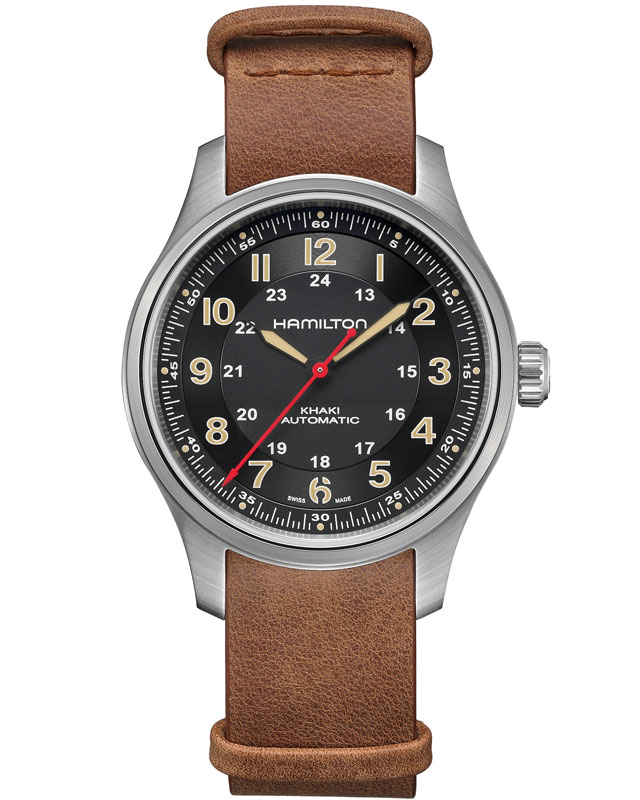 Khaki Field Far Cry 6 on NATO leather.
Khaki Field Far Cry 6 on nubuck leather.
As a special treat, you'll be provided the changing tool to make the strap-swap on your own. What better way to represent the do-it-yourself "resolver" spirit of the Far Cry games? Both options look equally dashing, neither have got a particularly distressed look, which hopefully you'll avoid as well when you're fighting for Yara's freedom.
Find out more about the Hamilton Khaki Field Far Cry 6 limited edition.