Moncler makes its Fortnite debut
Fortnite's Item Shop gets more luxury fashion options with Moncler's debut in the battle royale game. The main collaborative collection is inspired by the new 6 Moncler 1017 ALYX 9SM collection by Matthew Williams, with the addition of it being reactive. Depending on the altitude of where the player's character is, the outfit changes colour—it turns dark at high altitudes and goes light at lower altitudes. In addition to the outfit skins, a host of other items are also available, including a Moncler Classic set, a Para-Pluie Glider, and more.
New Balance opens a 'Shifted store'
Bugis Junction is home yet again to another New Balance temporary concept store. This time around, the 'Shifted store' plays host to the brand's Shifted series—the XC-72, 57/40, 237 and 327—where designs and silhouettes tend to be more experimental. The entire space is modelled after a retro-futuristic concept with clean lines and space-white interiors. For a limited time, New Balance has worked with artists 8EyeSpud, Mindflyer, and Clogtwo on screen-printing kits that will be included with any purchase of the XC-72, while stocks last. Additionally, printmaking workshops and artist workshops will also be held every weekend until 18 December and on certain days respectively, with every purchase of the XC-72.
The New Balance 'Shifted store' is at 02-10 Bugis Junction and will run from 26 November 2021 to 9 January 2022.
Uniqlo and JW Anderson's latest collection to drop December
Beatrix Potter's famed Peter Rabbit character is the main inspiration behind the latest Uniqlo and JW Anderson collection. The autumn/winter 2021 collection is packed with creature comforts in the form of fleece outerwear, patchwork pyjamas as well as a selection of homewear pieces. Peter Rabbit makes its appearance as prints on jumpers and oversized T-shirts. To celebrate the collection and the 120th anniversary of the first official trade publication of The Tale of Peter Rabbit by Frederick Warne & Co., Uniqlo has released a digital pop-up book that can be accessed on mobile phones.
The Uniqlo and JW Anderson autumn/winter 2021 collection is set to drop in December.
Mr P. embeds Digital ID technology for autumn/winter 2021
Mr Porter's in-house brand Mr P. is packed with a couple of initiatives this season. For starters, the autumn/winter 2021 collection makes use of a lot more responsibly sourced materials. For example, the collection's key footwear styles are made from regenerated suede with soles made from 30 percent recycled rubber. Every piece from the Mr P. collection is also embedded with a unique Digital ID that is accessed through a QR code—stating everything from the design of the garment to access to care and repair recommendations and services.
The Mr P. autumn/winter 2021 collection is now available on Mr Porter.
Fendi launches a denim capsule collection
Fendi reimagines denim with its latest capsule collection. Focusing on just dark denim, the ubiquitous material takes the form of classics from denim jeans in a variety of fits to more formal interpretations, including a single-breasted blazer. While the latter is immediately given a more casual appearance, the jeans are also designed to with more formal details. The pieces are then topped off with a jacquard Fendi Roma patch for an exclusively luxe touch.
The Fendi Denim capsule collection is now available in Fendi boutiques and online.
RIMOWA as seen by 10 different brands
RIMOWA by Pleasures.
RIMOWA by Pizzaslime.
RIMOWA by MA®KET.
RIMOWA by Hood by Air.
RIMOWA by ENFANTS RICHES DÉPRIMÉS.
RIMOWA by doublet.
RIMOWA by Ashley Williams.
RIMOWA by About Dreams.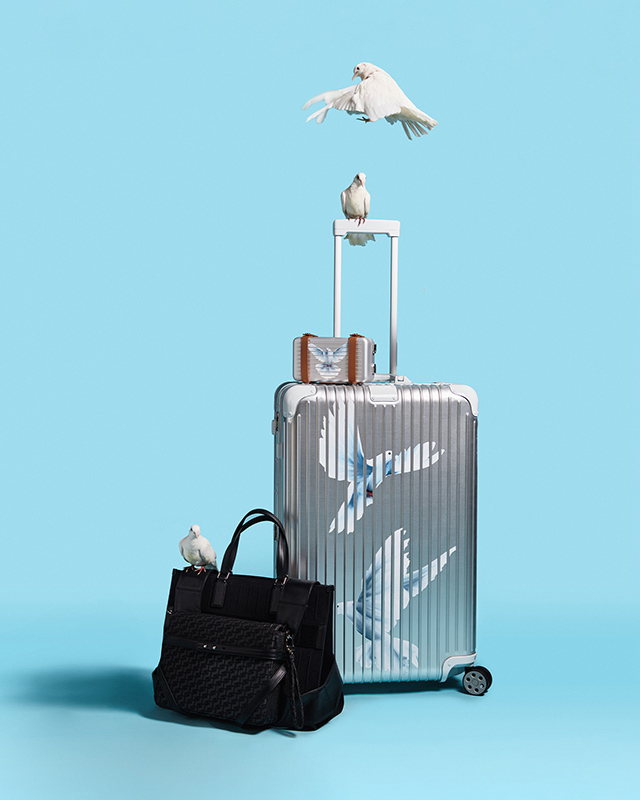 RIMOWA by 3.PARADIS.
RIMOWA is not done with its slate of collaborations just yet. For its latest collaborative venture, the brand has enlisted the help of 10 brands—3.PARADIS, About Dreams, Ashley Williams, CLOT, doublet, ENFANTS RICHES DÉPRIMÉS, Hood by Air, MA®KET, Pizzaslime, and Pleasures—for 'Vol.1', an exclusive collection of customised RIMOWA pieces. The collection is only available on HBX and proceeds from sales will go towards helping COVAX Facility ensure the equitable distribution of and affordable access to COVID-19 vaccines for every country in the world.
The RIMOWA 'Vol. 1' collection is now available on HBX.
The 2022 International Woolmark Prize finalists are revealed
View this post on Instagram
Ahluwalia, Peter Do, and Rui are three out of seven names that have been revealed as the finalists vying for the top prize at the 2022 edition of the International Woolmark Prize. The finalists will compete by creating a Merino wool collection for autumn/winter 2022 with an emphasis on supply chain transparency and sustainability. The top finalist will be awarded with AUD200,000, while another finalist will receive The Karl Lagerfeld Award for Innovation and AUD100,000.
The 2022 International Woolmark Prize will conclude in April 2022.
Moncler tops the Dow Jones Sustainability Indices (DJSI) World and Europe
For the third consecutive year, Moncler has topped the Dow Jones Sustainability Indices (DJSI) World and Europe under the 'Textiles, Apparel & Luxury Goods' sector. Its latest achievement sees it attaining the highest score in the sector with 89 out of a possible 100. The Dow Jones Sustainability Index is said to be gold standard for corporate sustainability, as analysed by S&P Global. In 2020, Moncler presented Moncler Born To Protect, a new strategic plan that focuses on climate action, circular economy, fair sourcing, enhancing diversity, and giving back to local communities.
Hugo launches on LazMall Prestige
Hugo has officially launched on LazMall Prestige for a six-month pilot launch. That means that you're now able to shop the entire Hugo menswear, womenswear and the recently launched Hugo Active collection—the first activewear collection by the brand ever—online. As part of the launch, the brand has partnered with R1OT for a duo of classes (spin and HIIT) accompanied by performances.
Visit the Hugo Official Store on LazMall Prestige here. Sign up for the Hugo x R1OT experience here.
Alexander McQueen pushes for arts education
Alexander McQueen is helping to promote arts education in London's East End through its support for A Team Arts Education. The community youth arts education organisation works to support youths wanting to enter arts and design careers. Alexander McQueen has been steadily working with the organisation throughout the pandemic through one of the educational outreach programmes of workshops that creative director Sarah Burton has been running with the brand's in-house design team. This official announcement entails a financial support for A Team Arts Education, enabling it to further extend the workshops and classes it organises for the coming year. Live experiences with the brand's craft professionals will also be incorporated into the list of programmes.
Ib Kamara to be honoured
View this post on Instagram
Ib Kamara has been a force in the fashion industry, especially as of late, and is finally getting the recognition that he deserves. The Dazed editor-in-chief is set to be awarded the 'Isabella Blow Award for Fashion Creator' at Fashion Awards 2021. Besides his work for Dazed, Kamara is known for working behind the scenes, consulting and helping translate the vision of fashion designers the likes of Virgil Abloh, Erdem Moralıoğlu, and Riccardo Tisci, as a creative director and stylist.
Puma and Maison Kitsuné drops its second collaborative collection
Puma and Maison Kitsuné return for a second collaborative collection. Staying true to the first collection's clean aesthetic—a combination of considered Japanese design and chic French minimalism—the second sseason of Puma x Maison Kitsuné includes subtle embroidered details, earth-toned colour palette, as well as the Maison Kitsuné fox logo in a number of variations. On the sneaker front, the collections offers up the classic tan and blue Suede Crepe, and the more athletic-looking Mirage Sport sneaker that's constructed with a mix of materials.
The Puma x Maison Kitsuné collection is now available at both physical and online Puma stores, maisonkitsune.com, as well as select retailers.
Daniel Lee parts ways with Bottega Veneta
After three years at the creative helm of Bottega Veneta, Daniel Lee is bowing out. The announcement was a surprise, given that Lee was nominated at this year's CFDA Fashion Awards, and clinched four awards in one night during the 2019 The Fashion Awards. On the financial front, Bottega Veneta under Lee's creative direction was on an upwards trajectory with parent company Kering reported increases of almost 50 percent across all distribution channels for 2021 thus far. The announcement was said to be a "joint decision" and Matthieu Blazy has been announced as the successor.
Dior Men drops its Dior and sacai collection
As part of the Dior Men spring 2022 collection, the Dior and sacai collaborative capsule collection has finally launched in boutiques this week. The collection features a strong workwear aesthetic with signature sacai riffs on juxtaposing tailoring with workwear influences in one garment. The key defining trait of Dior and sacai is in yet another collectible interpretation of the Dior logo—this particular iteration incorporates 'sacai' as part of the 'I' in 'DIOR'.
The Dior and sacai capsule collection is now available in Dior Men boutiques.
Gucci reopens its The Shoppes at Marina Bay Sands boutique
Gucci put out all the stops in celebrating its newly refurbished The Shoppes at Marina Bay Sands boutique. The duplex boutique received a fresh, open-floor plan stocking the complete collection of the fashion house's offerings, including its most recently launched lifestyle collection. As part of the celebration, Gucci branded the Rain Oculus at Marina Bay Sands with its centennial print—as part of its 100th anniversary this year—and lit up the entire Marina Bay Sands complex in its signature red-green-red webbing colours.
The refurbished Gucci boutique is located at The Shoppes at Marina Bay Sands, B1-109 and L1-48.
Calvin Klein debuts new concept store
Another brand that was busy recalibrating its store is Calvin Klein. The brand's ION Orchard store has been fitted with new energy-saving design elements—including lightbulbs—and has consolidated its different lines all in one store. The latter marks Calvin Klein's first multi-brand concept in Singapore, bringing together the Calvin Klein Underwear, Calvin Klein Performance, and Calvin Klein Jeans lines.
The Calvin Klein multi-brand lifestyle store is located at ION Orchard, B1-08.
Acne Paper relaunches with its 16th edition
After the launch of the Acne Paper Book just this June, Acne Paper is officially back with its 16th edition. Reimagined with an entirely new look and creative direction, the 500-page book-magazine hybrid comes with an illustrated cover that unfolds into a poster based on the theme of the issue: Age of Aquarius. Notable contributors include fashion stories by Justin French and Ib Kamara, Julie Greve and Lotta Volkova, and more.
Acne Paper Issue 16 is now available on acnestudios.com and select bookstores.
Superga collaborates with Tiong Bahru Bakery
In a Superga first, the sneaker brand has collaborated with local food establishment Tiong Bahru Bakery (known for its croissants). The three-piece collaboration focuses on high-top styles, each more different than the next. The simplest comes in the form of an all-white sneaker topped with an engraved metal bread tag, while embroidered patches decorate the heel of the next pair. The third in the series features an all-over croissant print.
The Superga x Tiong Bahru Bakery sneakers each retail for SGD119.90 and are available at all Superga stores and online.
Jonathan Anderson, Kim Jones and more up for 'Designer of the Year'
View this post on Instagram
This year's edition of The Fashion Awards is presented by TikTok, and is happening on 29 November 2021 at London's Royal Albert Hall. Arguably, the most anticipated award of the night will be 'Designer of the Year'. The British Fashion Council has revealed the nominees for the prestigious nod: Daniel Lee for Bottega Veneta, Demna Gvasalia for Balenciaga, Jonathan Anderson for JW Anderson and Loewe, Kim Jones for Dior Men and Fendi, and Miuccia Prada and Raf Simons for Prada. It's no doubt a stacked list of nominees with each designer having had quite a year for the brands that they helm.
Onitsuka Tiger launches floral print collaboration
Tapping on the expertise of textile graphic brand nowartt, Onitsuka Tiger releases a capsule collection featuring a print consisting of a variety of florals. In capturing the spirit of the '60s and '70s, the resulting print includes motifs of the neelakurinji (a flower that blooms once every 12 years) and the endangered Deeringia polysperma. The print decorates the entirety of the collection's tracksuits, down jackets, shoes, and backpacks.
Loewe supports Ghibli Museum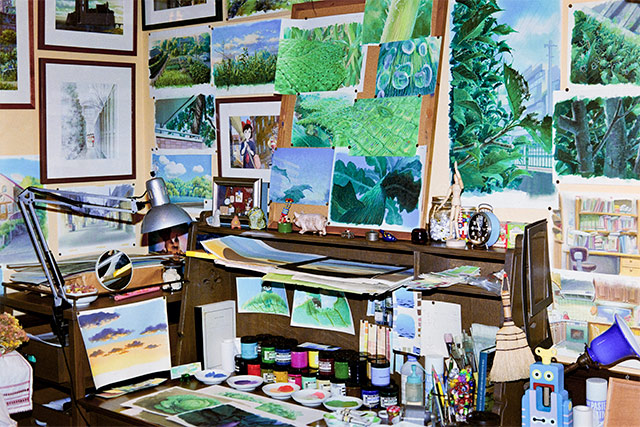 After a much-loved Totoro-inspired capsule collection, Loewe has announced a three-year financial sponsorship towards cultural activities at the Ghibli Museum. This is part of Loewe Foundation's collaboration with the Tokuma Memorial Cultural Foundation for Animation, where both entities understand and value craft and the handmade. Funds from Loewe Foundation over the three years will be used to support the museum's operations, including the continuation of its exhibitions and cultural activities.
Valentino is readying a vintage initiative
In a move towards circularity, Valentino has launched Valentino Vintage. The initiative is set to unfold in two stages—the first having just launched on 27 October. Pre-loved Valentino pieces can now be appraised by an authorised vintage store each in Milan, New York City, Los Angeles, and Tokyo. Once a piece is appraised positively, the valuation amount will be offered in credit (only to be used with an associated boutique) in exchange for handing over the piece to the vintage store. Phase 2 has yet to be detailed but is set to commence on January 2022 where Valentino Vintage-tagged pieces will begin to be offered for sale.
Carousell adds Ox Street into its fold
Singapore's Carousell Group acquires Ox Street, a social marketplace specialising in authenticated sneakers and streetwear serving the Southeast Asia market. The acquisition comes ahead of Carousell's intention on going public in the US. While under Carousell Group, Ox Street will still retain its own team and operate separately with the additional support of being able to tap into Carousell's reach and technological capabilities.
Bottega Veneta reopens in The Shoppes at Marina Bay Sands
Spread across two floors, Bottega Veneta reopens its fully refurbished boutique within The Shoppes at Marina Bay Sands. The duplex stocks the brand's full range and marks the fourth boutique that's currently operational in Singapore. Green (a colour that's become synonymous with Bottega Veneta) is featured in a variety of ways, including the storefront's green-lacquered solid wood frame, terracotta floor tiles as well as a majestic spiral staircase that connects the two floors.
Gucci's Vault is an online experiment
Gucci has just launched Vault, an experimental online platform that further extends the house's universe. More than just an online store, Vault promises to be a multi-pronged narrative surrounding the past and the future. Firstly, Vault will cary a selection of vintage and pre-loved Gucci pieces that have been refurbished and made new again. Each piece is numbered and will be packaged in its own 'made-to-measure' packaging. Secondly, pieces by emerging creatives around the world will be part of Vault, and at times, exclusive to the platform. And lastly, there will be a series of creative executions through various digital mediums. All these set to make Vault an online platform that's unlike anything in the luxury fashion space.
Givenchy's unique series of mannequins
You may be treated to a series of unconventional-looking mannequins the next time you walk past a Givenchy boutique. Creative director Matthew M. Williams has collaborated with multimedia artist Ewan Macfarlane on custom mannequins in poses that evoke a sense of searching for true self-expression, meaning, and evolution. The mannequins will then be dressed in Givenchy's autumn/winter 2021 collection, with the contorted poses allowing for better all-round view of the collection.
Kering is going fur-free
Kering-owned luxury fashion brands Gucci, Bottega Veneta, Balenciaga and Alexander McQueen have all stopped using fur in their products. And now, the luxury group is banning the material across all brands under its umbrella—Saint Laurent and Brioni are the only ones left to make the change. This moves comes in after Gucci first announced in 2017 that it will stop incorporating fur in its designs, and is part of the group's efforts in building a more sustainable industry.