Timothée Chalamet is Cartier's newest friend
There's no denying that Timothée Chalemet is one of the most stylish men of this generation. Cartier clearly knows this and has most recently announced—right on the heels of the actor's appearance at the Venice Film Festival for the premiere of Dune—that Chalamet has been officially inducted as a friend of the maison. What that essentially means is that Chalamet will be partnering up with Cartier on various events and appearances, basically embellishing his looks.
New Balance is back with another Levi's collaboration
New Balance x Levi's 990v3 'Indigo', SGD319.
New Balance x Levi's 990v3 'Grey', SGD319.
Coming together once again, New Balance and Levi's have offered up a denim-inspired take on the former's iconic 990v3 silhouette. The sneakers are designed in two colourways, and feature a hairy suede treatment that's a nod to back of the Levi's leather back patch. They're also accented with Levi's Shrink-To-Fit denim for a unique tactile contrast.
The New Balance x Levi's 990v3 sneakers are up for pre-order from now until 12 September 2021 for SGD309. They will then be priced at SGD319 from 15 September 2021.
Ray-Ban and Facebook releases smart glasses
Next to take on smart glasses are Facebook and Ray-Ban. The duo have collaborated on and released a series of smart glasses that's available in three classic Ray-Ban styles: Wayfarer, Round, and Meteor. Called Ray-Ban Stories, each pair is able to take photos and videos (stored in a new Facebook View app), play music, make phone calls and operate hands-free commands when wearers say, "Hey, Facebook." And in order to prevent wearers from using the glasses to take photos and videos in secret, the in-built camera shines a white light to notify others when the camera is being used.
The Ray-Ban Stories smart glasses are currently only available in the US, the UK, Australia, Canada, Ireland and Italy, and are priced at USD299.
Frame relaunches menswear
The American brand that started out with denim that was seen on everyone from supermodels to celebrities, Frame has grown to be more than just denim, offering a cohesive wardrobe for both men and women. This season, Frame relaunches menswear with a collection that speaks to the time we're living in—one that focuses on individual personality and style. The collection consists of three core concepts—'Smart Comfort', 'Modern Classics' and 'Enhanced Denim'—that together, serve to provide the basis for wardrobe essentials to suit one's style.
The new Frame menswear collection is now available.
Prada teams up with Frank Ocean's Homer brand
It has only been a few months since Frank Ocean debuted his luxury brand Homer, and it has already scored a partnership with Prada. The limited-edition fashion collection consists of a trio of Prada classics—an anorak, a backpack and a belt bag—that are all made in Italy and feature co-branded tags. They're available in four different colours each, and are set to only be the start of an ongoing partnership between the two brands.
The Prada for Homer collection is only available at the Homer store in New York City.
Gucci debuts its sexiest campaign yet
We don't typically refer to Alessandro Michele's vision for Gucci as sexy. But in the fashion house's latest campaign for its Gucci Aria collection, everything is sexually charged like we've never seen before from Gucci under Michele. The campaign video takes place in a hotel as a nod to the Gucci founder's beginnings as a liftboy at the Savoy in London. Set to the tune of Madonna and Massive Attack's 'I Want You', the occupants of the hotel—including Italian band Måneskin—engage in a hedonistic exploration of desires, all within the assumed privacy of the hotel.
Balenciaga releases sneakers made of glass
Well, not exactly. As part of its Balenciaga Objects division, the luxury brand has released Laser Cube. Made entirely out of glass, each Laser Cube holds a holographic illusion of a Balenciaga sneaker—namely the Triple S, Track, Tyrex, and X-Pander—created by laser-etching negative three-dimensional images. Essentially, the each sneaker looks to be floating within a cube of glass.
The Balenciaga Objects:Laser Cube is now available at the Balenciaga Paragon boutique for SGD950 each.
Hyun Bin named Loro Piana's official ambassador
Korean actor Hyun Bin has been busy of late. After scoring a Tom Ford Beauty ambassadorship, the Crash Landing on You star is now the official ambassador for Loro Piana. In a press statement, Hyun Bin offers that the partnership is one that speaks to his continued involvement in humanitarian and environmental issues: "Loro Piana creates garments of timeless elegance, products that do not change over time. Through this collaboration I want to share the history and values of this brand that I have always admired."
COS is now available on Zalora
After a successful online launch of H&M on its platform—serving Singapore and countries in the region—Zalora has now officially added COS into its fold. The London-based fashion brand is known for its sleek cuts and minimal aesthetic, and is favoured among the fashion and design community. Its timeless appeal is also something that resonates with Zalora that's been amping up on its sustainability strategies, including offering brands that align with this renewed direction.
Kanye West's latest merch features presidential run hope
In the latest drop of Kanye West's Donda merchandise (and on the heels of album release; finally), there's a nod to something that we may have all but forgotten about. The four-piece offering of T-shirts, a cap, and a mask, includes a long-sleeved layered T-shirt printed with the Seal of the President of the United States and '2024'—both alluding to his ambition of running for president in 2024. Seeing how Donda suffered so many delays, we're not betting on 2024 being fully realised until a later opportunity.
Brunello Cucinelli named 'Designer of the Year'
Among the celebratory achievements at the 24th edition of the GQ Men of the Year event in London, was Italian designer Brunello Cucinelli being named 'Designer of the Year'. The award was presented to Cucinelli by actor Jonathan Bailey, who's also a friend of the brand. In his acceptance speech, Cucinelli paid homage to the artisans and their works that make up the brand: "Through it and our work, we have discovered and nurtured the moral and economic dignity of humans, gentle economic growth, harmony between profit and generosity, and respect for Creation, a small part of which I feel I have been called upon to be a faithful and caring guardian."
A limited-edition Singapore-exclusive Louis Vuitton chain necklace
Since the start of this year, Louis Vuitton has been releasing a special country-specific edition of the Virgil Abloh-designed LV Chain Links necklace each month. This September, the Singapore-exclusive version drops. As with the releases throughout the year, Singapore's version features a unique colourway made up of coloured crystals, white enamel, plexiglass inserts, with the LV Monogram engraved at random spaces. There are only 12 pieces available, each numbered and engraved with 'SIN' for Singapore.
Matthew M. Williams is under fire for copying designs by Benjamin Cho
First reported by Instagram-based fashion watchdog Diet Prada, Givenchy creative director Matthew M. Williams has been accused of plagiarism. The accusations came from friends and family of late American fashion designer Benjamin Cho, with respect to an autumn/winter 2021 Givenchy dress that was most recently worn by Beyoncé. Williams and Cho were said to be inseparable as friends for a period of time, according to sources close to the latter. And while Williams has only recently mentioned that the dress in question—featuring braided techniques signature to Cho—is an homage to the late designer, no such mentions were made in prior releases and statements about the collection or dress.
A new Tiffany & Co. campaign featuring the Carters
On the heels of the Tiffany & Co. revamp by luxury conglomerate LVMH, the jewellery brand has released its latest campaign. Called 'About Love', the campaign stars husband-and-wife duo Jay-Z and Beyoncé. Both were styled almost like contemporary versions of Jean-Michel Basquiat and the iconic Breakfast at Tiffany's image of Audrey Hepburn, with the former's painting—1982's 'Equals Pi'—also featured as part of the campaign. And most importantly, this marks the first time in history that the 128.54-carat Tiffany Diamond is featured in a campaign, as worn by Beyoncé.
Tumi partners with Missoni
This is definitely no ordinary Tumi collection. In a partnership with Italian fashion brand Missoni, Tumi creative director Victor Sanz selected a print from its archive—the 'Snake Fiammato'—to decorate the collection's entire selection of luggage, bags, cases and accessories. The signature Missoni zigzag pattern features earthy, rust tones interpreted in a number of finishes and textiles that were all created with Tumi's slate of hard-wearing materials.
The Tumi and Missoni collection will be available in select Tumi stores, Missoni boutiques, as well as select luxury wholesale stores and online.
A Uniqlo and White Mountaineering collaboration is coming
In a surprise announcement, Uniqlo and White Mountaineering are set to release a collaborative drop this season. The latter's known for its offerings of products that marry design, utility, and technology. In an interview with Uniqlo, designer Yosuke Aizawa has this to say about how the collection was conceptualised: "It shouldn't feel like you're wearing clothes, so much as being contained by them. In that sense, I want you to be able to forget the clothing is even there. It shouldn't just look sharp. If you were chopping wood, you shouldn't even notice how easy it was to swing. Same goes for riding a bike. In thinking up our patterns and designs, a constant question is how to make the sleeves and shoulders stress-free."
Café anywhere with portable Café Kitsuné furniture
Fans of fashion and lifestyle brand Maison Kitsuné will be familiar with its café imprint, Café Kitsuné. While there's isn't a Café KItsuné here in Singapore (the nearest would be Shanghai) there's now perhaps a way to somewhat experience the terrace seating at the Palais Royal without even being anywhere near Paris. Together with camping equipment brand Helinox, a portable table and chair branded with Café Kitsuné are part of a spring 2022 collection that's set to be available online as well as all the Café Kitsunés around the world.
Cillian Murphy and Peggy Gou star in new Montblanc campaign
Cillian Murphy.
Xin Zhi Lei.
Chen Kun.
Peggy Gou.
Actor Cillian Murphy and international DJ Peggy Gou join existing Montblanc Mark Makers, Chen Kun and Xin Zhi Lei in the brand's second instalment of the 'What Makes You, Moves You' campaign. This time around, the stars are paired with Montblanc's UltraBlack collection—a series of all-black accompaniments emblazoned with the brand's M pattern. The contemporary stylings underscore Montblanc's intention of creating products that are meant to accompany one through life's journeys.
Balmain is launching a television miniseries
A first for fashion house Balmain and British's Channel 4, both entities have come together for a five-episode miniseries. Fracture is set to star singer-songwriter Jesse Jo Stark, Riverdale's Charles Melton, Tommy Dorfman of 13 Reasons Why, and Ajani Russell, and tells a story of love, purpose and hope. And of course, with Balmain's autumn 2021 collection worn throughout. "Fracture helps to make very clear Balmain's determination to continue to break down boundaries and engage in unexpected, compelling and entertaining ways with lovers of fashion, music and design," explained creative director Olivier Rousteing.
Uniqlo announces its latest Uniqlo U collection
The next instalment of the Christophe Lemaire-designed Uniqlo U collection has been announced. The Uniqlo U autumn/winter 2021 collection is set to be packed with dependable, function-first designs that have been a signature of the line since its inception. A recycled down jacket, for example, is updated with a new silhouette and made with materials that have been collected and recycled from pre-loved garments. The collection is scheduled to launch on 17 September 2021 and will span menswear, womenswear and childrenswear.
Loewe Foundation Craft Prize returns
First launched in 2016 as a way of celebrating craft and artisanship, the Loewe Foundation Craft Prize returns with an open call for a shot at the grand prize of EUR50,000. A distinguished panel of artists, artisans, essayists, curators and designers have been selected to be part of the expert judging panel and are set to shortlist up to 30 submissions from the total received for the year. The selected artisans will then showcase their works at an exhibition held in Seoul next year, along with the announcement of the winner of the prize.
Submission for the Loewe Foundation Craft Prize 2022 closes on 25 October 2021.
Alexander McQueen unveils its spring/summer 2022 menswear collection
English poet, painter and printmaker William Blake inspired the entire Alexander McQueen spring/summer 2022 menswear collection. The British brand had referenced Blake's nonconformist attitude and disruptive imagination in creating both imagery and literature. Captured by renowned photographer Paolo Roversi in Bologna, Italy, the collection abstracted the concept of imagination as a form of escapism and played around with the idea of lightness, air and water. Shirts with exploded ruffles as well as a T-shirt dress with embroidered bodice were some of the details referenced from Blake's works—resulting in a collection that blurred the lines between masculinity and femininity.
Vetements finally reveals its 'Secret Project'
Vetements has finally revealed its 'Secret Project', one that has been teased via social media. The project is a new brand called VTMNTS—yes it's 'Vetements' without all the vowels—that's certainly easier to obtain a trademark for. VTMNTS represents a somewhat different aesthetic to Vetements with a heightened sense of  individuality at its core. The debut 100-piece spring/summer 2022 collection is a form of celebration to the commitment and newfound aesthetic of the brand. The non-gendered collection features T-shirts with gender pronouns such as 'She/Her', 'He/Him' and 'They/Them' printed on as well as hoodies inspired by '80s movie Back to the Future.
2021 LVMH Prize finalists are revealed
Look by Colm Dillane.
Look by Lukhanyo Mdingi.
Look by Kika Vargas.
Look by Nensi Dojaka.
Look by Bianca Saunders
Look by Rui Zhou
Look by Conner Ives
Look by Christopher John Rogers.
Look by Charles de Vilmorin.
For eight consecutive years, luxury conglomerate LVMH has been fostering young fashion talents who've shown creativity and innovation through LVMH Prize for Young Fashion Designers. This year, nine young designers have been chosen out of 1,900 candidates by 66 experts including French fashion editor Carine Roitfeld as well as fashion models Bella Hadid and Karlie Kloss. The chosen finalists—Bianca Saunders, Conner Ives, Charles de Vilmorin, Christopher John Rogers, Colm Dillane, Lukhanyo Mdingi, Albanian Nensi Dojaka and Rui Zhou—have each shown tremendous creativity, optimism and reactivity in their work and have secured a shot at the big win this coming September.
JW Anderson partners up with Persol for spring/summer 2022
Creative director Jonathan Anderson has unveiled an eyewear collection in collaboration with Persol for his namesake brand JW Anderson for spring/summer 2022. Inspired by summers in Ibiza and his Northern Irish home, Anderson reimagines the Persol 649 and 0009 models with a colourful twist. The JW Anderson x Persol 649 model features four lenses and are available in two-tone combinations of bold blue, red and orange, while the 0009 model comes in generous selections of colour combinations—blue and pink, black and white, dark and light green as well as orange and light blue.
Phoebe Philo is returning to fashion
Three years ago, Phoebe Philo departed from the fashion scene after her run as creative director of Céline. Philo redefined womenswear through her designs, constantly challenging the feminine wardrobe with tropes such as matching masculine trousers paired with feminine blouses as well as a fashion-forward minimalist aesthetic fuelled by authenticity. The designer is set to make a return to fashion through her own namesake brand housed under luxury conglomerate LVMH. In a statement released, Philo expressed her excitement in being able to reconnect with her audience and the freedom to experiment with her own brand.
Tropick drops new loungewear
Singapore-based menswear brand Tropick aims to create versatile and sophisticated staples that are suitable for any wardrobe. The label has just launched 'Lounger Liner', a collection that reimagines loungewear, making it more refined. The collection consists of a polo top and drawstring shorts in a breathable and stretchy cotton towelling—ideal for off-duty errands in the island's heat. Launching with just navy, the polo top features a contrasting white quarter zip while the shorts are designed with a drawstring waistband and three pockets to hold all your small trinkets.
The Tropick Lounger Line is now available online at tropick.com and vulcanpost.com.
Maison Margiela presents A Folk Horror Tale artisanal couture collection
Under the creative direction of John Galliano and directed by Olivier Dahan, A Folk Horror Tale offers a 180-degree insight into the Maison Margiela's artisanal couture 2021 show. It runs along the same vein as Maison Margiela's past two couture shows that were shown through a behind-the-scenes documentary fashion film. The film takes its audience on a journey of the creative process and its resulting outcome through a series of sit-down interviews with Galliano while showcasing the collection in interspersed narrative scenes. Of the collection, Galliano stressed the importance of the tension between the raw and refined when it came to the fabric selection, as well as weaving in a story that revolved around the mystery and horrors of a coastal settlement and the moonlight.
BTS features in the Louis Vuitton autumn/winter 2021 spin-off show
The Louis Vuitton autumn/winter 2021 spin-off show came in the form of a fashion film titled Hope. The 10-minute film centred around the idea of space, movement and global connectivity with regards to today's time. Directed by Jeon Go-woon and staged just outside of Seoul, the film is an addition to the performance art film released in January 2021 of the same collection. It featured new looks, out of which seven were modelled by House Ambassadors BTS through a staged walkthrough of the collection. The presence of BTS and a Seoul spin-off show reiterate the values of the maison by creative director Virgil Abloh that focus on diversity, inclusivity and unity across cultures and nations.
Balenciaga returns to haute couture
Balenciaga debuted its first couture show since 1967—founder Cristóbal Balenciaga's last before the maison closed—during Haute Couture Week for the autumn/winter 2021 season. Under creative director Demna Gvasalia, the collection focused on intricate state-of-the-art techniques and paid homage to the house's highly-respected couture history. Gvasalia presented body-transforming pieces interpreted in modern silhouettes which redefined the usual standard of couture savoir-faire. Familiar signature Gvasalia design tropes were apparent through a series of oversized blazers and coats, vibrant pops of colour as well as giant hats.
An exclusive box set of runway show vinyls by Saint Laurent
Saint Laurent has launched an exclusive box set of 12 vinyls titled 'FREQUENCIES'. The project is based off of the long-term collaboration between creative director Anthony Vaccarello and French electronic musician, artist and producer SebastiAn. The vinyls feature soundtracks that have accompanied runway shows beginning from the Saint Laurent women's spring/summer 2017 show. The soundtracks are also available to stream on Spotify, Deezer, and Apple Music.
Balenciaga taps video game developer Quantic Dream
Balenciaga took to animation to feature its autumn/winter 2021 campaign. The showcase was made in collaboration with game developer Quantic Dream that set the backdrop of Balenciaga's campaign as a cloud-based video game titled Afterworld: The Age of Tomorrow. Motion capture was used to create animated versions of real actors transposed onto virtual scenarios. And as the protagonist goes through the video game simulation, the collection unfolds on the characters that surround him.
Erdem debuts first menswear collection
Erdem has unveiled its first standalone menswear collection for spring/summer 2022 after more than 15 years in the industry. Creative director Erdem Moralioglu took inspiration from the late filmmaker and author Derek Jarman, drawing references from his idea of uniform dressing and his penchant for boiler suits. The lookbook and accompanying film was shot at the south coast of England near the Isle of Wright, mimicking the soft and moody landscapes of Jarman's books. The men's collection is undoubtedly Erdem, consisting of cashmere knit jumpers, tailored jackets with fabric-covered buttons as well as trousers paired with cummerbunds.
Reebok introduces autumn 2021 collection with Reconnect
Under the new creative direction of Kerby Jean-Raymond together with artistic marketing director Jide Osifeso, Reebok introduces Reconnect—a series of short videos and one long-form film directed by Jonas Lindstroem. The 11-minute film not only showcases the autumn 2021 products but also translates a message of sports, family and community. Intended for audiences to derive their own interpretation of its message, the film features children going about their daily lives as well as getting valuable life advice from adults. Reconnect also provides a taste of the brand's new look and direction to come.
Gucci's new gender-neutral jewellery
The new collection of gender-neutral jewellery titled 'Link to Love' by Gucci is a reminder of romance and togetherness. It has a modern contemporary take but yet reminiscent of the '80s. The collection consists of a series of rings, bracelets, necklaces and earrings. In addition to the Gucci logo design element, the collection comes in an octagonal style and because of the geometrical shape, the rings are perfect for stacking. The pieces are crafted in 18-karat gold in three colours—yellow, white and pink—with some embellished with gemstones and diamonds.
The Gucci 'Link to Love' collection is now available at Gucci ION Orchard and Raffles City boutiques.
Dior Men reveals its spring 2022 collection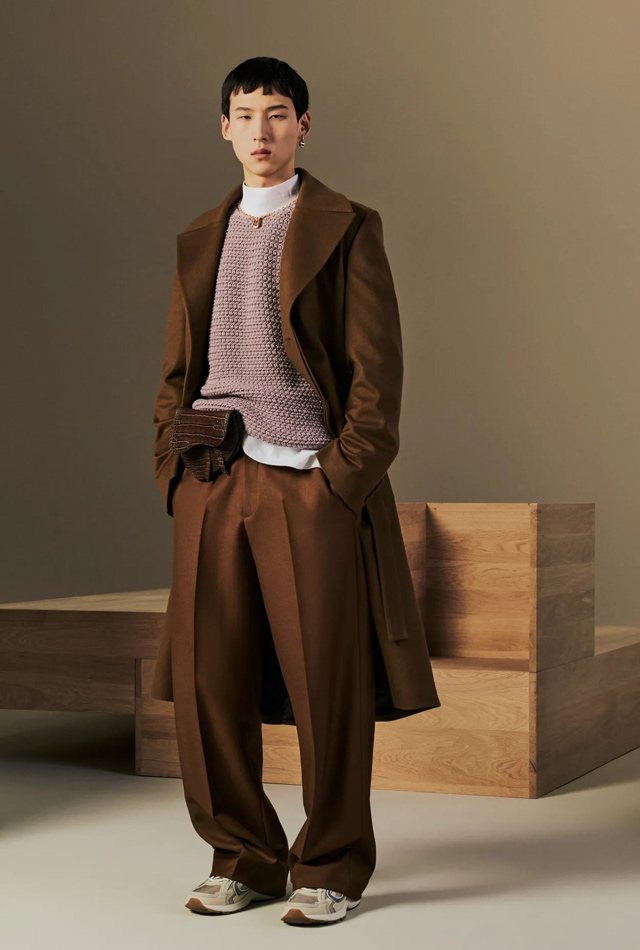 Dior Men's artistic director Kim Jones drew inspiration from Marc Bohan's work for Dior in the '60s, for the Dior Men spring 2022 collection. Jones took a deep dive into Dior's heritage once again and re-envisioned the way we see the French luxury fashion house today. Combining tailoring techniques and sportswear, the collection reimagines past influences for tomorrow's heritage. In addition to the widely-known Dior Saddle bag, a new Dior Lingot bag makes its debut—named after its gold bar-shaped silhouette. The roomy bag is stripped from the house's archives and acts as a reminder of travel-filled days in the foreseeable future.
Valentino redesigns its business model
With many brands going more sustainable and changing their positioning in the fashion game, it comes as no surprise that Italian luxury fashion house Valentino is redefining itself. Taking on a more progressive stance, Valentino has made the decision to go fur-free starting from 2022 and will move forward as a single label—actions that are more in line with the house's values. Valentino will also commit to researching alternative materials for upcoming collections while paying close attention to its environmental impact.