This year has been an exciting one for menswear: designers took on new roles at various luxury houses (a nod to Kim Jones and Virgil Abloh's new reign at Dior Men and Louis Vuitton), collaborations were unexpected yet delightful (we're looking at you Ralph Lauren and Palace), and some great creative minds returned (hello, Stefano Pilati and Hedi Slimane). As thrilling as these developments are, it's always better to look forward than back. So here are three rising stars who have done amazing work under the radar; we're looking forward to seeing them make a big impact on the menswear landscape next year.
Matthew Williams of 1017 Alyx 9SM
Aside from his endorsement of Donald Trump, Kanye West does have an eye for talent. Matthew Williams got his first break from West, serving as tailor by creating a suit that West wore to the Grammy's and subsequently as an art director, producing West's tour and album covers. More than just learning from West, Williams got his first taste of owning a fashion label when he founded Been Trill with Virgil Abloh and Heron Preston.
While they all went their separate ways, Williams took the lessons from that experience, along with his appreciation for various subcultures, and channelled them into his debut label 1017 Alyx 9SM, which he named after his firstborn. The brand grew slowly at first, but the fashion industry was first put on notice with the introduction of Alyx's iconic rollercoaster belt buckles, which was inspired by a trip to a Six Flags theme park and the utilitarian chest rig. It did not hurt that those pieces became of the favourite of his muse Bella Hadid and his mentor West and help land him the role of collaborator in Kim Jones's debut collection at Dior Men. Part of the line-up that included Yoon Ahn of Ambush and Brian Donnelly of Kaws, Williams' belt buckles were reimagined with the initials of Christian Dior appearing on various accessories.
The above accolades are impressive, but Williams is more than the sum of the names that he is attached to. The answer to why he lands on this list of designers to look out for next year is the potential displayed at his debut runway collection, shown at the recent Men's Paris Fashion Week. The 1017 Alyx 9SM spring/summer 2019 collection sees Williams take elements that are familiar—cautionary neon colours, the democratising of tailoring and utilitarian workwear—and elevate them. The key that makes the whole collection tick is that the references are distinct, and yet they work well together. For example, an elegant wool suit is paired with utilitarian and industrial elements like bags that feature Alyx signature hardware and hiking-inspired sneakers, made in collaboration with Nike.
Williams stands out with his ability to produce garments and accessories that are relevant yet timeless, conceptual yet wearable.
Samuel Ross of A-Cold-Wall*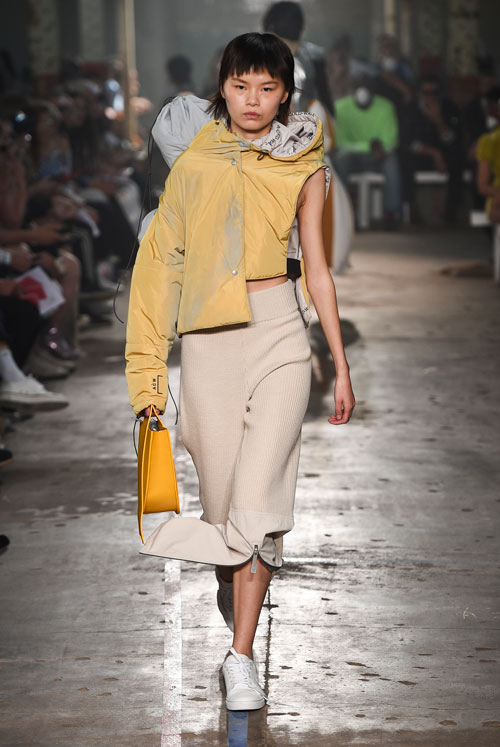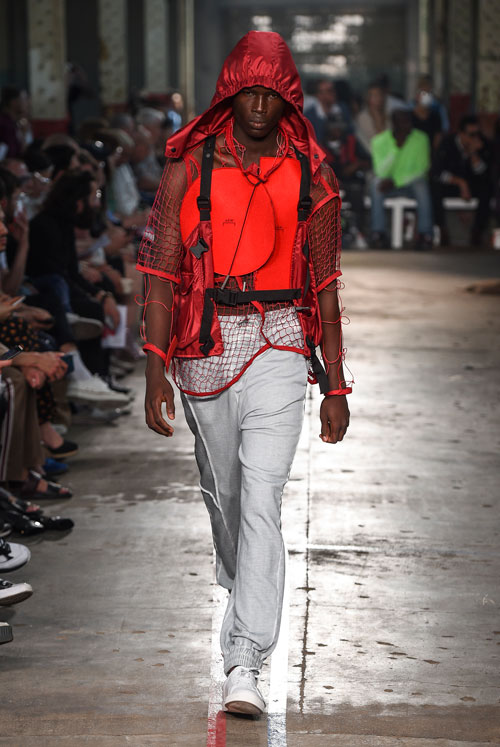 Like Williams, Samuel Ross took the path less travelled to found his own label, A-Cold-Wall*. He majored in graphic design but found the linear nature of it too restrictive. It was fortuitous that his graphic work caught the eye of Abloh, who took the young British designer under his wing. It was during his travels with Abloh that Ross witnessed the budding movement of streetwear, and saw the opportunity to use it to tell his story, one that is deeply rooted in the British working class culture, one told through A-Cold-Wall*.
Highly in demand as a collaborator, Ross partnered with different brands as an opportunity to both learn from and push their boundaries. Take his collaboration with Oakley and Nike for example. In the case of the former, Ross used the opportunity to peek into Oakley's labs, using their technology and ethos to create a collection that predominantly consists of ready-to-wear pieces, a futuristic celebration of Oakley's love for the great outdoors.
For Nike, Ross explored the idea of time and the effects it would have on the pieces, applying the concept of patina on industrial fabrics like nylon. The collaboration also serves as an incubator for new ideas and patterns, where he tried to capture the feel of outerwear in the trousers by reworking the silhouette.
Ross's greatest strength, one that separates him from his peers, is his unique approach to pattern making and fabrication. He sees pattern drafts as architectural blueprints. His garments are closer to works of art, resembling sculptures, and he welds industrial and traditional fabrics with equal ease. He filters all these elements, as well as the innovation in fabrication he gleaned from his collaborations, into A-Cold-Wall*.
While the presentation and output maybe seem highly conceptual at times, it's Ross's way of taking functionality and making it a style element. Take the sculptural padded trousers that he sent down the runway for his spring/summer 2019 show as an example. They come with attached with pockets and in some variations, bags that allow you to store all your knick-knacks.
But for all his artistic pursuits, Ross cares about his team and understands that his legacy is tied to the success of A-Cold-Wall*. He stands out for being able to balance the cerebral and avant-garde approach to workwear with a balance of accessible tees, hoodies and accessories, and savvy collaborations.
Kiko Kostadinov of Kiko Kostadinov
To define Kiko Kostadinov as a prodigy is to oversimplify who he is as a person and his work. It's perhaps more accurate to call his body of work and his work ethic prodigious. The Bulgarian-born, London-based designer worked on a capsule collection for Stüssy for Dover Street Market New York while still a student at Central Saint Martin.
Since his graduation, he launched his eponymous label, worked with ASICS and Camper on capsule collections and was appointed the first creative director of Britain's heritage brand, Mackintosh. Growing from strength to strength, he hired Deanna and Laura Fanning, twin sisters who, like Kostadinov, graduated from Central Saint Martin, to helm his womenswear line and started Affix with fellow London creatives, Stephen Mann and Taro Ray.
Industry critics have defined Kostadinov's work as utilitarian, and rave at his mastery of workwear and uniforms, although those are labels that he is quick to eschew. He approaches functionality differently compared to the two other designers profiled. Williams recontextualises items with real-world functionality and adds it to his design vocabulary, while Ross turns it into a work of art.
His approach to functionality is more personal. In an interview with Ssense, Kostadinov says: "I don't do performance. The only performance I try to address is that I wear these clothes, and I think, 'What do I carry most of the time around town? I need a pocket for this, or this needs to be deeper, or a space inside for a phone'. It's more about daily function. I try to work with the cuts and construction that you wouldn't think twice about."
Part of the joy of wearing a piece by Kostadinov lies in the subtle nuances that went into making it, and discovering the various functions that the designer took time to conceal. A highly considered garment that rewards you for spending time with it—if that's not the mark of a great designer that you should look out for, we don't know what is.