Father's Day falls on 20 June this year. And while we don't necessarily like to subscribe to such commercial traditions—because everyone deserves love, attention and words of affirmation on the daily—it's always nice to show appreciation every now and again.
As Father's Day gift guides go, we've decided to up the ante a touch this year. Everyone's been experiencing quite a year and could do with some much needed pampering with everyday luxuries. We've curated a list of items from the big fashion and luxury houses that play on dad tropes (think dad sneakers, polo shirts, and wallets) but luxuriously elevated with elegant designs and quality construction—all under SGD1,000.
What better gift is there than something that lasts, is actually useful, and most importantly, in a form that he's already familiar with?
A separate Apple Watch band
Apple Watch Hermès single tour 44 mm deployment buckle band (SGD789), by Hermès.
Apple Watch Hermès single tour 44 mm deployment buckle band (SGD789), by Hermès.
Apple Watch Hermès single tour 44 mm deployment buckle band (SGD789), by Hermès.
Why: A more presentable Apple Watch band (made with quality Hermès leather) that fits with any Apple Watch case whether it's the Hermès version or not. And yes, if he's been using one band for everything from work to sports, he needs this.
Where: The Apple store or Hermès.
A no-fuss tote bag
Why: It's massive at 40cm by 51.5cm and is perfect for the man who has no time to fuss around with multiple pockets and compartments—a one-and-done kind of guy.
Where: MATCHESFASHION.
A polo shirt that fits
Why: For the one who dresses in the typical polo shirt-berms dad combo. At least, help him elevate his choice of the former with a version that's not a far cry from what he's used to.
Where: Loewe.
A sleek backpack for the outdoors (or anywhere)
Why: If he loves the outdoors, he'd love Tumi's Finch backpack and its hardy make. It also comes with a separate rain cover to really keep the backpack and its contents dry. And if he carries a backpack to work, this would make for a more stylish replacement.
Where: Tumi.
A pair of comfy slides that are not Crocs
Polyester slides in Dandelion (SGD820), by Bottega Veneta.
Polyester slides in Grass (SGD820), by Bottega Veneta.
Polyester slides in Sea Salt (SGD820), by Bottega Veneta.
Polyester slides in Black (SGD820), by Bottega Veneta.
Why: We've got nothing against Crocs (we do actually) but these slides by Bottega Veneta incorporate the fashion house's Intrecciato motif so beautifully that any other design pales in comparison. In other words: the only slides we approve of at the moment.
Where: Bottega Veneta.
A straw hat that's not touristy
Why: If he has a knack for picking out the most questionable-looking headgear to shield himself from the sun—we're looking at all the dads with their company-merch caps—this deserves a go. It's wide, lightweight and does the job of hiding bald spots with plenty of gravitas.
Where: Saint Laurent.
A branded T-shirt he'd appreciate
Why: Talking about merchandise, this Balenciaga piece is essentially a riff on those brand-splashed tees you'd spot during IT conventions and the like. Sure it's priced way more than what you'd get at those places but it's the humour that counts with this one. Best for spending time playing Call of Duty with the old man too.
Where: Balenciaga.
A portable and mighty audio system
Why: Because if he's an audiophile, Bang & Olufsen's Beosound is one of the best in the market. It's a small and sleek device but packs quite a punch in terms of sound quality. He'd be able to bring it around with him on his travels or any corner around the house for some much needed personal time. Oh and the Berluti branding adds another level of sophistication and luxury too.
Where: Berluti boutiques.
A typical foolproof bifold wallet
Why: There's no escaping the humble wallet—it's part of the gifts-for-dad pack. But this particular iteration is a no-brainer with just that subtle Givenchy branding right at the corner. It's quite abstract and somewhat nondescript but totally chic.
Where: Givenchy boutiques.
A pair of swim shorts that cuts at the right length
Why: Finding a pair of swim shorts that flatters can be quite a task. It mostly has to do with length and this one gets it right with a cut that ends somewhere mid-thigh but not high enough that too much is exposed. Yeah, no one wants to see that.
Where: Burberry.
A set of versatile cufflinks
Why: Who wears cufflinks these days, you may ask? Plenty actually. And there may come a time when he needs to wear one. Prep for that moment with a set that's versatile enough to match with any manner of print, colour or fabric that he chooses for his shirt or suit.
Where: Montblanc.
A pouch for tech and more
Canvas flat pouch in Saffron (SGD690), by RIMOWA.
Canvas flat pouch in Cactus (SGD690), by RIMOWA.
Canvas flat pouch in Black (SGD690), by RIMOWA.
Why: More flexible working arrangements mean that he now has to keep bringing around his work laptop. Make that less of a chore and more of an opportunity to showcase his personality and taste with a well-designed accessory. On days he doesn't need a mobile workspace, the pouch can be a handy option in place of a bag.
Where: RIMOWA boutiques.
A belt that fits his personality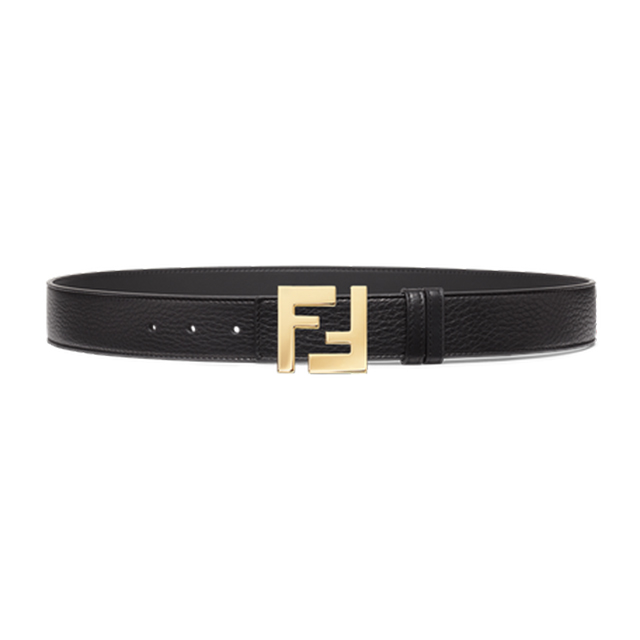 Why: It's another typical Father's Day gift but Fendi's customisable belt options—choose your own combinations of buckles and leathers—helps to ensure that it's a gift that's truly unique. And one that you could actually have an input in.
Where: Fendi.
A jumper that's sartorially cool
Why: Thom Browne is inherently cool and everything from the brand has been designed to modernise traditional menswear. Even the kids like Minari's Alan S. Kim are into it; imagine a twinning set with his grandson too. Win.
Where: Mr Porter.
A new-age dad sneaker
Why: Because it's a style that he's already familiar with—kind of unnecessarily chunky and oversized but undeniably comfortable—but remixed with luxurious materials and construction. He'll be the coolest dad around, no doubt.
Where: Alexander McQueen.
An earphones case that attaches to everything
Why: Whether it's his AirPods or wired earphones, there's always a risk of him losing them. This Louis Vuitton earphones case is designed to seamlessly fit its Horizon wireless earphones, but can most definitely be used for others too. And it clips onto belt loops and anywhere else that he'll be able to access them easily.
Where: Louis Vuitton.