Father's Day is just 'round the corner (FYI: the date is 16 June, if you're wondering) and because, first, your conscience will kill you if you repackage unwanted presents for Dad; and, second, last-minute shopping seems to be the trend now, we've come up with a comprehensive gift guide to save your asses. Ranging from tech devices, skincare to fragrances and more, all possible bases have been covered and at different price points too.
For the foodies
Wolfgang's Steakhouse: Father-Son Feast ($118++/pax)
SKAI: Father's Day menu ($108++/pax for 4-course)
LAVO: Sunday Funday Champagne Brunch ($158++/$98++ for buffet only)
Cedele: Espresso Cookies & Cream Cake ($65)
TWG: Earl Grey Gentleman ($40)
Morning: Father's Day Box ($50 for 40 capsules)
Helmed by father-son duo, Wolfgang and Peter Zwiener, Wolfgang's Steakhouse has a specially curated Father's Day set menu for guests on 16 June, featuring a selection of the restaurant's star dishes. Start the feast with a hearty bowl of potato leek soup and tuna tartare, followed by your choice of either Colorado Lamp Chop or USDA Prime Ribeye Steak—both dry-aged onsite for 28 days—accompanied by two classic sides and tiramisu. If you're ballin', select a bottle of wine from the restaurant's extensive list of over 300 reds and whites to pamper Dad with.
Situated on the 70th floor of Swissôtel The Stamford, SKAI boasts a minimalist, elegant ambience and serves up sophisticated dishes with Japanese influence. SKAI's Father's Day menu is available over the Father's Day weekend with highlights such as Foie Gras with Ochazuke Rice, Rhug Organic Lamb Rump and Prawn Sashimi with Shiso and Soba Noodles. Top up $32++ for a glass of champagne and wine to compliment the main course, or $52++ for the full wine-pairing.
LAVO is doing a special rendition of their popular Sunday Funday Champagne Brunch on Father's Day, with free-flow Makers Manhattan, Bloody Bulleits—Bloody Mary cocktail mixed with Bulleit Bourbon—and other selection of alcoholic and non-alcoholic drinks along with a live DJ set to get things turnt up. The buffet selection will, of course, feature LAVO's breakfast hits such as mixed wild mushroom frittata, signature meatballs and an assortment of canapés and fresh seafood. PS: all fathers will be given a complimentary bow tie for the occasion. Sweet.
Every occasion is an excuse to buy cake, and Father's Day is no exception. End the celebration on a sweet note with Cedele's limited edition Espresso Cookies & Cream Cake—perfect for all caffeine and chocolate-loving fathers.
For dads who are fans of artisanal tea, TWG Tea has curated a special Father's Day tea box featuring their carefully crafted earl grey tea blends. Earl Grey Gentleman from the Haute Couture Tea Collection is our top pick, bound to suit the refined tastebuds of any men with its robust Ceylon coupled with notes of fragrant bergamot and slight hint of citrus.
Dad is more of a kopi person? Morning has put together a Father's Day box of 40 Nespresso® compatible coffee capsules from the best roasters globally. The highlight from this box would be Pache, a rare coffee bean harvested by Damaris Camposeco, a coffee roaster who runs an organic coffee farm in Guatemala.
For the tech geeks
Fitbit Versa ($318)
iPod touch (from $299)
Jaybird Run XT ($299)
Sonos One Smart Speaker ($329)
Kindle Paperwhite ($299)
While Fitbit has a range of activity trackers and smartwatches geared for different exercise needs, Fitbit Versa an all-rounded smartwatch for dads who are into fitness—or anyone into fitness, really. With features such as swim lap tracking, real-time distance and pace, contactless payment and sleep tracking, it is the all-in-one smartwatch that won't break your bank.
Looking for Dad a place to store his oldies like The Carpenters and Lobo? The latest Apple iPod touch comes with 256GB capacity and immersive augmented reality experiences, as well as Group FaceTime so family meetings can be held anywhere and anytime.
Because using a wired earpiece is now passé, upgrade Dad's earbuds with Jaybird's Run XT. While this was specifically created for runners and marathoners, there is nothing wrong with being a little extra when it comes to gifting, and getting Dad this pair of comfortable, water and sweat-proof, truly wireless earbuds with a custom sound experience.
Surprise Dad with a new speaker. Sonos One is a sleek, compact smart speaker that blends seamlessly into the background of any room. With built-in Amazon Alexa, you can play music, change the volume, check the news and set alarms completely hands-free. More importantly, the two Class-D amplifiers tune and shape themselves to match the speaker drivers and acoustic architecture of the room, to produce beautiful, room-filling sound.
Pops loves reading? You can never go wrong getting a Kindle Paperwhite as a gift for any bookworm. Similar to its predecessor in terms of its soft matte-black case, this upgraded version is lighter and has elements of the more expensive Kindle Oasis in its design. Paperwhite is waterproof with a slightly curved back to ensure better grip—reading on-the-go will no longer be a hassle.
For the skincare junkies
Sigi Skin: Kaleanser Face Wash ($38 for 100ml), Morning Glow Physical Sunscreen ($58 for 50ml)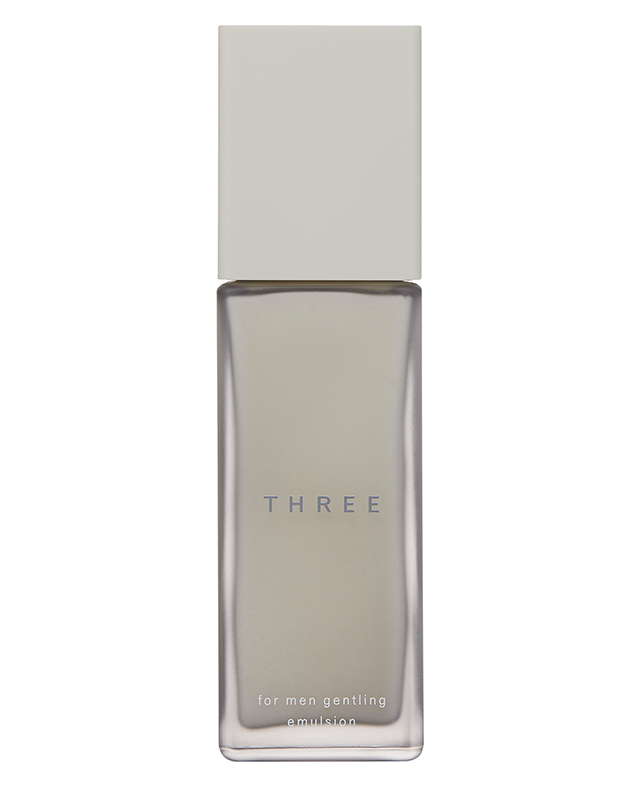 THREE: For Men Gentling Emulsion ($109 for 100ml)
Diptyque: Protective Moisturising Lotion ($85)
Peter Thomas Roth: Hungarian Thermal Water Mineral-rich Atomic Heat Mask ($89 for 150ml)
Allies of Skin: 1A™ All-Day Pollution Repair Mask ($145 for 50ml)
Founded by Xenia Wong, homegrown skincare brand Sigi Skin prides itself in producing multi-tasking products that are fuss-free yet effective. Start and end your day with Kaleanser Face Wash, a gentle jelly-like cleanser infused with soy and kale extracts—both of which are superfoods for the skin, thoroughly detoxifying and cleansing pores without stripping the skin of its natural oils. The star of Sigi Skin's line, Morning Glow Physical Sunscreen, doubles up as a moisturiser for oily skin types. Packed with antioxidants from avocado and açai extracts, vitamin E, essential fatty acids and 4% niacinamide, not only does this sunscreen prevent premature ageing, but it also hydrates, protects and brightens your complexion, a definite hit among busy dads who just want to smear one skincare product on their face in the morning.
THREE For Men Gentling is the latest men's skincare line from highly-acclaimed Japanese cosmetic and skincare brand, THREE. Formulated to target specific concerns related to men's skin, the star ingredients present in all products are niaouli oil and sake lees extract, both of which works in tandem to provide deep hydration while sloughing off any build up of dead skin. Though lightweight, THREE For Men Gentling Emulsion is the most potent product from the line. It works best before moisturiser and comprises a blend of essential oils, botanical waters and extracts to soften, hydrate and recalibrate even the most sensitised skin.
A little goes a long way with Diptyque's Protective Moisturising Lotion, an emollient moisturiser that hydrates and softens all skin types. Containing damask rose hydrosol, this lotion leaves your skin with a refreshing, cooling finish—never tacky or sticky. Bonus: it smells like a blend of orange blossom and honeysuckle.
Specialising in anti-ageing products, Peter Thomas Roth's Hungarian Thermal Water Mineral-rich Atomic Heat Mask is powered by the mineral-rich 'fountain of youth', deep below Hungary's Carpathian Valley. Combined with a cocktail of natural and bio-engineered botanicals, this creamy and luxurious mask transforms with cool water into a heated mask to open pores and optimise the skin's absorption of nutrients and minerals. Just five minutes of this mask, two to three times a week will diminish fine lines, wrinkles, dullness and uneven skin tone.
Allies of Skins offers modern men a 24/7 solution to meet any skincare needs. 1A™ All-Day Pollution Repair Mask works as a leave-on, all-day treatment mask, that's coupled with time-release technology that hydrates your skin throughout the day while you're on the go. 16.5% Repair Complex also helps to fight inflammation, repairs damaged skin and prevents environmental stressors from compromising the skin barrier.
For the fragrance fanatics
Dolce & Gabbana: Light Blue Sun Pour Homme Eau De Toilette ($165 for 125ml)
Diptyque: L'ombre Dans L'eau Roll-on Perfume Oil ($72 for 7.5ml)
Issey Miyake: L'eau Majeure D'Issey Shade of Sea ($88 for 90ml)
Acqua De Parma: Cipresso di Toscana Eau De Toilette ($84 for 30ml, $130 for 75ml)
MEMO: Winter Palace ($355 for 75ml)
The Light Blue Sun series by Dolce & Gabbana condenses the aroma of a romantic summer fling in the enchanting island of Capri. Light Blue Sun Pour Homme Eau De Toilette encapsulates a woody-spicy scent, infused with the freshness of a chilled cocktail and grapefruit. Woody oakmoss and white musks surfaces as the fragrance dries down, along with the warmth of cedar wood and minty rosemary.
Diptyque's pocket-friendly L'ombre Dans L'eau Roll-on Perfume Oil is perfect for dads who are always on-the-go. The magnetic clasp ensures that the cap never goes missing in your bag or pocket. A little goes a long way—rub it on your temples, neck and wrists and you'll smell like dusty rose and summer breeze all day long.
Inspired by a trip down to Zamami Island, Issey Miyake launched a series of four limited edition fragrances, Shades of Paradise. Each bottle is reminiscent of the four-day Japan trip taken by perfumer Aurélien Guichard and colour designer Mai Hua. L'eau Majeure D'Issey Shade of Sea pays tribute to day three at Zamami's beach. The first spritz is a refreshing burst of citrus—bergamot, lemon and bitter orange, with a tinge of rosemary. Waves of the ocean washes over with a blend of sea salt and clary sage, combined with the fragrance of the frangipani flower.
The pièce de résistance of Acqua De Parma's latest fragrance is—wait for it—the cypress tree. The elegant symbol of Tuscany, Cipresso di Toscana is inspired by the au naturel landscape of Tuscany's nature reserves. It is a reinterpretation of the classic fauna found in the hills, starting with star anise and elemi, followed by hints of orange and petit grain. The scent slowly melds into a mellow aroma of sage and lavender, combined with the woody muskiness of cypress and pine.
With a beautiful (and hefty) bottle adorning an Asian dragon with blue scales on its head, MEMO explores the Chinese mythology where dragons ruled the world (urgh, this sounds like a better ending to Game of Thrones). Winter Palace opens with a powerful scent of tea-infused citrus and dries down to unveil notes of deep, earthy muskiness. There is a lingering hint of darkness in the background, much like dried rooibos tea leaves, making this bottle of fragrance a rather exotic one.
For the dapper dads
Hermès: Leather belt ($782.65)
GUCCI: Pocket Square ($177)
Fossil: The Hologram Watch ($199)
Burberry: Check Placket Cotton Polo Shirt ($440)
Hugo Boss: Slice Slim-Fit Linen Shorts ($158.62)
A classic belt is definitely essential for every man, and this vintage leather belt from Hermès is bound to be your Dad's next wardrobe staple. Simple and sophisticated, this belt can be dressed up or down depending on the occasion.
Want to subtly help Dad spice up his sense of style? Start off with a pocket square. This patterned GUCCI silk scarf and pocket square is printed on a navy base which makes it versatile for most outfits, while adding an extra oomph to his whole ensemble.
Call dibs on Fossil's latest limited edition watch under its Archival Series—The Hologram Watch. Exclusive to ION Orchard and with only six pieces available islandwide, this is the perfect gift for Dad if you're looking for something extra unique and thoughtful. The watch features a unique holographic lens dial that flips between images with movement from the wrist—paying homage to an early design in the 1990s, reimagined with contemporary sizing and manufacturing.
Polo shirts can make any man look preppy and polished. Check placket cotton polo shirt in mid grey melange from Burberry is a fuss-free polo shirt with a classic cutting and Burberry's signature check at the placket. Button up for a more serious look, or unbutton for a fun pop of colour.
Designed using breathable linen, Hugo Boss' Slice slim-fit linen shorts makes for a great bottoms for a casual day out. The darted back cutting also gives an illusion of a slender, trim profile. We like this pair of shorts in Ivory, as the slightly off-white stone hue is perfect for any skin tone and goes with any top.
Related stories:
Apple WWDC 2019: Dark mode on iOS 13, an iPad operating system, enhanced Memojis and a powerful new Mac Pro and Pro Stand XDR 
Interview: Peter Zwiener, co-owner of Wolfgang's Steakhouse Singapore
Skincare for men in Singapore: Allies of Skin's 24/7 Kit promises clear, healthy skin
SKAI bar is Swissôtel The Stanford's new intimate cocktail lounge with sky high views in Raffles, Singapore
LAVO Singapore is about to change the nightlife game 
Cult skincare brands you need to get your hands on right now
Storytel, an audiobook app, comes to Singapore with local stories included in its catalogue