The skinny
Don't call it a comeback. Call it a refresher on Tom Cruise's potent and reliable charms as an all-American hero.
Reprising his role as Captain Pete "Maverick" Mitchell, Cruise – People's sexiest man alive in 1990 – once again slaps on a pair of Ray Ban aviators and takes to the skies, this time leading a group of Top Gun alums composed of the "Best Pilots in the World", into and out of the danger zone.
What we like
This bit contains spoilers. Reader at your own discretion.
 Vice Admiral "Cyclone" (Jon Hamm): "The future's coming and you're not in it…The end is inevitable. Your kind is headed for extinction".
 Captain Pete "Maverick" Mitchell: "Maybe so, Sir. But not today".
 That's the whole movie – all one-and-a-half hours of it.
Even before you hear the roar of any fighter aircrafts, the optics are obvious that the deck is stacked against Tom Cruise and the apparent franchise that the Top Gun IP is shaping up to being. The Joseph Kosinski-directed film enters a cultural bloodstream vastly – almost diametrically – different from the one in which the prequel was birthed in 1986. These days, we consume movies through clicking on links. For the price of a ticket, you can subscribe to a world of "content". In the digital age, nothing is sacred and nothing is an artefact.
But, even if it doesn't aim to correct the course of culture, Top Gun's flight plan makes a stirring, straight-to-the-heart case for why the old ways shouldn't die, for why Tom Cruise is a repository of history's more halcyon shades and that he should be celebrated for it.
As a sequel, this flick has continuity hardwired into its architecture. American exceptionalism – that must be protected, that is worthy of fighting and dying for – is the ideological carry-over that bleeds into the literal action of plot and suffuses its emotional force. Kosinski takes the baton from Top Gun director Tony Scott with care and reverence. His Capt. Maverick Mitchell is easy to root for – if, as the film warrants, you abandon all sense of irony – and believe.
Here, the literal and non-literal work in tandem like muscle and bone. It begins with Maverick achieving a flight speed of Mach 10 (10 times faster than the speed of sound), which, until then, wasn't a reality. In its entirety, the film frames and affirms Maverick as the embodiment of the vitality and viability of boundary-blasting American values, especially in the face of disbelieving youth. Miles Teller, who plays Bradley "Rooster" Bradshaw , the son of LTJG Nick "Goose" Bradshaw, who dies in Top Gun ostensibly because of Maverick's militant competitiveness, is amongst a handpicked bunch of Top Gun candidates who are the literal and symbolic sceptics that Maverick must win over. Much of, in fact, all, of the exposition is a stage on which Maverick earns their respect and admiration. It's to Kosinski's credit that he presents this premise, fundamentally charged with mind-blasting levels of testosterone as it is, with delicacy and nuance. At their best, the scenes where relationships are tested and defined, are infinitely more captivating than the most dazzling, physics-defying dogfights.
Then, there's Tom Cruise, the action movie star who defies action itself. He's the one A-lister, synonymous with Hollywood, who makes earnestness land with an impact both dashing and dopey. He plays himself the way a cool guy like Denzel can't – because, in lieu of cool he has an need-to-prove-himself hunger is an irreducible part of his personality. In the context of the film, this doggedness unspools via the hero-with-the-weight-of-the-world-on-his-shoulders trope, one that he doesn't need to lean into, because he's made for it.
He's the everyman hero who cares so much about what's at stake, he'll go above and beyond, anytime, anywhere. Even when he breaks the rules – much to Cyclone's ire – it's for the greater good. He makes being on the 'right' side of history look both natural and sublime.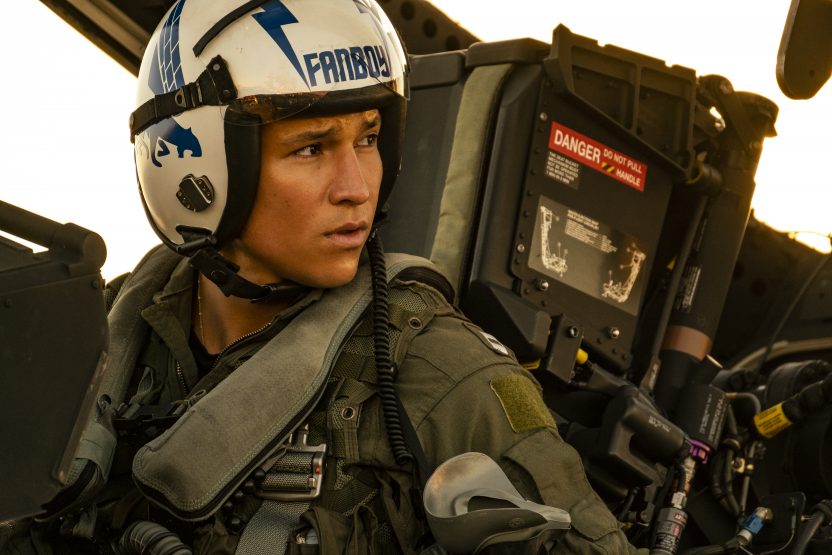 What we didn't like
At this point, any film that bears the name 'Tom Cruise', becomes a vehicle for Tom Cruise. Understandably, this film conforms to that truism. But as much he doesn't hog the spotlight, he doesn't square off with any real antagonist.
Within its three-act structure, the film is paved with obstacles – his relationship with authority, the tension between himself and Rooster, the fact that he's perceived as a relic of a bygone era, his romance with Penny Benjamin (Jennifer Connelly) – that Maverick navigates expertly and credibly. It's only when he's tasked to lead his charges behind enemy lines, to destroy some unsanctioned uranium mining facility, heavily guarded and fortified, that his life is threatened. But this enemy is faceless and nameless. The threat they pose is as ill-defined as their inclusion in the plot is abrupt.
In the end…
Irony-resistant, criticism-averse, Top Gun: Maverick is a feel-good ode to how high the stakes about feeling good are.