Now, the Melbourne-born model is shifting his focus to acting and activism, where being a model simply isn't enough in the lucrative business of social media and identity. But what's instantly striking about Scott is that he's not one to boast his position or take it for granted either. He is a man on a mission on his terms and is careful with the brands he aligns with.
He moved to New York in 2012, but has returned to Australia to raise awareness about climate change via an ambassadorial role with Citizens of the Great Barrier Reef. He wants to move into acting, but when the right opportunity presents itself. For now he's reading scripts, dabbling in acting classes and reading science fiction novels.
When it comes to the environment, Scott is giving us hope that there is a solution to climate change, that we can make a difference and every decision you make—whether you live near a reef or not—impacts its ecosystem.
With his heart and mind focused on raising awareness about the plight of the Great Barrier Reef, Scott, who has visited Lizard Island six times in the last 12 months, has seen first-hand what bleached coral looks like.
"It's heartbreaking and really gets you quite down," says Scott, who continues to travel to Europe for work. "Once I saw the fragility of the Reef, it really hit home. I have always wanted to attach myself to a cause but never found anything that I was truly passionate about."
It's not just models like Scott helping raise the profile of climate issues. The topic has also united many high-profile celebrities including Leonardo DiCaprio, Cate Blanchett, Natalie Portman and Sam Worthington who have all done their bit to raise awareness via various causes and social media posts.
No doubt since becoming an internationally renowned supermodel, the offers from charities and brands have been many, but Scott says he is careful with each decision he makes and wanted to choose an organisation that resonated with him.
In the fashion world, there's many stepping up to the stage too. Models like David Gandy have done their bit over the years—by participating in a Save the Arctic celebrity photo campaign, a collaboration with fashion designer Vivienne Westwood in 2015, and four years prior modelling a shirt designed by Katharine Hamnett with proceeds of the sales of the shirt going toward the Environmental Justice Foundation's Save the Sea campaign. But more than donning a shirt for a good cause, Scott is at the front line and encouraging action.
"Fashion is what got me into position I am," says Scott, who is aware the industry is the second greatest pollutant after coal. "I live in linen, which is more sustainable than cotton, and make decisions like that when it comes to choosing an item of clothing to wear. But I also think it's good to see big brands like Zara and Burberry making the transition which is catching on. Things don't happen overnight and it's hard for businesses to change their model, but it will happen if everyone puts pressure on them to do that."
At home on the outskirts of Melbourne, Scott, who lives with his mother, says he has started composting and gardening for pleasure. He's about as down to earth as it gets considering he could be living the high life in New York or LA with the A-list fashion world.
"I plant veggies and trees," says Scott, who was raised a Jehovah's Witness but doesn't align with a religion these days. "I also ride my bike or catch a train. I don't own a car, and if I need to, I use mum's. I say no to plastic bottles, and if I have to buy one, it'll be a glass bottle I can recycle. I also stopped using plastic bags when shopping for groceries. We have cotton bags for our veggies at home."
Discovered at the age of 21 in the Philippines while on holiday, Scott was an aspiring footballer who hung up his running shoes for the runway and hasn't looked back. That doesn't mean health and fitness aren't a top priority; his chiselled body and muscly physique is a constant commitment. Sure he's blessed with good genes, but he works out every day for mental and physical strength.
"I run 50km a week but don't boast about it on social media. Some things I like to keep to myself," he says. "I used to cycle a lot but I have a new inspiration now which is diving. It was something I wasn't comfortable with, so I am trying to gain more confidence. I do it in Melbourne down Blairgowrie where I can see sea dragons and sea horses, Port Jackson sharks in just 10m of water.  All the good stuff is within a few hundred metres from the shore."
As the ambassador for Citizens of the Great Barrier Reef, he's putting his sustainable heart on his sleeve to spread the word about climate change, saying no to plastic, choosing fashion brands with an eco-awareness and still racing with Ferrari which will reduce CO2 emissions by 15 percent by 2020.
"I want to show people the luxury of sustainability and being eco-friendly," says Scott, who is also a Friend of Ferrari. "I don't want to align with conflicting partners to what I do at the Reef. That's why Ferrari works for me. Their production line was reduced, they downsized engines and offset in all different ways and have a plan over the next five years."
According to Ferrari, it reduced CO2 carbon omissions of its European fleet by 27 percent between 2007 and 2012 by reducing the energy requirements of its vehicles.
The group intends to continue in this direction, with the goal of further reducing CO2 emissions for the entire range by 15 percent relative to 2014 levels before the end of 2020.
"Continuous research in areas such as turbocharging, engine downsizing, transmission technology, electric power steering and hybrid technology makes it possible to improve performance on the one hand, while increasing environmental sustainability on the other," a spokesperson said.
His quiet personality is hardly reflective of a man possessed to drive fast—on a racetrack of course, Scott is anything but shy behind a Ferrari wheel. This year he will race all over Asia-Pacific in the Challenge Series, which begins in Melbourne before going to Asia. He'll also spend time visiting coral reefs in Malaysia.
He prefers to cycle or take the train when he needs to get around, but on a racetrack you'll find him behind a 488 GTB.
Since becoming an official 'friend' of Ferrari, Scott custom-built his own 488 Spider at the headquarters in Maranello. Last year he drove it to an intimate dinner for 60 guests with designer Christian Louboutin, who was in town to launch a line of men's sneakers at Pitti Uomo in Florence.
Set in the opulent Florentine surroundings of the Corsini Gardens, it was the perfect place to celebrate Louboutin's renaissance-like entry into the world of Pitti and all eyes were also on Scott and his bright yellow Ferrari.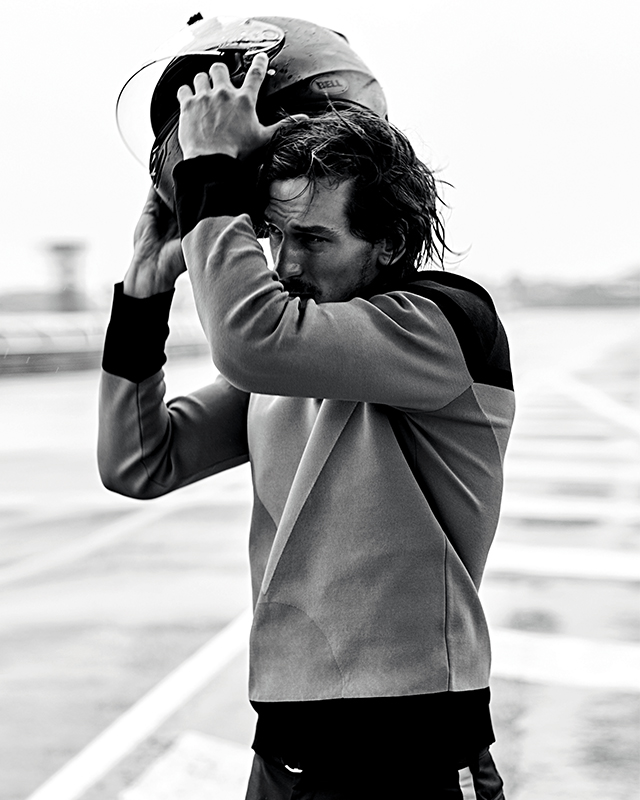 Scott's masculinity has served him well in the world of fashion—the look was in demand when he appeared alongside supermodel Eva Herzigova as the face of Roberto Cavalli's 2017/2018 autumn/winter campaign, and as the face of Jean Paul Gaultier's Ultra Male fragrance too.
"The industry has changed in the last 12 months for the good and in my favour. I am organising editorials and speaking with well-known photographers in Europe," hints Scott of his next fashion moves. "I am very lucky to be in the position I am with where I am at in my career. Together with my reef trips and Ferrari Challenge Series, I am doing everything I love. I have a lot of options going at the moment. I have been in Australia since March last year, but been back to Europe a few times for work. The demand for my look is stronger than it was a year ago. The trends and seasons change and it's all about a masculine look now. Your window of opportunity is sometimes small, but you must always be watching because anything can change so quickly."
He describes his own style as smart chic and always looks fabulous on the red carpet. During the day he'll wear plain T-shirts and casual pants rolled at the cuffs with luxury sneakers by Bally or Louis Vuitton.
"I love textures and print and colour and not just having a simple black tuxedo when I go to events," he says. "I love moving parts like watches or the embroidery of a fine suit made in corduroy—something you can touch and feel."
He has aspirations to get into Hollywood, but he's not in a mad race to get there quickly. He has been working with an agent to help find him the right script and keeps reading them regularly. "I am still auditioning a lot," he says. "It's not when it will happen, it's about eventually it will. I like to play it quiet and show it once I've got something to share."
But he certainly counts his blessing in the modelling world, which has fast-tracked him to recognition that would take others a lifetime.
"I started off pretty spoilt and realise I had it so easy," he says of his career rise. "I started with Riccardo Tisci for a campaign at Givenchy, then a shoot with Mario Testino a few weeks later, then David Sims for Vogue Homme in Paris. Within two years I had done everything you could do as a male model."
So what does the immediate future hold for Scott? This year, the quiet achiever will unveil a fashion app he has developed and plans on mixing environmental causes with the fashion world.
"It's not about overexposing oneself and making sure I still have the image I want," he says. "There are many brands I haven't worked with. I am keeping all options open to see where my future will take me."