Instagram is a fan of colour. If you want to get more likes for your photos, it has advised, use a pop of blue, which we associate with openness. Whatever you do, don't use a black and white image—that is said by some to suggest the user may be depressive. In a culture that almost psychotically craves attention, the value placed on bold colour might well be expected to be in the ascendant. Colour is eye-catching. And yet it's not cool.
Rather it's the monochrome—specifically that of black, white and shades of grey in between—that is most closely associated with creativity in film and photography that aspires to art; trashy, flashy colour only to the disposable Kodak moment, musicals or fantasies. This may account for why, some 80 years after the invention of colour film, this decade has seen seminal movies the likes of Frances Ha, The Artist, Ida, Nebraska and A Girl Walks Home Alone at Night all shot in black and white.
It's monochrome that is most closely associated with sophistication—in smart fashion and chic interiors; with rigorousness in design—minimalism is regarded as the hard pinnacle of civilisation's efforts to civilise itself, even if our history is weak, since minimalism originally embraced the commercial colours of pop art, just as classical Greek statuary was once arrayed in dazzling hues; with, yes, efforts to tap that ineffable thing called cool.
"It's strange isn't it, because there are lots of good photographers working in colour, even if people have it in their heads maybe that all of the great photographers worked in black and white, that film being what they had access to," says photographer Fenton Bailey, whose father David used stark black and white to make some of the most iconic portraits of the last half century. "There are practical advantages to shooting in black and white. There's a greater dynamic range, and once you take colour away from reality an image can become more abstract. But why is it that sepia is considered old-fashioned, yet the monochrome of black and white isn't?"
This notion, the underpinning of this grey revolution, is not new. Nature, as Herman Melville noted disapprovingly, "paints like a harlot", but we prefer the man-made to be more understated. Indeed, the distrust of bold colour can be almost pathological. There is even a term for it: chromophobia, being at one with society's extreme if illogical prejudice against colour, it being regarded as essentially infantile—think of candyfloss and kids' toys, fine for Barbie, less good for that D'Agostino hi-fi system; cosmetic—consider rouge and lipstick, with their historic suggestion of hiding the pox; superficial—a hindrance to seeing the 'truth of form' beneath, as Aristotle reckoned; and, perhaps above all, vulgar or cheap.
After all, a signature shade is fine if it's Ferrari red or even Lambo yellow, but otherwise… The bestselling colours for cars last year? Black. And that knocked white off the top-spot. White is now in third place—and that's after grey. As Henry Ford's dictum had it 110 years ago, a buyer of one of his Model T cars could have it "painted any colour that he wanted, as long as it's black". That might suggest a hard-nosed entrepreneurial spirit, but belies the facts. The Model T was launched in four colour options. Ford only added black a few years later, in response to demand; his customers said they associated black with a luxury that, then, car ownership itself suggested. These days a black car suggests the dark-windowed presidential motorcade, the colour still able to play on being that of faceless authority—of the warder's in Kafka's The Trial—but also of anonymity—the men in black of UFO lore.
"From a psychological perspective we crave anything that provides clarity—as the monochrome does—and we associate that clarity with sophistication because that's something we can project ourselves into," argues Soren Stauffer-Kruse, a psychologist with a more than usually deep appreciation of glitz (he's also one half of a spangly dance duo called Sugar Dandies). "We spend most of our time inside our own minds, which tend to be very colourful places. It doesn't have the singular essence that, for example, a black and white photo strives for, which we still consider to be a higher form of art than a colour photo. I think you can see the same phenomenon—a search for clarity—in the appreciation of other art forms too, from ballet to couture."
It's a search that is only intensifying, he suggests. Far from our increasingly visual culture making us more appreciative of busyness and colour, rather we feel increasingly overwhelmed by the confusion it generates. "There's a craving for monochrome simplicity," says Stauffer-Kruse. Perhaps this is a product of it literally being hard to perceive, for all that we might associate it with strong, stark lines. Grey tones are clearly different to (at either extreme of the scale) white or black, for example, and yet the impression on the retina of a grey surface under illumination may be identical to that of a white surface in the shade.
Grey is arguably the definitive base colour but not easily the star of the show. Giacometti painted only in shades of grey. "I see everything in grey, and in grey all the colours which I experience," the artist said, which makes one wonder if an eye test might have been in order. "Better grey than garishness," as Ingres would note. "Of all colours, only grey has the quality of representing nothing," as Gerhard Richter would add—and he meant it as a compliment—in reference to his 'Gray Pictures' from 1962 onwards, in which the painter sought to remove all the historically determined representational value of colours and focus on form. Grey allows shape and surface to take centre stage.
"Colour sends mixed messages dependent on shifting cultures. It's safer to say nothing—and everything—with black and white's blank canvas."
Contrast the confusion wrought by colour, which some of the great minds of the 19th and 20th centuries, Kant, Rousseau and Reynolds among them, had it in for. Colour, they thought, is inferior, even threatening. The anthropologist Claude Levi- Strauss noted colour's fluid, often contradictory connotations around the world. Historically red, for instance, is the colour traditionally worn by prostitutes and executioners. And yet it was adopted by the Catholic Church as a colour of high rank. In the west 'royal' blue became considered the colour of nobility—the Virgin Mary's shawl was always depicted as being blue—while in the east it was regarded as the colour of the worker, their clothes dyed with the cheap indigo from which denim would later get its hue. Colour sends mixed messages dependent on shifting cultures. It's safer to say nothing—and everything—with black and white's blank canvas.
It's certainly calmer. Indeed, colour, in contrast to the monochrome, disturbs the brain, albeit subliminally, and in ways not yet fully understood. Red, because of its association with blood and our instinctive reaction to that, may be stimulating—especially of the appetite—but it can also cause headaches. Orange has been found to aid digestion, but can hinder restful sleep. Green, perhaps because of its connection with nature, is restful, hence its use in hospitals—though up to the 1920s these were typically white, until the resulting glare was found to be hard to operate under—but it also brings on apathy. Yellow boosts concentration, hence its use for legal notepads, but in some also creates feelings of distress.
"Here in Southeast Asia, a typically colourful place, the monochrome is considered a western thing, as a sign of internationalism and is even embraced or rejected—so there's always a tension around it," says Russell Storer, deputy director of curatorial and research at the National Gallery Singapore, and the man behind its recent exhibition Minimalism: Space, Light, Object. "But with so much noise everywhere, no wonder there's a desire to get back to basics, back to the fundamental."
No wonder that we periodically turn back to what can feel like the dependability and security of the monochrome, and why a flight to the monochrome is also considered an economic indicator. During the Great Depression there was a marked shift in demand for consumer goods in sombre shades, much as global insecurity now might be fuelling a monochrome revival. No wonder too, that as the spectrum of consumer goods becomes more widely available, we seek distinction by re-focusing on shades associated with high class and 'good taste'.
"For the same reasons it's why the backlash against bright fashion colours during Victorian times was inevitable. As new dyes allowed ever more consumers to enjoy bright colours, the upper classes recognised they had to do something to differentiate themselves from the lower classes—and so 'good taste' was reconstructed about a new palette of understated hues," explains Regina Lee Blaszczyk, professor of history of business and society at the University of Leeds and author of The Color Revolution.
"Think of the colonial revival houses of upscale American suburbs, with exteriors painted in white and interiors filled with beige fabrics and walls," she adds. "The Colonial Revival style was the epitome of the upper-class backlash against the taste of the working classes. The monochromatic Bauhaus palette of the 1920s represents another effort by cultural elites to differentiate between their ideas of good taste and the popular taste of the masses. Of course, colour fads come and go. But bright colour has long been associated with primitive cultures. And even today the battle between the classes is played out in colour."
It's not just a kind of exclusivity that a preference for the monochromatic suggests: from the 16th-century Spanish court to Johnny 'Man in Black' Cash, from myths the likes of Dracula, or even Satan, to leather-jacketed biker gangs, being dressed in black has denoted not only sobriety, perhaps to the point of puritanism, but discipline, death and power too; through which, of course, it would also become the colour of the erotic.
Some of the world's most (in)famous dictators are also known for their love of neutrals. Pictured: Mao Zedong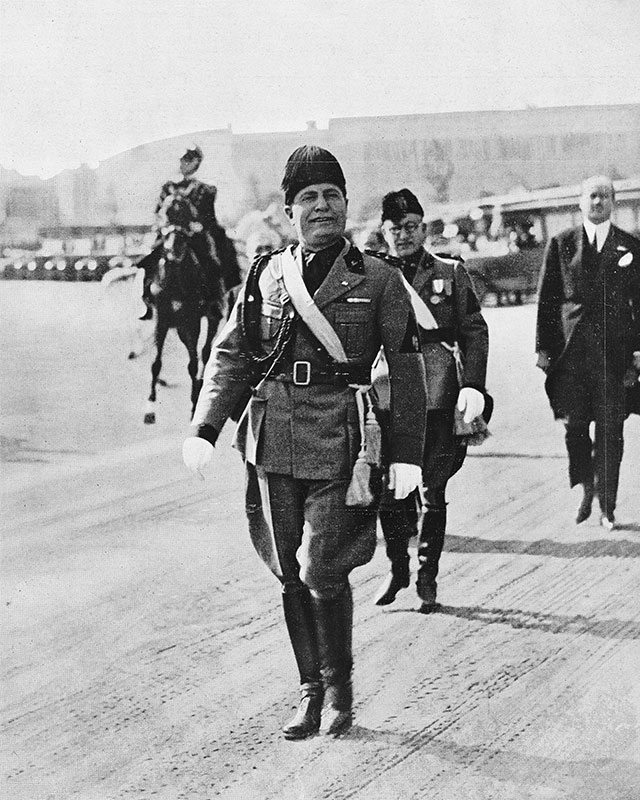 Some of the world's most (in)famous dictators are also known for their love of neutrals. Pictured: Benito Mussolini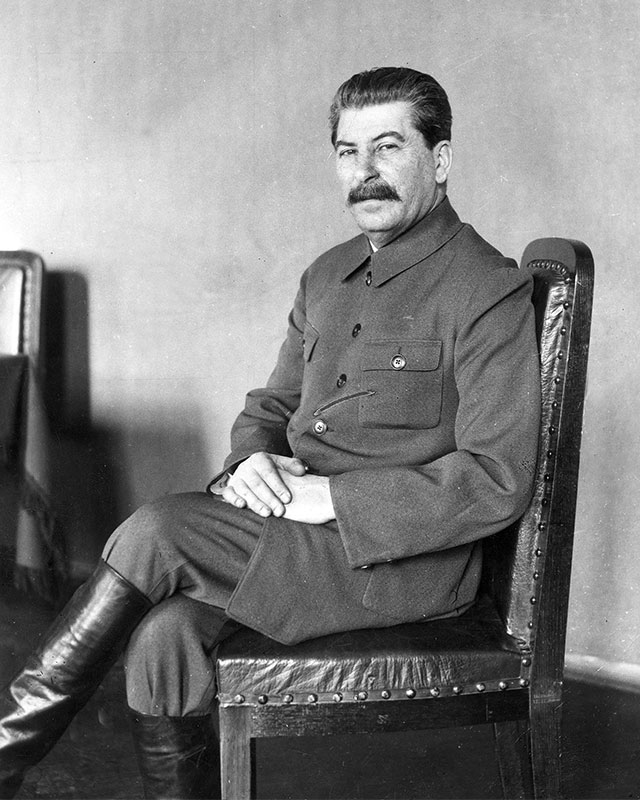 Some of the world's most (in)famous dictators are also known for their love of neutrals. Pictured: Joseph Stalin
Some of the world's most (in)famous dictators are also known for their love of neutrals. Pictured: Kim Il-Sung
Of course, it's not for all. In 1891, when the wearing of the monochromatic had become once again established as a the de facto style for gentlemen, Oscar Wilde wrote to a newspaper to complain about "the uniform black that is worn now [which is] dull and tedious and depressing". He was perhaps recalling that it had once, not long before, and for centuries, been entirely normal for men to embrace bold colour and pattern in their dress.
"It is not [monochrome] the inevitable uniform of our suffering age, carrying on its very shoulders, black and narrow, the mark of perpetual mourning?" added Honore de Balzac, no fan of the style ushered in by the stripped-back, black-clad dandy Beau Brummell. "All of us are attending some funeral or other." Within half a century, black (and later dark grey), had not only become the dependable colour of ministers, the professions, of business and politics—this western trope embraced as far off as imperial Japan—but of rising fascism in many countries, notably the UK, Italy and Germany, where Hitler's protection squad, the SS, originally wore brown shirts with their black uniforms, but soon switched to the white ones all the better to be "severely smart", as John Harvey notes in his brilliant book Men in Black.
This monochrome style was meant to be terrifying too. "I know there are some people who get ill when they see the black tunic. We understand that and do not expect to be loved by too many people," as the SS's leader, Heinrich Himmler pointed out. But for the members of the SS—as for other men in black—monochrome attire was a means of expressing a standing apart from the wider community and its established class strata, as the priesthood had long done, while at the same time establishing a new elite. This standing apart from the mainstream is surely a large part the appeal of the monochrome in fashion now; raising the wearer above fleeting, unserious seasonal trends, making fashion—like those stereotyped existential jazz musos—the stuff of intellectualism.
Indeed, as in photographic prints in monochrome, so in cars and bachelor pads and movies and tech hardware: the lack of colour brings attention to form and tone, to composition. It creates a sense of the historic and of the dramatic. It has presence.
"When it comes to clothing, the mono is inscrutable and so ambiguous, which adds a desirable air of mystery to an individual. Black is classic and, of course, it's slimming too—both being attractive qualities," argues Victoria Tischler, professor of arts and health at the University of West London. "But more broadly monochrome evokes a sense of class and timelessness. In our hyper-stimulated, multi-colour world, it's the bold contrast of the monochrome that's memorable."
Enjoyed the story? Subscribe to Esquire Singapore for more.