Just over an hour's drive north of Australia's fifth-largest city Adelaide is where you'll find the Barossa Valley—a dynamic pocket of rural Australia where some of the best wines in the world from the oldest and continually producing vines are found.
This is the birthplace of Penfolds, Henschke, Jacob's Creek, Torbreck and Yalumba—each label earthed in the rich history of winemaking that has put this region on the award-winning international map.
The Barossa Wine Auction is a biannual event presented by the Barossa Grape & Wine Association to promote the region worldwide. The auction, which began in 1961, attracts international wine collectors from Southeast Asia, Hong Kong, China and Taiwan. They come to bid on rare vintage bottles as well as to get their hands on a bottle of Penfolds Grange Imperial at close to AUD60,000.
Barossa wine ambassador Anson Mui was born and raised in Hong Kong, grew up in Sydney and spends his time commuting to Southeast Asia to spread the word of the sacred grapes grown in this region. He works closely with Asian customers curious to invest in a prized bottle. He says his clients have a thirst for vintage Penfolds Grange Imperial, with the last three auctions seeing the highest-selling bottle purchased by a client in Asia.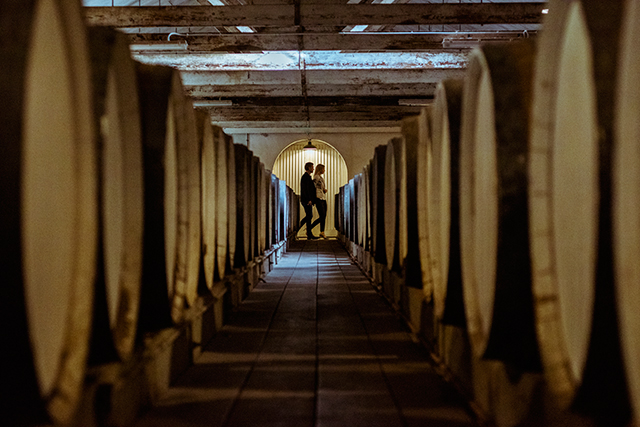 "Many of those who are here this year have come from China, but the interest from Asia overall is bigger than ever before," says Mui. "The big companies like Henschke and Penfolds spend a lot of money to promote their wines abroad, but the Free Trade Agreement has opened up the market between Australia and China—and it means more people are willing to invest, buy and come to Barossa."
Mui hosts everyone from restaurant owners to lawyers, all keen to own a piece of the Barossa and Eden Valley award-winning wines.
Stephen Henschke is a fifth-generation winemaker. He says the wine auction is great exposure for South Australia, with an emphasis to shine a light on the Barossa and Eden Valley wines.
"I remember my father putting a 1962 Hill of Grace in the auction in the '70s," recalls Henschke of the family's involvement over decades. At this year's auction, 10 magnums of Mount Edelstone Shiraz sold for AUD8,200.
"The big companies like Henschke and Penfolds spend a lot of money to promote their wines abroad, but the Free Trade Agreement has opened up the market between Australia and China—and it means more people are willing to invest, buy and come to Barossa."
"We have been doing this a long time and the demographic has certainly changed," says Henschke. "We're seeing more international people at the auction now. If you go back a couple of decades it was the English market being flown over, then Americans fell in love after the America's Cup and the arrival of Crocodile Dundee. Then there was a Japanese enthusiasm and now it's Southeast Asia and China. The Asian market has an awareness for the quality of our wines which is great. We have some of the oldest vines in the world growing in the oldest soil on the planet and we're a museum of those varieties that came from Europe way back in the 1830s."
Another iconic brand, Penfolds, is celebrating 175 years in the business. Best known for its big reds, you'll always find its Grange Imperials and Bin 60A fetching the big bucks at auction.
Winemaker Matt Woo, who joined Penfolds in 2010, says the mighty reds speak for themselves.
"The wine auction brings the community together, but more than that it celebrates what we do. There are generations you can see through the Barossa and the legacy behind these wines is what people come here for," says Woo.
While Penfold's is always the biggest drawcard at the rare vintage auction, other wines that fared this year included the Torbreck Run Rig Shiraz Imperial 2007 vintage selling for AUD5,800 (more than AUD1,000 above its catalogue top-end estimate), while the Yalumba signature Cabernet/Shiraz vertical sold for an astounding AUD8,000; that's AUD5,000 above reserve.
With more international visitors keen to get a taste of the Barossa beyond its wine comes the rise in demand for more luxury accommodation too.
There are plenty of food and wine packages to keep your waistline ever-expanding, an abundance of VIP wine tasting sessions that call for a personal chauffeur to steer you around these idyllic country roads, but the need to plug into a five-star bespoke package is what gives this region an extra special splurge factor that's well worthy of the spend.
The Louise has long been a prestigious destination for those who want to experience the Barossa with a five-star luxury tag. The rooms are well-appointed with all the modern needs for your hotel stay—a large spa bath, TV in the bathroom and bedroom, a kitchen area with a view of the vineyards—all equipped with air-conditioning and heating. The spaces are intimate and inviting, a perfect getaway from the hustle and bustle of big city life.
You can't miss dinner at Appellation at The Louise either—a divine degustation with wine pairing for those keen to sample quality local produce harvested in its own kitchen garden. An extensive wine list created by sommelier Patrick Burgun provides a wealth of information to accommodate palette preferences—his poetic style gives plenty of justice to the regional drops.
For those wanting less formality, there's a bar menu with burgers for as close as you'll get to a laidback yet chic dining experience without the fuss. We highly recommend a locally made gin and tonic for a pre-dinner tipple.
For those seeking a high-end luxury country experience, then consider JHA Stone Cellar. This five-star accommodation is a boost to the region. Nestled on a seven-generation family-run property (Hutton Vale Farm) in Angaston, this is where you gently veer off the main road for a slice of tranquillity. It's your own private residence in the hills where the hosts are a few kilometres drive away but still on the same parcel of farmland.
The hospitable husband-and-wife duo Jan and John Angas have created a home away from home and are available to curate packages according to your needs. They're hands-on in their approach and able to guide you on walks, organise private charter planes in and out of the region (they have a landing strip on their property where you'll fly in over some amazing vineyards) and host you at a community table dinner experience too. This is where you'll get the best insight into what makes this region so rich from its food and wine to storytelling. You'll meet local winemakers, other travellers and plug into a Barossa energy that's hard to shake.
JHA Stone Cellar is a reimagined century-old stone building that combines heritage with modernism. The blend of old and new makes this off-the-beaten-track location well worth investigating. Think floor-to-ceiling windows with the best view of rolling hills and nature at its most divine. There are two king bedrooms, both with an en-suite. We love the underfloor heating throughout, the large modern kitchen that's well stocked with everything you can image (think local butter, Hutton Vale wines, a fresh loaf of bread and eggs laid fresh on the farm plus lashings of fresh thick bacon for breakfast in bed). A large lounge and entertaining area (with your own turntable to play vinyl) give you plenty of room. You'll see sheep, hear birds, but mostly you'll switch off for some rest and relaxation—a sturdy wi-fi is also included though.
A fully serviced, three-night package stay here includes a community dinner, a hosted farm experience and wider Barossa tours. There's an open bar for wine and spirits in your room. Prices start from AUD1,200 per person per night, based on four guests. This is a luxury country stay with all the big city requirements, where the Angas family take the guesswork out and deliver beyond expectation.
For families travelling with teens, ask for the Hutch Hilton package. Parents can enjoy the luxury comforts of JHA Stone Cellar while the kids can settle into the nearby Hutch Hilton. Prices begin at AUD375 plus service fee. They can cook for you every day if you choose, take you on road trips, they're the ultimate hosts where nothing is a problem—just give them some advance warning.
Hutton Vale Farm's first vines were planted in 1912 with more added in the 1960s and again in the 1990s. The property shares a border with Henschke too. Upon European settlement of the land, the Angas family named the farm in 1843. Hutton Vale has won many awards over the years, including World's Best Shiraz (twice) and Gourmet Traveller Wine's Best Cellar Door Experience.
Jan Angas says the Barossa Wine Auction and the interest in it have seen a demand for bespoke experiences in the region. "The Barossa Wine Auction is a great concept that gives us locals a great measure from the outside world. It puts us right in the eye of the buyer and it's a good thing to do. We have some strong long-term brands that have been delivering for a long time in the region, but many new brands that have great quality wines too. We're known for our Shiraz but are equally great for Grenache and Rieslings," she says.
According to wine collector Annabel Mugford, there are many brands to watch when coming to the auction.
"We get many wealthy collectors, some send others to represent and bid for them and some of the big spenders like to fly below the radar," says Mugford. "In 2017, a Penfolds Grange Imperial sold for AUD62,000; it's a major attraction for collectors around the world. Any Henschke Hill Of Grace and Hill of Roses are highly sought after, Torbreck is popular and Elderton is too," she says.
According to Michael van der Sommen, Torbreck's direct sales and brand manager, overseas visitors have done their research and know what they're looking for.
"They understand the pedigree of the wines and the big prices that happen here aren't on a whim," says van der Sommen. "These clients have done their research and know they're making a great investment for the future."
---
WHERE TO EAT
Vitners Bar & Grill
Angaston
As one of the Barossa's longest-running restaurants, Vitners is where you come to find the best in alfresco and formal dining. They take traditional dishes and give them a tweak, fuss over local produce and think outside the box with interesting dishes including fried pig ears with chilli and sweet and sour barbecue sauce. Look out for the seared scalloped risotto and tinned anchovies for a nod to the Mediterranean.
www.vintners.com.au
Fino
Seppeltsfield
Located in the grounds of Seppeltsfield (with a fortified wine legacy that dates back to 1878) is the rustic and earthed charm of Fino. Sharon Romeo and chef David Swain are the brains trust behind the dining concept, where the emphasis is on shared plates and mouth-watering morsels that are designed to be mopped and eaten with hands-on affection. An air of elegance teamed with a hearty ambience makes this a memorable experience. We love the palm trees planted on these fields that give us a feeling we're caught between Los Angeles and Milan.
fino.net.au
Hentley Farm
For the best degustation in the Barossa, head to Hentley Farm, which was given Two Hats by Good Food last year while also crowned one of the Top 100 Restaurants by Gourmet Traveller. This is where avant-garde dials in on Japanese- inspired culinary influences, but cranks them into the stratosphere of other-worldly dishes. There's an emphasis on foraging and farming food philosophies here. We highly recommend the wine pairing too.
hentleyfarm.com.au
---
MUST DO
St Hugo prestige helicopter ride and tasting
Nothing quite gives you the perspective of this region like a private helicopter tour of the Barossa and Eden Valley. From up here, you can see the basins and the rolling valleys that hint at the varied landscape in which these grapes are harvested. This two-day tour begins with a private joy ride, a tasting of the label's back vintages and an eight-course degustation menu matched to St Hugo wines. Think abalone matched with Riesling, beef Bourek with Shiraz and duck breast with St Hugo 2010 Grenache, Shiraz and Mataro.
www.sthugo.com/en
Breakfast with the kangaroos
The Louise offers a bespoke breakfast walk with kangaroos. This signature experience comes with a gourmet picnic as you wander for 20 minutes through the nearby Kaiserstuhl Conservation Park, with a 15-minute or longer walk if you're up for it. You get your own personal guide who takes you there and back.
thelouise.com.au
Two Hands single vineyard & 4WD off-road experience
Your personal Two Hands guide steers the 4WD as you visit five single vineyard sites, venture off-road for some adventure, get a sweeping view of the Holy Grail (that's the best view in the Barossa from land), and a Two Hands winery tour and tasting from the barrel session upon completion.
www.twohandswines.com
Taste your birth year
It's time to fess up to your age when you do the Taste Your Birth Year at Seppeltsfield. You get to sample a Tawny directly from the barrel and go on a cool tour as well. Go on, what's your excuse?
www.seppeltsfield.com.au
For history's sake
Taste the finest wines in the Yalumba Wine Room on a four-hour Signature Tour. You experience a private tasting and tour through the Hill-Smith family's private museum cellar complete with lunch paired with Yalumba's Rare and Fine collection.
www.yalumba.com
Henschke VIP Tour and Tasting
Gain access to Australia's most celebrated vineyard, Hill of Grace. There's a private master class of 10 wines including iconic wines such as Hill of Grace, Hill of Roses, Mount Edelstone and Cyril Henschke plus a tour of the historic working winery that has more than 150 years of history attached to its name.
www.henschke.com.au