"Make something. Wear it. Cause trouble," that was Judy Blame's life mantra. Born Christopher Barnes, Blame was many different labels at once.
As a jewellery designer, he was known for creating uniquely extravagant bricolages out of non-traditional jewellery materials—safety pins, buttons, chains and other metallic knick-knacks. As a fashion stylist, Blame was the creative mind behind boundary-pushing editorials that filled indie magazines such as The Face and i-D as well as putting together looks for some of the world's biggest music icons the likes of Boy George, Kylie Minogue and Björk. Blame had also collaborated with a number of luxury fashion brands wanting his touch of eclecticism; among them Comme des Garçons, Marc Jacobs, and Louis Vuitton under the creative directorship of Kim Jones.
At the heart of it all, Blame was a punk. When he was 17, he left his home in Devon for London and experienced life with a crowd of likeminded individuals such as fashion's enfant terrible John Galliano, film director Derek Jarman, and Scarlett Cannon, a prominent Blitz Kid of the '80s. In 1985, Blame helped find the House of Beauty and Culture, a studio and shop that became the gathering spot for a collective of artists, designers and photographers.
It's safe to say that Blame was as much a part of '80s subcultural movements as he was a key figure in British fashion.
But what's the connection between the anti-establishment rebel and a couture house like Dior? Well, for starters, Blame's mantra echoes Dior's history-making fashion contributions. 'Trouble' for Dior came in the form of its revolutionary New Look for women towards the end of the '40s—which included the often referenced Bar suit—that paved a new direction for women's fashion that's still relevant till today.
Then there's the even more personal connection, this time between Blame and Dior Men's artistic director Kim Jones. Both met when Jones was 16 and Blame's work had a pronounced influence in Jones' career. The aforementioned collaboration during Jones' tenure at the menswear division of Louis Vuitton saw Blame imparting his signature use of safety pins and buttons to a series of accessories for the fashion house's autumn/winter 2017 collection. And leading up to Blame's death in 2018, Jones was working on a book detailing Blame's work.
In a fitting tribute to the stylings and unbridled spirit of Blame, the Dior Men winter 2020 collection combined elements of Blame's aesthetic with the couture sensibilities of the house. Right off the bat as the first look emerged onto the dramatically set-up runway of smoke-filled glass structures, one could tell that this was a collection unlike anything that Jones had created for Dior Men so far. It was a blueish-grey taffeta coat that featured a floral appliqué with tasselled fringes, worn over a fine gauge jacquard turtleneck and topped off with pearl-trimmed opera gloves. It was unapologetically Blame—there was flou, a magpie sense of glamour, and the rebellious need to ignore traditional notions of masculinity.
Photo by Brett Lloyd.
The Dior Men winter 2020 collection and collaboration was made possible with the assistance of the Trust Judy Blame Foundation. Set up by family and friends after Blame's death, the foundation serves to preserve, promote and provide access to his works. And what better way to do so than with a fellow Brit at the creative helm of the menswear division of a French couture house?
It seemed as though no stone was left unturned when it came to the amount of research that went through to conceptualise the collection. Every aspect of Blame's creative expression was translated into individual elements. The Dior logo was reworked—a continuous trope that Jones had introduced since the beginning of his role—to include Blame's signature safety pin motif. The opera gloves are a nod to Blame's penchant for them, but also the sort of refinement that is a hallmark of the house.
Look 11.
Look 13.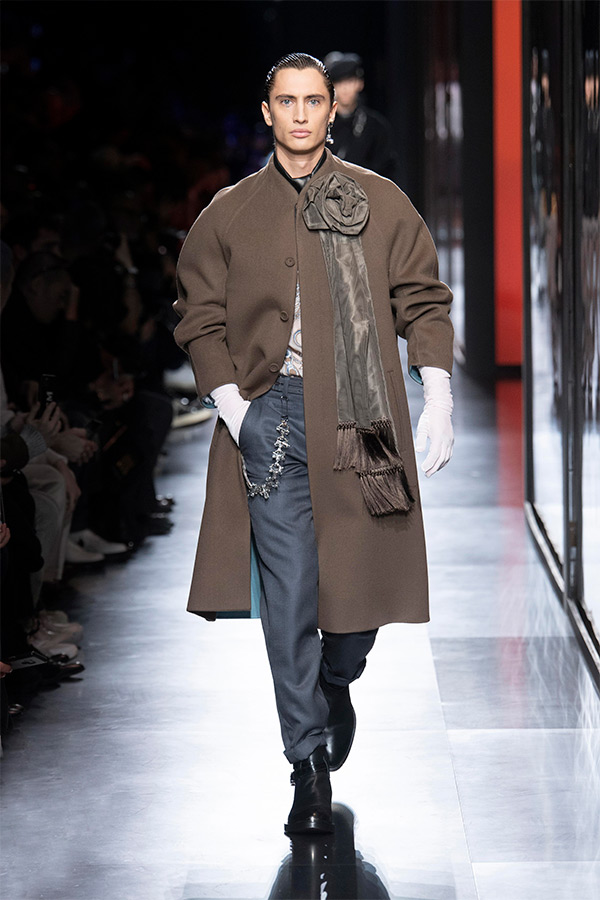 Look 23.
Look 26.
Look 36.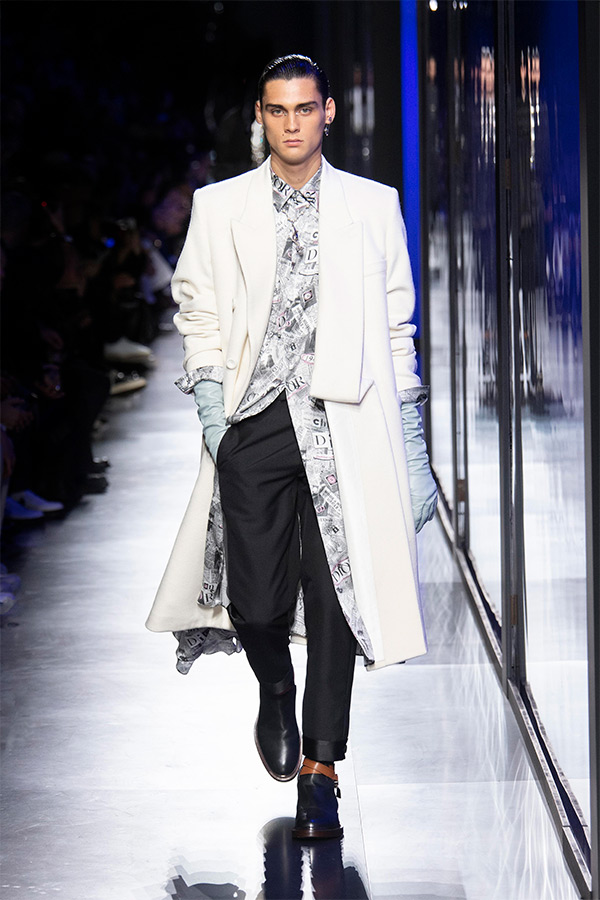 Look 43.
Look 45.
On the accessories front, Jones employed the expertise of constant collaborators Yoon Ahn and Stephen Jones. Ahn created jewellery that were reinterpretations of Blame's pieces but embellished with Dior signatures, including the Cannage and the Lily of the Valley motifs. Berets by Stephen Jones took reference from Blame's unforgettable arrow-shaped buzzcut—translated as calf-hair patches at the top.
Two noticeable and seamless combinations of the codes of both Blame and Dior came in the form of two new patterns. The first is the introduction of a new Toile de Jouy. Dubbed the Toile de Judy, it's quite literally a blown-up version of the house motif that's been designed together with the Trust Judy Blame Foundation. And the other is the return of the famed newspaper print that was first seen during Galliano's time at Dior. While this was by no means Jones' first time interpreting the iconic print as part of his collection for Dior Men, its inclusion this time around was more meaningful. The original idea for the print was conceptualised by Blame's long-time creative colleague, Stephanie Nash, for Galliano's own brand before he brought it over to Dior. And Blame himself had a fondness for styling editorial shoots with newspapers as clothing; a full circle moment.
But as much as there was a smorgasbord of Blame-centric ideas that have been Dior-ised, the collection took liberties within its realm of couture-led expertise and precision. Zippers were added throughout ready-to-wear, shoes and accessories as subtle homages to Blame's punk inclinations. These added an edgier juxtaposition to the soft and silky fabrications and drapes, as well as gave the appearance of calculated 'flaws' as opposed to the seamless technical perfection that Dior is known for, although that aspect remained unchanged.
Take a closer look at each button on everything from the Bar-inspired jackets to the coats in the collection, and you'd notice that they had been meticulously covered in fabric. The application is so precise that on paisley-decorated coats, the pattern stayed uninterrupted.
Jones, no doubt, is an expert at marrying seemingly incongruent elements together to create a collection that's at once achingly beautiful and desirable. And at the very same time too, one that's true to the house codes of Dior. Although it could have been seen to be almost sacrilegious to introduce elements of punk into couture or vice versa, the very idea that he's thought to bring those two together in the first place is a true mark of how in-sync Jones and Blame were.
"Make something. Wear it. Cause trouble." This season's Dior man is armed and ready to do just that and more.
For more stories like this, subscribe to Esquire Singapore.