ESQUIRE: I remembered the two of you acting in a skit on The BenZi Project. Was that the first time y'all worked together?
BENJAMIN KHENG: Annette and I were friends before The BenZi Project. We needed this energy and she had it. I remember asking Hirzi [Zilkiflie]—I think he hasn't watched any of Annette's stuff at the time—"hey man, I really want this girl, Annette, for this episode, I'm directing." And he said, "uh, I Annette-thing [anything]".
ANNETTE LEE: He made a pun on my name.
BENJAMIN: He watched her stuff and became a big fan. He's like, "oh my gosh I can't believe I've never seen her before". That was it. Yeah, so it was a really fun episode to shoot.
ESQ: Is the process different between The BenZi Project and this?
BENJAMIN: I was thinking about it. I can speak to this as well because Anne does a lot of her own work on SGAG and after she left SGAG as well. What's interesting is when you put two creatives together who are conceptualising the work, you'd never know what's gonna come out of it. I was curious to see what our creative child would look like.
ANNETTE: Chaotic.
BENJAMIN: Yeah, the process is always chaotic. It's like a science experiment; you'd never really know the results of it. With [The Ann and Ben Show], it's crazy times 10 because you're creating content and you're throwing caution to the wind.
ANNETTE: The paradoxical thing about creating is that it works best when there are restrictions. When we came together, it started as a blank slate and it was filled with random ideas. Then we decided to set boundaries: we're doing something comedic, let's do something with music as well. So that focuses the ideas a little further. We started doing funny songs with crazy premises. I don't think many people, especially in Singapore, has fused comedy and music and that's something both of us are passionate about.
ESQ: How did this idea of you guys getting together and doing your own show start?
ANNETTE: I left SGAG.
BENJAMIN: Thank you for leaving SGAG.
ESQ: Were you under some sort of contractual restriction? That you can't make content outside of your work?
BENJAMIN: I think it was a time thing for her.
ANNETTE: I was working very hard and I just wouldn't have had time to film anything like this after work. I left SGAG during circuit breaker and I had more time than I'm used to. I met up with Ben and we talked about doing something.
ESQ: What was the timeframe on that?
ANNETTE: I can't remember…
BENJAMIN: I think it was after phase two and we met up, along with our respective spouses. Annette's not on SGAG, I'm not doing The Sam Willows anymore. We got a lot of time and we relish the challenge of working together. We made this fruit cutting skit, which was a screen test of sorts.
ANNETTE: We made a lot of TikTok videos during circuit breaker so after the [fruit cutting sketch], we agreed that if we wanna continue making more stuff, we should narrow down some things where it can be a theme that we can even run along with.
BENJAMIN: Yeah, but we discussed whether it was going to be a full-episodic thing, like a narrative, or is it going to be one sketch at a time. We realised that we've so many ideas on how to write songs: Annette is good at crystallising relatable things about being Asian. It's part of her experience and also her amazing tenure at SGAG. That's something that I'm learning from her, which is how to be relatable and not lose the funny. And I wanted to dabble in as many genres as possible. So why don't we have this weird music Russian Roulette, where we have a subject and pair it with a random genre that has nothing to do with a subject. Like Korean drama, with country music. We wanna see if they work and if it doesn't, at least we tried.
ANNETTE: So we came up with a few topics like cai png ("economic rice" in Cantonese); there are memes about them but I felt there's a way we could do it differently.
BENJAMIN: Basically, what if you took a meme and stretched it for four minutes.
ANNETTE: And made it a song. We had this song called "打是 疼" (Mandarin for "Beating is a sign of affection") and, Ben, you remember what you wrote as the original title? It was "Don't Cane Me". Ben raps in this one.
BENJAMIN: Yeah. But I hum chi (Hokkien slang for "scared") to put out my rap album, so I do it on this music video.
ANNETTE: The topic itself as a rap is funny.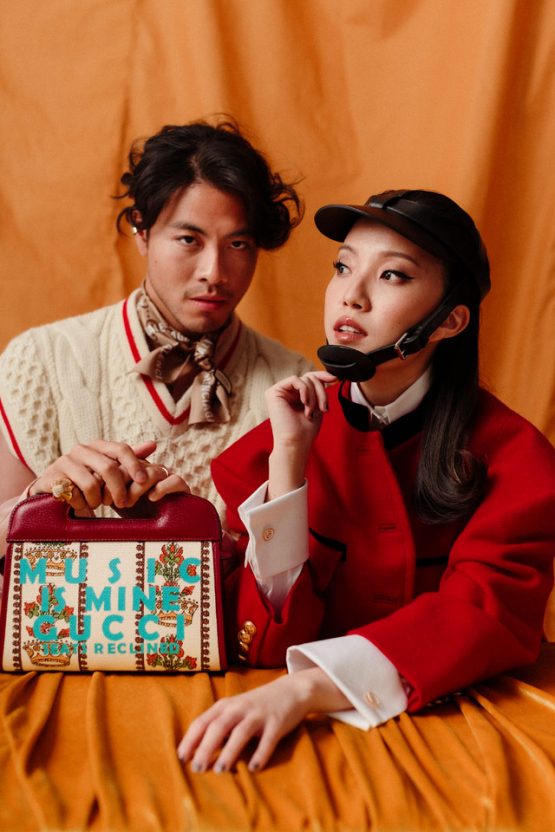 ESQ: Because media turnaround is so fast, how do you try to be original and not rethread what everybody has done?
BENJAMIN: That's a good question. I think a lot of creatives face this problem now, especially those who want to expand their work into longer-form content. So when you want to become trendy or if you want to run off on current events that are so hard because you gotta get a move on that. So what we did was focus on these evergreen topics that everybody loves. Korean dramas will never escape us for as long as we live. Or the insatiable love for bubble tea that Asians have.
Sticking with evergreen topics and being as quick as we can in production has been like The Amazing Race. You could take your time with it but if you get it out in time, you sorta reap the rewards too. You never really know, especially in comedy, what is gonna hit. You can predict some stuff with client work or music but with comedy… it's like throwing stuff at the wall and seeing what sticks.
ANNETTE: The topics are generally quite deeply rooted in our own experiences and our own culture. Maybe for future stuff, we might wanna expand a bit more but for now, it's good to start from home.
ESQ: How much do you adhere to the script? Because the teaser had the two of you communicate via air-con remotes that you use as mobile phones. It's a detail that you didn't call attention to but was this something that you wrote into the script or was it something that was improvised on the day of shooting?
ANNETTE: There was nobody at home when I filmed my scenes. And I was filming with my phone so I couldn't use it as a prop. I grabbed my air-con remote as a stand-in for my mobile phone instead. When I sent my footage to Ben to match over, I forgot to tell him about the air-con remote but he must have noticed it because he also used his own air-con remote for the bit.
BENJAMIN: That's actually the basis of comedy: learning how to build absurdity over something. When you say something once in a film it's pretty funny, then when you say it again and again it gets even funnier. You can't do that anywhere else. It's a fun way to build chemistry and build the content as well.
I'd dream up something for a song and Annette will take it even further and I'm standing there like, "oh my God, I just came up with this idea off the top of my head". I never thought I would ride horses in a barn, y'know what I mean?
ESQ: Was there a lot of improv on set?
ANNETTE: Yeah I think so. But there were times when we were tight for time. I'd say for quite a number of our shots, we didn't have the luxury of doing a lot of takes. For instance, when we were shooting on a horse, the horse almost killed him.
BENJAMIN: That horse hates my guts. What Annette said earlier about there being creativity within restrictions, that's true. That's when you force yourself to get super creative. When the Esplanade came on board to work with us, we were allowed to shoot within the concert hall. It was this massive glorious acoustic space that has housed great symphonic bands and here we were about to shoot a comedy music video.
Anyway, we had three to four hours of shoot time and then we realised that we weren't allowed to bring any edibles into the space. But our [song] subject was about food so we were freaking out. How do we improvise around this? How do you make the best out of the situation? How do you tie it to the music, how does it still be funny and be irreverent? How do you shock audiences and yet, keep it, visually interesting?
It's fun writing yourself into a hole and see how you'd survive.
ESQ: Who is The Ann and Ben Show targeted to?
BENJAMIN: I think we wanted to focus on Asian topics in general. For this season we've gone Singaporean with the content, just to try and hit home. For the genres, we're doing everything from trap to rap to hardcore rock to Mandopop. But it's kept to a very general audience.
ANNETTE: Yeah, there are Singlish references but we don't make it too alienating.
BENJAMIN: The BenZi Project was more M18, this one is more all-ages appropriate.
ESQ: Was the all-ages accessibility something important to The Ann and Ben Show?
BENJAMIN: Music is such a universal thing and given our backgrounds and what we do, it made sense to give it a shot. Again, it's another parameter and we wanna see how to work within and outside of it.
Early in my little comedy tenure, I learned to rely on comedy that delves into absurdism. Working with Annette offers a different experience in learning to stay in the pocket; being relatable. Annette will do this to me: I'll throw out 10 ideas and she'll shoot most of them down.
"Disagreements are part and parcel of a creative collaboration. The secret is not to take anything personally."
– Annette Lee
ANNETTE: Oi. You're making me out to be something I'm not.
BENJAMIN: I mean, she's good at that because she knows what works. She has a keen eye when it comes to context. And Annette is an accomplished director in her own right so that helped me frame my ideas better.
ANNETTE: It's not that I set out wanting the show to be family-friendly or whatever. I do think that shock value doesn't have to lean towards the negative, y'know what I mean? And you don't want to steer too far from the topic with absurdism or overly shocking. For me, I just like comedy that's unexpected. It's not meant to be funny but it can be. Context is important. Whichever leans towards being just naturally funny without you having to explain it that's always my go-to. But then again sometimes it boils down to the writing.
By the way, Ben has been saying a lot of nice things about me so now it's my turn to say something about him. We have a nice partnership. Even though I plan a bit more on the video end and the writing stuff, Ben is the guy who goes crazy with the music. And he makes it funny too! It makes sense to me in how to create something funny visually but Ben has amazing ideas for the music. [to Ben] You sourced the stems for the K-drama bit and the boba tea…?
BENJAMIN: I got a banjo for the K-drama sketch.
ANNETTE: I don't know how he's able to find the sounds to fit the sketches.
BENJAMIN: It's not that hard.
ANNETTE: Not that hard meh? I can say that it's not that hard to write the script what.
BENJAMIN: Okay, so I've a confession: it's actually a banjitar so it has six strings. So, you play it like a guitar but it sounds like a banjo. It looks cool but it sounds like [crap]. I don't think I'll ever use it again but the sketch calls for some banjo playing in the background so thank goodness that I found a good sample package for the banjo, which is how today's producers would get their music. No one really plays the violin anymore, they just press a button.
ESQ: Were there any unexpected issues in producing The Ann and Ben Show?
ANNETTE: We do try to learn how the music genres work. Ben was trying to teach me how to sing cursive. Do you know how to sing in cursive, Wayne?
ESQ: Uh, is it like the gamakas? Where you slide from one note to another.
BENJAMIN: It's actually a Gen-Z thing. I've always heard it sung and TikTok made always made fun of it. Indie singers like Lorde or Passenger do that. [demonstrates cursive singing] It's that kind of stupid voice because they're trying to be cool or unique. I thought it'd be funny to kind of do this in the show.
ESQ: Are there any other styles you found hard to pick up?
BENJAMIN: Annette helped me with Mandopop lyrics. I'm horrible at it. She's great at writing the lyrics in Mandarin.
ANNETTE: Yeah but joke's on me, I'm not that great at the language either.
BENJAMIN: Stop it.
ANNETTE: Our song is primary school-level Chinese.
BENJAMIN: She wrote a bulk of the lyrics and I sang it… hearing it back later, I just… wah, I sound like damn kantang sia. I sound super-awful.
ESQ: What's the division of labour?
ANNETTE: We narrowed down the ideas and Ben and I compose two songs each. I'm a very pop writer so, musically the Mandopop was okay for me. I struggled with the country melody but Ben helped me with that.
ESQ: How big was the team?
ANNETTE: The team that worked on this was amazing. There's Ed. He directed all our music videos. Ed Cryer. He's also the editor. The fact that it was a small team, helped because you keep your ideas so tight that everyone just understands one another.
ESQ: Was Ed playing the cajón for the K-drama skit?
ANNETTE: Yes! Ed cameoed. He played the cajón and the Korean drums. So funny. Every time he shows on screen I squeal a little bit. So adorable.
BENJAMIN: Ed makes a few cameos throughout the season.
ESQ: The Stan Lee of The Ann and Ben Show.
ANNETTE: Yes.
ESQ: Was the crew paid? What is the money sitch on this show?
BENJAMIN: Like every other passion project, we were willing to dig into our own pockets. We set aside a good amount of money to pay everyone, obviously, they weren't super crazy amazing rates but we were prepared to make that investment. Thankfully we got a bit of support, we managed to fund it externally.
ANNETTE: I mean, the worst thing you could do to a creative is not allow them to create. I do believe that you want to create not because you want to make money… you just want to make something. And there's a lot of satisfaction that comes from that.
"Yeah, it's the visuals that appeal to me: how stupid would I look if I was on a grand piano and there are all the cai png dishes on it."
– Benjamin Kheng
ESQ: What about advertising on YouTube and whatnot?
ANNETTE: I don't think the revenue is very significant, to be honest.
BENJAMIN: Even like Spotify streams is just horrid. We're gonna keep the advertising to a minimum for I think season one. But we did get a lot of sponsorship from specific shops that the songs were about.
ANNETTE: I worked with the Korean Tourism Organisation before and they kindly loaned us the Korean instruments and the hanboks. Some people were willing to come on board.
ESQ: Will there be guests stars?
BENJAMIN: We're still conceptualising season two but it's gonna be fun to incorporate more people in a bigger roster.
ESQ: What is it about this collaboration that works for the two of you? Especially, you, Ben, because you worked with Hirzi on The BenZi Project and now you're working with Annette on this.
BENJAMIN: It's fun pairing up with people whom you love and trust. I've always been a firm believer in working with your friends and I know a lot of people are very scared of that. It's important to develop the friendship first and that varies from person to person. It's really easy for me to like get into this project with Annette. And I also knew her body of work. It's similar to my relationship with Hirzi. I knew him back then.
ANNETTE: I love collaborating as well. Before that I've been doing stuff by myself; personal projects outside of work. I'm very blessed and Ben is such an inspiration to me. This hardly feels like work.
ESQ: Not to put a damper on the synergy that the two of you have but has there been disagreements?
ANNETTE: Of course! But somehow it works out in the end. Disagreements are part and parcel of a creative collaboration. The secret is not to take anything personally.
BENJAMIN: What really helped is setting the roles and responsibilities. Although it is a free set, there might be an episode, where Anne is directing with Ed or I'm directing with him. We kinda know from a very hierarchal standpoint that the director has the final say. You can put across ideas but, ultimately, you trust the pilot.
ESQ: I assume that Bo Burnham and Flight of the Conchords are people that you've drawn inspiration from. Are there any other bands that you're inspired by?
BENJAMIN: The Sam Willows. [laughs]
ANNETTE: Ryan Higa! Let's add him to the list.
BENJAMIN: Ylvis… The Lonely Island was my first joy on YouTube. All the SNL stuff too. Yeah, tons, but, I guess not that many too Singaporean contexts. If you ever watch stuff like Chestnuts and Dim Sum Dollies, they really take apart the local syntax and context.
ANNETTE: How we came up with 'K-Dramaddiction' was… Ben sent me an SNL sketch or something. About a bunch of people staying at home to watch… a murder programme?
BENJAMIN: Oh yes. Nick Jonas was the guest star and it's a music video about how women are crazy about Criminal Minds or true crime shows like that. They're watching all this crazy stuff and yet doing the most mundane thing while watching it.
ANNETTE: So then the equivalent to watching true crime shows in Singapore is Korean dramas. So when we were talking about it, we thought of doing it in the style of a country song because country songs are very narrative.
BENJAMIN: Yeah. Sometimes it also starts with the visuals. I love cai png. I had this amazing image of me playing at a grand piano and the top of the piano was covered with all the dishes.
ANNETTE: And the chorus is basically, "这个 , 那个"("This one, that one" in Mandarin). It's not very cheem ("deep" in Hokkien), just to warn you.
BENJAMIN: Yeah, it's the visuals that appeal to me: how stupid would I look if I was on a grand piano and there are all the cai png dishes on it.
ESQ: What's next for y'all?
ANNETTE: I have some pet projects coming up. I'm working on a mockumentary. I've cast Ben in it.
BENJAMIN: She can't get rid of me.
ANNETTE: Yeah, we signed this contract where we have to be in each other's projects forever. [laughs] The mockumentary is called Asian Billionaire and it is a comedy about a fictional billionaire family in Singapore. Think Crazy Rich Asians but more Singaporean.
ESQ: Is it a feature?
ANNETTE: It's a webseries, five episodes. We follow this family and it stars Gurmit Singh, Amy Cheng, Ben… and I'm in it as well. I'm writing and I'll probably have a co-director. Right now, it's a lot of pre-production for me. And I've just been doing a lot of random things like hosting stuff and different other smaller projects on my own channels.
BENJAMIN: I'm just gonna figure out how to stay married. [laughs] I don't know, I'm not doing much, to be honest. We're still working on the music stuff and we got a couple of songs coming out and in the last quarter of this year. And, yeah, a few more things that I can't say for now but we'll come up towards like at this year or next year.
ANNETTE: We've also ideas for upcoming films as well. Eventually, we'll work on those.
BENJAMIN: We're gonna run out of genres at some point.
ESQ: We just wanna see Annette do death metal.
BENJAMIN: I got pretty close to getting her to do it for the first season.
ANNETTE: Pretty close.
The Ann and Ben Show is out now online. The second season is in the works.
Words by

Wayne Cheong

Photographs by

Sayher Heffernan

Styling by

Asri Jasman

Hair and makeup by

Christian M