No barriers to entry, the freedom to travel everywhere and anywhere without any form of restrictions, and the ability to call any place home—these would seem like an ideal citizen-of-the-world situation. If there weren't territorial demarcations, we'd theoretically be able to live our lives in nomadic fashion, setting roots where the heart desires and moving along for greener pastures.
Home can oftentimes take on a metaphysical expression. The idea that it's constrained to just one's birthplace hasn't held true ever since travel and emigration became commonplace. As cliché as it sounds, home is where the heart is, and can be as temporary as needed.
Singapore's position as a globalised country that is rooted in Asian values but peppered with Western influences has made it an attractive port of call for many who want the best of both worlds. In some ways, that has been a positive. No man (or a figurative 'red dot' on any world map) is an island, after all, and the influx of foreigners has served to vary exchanges of ideas and knowledge.
It's little wonder then that even within Singapore's burgeoning fashion industry, there are constantly new entrants started by individuals who have made the country their home. Operating like typical start-ups, these small, independent Singapore-based fashion brands are proof that there's potential in the country's fashion prowess. And more than anything, fashion businesses and skills can start and flourish in Singapore.
The one named after a local street
For almost four years now, Iris Sangalang and Dustin Ramos have made Duxton Road their home. Coming from a tech start-up background, the couple's first business venture in Singapore is a café and multi-label-store hybrid called Monument Lifestyle that's situated along the same stretch of the road occupied by lululemon and perfumer Maison 21G.
It's the accessible escape from the corporate confines of Singapore's central business district that drew their attention to the locale. That, and the fact that they've met and got to know people in the area who've started unconventional career paths after decades in the corporate world. In a way, Sangalang and Ramos's decision to name their fashion brand Duxton serves as an homage to their settled roots in Singapore and that there's more to the country than sterile efficiency.
That Singapore isn't necessarily associated with fashion hasn't fazed them one bit. "Why not is my question," Sangalang quips when asked why base Duxton in Singapore as opposed to Los Angeles, California, where the clothes were originally manufactured. The city may not draw the same level of fashion credentials as New York City, but Los Angeles's access to a global entertainment scene has proven to be beneficial to fashion brands, including Singaporean menswear brand Dzojchen that's no stranger to the red carpet as seen on celebrities with the likes of Shawn Mendes, Timothée Chalet and the late Chadwick Boseman.
"When we came here, we felt like this is where we could grow the most," Sangalang explains. "Once we started finding amazing gems of talent who could become part of our team, it was absolutely a no-brainer. There's so much talent here and it's about enabling and empowering the talent, especially young talent." She recalls how graduates from local design schools, the likes of LASALLE College of the Arts and Nanyang Academy of Fine Arts, would come in to Monument Lifestyle applying for jobs as baristas, when their talents were better suited for more creative roles within Duxton.
"We're not saying that Singapore is going to be the next London or New York. But there's no reason why you can't make an amazing fashion brand in Singapore because it's the same talent that's here."
The Duxton team consists of the two founders and a host of young Singaporean creatives putting their stamp on everything from photography to styling to marketing. In fact, the brand has now refocused its manufacturing to within Singapore. It was a strategic decision that was spurred on by the effects of COVID-19 (the pandemic has left the States in a rather dire state) but also one which makes more logistical sense now that there's a fully realised and dedicated team in Singapore.
"We're not saying that Singapore is going to be the next London or New York. But there's no reason why you can't make an amazing fashion brand in Singapore because it's the same talent that's here," reason the two founders. "And if you empower them to do it and that they can do it, then it doesn't matter."
It does seem like, as a brand, Duxton is almost entirely Singaporean, save for the two founders. "One of the reasons why we landed on 'Duxton' as the brand name is because it was a bit ambiguous as far as where it originates from," Ramos expresses. And with the brand being quite a regular fixture in trade shows in the US since launching, the somewhat familiar-sounding name ("Everyone's like, 'Oh! I've heard of that name' no matter whatever country we're in") helped to connect the story of the brand, the founders and their relation to Singapore.
Sangalang and Ramos have just opened their second Monument Lifestyle outpost within the Tiong Bahru enclave at 21 Yong Siak Street. They've also relocated their headquarters to the new space (it was previously situated just above the original Monument Lifestyle) that also doubles up as a mini studio. Duxton has also, most recently, launched a made-to-measure programme too as a way of including a more diverse clientele to experience what the couple calls the Duxton Experience. This, together with its kidswear line and an ongoing series that tells the stories of Singapore-based entrepreneurs called Duxton Stories, exemplifies just how unequivocally Singaporean Duxton is.
The performance-designed white shirt by Tropick is a summer-ready creation.
The one that stemmed from a relatable Singaporean issue
"I was on my daily morning commute every morning with my husband. And when we hugged goodbye, we were always drenched in sweat," recounts Monica Millington, founder of Tropick. "We kept making jokes that if only his tailor could make him Nike shirts, basically."
In some ways, the interaction could be regarded as a first-world problem, but one that is relatable on many counts for anyone living in Singapore. Like any good entrepreneur, the problem became a driving force for Millington to figure out a solution that would not only benefit her husband, but also anyone who loves clothes and experiences a year-round summer.
Millington was born in Dallas, Texas, and grew up being surrounded by a family of entrepreneurs. She was always given the freedom and choice to decide her own path in life but always with a strive to do her best in anything that she sets her mind to. Graduating with a degree in marketing and public relations, Millington worked at a lifestyle publication in Dallas where she dealt with events and anything creative. The experience eventually led her to found her own event-planning company, which she ran for three years before selling it off and moving to Singapore.
"I think that was almost like my starter pack for starting a company. I always knew I wanted my own brand," Millington tells me. Tropick wasn't going to be just something fun for her because she was wary of making the mistake of starting a brand founded on something as frivolous as fun. "I wanted to be careful that I was being very business-minded about it. You see so many people do things that are just for fun and the business doesn't really follow through," she explains. The performance dress apparel sector then made sense for her, with not many brands (if at all) filling that particular gap in the menswear market in Singapore.
But expectedly, there's the issue of being a foreigner in a new country and not knowing much about the average consumer and retail landscape. Millington spent a year working in the corporate world ("I don't have a corporate bone in my body!") trying to understand Singapore's culture better, and at the same time getting more information on how the fashion marketing and public relations industry works here.
"Honestly, at the beginning, I felt like a lost puppy," Millington recalls. "I didn't have my foot in the door. You want to get in with the cool kids; you want to get in with the other brands here. And for Singapore, we still don't have massive networks when it comes to fashion."
That search eventually led her to the Textile and Fashion Federation of Singapore (TaFF). Millington enrolled in the second cohort of TaFF's fashion, beauty and retail entrepreneurship initiative, The Bridge Fashion Incubator (TBFI) programme that first started out in 2018. TBFI provided her not only with the kind of in into the local industry that she was looking for, but also afforded her with invaluable mentorship from the programme's list of mentors and advisers ranging from established local brands such as Naiise and Love, Bonito to international companies in the fashion and retail space. The experience also allowed her to tap into the learnings of the programme's fellow members, many of whom are non-locals as well.
"I've made amazing friendships and business partnerships because of TBFI. And also just being able to cross-check your ideas. As a solo-preneur, getting to speak to someone with years of industry experience and verify that an idea is good, or that it would work, was really big for me," attests Millington. One of those ideas—that has since become one of the cornerstones of Tropick—is to not do full collections or releases based on the traditional fashion calendar.
Tropick officially launched in the midst of the pandemic in August of last year although Millington was set on initially launching in March 2020. But it seemed like divine timing seeing how Tropick's four-way stretch shirts made for perfect options for the year's impending 'new normal'. Countless Zoom meetings that called for a professional outlook but still with a semblance of comfort of being at home, helped with the uptake. And now that more offices are opening up, the same shirts are proving to have staying power.
The one that marries tech and fashion
With sustainability being at the forefront of almost every fashion brand out there, tackling the hot button topic (in one way or another) has been imperative. For Republiqe's founder James Gaubert who's from the UK and a TBFI enrollee in the same cohort as Millington, technology can be more than just a vehicle for change; it could very well be the answer. Republiqe posits itself as the world's first digital-only luxury fashion brand that's based in Singapore. While the idea of luxury and digital has been perceived as somewhat mutually exclusive, Republiqe's unique in that it replicates the traditional notions of luxury fashion in and for the digital age.
"Having spent a lot of time in Asia, I have been able to see some of the damage that is being done in factories and manufacturing plants with regard to fabric wastage and unethical production," explains Gaubert, who's spent decades in the luxury fashion industry. "On a personal level, my son who is an avid gamer also spends huge amounts of money—mine, I might add—on dressing his characters in games like Fortnite and PlayerUnknown's Battlegrounds. And I guess it was looking at these two elements, and the growth of technological advances within the industry and coming up with a viable solution for today's fashion and environmentally savvy consumer that Republiqe was born."
The approach is pretty straightforward. Republiqe is quite basically a made-to-measure brand that exists digitally and creates clothes that can be superimposed onto digital images. The main draw is that because the clothes don't physically exist in the real world, there's pretty much zero waste with hardly any carbon footprint involved in the process. The brand's 'digital tailors' are able to fit any of Republiqe's pieces onto just about anyone as well, ensuring that every creation is size-inclusive.
There's no doubt that the brand serves a niche market: one who loves fashion and uses social media as a tool to express themselves. "Whilst digital fashion doesn't help with the functional benefits of clothing such as keeping one dry in the rain, it does support the emotional benefits. Today, people want to look good and feel good in the place they spend most of their time on: social media. We essentially help them to create their digital personas."
"The fashion industry is not limited to the design aspect. We are currently seeing how technology and digitisation are rapidly changing the industry landscape."
Digital fashion, in a way, is the environmentally friendly cousin to fast fashion—serving a similar purpose of easily disposal fashion but without physical storage issues, and the very fact that they don't look like anything else that's out there in the market. Republiqe's designs range from the more realistic three- dimensional renderings to those that are a bit more extravagant. While the clothes are generally womenswear pieces, there's no stopping them from being made to fit a man. But Gaubert tells us there is a menswear collection as well as a gender-neutral one that the brand is currently working on.
"Our digital-only approach certainly ensures we stand out from the crowd, challenge the norm, and almost create a sub-category within the industry. I sometimes think of us as a bit like Tesla. And if we can do to fashion what they have done to the automotive industry, then I will be incredibly proud!" Gaubert exclaims.
Republiqe's completely digital fashion that can be tailored for anyone.
Republiqe's completely digital fashion that can be tailored for anyone.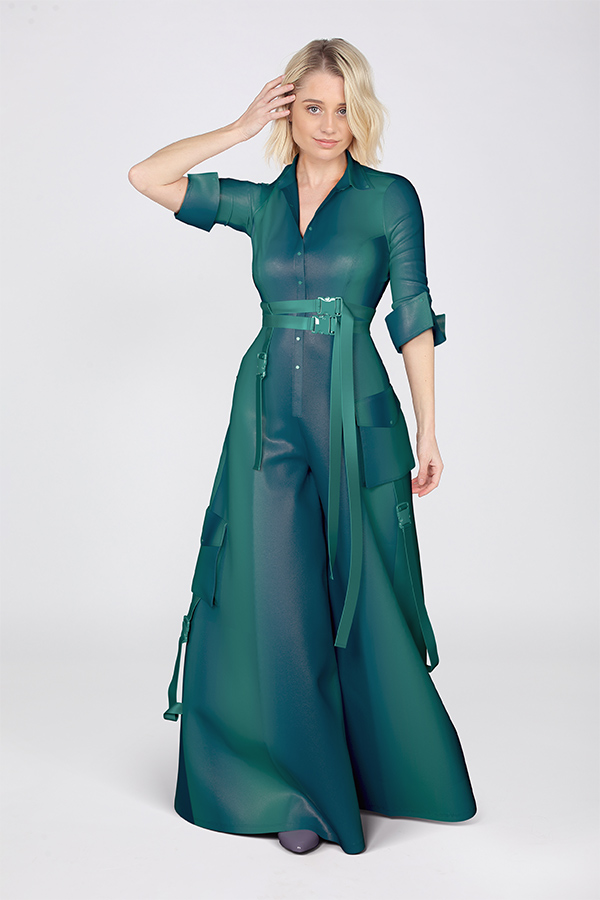 Republiqe's completely digital fashion that can be tailored for anyone.
TBFI's programme manager Grace Nandar concurs that there are multitudes of the possibilities that a brand like Republiqe can offer. "The fashion industry is not limited to the design aspect. We are currently seeing how technology and digitisation are rapidly changing the industry landscape," she expresses.
And if Singapore's able to continuously merge fashion with various other skill sets that can be developed, there's no telling what the future holds for this globalised city we call home.
For more stories like this, subscribe to Esquire Singapore.