Well, not exactly. If 'dark waters' refers to the shadowed pond under a city bridge in Asakasa and not his latest show, then everything else about the above is correct. Technically. The original plan was to learn from the man himself and put the skills to practical use at an arranged fishing-cum-interview session at Benkeibashi boat pier.
Whether that was to catch Jeremy Wade in his element or have the journalists embarrass themselves fishing in front of him, it's still exciting nonetheless. Especially if you've seen the types of fishes the River Monster host has caught; the largest being a five-metre, six-gilled shark weighing approximately 550kg.
Of course, expectations were regulated upon arrival. Surrounded by typical Japanese cityscape and framed by the historical Benkei bridge, the quaint location resembled a canal rather than a river. Just steps down from the main road is the humble shopfront, plastic furniture under an awning and rickety wooden planks leading out to the pond. Charming.
Wade went into action almost immediately. Even without his camera crew, the celebrity fisherman started inspecting the pictures of past fish caught, conversing with the local staff and examining the waters.
You would assume the place looks tame compared to the 70-plus countries he's fished in both on and off camera, but Wade looked genuinely happy to indulge his occupational hazard.
Wade begins by explaining the basics of using a rod and reel as planned; his patience as he does this is unlike someone who has just had a full press conference the day prior. He is demonstrating a plastic bait in the water when a target conveniently enters the scene: a sizeable trout.
Unfortunately, it doesn't bite.
"Sometimes we don't catch anything but we don't show that on the show, that's why people think I'm such a good fisherman," he says that, but the ease and accuracy at which he throws the line proves otherwise.
"A lot of what I do is fish psychology. As a fish, where would I feel safe, have access to food and not have to expend too much energy?" He recommends looking for eddies on the edge of the main current. "But remember that water flow is three-dimensional. Sometimes a hollow in the riverbed can create a slack area underneath."
For someone who has absolutely no fishing experience, I began to see how there was a whole other world below. "Water is so fascinating. You can't see what's there when you look at the surface of a river. There could be something huge right in front of you."
Wade has often described River Monsters as a murder thriller and sees Dark Waters as more of a biological mystery. "I do a bit more diary cam where I'm just holding the camera, which gives a slightly more personal view." For himself, Dark Waters is essentially a bucket list of places he has been interested to visit, but never could because it did not quite fit the theme.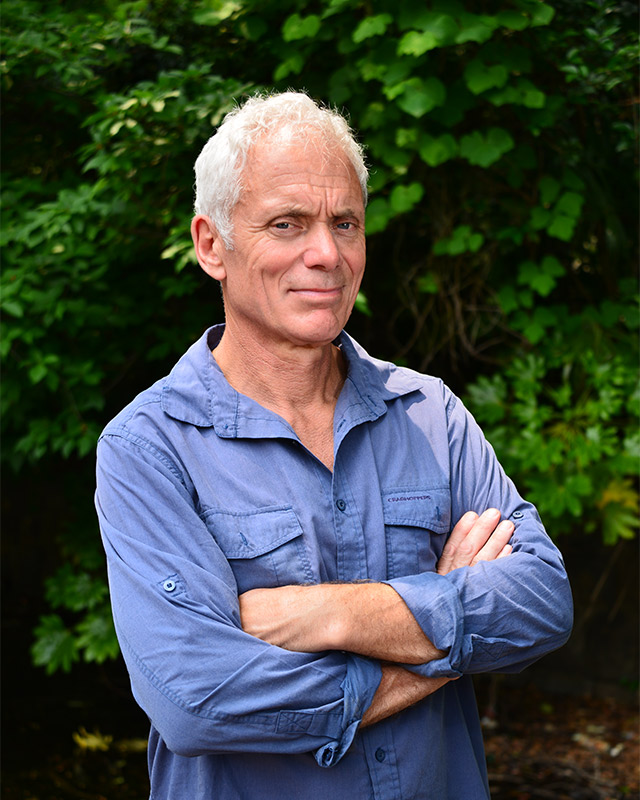 I get into the rowboat with Wade. He suggests trying the less-disturbed area under the bridge. Another fish fact for the fishing amateur: fish spook easily. When Wade first took up TV work, he spent the first two seasons reminding his crew to move carefully because even heavy footsteps could equate to additional hours of waiting for the fish to return.
So what does he do while waiting—a process that surely takes up the majority of the time? "I find that when I'm waiting the time just goes. Every moment I'm in a state of anticipation where something might happen any second."
Just then, he exchanges the oars for his rod. Eyes fixed on the water, he casts while talking. I know we're not going to catch a monster, but I feel like a live TV audience in my literal front-row seat. Alas, it's the same dismissive trout from earlier.
"I became concerned that the programmes were creating a false impression of the world. I catch a fish at the end of every episode so people think these fish are everywhere." He acknowledges: "The reality is that they are very hard to find, even with the preceding research we do.
"It's quite hard to tell people that things are in a bad way because it's not something you can necessarily see. On land, animal extinctions are much easier to communicate because the effects are visible. In the water, only when you try to catch do you realise whether it's full of fish or empty."
Not like you can jump in there, I imagine. Unless you're him.
"Some people think that I'm reckless but that wasn't a spur-of-the-moment thing."
The extreme angler is referring to the episode where he leaps into the water to catch by hand. "It was something I was prepared to do. That's how curious I am and the desire to get a fish is very strong. But before I jump in, I check if it's safe. If there's no one by the water, I'm a bit careful."
"It's not true when people say I have no fear. We all have fear and it serves a very important function; it makes you pay attention. The fear you feel when you see a shark makes you concentrate to keep yourself safe. I do have fear and that helps me to survive."
Before this stint, Wade was doing any work he could find that would fun an annual three-month expedition. That included copy-editing for a small publisher, working in a restaurant, and a couple of spells as a reporter on a local newspaper.
"Sometimes it's necessary to walk away from the comfortable, sensible path in order to possibly reach somewhere more interesting. And if you ever make this choice you should never look back and regret it. I figured this out for myself in my early 20s, but there were times when it was hard to keep the faith."
Now, the TV host—who ironically does not own a TV—rarely goes fishing in his free time. He spends about half the year away from home, the other half in meetings and preparation. He has managed a few visits to his local river this year, and when he's flying between locations, he reads books by personal recommendation or just spends the duration fascinated by the view outside.
"A few years ago I took flying lessons, partly because I wanted to understand more about how aircraft work, following my 2002 plane crash in the Amazon." As we wrap up the interview, I'm disappointed that we row back fishless. But that's fishing, isn't it? You don't always catch.
If anything, it only makes me respect the groundwork Wade and his team do to ensure a successful episode each season. His dedication and lack of pretence anchors his work, so really, who better to teach the principles of the sport than him?
The cars above rumble on while we head to the exit. We leave the premises with a lesson well-learnt and unknown waters that await.
Dark Waters airs at 9:55 pm on Animal Planet (SingTel TV Channel 208) from 9 September. For more stories like this, subscribe to Esquire Singapore.