The concept of new beginnings is usually reserved for spring—a resurgence of nature's vivid colours after a period of reset. But with all that is happening in the world today, autumn/winter 2021 is proving to be one where the notion rings true as well. 
Shown during (mostly) virtual fashion weeks this past January, the autumn/winter 2021 collections were conceptualised after about a year of unprecedented global change. The sense of derailment of what was previously comfortable and familiar created new style codes as fashion designers crafted based on the shifts in consumers' lifestyles. 
It is a time for new beginnings. As we begin to adapt and wrest control for some form of normalcy once again, we're about to do so armed with fashion that's reflective of the new and possibly the unknown.
A new era at prada
After a debut showing of the womenswear effort between co-creative directors Miuccia Prada and Raf Simons, eyes were all on the duo's first Prada menswear collection. The former proved to be a teaser of what's to come for Prada's historic era of having two of fashion's most celebrated minds helming the creative direction of the brand—a constant dialogue of what's relevant in fashion.
The Prada autumn/winter 2021 menswear collection is a combination of Mrs Prada's signature aesthetics with that of Simons's. On the surface, it's most apparent in the way that the looks are styled together. Clashing prints (done in her signature use of geometric graphics) are the only prints in the entire collection, supplemented by Simons's extravagantly oversized outerwear, both in silhouette and in detail.
But the collection runs deeper than just a visual dialogue between the two. The overarching theme is one of tactility and the desire for freedom of the human body. Jacquard knit bodysuits (or long johns, if you prefer) act as base layers to every look as a form of second skin—hiding almost nothing of one's physicality yet protective at the same time. The same jacquards are also present as linings in bouclé coats and leather outerwear, acting as textural luxuries that only the wearer would have access to.
Clearly, Prada's autumn/winter 2021 menswear collection is an example of how possible it is to have two creative minds work in disruptive harmony, each challenging the other's thought processes, and at the end of the day produce fashion ripe for the now.
Long johns make a return
Givenchy autumn/winter 2021.
Prada autumn/winter 2021.
Fendi autumn/winter 2021.
And talking about long johns, they do seem to be making a return on the runways. Or is it perhaps a debut? Because we can't recall when was the last time we've seen full-body long johns (the kinds you may recall seeing on an old-timey prospector) sent down the runway by a luxury fashion brand. This is also a curious thing to ponder, especially since autumn/winter collections are rife with all manner of heavy outerwear and other articles of winter clothing.
Prada's jacquard iterations are the most visually punchy of the lot, with variations ranging from V-neck to proper full-coverage onesies designed with a turtleneck. At Givenchy, creative director Matthew M Williams proposes a more skin-baring version in signature black. The design is sleek and almost seamless and then cut without sleeves for a practical solution to transition from the cold outdoors to within the comforts of the indoors.
For a layered approach to the style, Fendi's autumn/winter 2021 collection serves as an option that still offers the same seamless long johns-effect but done in multiple layers. The look consists of a base layer, a cropped middle layer with long sleeves affixed with mittens, and an overall to finish things off—all crafted in the same shade of ribbed knit. At least in this variation, popping by the toilet will be a bit of an easier task.
Versace's first
For a fashion house that has been around for as long as it has, it's quite a surprise that Versace managed to avoid the trapping of the monogram. It has, over the years, incorporated the use of typography as well as founder Gianni Versace's initials back in the day but none of them really stood out. Or lasted longer than a few seasons.
Enter La Greca Signature. Fashioned after the house's, well, signature Greca motif, La Greca Signature is a three-dimensional version that looks like a never-ending maze. And instead of introducing the new monogram in just one strong and solid version, Versace has decided to showcase the breadth of its applications.
La Greca Signature can be found on almost every piece in the house's autumn/winter 2021 collection—from tailoring to casual separates, as well as the collection's range of small leather goods and accessories. In monochromatic treatments, the motif is available in an array of colours, with a selection of multicoloured versions in brighter and bolder hues.
If that's not impactful enough (and a sign that the monogram is set to be part of its visual vocabulary), La Greca Signature also takes on different scales. On certain outerwear, the motif is magnified to about three times the majority, while the same treatment is included as accents on already monogram-laden pieces.
Comfort gets a new look
There's no denying that our lifestyles have changed. No longer are we going out as much as before, and the idea of a set workplace has been replaced with work-from-home situations. Or at the very least, more flexible working arrangements that don't involve commuting to the office every single workday.
Louis Vuitton autumn/winter 2021.
Louis Vuitton autumn/winter 2021.
Zegna autumn/winter 2021.
Zegna autumn/winter 2021.
Balenciaga autumn/winter 2021.
Fashion designers have embraced this new normal with their proposals of versatile ready-to-wear, designed with comfort in mind. And nothing exemplifies plush, luxurious comfort as much as a robe does. Why? Well, a robe used to be the clothing in menswear that was used to display a man's financial status and hierarchy. Take, for instance, the many portrayals of rich men throughout pop culture—Archie Comics' Hiram Lodge, Richie Rich, the Monopoly Man, the late Hugh Hefner and more.
For autumn/winter 2021, it's set to become the de facto outerwear of the season, as a piece that connects us to home. Zegna's focus on reimagining menswear—especially tailoring—to be more reflective of our new lifestyles sees artistic director Alessandro Sartori opt for robe-like fastenings and silhouettes for the brand's coordinates. They're cut loose and wide and made in weighty fabrications.
Louis Vuitton takes the approach a bit more literally. The blurring of lines between home and office is seen on looks that simply use the robe as a device to signal that shift. Plush robes designed with oversized utility pockets (perfect compartments for cables needed for mobile devices as one moves around various areas of the house throughout the day) are worn over standard office-appropriate ensembles.
Even Balenciaga is in on the game. The brand's now-signature use of the tracksuit gets an upgrade in the form of a robe designed in the same way as its slate of oversized tracksuits. It's sportier than the previous two, but hey, options are always appreciated.
These shoes, well, they're something
Count on Matthew M Williams to challenge our perception of style and convention. In his latest outing for Givenchy, the creative director finishes off each look with curious footwear that are at once alien-like and protective.
Conceptualised as something that's akin to armour, Givenchy's autumn/winter 2021 menswear collection features slip-on shoes that are anything but sleek. They're almost seamless in construction with a whole-cut appearance save for the grips lining the outsoles. In some, they're in-built with a sockliner that's either in a contrasting colour or colour-matched to perfection.
While comparisons have ranged from the highly divisive Crocs to Alexander McQueen's Armadillo boots, we're quite taken by the shoe's interesting profile. For one, the shoes help to give the illusion of more slender legs. And as shown by the models walking the water-lined runway, definitely designed not to be precious with.
Punk position
As a movement, punk is something that's been kept alive throughout the decades by some of its well-known originators with the likes of Vivienne Westwood and Jean Paul Gaultier, as well as in pop culture. Anti-establishment sentiments will always be apparent in many facets of life as long as there are established conventions that people don't necessarily agree with or feel like they belong to.
In fashion, it's marked by a sense of disruptive construction and unconventional design. At times, there's the incorporation of make-and-mend techniques stemmed from the ethos of deconstructing something only to reconstruct it in one's vision.
Dolce&Gabbana autumn/winter 2021.
Dolce&Gabbana autumn/winter 2021.
Burberry autumn/winter 2021.
Burberry autumn/winter 2021.
Loewe autumn/winter 2021.
Loewe autumn/winter 2021.
Dolce&Gabbana takes it on with patchwork designs grounded by workwear-inspired fabrics. Denim coincides with leathers, typical men's tailoring fabrications, and all manner of wool treatments as varied mosaics on ready-to-wear. They're then styled with leather accessories and heavy-duty footwear. Burberry, on the other hand, exudes punk in a more rebellious fashion with gender-blurring elements as well as unconventional design details.
At Loewe, creative director Jonathan Anderson's constant meshing of subcultures sees him resisting elements of punk. The result is the incorporation of bondage stovepipe trousers decorated in multiple leather buckles, chaotic layers of mohair sweaters fixed to one another, and platform footwear.
Is punk dead? Not ever, if autumn/winter 2021 is any indication.
Kicking it old-school
With the yearning for venturing into the outdoors now more pronounced than ever, accessories and shoes this season are made to help in that endeavour. But perhaps, none more so than what Tod's has in store for autumn/winter 2021.
Part of the brand's mix is a rather familiar silhouette: the Wellington boot. While it's arguably Bottega Veneta that has brought the boot to the consciousness of high fashion, Tod's interpretation stays true to the more traditional welly but detailed with some riding-inspired edging.
It does seem a tad old-school—almost akin to what the British royal family might sport while out doing whatever it is they do during their free time in the outdoors—but there's no discounting their functionality, especially in such unpredictable climate conditions.
Getting technical
And if it's not already evident, protection is a definite trend for autumn/winter 2021. So much so that just one layer of protective piece is not enough to ensure one is fully prepared for what's out there.
Paul Smith autumn/winter 2021.
Hermès autumn/winter 2021.
Hermès autumn/winter 2021.
Kenzo autumn/winter 2021.
dunhill autumn/winter 2021.
Brands like dunhill, Kenzo, Paul Smith and Hermès double up on lightweight, technical layers as a way of ensuring that protection can be both buildable and peeled back. In most cases, these technical pieces consist of full-on hooded jackets worn under raincoats or padded utility jackets. But for some, like dunhill, layering takes on more playful variations—a padded and quilted gilet stylishly worn over a navy raincoat. It's an especially nifty styling technique to take note of when a layer is bulkier than the other; opt to wear a bulkier piece as the topmost layer so you don't appear like you're stuffed.
A seasonal staple reimagined
Hate it or love it, corduroy is a fabric that's a quintessential part of every autumn/winter 2021 fashion season. The use of corduroy dates back to more than 2,000 years but is more commonly known as a workwear staple since the 18th century during the Industrial Revolution. It's lauded for its warmth and those instantly recognisable grooves.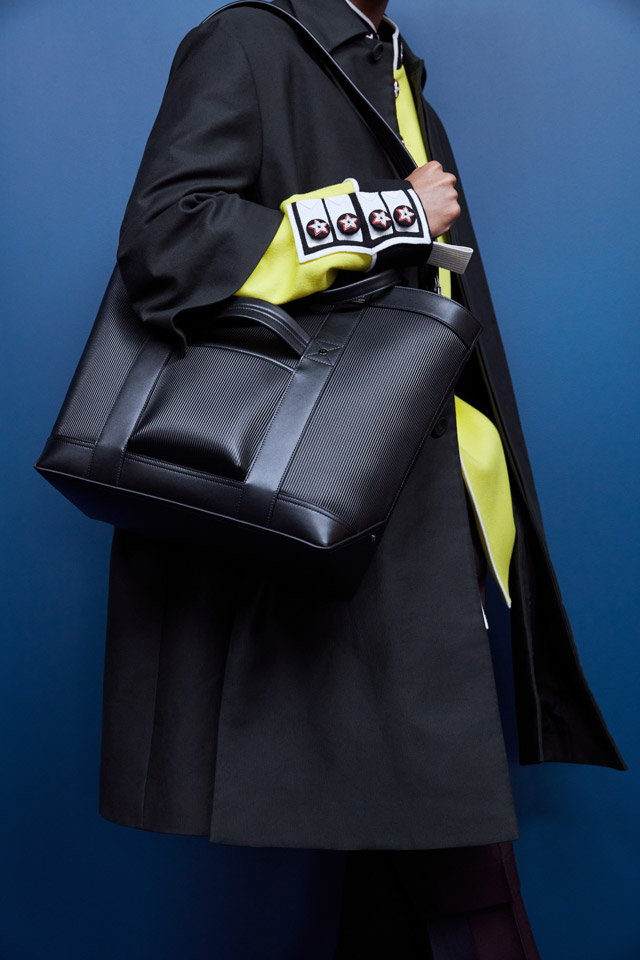 The workwear aesthetics behind the material is the inspiration behind Dior Men's latest bag for the season: the WWDIOR. Structured in construction, the WWDIOR references Japanese workwear in the way that the shapes of the line are rather rigid, underscored by the use of ribbed corduroy leather as the main material. The entire bag is swathed in just one rich tone and materiality, with contrasting stitching and brass rivets holding it together.
If wearing corduroy isn't necessarily something you'd consider for this time of the fashion calendar, perhaps a corduroy-inspired piece—available in either a roomy shopper or messenger bag—could tempt you. No time like the present for something new and different, am I right?
For more stories like this, subscribe to Esquire Singapore.