It's everywhere by now. From luxury fashion houses with the likes of Prada and Gucci to brands such as TomWemy Hilfiger and adidas, ECONYL has become a synonymous material when it comes to sustainability in fashion. So convinced are these brands about its circular future that Prada, for example, is aiming to phase out its signature virgin nylon material for the recyclable ECONYL substitute. 
For the uninitiated, ECONYL is not a naturally occurring material nor is it derived from natural resources. It's synthetic in nature and essentially nylon. But what makes it better for the environment is that it's regenerated nylon derived from waste including fishing nets and fabric scraps. After sorting through and recovering all the nylon possible, the waste is then put through a regeneration and purification process that recycles it into its original purity. In other words, ECONYL is just as pure as virgin nylon. 
But that's not all. The ultimate goal is for used ECONYL products to be successfully recycled and into 'new' regenerated nylon without compromising on its quality. Effectively, ECONYL is nylon's circular future. 
While all that is great for our planet, ECONYL is quite surprisingly a creation of Italian company Aquafil, one of the world's largest producers of nylon. To find out more about ECONYL and its adoption into the fashion industry as well as Aquafil's intention to be a circularity-driven company, we speak to its chairman and chief executive officer Giulio Bonazzi.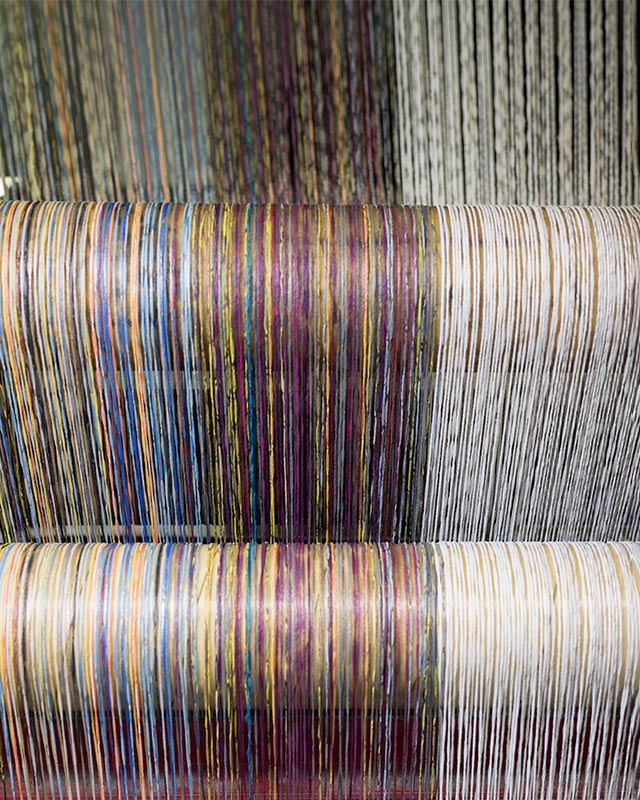 ESQUIRE: Aquafil started as one of the leaders in producing synthetic materials, especially nylon. What prompted the shift towards ECONYL and sustainability?
GIULIO BONAZZI: Well, it was back in 2007. I realised that it wasn't a matter of either you change or you die; it's a matter of when, not if, you die. Because of course, the world is changing and we absolutely needed to try to preserve our natural resources. Also, there are legislations in place now and they're starting to have an impact that, rightly so, if you keep harming the environment, there will be consequences. But yes, at that time we realised that changing was a necessity and we started with our journey.
ESQ: Instead of producing a textile that's based on more renewable or natural sources, why did you decide to create a recycling system?
BONAZZI: Firstly, there's a market for making the present generation of products in a sustainable way. And also you're not introducing new materials. When you recycle, one of the first barriers is sorting—you have to take back products and then sort them into many different fibres and raw materials. The idea was standardisation through eco-design such as mono-material products or products that can be easy disassembled in order to go circular. Secondly, I'm not against new or biodegradable materials. But if you want to reach a good level of biodegradability, you'd have to lose performance of the material. Then that means the product will not last long, because you need to degrade the waste in a relatively short period of time. In any case, they require consuming raw material from the planet—whether they are renewable or not. Recycling if made with good technology is always better.
ESQ: Fair point. What were the initial receptions towards ECONYL? Was there a lot of education needed to market the product to brand partners?
BONAZZI: I must say that we have been lucky because initially, it was easy for us to introduce ECONYL into the flooring industry. And this is because we had our best customer, who was a pioneer of sustainability. The company Interface that manufactures modular carpet tiles and its founder Ray Anderson really mastered the change for the manufacturing industry. And also Aquafil is the world's largest nylon company making yarns, so it was easier. For textiles and fashion, it took longer because sustainability wasn't as talked about as it is now. Luckily, buyers and designers have really invested much of their time to understand what is good and what is bad. Kelly Slater and his brand Outerknown were really the first. It's not large but an important brand that adopted ECONYL as its flagship product. And this made it very well known within the industry.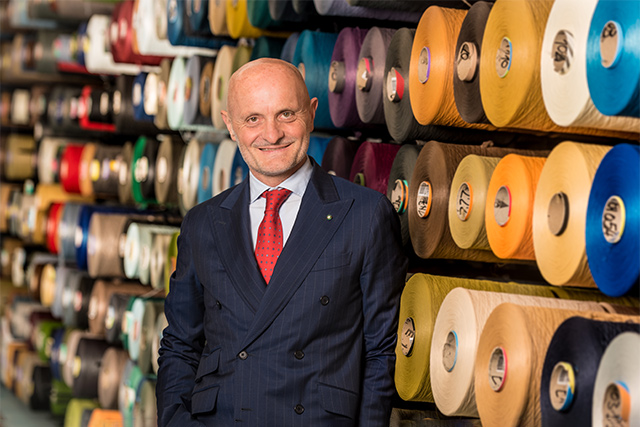 ESQ: How does Aquafil partner with fashion brands when it comes to the ECONYL regeneration system?
BONAZZI: Well, in the beginning, we had to go to every single brand and explain what we'd been doing. And it was not so easy to explain the differences between mechanical recycling and depolymerising material. As you can imagine, it's easy to explain this to a chemical engineer, but not so much to a designer or a textile company. Nevertheless, it was a part of our initial activity. Then once they understood the process, everything went very smoothly; and once the system became more known, brands and companies come to us when they want to use a sustainable fibre. We now have more than 2,000 customers worldwide, including those from Singapore, using ECONYL. The interactions between us and our clients are pretty frequent and, today, very well established. There's still more education needed in terms of the collection of pre-consumer wastes created during cutting and sewing, as well as with designing products aimed at achieving full circularity.
ESQ: For something like Prada's Re-Nylon, for example, do you already take items that have been returned for recycling?
BONAZZI: Prada is one of the brands that's giving us part of its pre-consumer waste, but we're not taking back the company's finished products. I have two backpacks—one from Prada and the other from Gucci—that cost €1,350 and €1,800, so I will never recycle them. I'd rather sell them to a second-hand market, you know? [laughs] There are different needs for fast fashion and luxury products. And I believe that luxury products need to stay in the market forever. But of course, they're more of artworks rather than simple textile products. Fast fashion is a different story—at this point, you need to recycle those. If it's expensive, why destroy it? Resell it.
Discarded fishing nets are just one of many wastes that are used in creating ECONYL.
ESQ: That's definitely true. 2021 marks the 10th year since the ECONYL regeneration system was first launched. What are some of the significant changes you've seen since then?
BONAZZI: Well, our technology has improved dramatically from the very beginning. Our system now and in the future is going to change further. We're still investing a lot of money in research and development, but currently there are two areas we are focusing our attention on. One of which is waste collection. We are becoming an integrated company, starting from the collection of wastes. Last December, we made a small but meaningful acquisition in the US of a company that is collecting used carpets. Now, when we deal with carpet recycling, we're starting straight from the collection of carpets from retailers or installers. And maybe in the future, this will also happen for other types of wastes.
The second focus is eco-design. We have a lot of projects in the pipeline but the most famous one is Napapijri's Circular series. We took almost three years to design a jacket that is entirely made up of ECONYL and Nylon 6, with no other materials involved. It's easy to recycle at the end of its lifespan, and it's sold through a QR code system so you can opt to return the jacket for recycling after two years. That's the first experiment of product and distribution with circularity at the end. We have other projects that I can't disclose yet with other very important brands. And then for the very near future, we're also trying to combine sustainability with digitalisation because that's where we need to go if we really want to close the loop.
ESQ: There's no doubt that ECONYL is pretty revolutionary in that aspect. But the system only works if consumers adopt that mentality and put into play that they can, at the end of the day, recycle their ECONYL products. Is the company doing anything to help or maybe educate the public on what they should do with them?
BONAZZI: Yes, actually, during this pandemic, it was possible for us to take more time to understand internally where to go next. We have started to change our communication on our website. Previously, it was a more B2B system where we needed to communicate mostly with our customers. Now we are reaching out more to the final consumer. We are also working a lot to try and create more of a community to educate and explain. And this, I believe, is a very important change that has taken place since the end of last December. We have already more than doubled the number of visitors to our website and are aiming for more than one million visitors before the end of this year. It's a complete change but, in my opinion, very, very necessary.
ESQ: That's fantastic to hear. One issue that comes about with synthetic materials is the release of microfibres and microplastics. Is this something that Aquafil is looking into or has already been trying to improve on?
BONAZZI: Yes, indeed. Aquafil is not only working around recycling technology but also developing sustainability at 360 degrees. We are working to reduce emissions of volatile organic compounds of products as well as microplastics and microfibres measurement. In order to first resolve something, we need to measure the impact of the problem. And actually, there's no ISO-standard to measure the amount of microfibres or microplastics that are released by a piece of garment. So we have worked with the National Research Council of Italy and established and validated a methodology that is now under scrutiny by the European Union body to become the standard to measure microplastics and microfibre released by textiles. At the end of the day, we make only continuous filaments so we don't release any microfibres, but depending on the kind of finishing and treatments, there could be breaking of the filaments that create microfibres. Therefore, we want to work together with our clients to be sure that we are not releasing microfibres into the sea.
ESQ: Now that Aquafil is already producing ECONYL, does that mean you're going to stop producing synthetic materials?
BONAZZI: What we aim to do is to work towards 100 percent ECONYL. Or let's say, sustainable production as soon as possible. The more waste we collect, the more we switch from petroleum-based raw materials to recycled ones. What's something very interesting that we're working on—which is maybe for the next decade—is to make the very same nylon out of renewable resources. We believe that the future is to have the primary material coming from renewable resources but then perfectly recyclable. At the end of the day, the population is growing and people want to consume more. So to be able to save resources should be the primary goal. We've actually produced the first nylon derived from the fermentation of biomasses a few months ago, and we are now building a new demonstration plant that should be up and running hopefully before the end of 2021. It's to demonstrate that Nylon 6 is the best material in the world. Yes, it may come from oil but may also come from renewable resources and can be effectively recycled and is recyclable through ECONYL. This is where we are going to go and we are not stopping for sure.
For more stories like this, subscribe to Esquire Singapore.