Seoul — a city characterized by contrast. Where a six-hundred year old fortress wall still runs along the borders, protecting towers and high-rises in place of the palaces which once stood. In the midst of the sprawling metropolis: a humble art studio, easily mistaken for the storeroom of a Nike outlet. A ransacked storeroom, that is. Although the walls are lined with every shoebox which the Swoosh has graced — the pink-and-black from a 2000s winter, the teal-and-white of present, of course, the timeless orange too — there's not a shoe to be found in any of them. 
For resident designer, Gyuhan Lee, it's the boxes which draw appeal, more so than their contents. His work revolves around repurposing Nike packaging into furniture pieces. "I draw inspiration from everyday life," Lee says. Through his upcycled models, he captures the same contrast between old and new that's ever-so present on a walk through the streets of Seoul.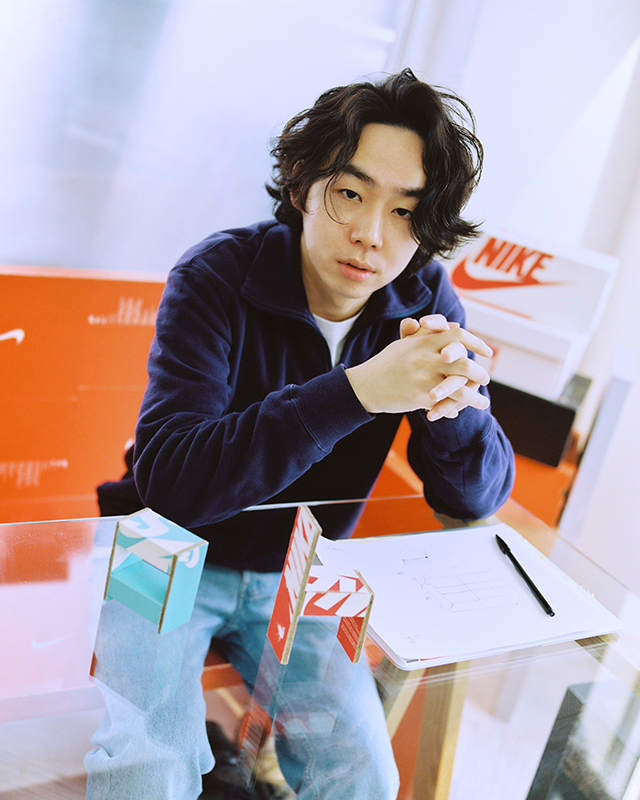 "I want my work to tell my story. I want it to represent the things I see, feel, and find interest in."
Lee started this project four years ago, as a twenty-two year old student at the Kaywon University of Art & Design. At first, it was simply an academic exercise around crafting miniatures. He thought to make them out of corrugated cardboard, however, it proved to be far too flimsy a material. In search of an alternative, Lee began experimenting with shoeboxes instead, noting that there were a number of them piling up in his room at the time. Once he had run through all of those, he obtained more from his friends. And then, he began lurking around Nike storefronts, hoping to get a hold of boxes which would normally get thrown away. The shoeboxes worked. 
At twenty-six, Lee has turned his school projects into a full-time job. His miniatures are now life-size models which can be used as actual furniture. They stay true to their origins, fashioning the Nike Swoosh not just as a logo, but as a consistent motif. A metal framework lines the inside of the cardboard exterior, strengthening the models and rendering them functional. Lee's pieces have been displayed at numerous exhibitions and galleries in Seoul, most notably as part of the 'The Pattern Is The Pattern' presentation at Gallery Document.
The Pattern Is The Pattern
Looking at any of Lee's designs, there are two distinct stories which stand apparent. 
The first is one which was intended: a story of brand and identity. Though the Nike logo looks the same today as it did fifty years ago, it's no longer just a stylized checkmark. No, it has become much more than that — a phenomenon in street fashion, one which continues to permeate even beyond. 
Today, Nikes find a home not only on basketball courts, but on red carpets, where suits which used to come paired with Oxfords now come paired with Air Force 1s. The Swoosh has outgrown its ties to any one industry or product line — it has become an ideal, deeply embedded in contemporary culture; a symbol of style which resonates with millions. Even when it's fashioned into a cardboard sofa. 
With his models, Lee emphasizes the influence of a brand in shaping perspectives and defining products. He brings to light the sense of identity which people subconsciously associate with logos and taglines. 
"Environmental consideration were a necessity not an option."
The second story arises, not by way of intention, but as a result of circumstance. A familiar circumstance of consumerism and its increasingly unsustainable ways. In the context of a world filling up with trash, a sofa made of shoeboxes stands out as a pillar of resistance. It brings to mind ideas of reuse and upcycling — so conspicuously found, that they may well appear to be the statement behind Lee's statement pieces. 
However, Lee clarifies, "Environmental considerations were a necessity not an option." He didn't go out of his way to make furniture out of shoeboxes. In fact, he created furniture out of shoeboxes so he wouldn't have to go out of his way and source conventional materials. Lee ventured down the most convenient path, and it turned out to be a sustainable one as well. 
Works by Gyuhan Lee
Works by Gyuhan Lee
Works by Gyuhan Lee
Works by Gyuhan Lee
Works by Gyuhan Lee
That's a marriage which is rarely ever heard of. More often than not, matters of sustainability come paired with undesirable changes to one's lifestyle — inconvenience. Carrying a reusable cup, for example. It sounds alright, in theory. But suddenly, each cafe visit turns into a painfully long ordeal. It now involves fumbling through an explanation while puzzled baristas give assurance that cups are provided along with the drink. 
Lee's work doesn't present sustainability as a statement. It views it as a norm. Shoeboxes serve as an ideal fit for his designs and in using them, he needn't sacrifice quality, nor his narrative. 
As his project has evolved over time — from miniatures to the real deal — so has Lee's mindset. "I've become more interested in environmental issues since I started my work," he says. He's now better attuned to his surroundings and more conscious about the multi-faceted nature of his designs. That being said, he continues to count on his judgement all the same. "I trust my intuition," Lee states, asserting that that's what led him to embark on this project in the first place. His goals for the future echo a similar sentiment. "I want my work to tell my story. I want it to represent the things I see, feel, and find interest in."