Singapore has long been known as a business hub. A global transit point. Renowned for its food. But over the past decade, a new generation of emerging talent has redefined what it is to be Singaporean, pushing the boundaries of the state's creative capital through a completely unique cultural viewpoint. Now, being Singaporean and creative are not mutually exclusive.
In partnership with innovative watchmaker Swatch, we explore, celebrate and rethink what it means to be inventive in Singapore by shining a spotlight on the artists, designers, performers and entrepreneurs bringing to the world ideas and artistry never seen before.
"Creativity to me is about creating possibilities. It is about finding the best solutions. It is about improving the quality of life in big and small ways."
— Firdaos Pidau
Firdaos Pidau
Footwear designer
"Art is essential more than ever right now. We need more art," Firdaos Pidau affirms. The footwear designer is by no means a beginner in the world of fashion, and especially in luxury footwear. A scholarship graduate of London College of Fashion's prestigious Cordwainers course, Pidau was afforded the opportunity to undergo a paid internship for a year with renowned shoe designer Charlotte Olympia, before scoring another internship with mega-brand Zara. His return to Singapore in 2018 saw him joining local footwear brand Charles & Keith, a role that sees him redirecting the brand towards more original fashion-forward designs.
"Creativity to me is about creating possibilities. It is about finding the best solutions. It is about improving the quality of life in big and small ways," he says. Having been part of a more inclusive culture where creativity and the arts are given the same standing as more professional pursuits, Pidau opines that Singapore's art scene could do better in supporting its bevy of talented individuals and "not only when it is profit-driven or parallel to some conservative and outmoded agenda".
Kathy Anne Lim
Photographer
There are only so many cliches one can sift through before they throw up their arms in resignation or think, 'Well, if no one will, I guess I'll do it.' Kathy Anne Lim opts for the latter; pushing against the grain of the tried-and-tested in a bid to bring into existence something purposeful in a feckless world. Her weapon of choice: the camera. And all about her, Lim is assailed with imagery online and through garish advertisements seen on her daily commute. With this constant bombardment of visuals, Lim has to sift through the noise and present concepts that are difficult to grapple with, have yet to be seen or are presented in a new lens.
Singapore isn't the most nurturing place for art to be appreciated or to thrive in. "Poetry is a luxury we cannot afford." Lee Kuan Yew's famous remark in the 1960s still resonates today with 2020's Sunday Times survey, where the occupation of 'artist' tops the list of the most non-essential workers during the pandemic. "What we lack [are places that] allow for experimentation supporting artists and creatives to try new materials or software," Lim says. But as the pandemic casts a pallor over the world, like so many of her creative contemporaries, Lim continues her art even though she's not pointing a camera directly at her subjects.
Perhaps it is during this time, where there is more of an appreciation for the creative industries as a whole. When you're cooped up at home, your only distractions are the arts to indulge in: you lose yourself in a good book, you binge on Netflix, you start to paint. "But that's the global output from other countries [that] still dominates," Lim avers. "However, in terms of appreciating the local creative industry, there is a disconnect and there is a possibility the appreciation for the community hasn't changed at all."
Lim has recently worked on "White Noise", a project that focuses on impermanence and displacement. Exhibited at the Singapore International Photography Festival, near the tail end of 2020, it will be shown in Hong Kong and New York later in 2021. Lim is also concentrating on a personal survey of the Southeast Asian migratory landscape. "Having two grandmothers of multicultural ethnicities—my Peranakan, Straits Chinese-Malay paternal 'Mama' and my Eurasian, Dutch maternal 'Nan'—acts as both a geographical study and inquiry into my ancestry."
Eman Raharno Jeman and Nadirah Abdul Razak
Founders, Ink and Clog Studio
A husband-and-wife duo who've spent over a decade shaping Singapore's visual art scene. In fact, Eman Raharno Jeman and Nadirah Abdul Razak's story goes all the way back to 2004 when they first met at a local graffiti competition. Today, the urban art influence continues to shine through in their projects—with murals which look equally impressive, whether they're painted along the terrace of a Hong Kong high-rise or on the hood of a Mercedes-Benz CLA.
The two have seen their work evolve as well, into experiments in graphite and acrylics. It's only fitting, being they're from a city characterised by diversity. "Singapore has pockets of different movements," they say. "From illustrations to fine arts, urban arts to installations. On top of that, it's a blend of local culture and western influence. We are a hybrid of identities."
Both are optimistic about Singapore's future of creativity, drawing a silver lining around these times of pandemic. "With society given this chance to slow down and reset through self-reflection, we hope that it leads to more individual expression. We are confident that the future will continue to change people's views towards creatives for the better."
André Wee
Experimental illustrator
Art and technology certainly can thrive and coexist. Using digital techniques, 2D illustrations can come alive in 3D. Experimental illustrator André Wee discerns this by welding his brush deftly and creates such animate works from melding the virtual and physical. The Rhode Island School of Design graduate's bold imagery paved new ways to engage his audience with embedded creative storytelling via his company, Studio André Wee.
Wee's art has caught the attention of clients such as Apple and Google and he is frequently involved with the environmental awareness efforts of MeshMinds Foundation. He recently experienced quarantine upon returning to Singapore and wasted no time in tapping his creativity. "Rejecting the lockdown baking trend, I got into retrofitting old-school GameBoys with modern-day upgrades like a rechargeable USB-C battery and an LCD screen without any prior experience in electronics or game-making," Wee says. "This got me thoroughly interested in creating 8-bit video games as art and [I] experienced the stories I wrote and created." Wee was also able to share more videos that record his work processes on social media to help give insight to not only techniques, but also the thought process and creative industry's iterative nature.
Myrne
DJ and producer
"There isn't a singular blueprint for breakthrough success. In Singapore, we don't have any idols to look up to, and we're all winging it a little bit. On top of that come laws that tend to stifle many forms of creative expression. So, the uniqueness of the Singaporean [creativity] model manifests itself in lucky individuals shattering ceilings every couple of years, each on their unique, irreproducible journeys," DJ and producer Manfred Lim aka Myrne expresses. "Creativity for me is never measured in the value of an end product, but in moments of struggle, breakthrough and resolution. To be 'creative' should be to continually question your methods of creation, and the thought processes that surround it."
Being the first Singaporean act to be included at acclaimed international dance festivals Ultra Miami and Tomorrowland, the classically trained pianist broke down walls with his musical versatility that spreads through his compositions. Despite quarantine and lockdown, Myrne worked on Wandering, a seven-track EP, after his debut album In Search of Solitude. "Ironically, most of it was inspired by free-roaming, travel, nature and spontaneity—all of which were missing last year. I'm extremely proud of it because I managed to accomplish goals that I promised myself to do when I was writing the previous album."
Keyana
Musician, model, dancer and choreographer
R&B musician Keyana shocked and delighted the audience at the annual Chingay Parade earlier this year when she performed 'Moonlight in the City' (a hit Mandarin song originally performed by Mavis Hee) live, and in the song's native tongue. Born to Ghanaian and Singaporean-Chinese parents, the singer-songwriter (as well as model, dancer and choreographer) performs confidently in English and Mandarin, with her unique mixed heritage, something Keyana embraces in her artistry.
"What makes Singaporean creatives unique is how you can see the cultural background or influence through their various forms of art and expression," she explains. Following the success of her late-2020 release, 'Scorpio', Keyana is currently working on her debut EP, slated to drop later this year. "It's going to be a collection and representation of my emotions, reflections and experiences growing up. It's a very personal project and I cannot wait to share this piece of myself with the world."
"To be 'creative' should be to continually question your methods of creation, and the thought processes that surround it."
— Myrne
Chia Ching Kai
Set designer
"No creative ecosystem is alive without its people," artist Chia Ching Kai says. It's an idea which he has become well-accustomed to over his years designing sets for local theatre productions. From Ivan Heng's Romeo and Juliet in 2012 to Glen Goei's La Cage Aux Folles in 2017, his scene-setting prowess has even seen him at the helm of art direction for the Singapore Theatre Festival.
For Chia, thinking about Singapore's creative scene brings to mind not only the creators and performers, but the audience as well. "Sometimes, as creatives, we think we are feeding the public," he explains. "But, in reality, we're also being shaped and nurtured by those whom we imagine ourselves creating for." He believes the pandemic helped shine a light on this relationship between artist and audience. "I think the circuit-breaker period made people realise how they've been taking creative works—whether it's literature, television or live music—for granted. I believe when we now have conversations about the arts, people no longer feel like it has little to do with them," Chia says.
Good Luck Chuck
Comprising DJ-producer Perk Pietrek and multi-instrumentalist Direwulf
Collaborations are common these days but Good Luck Chuck is something else. Formed by DJ-producer Perk Pietrek and multi-instrumentalist Direwulf, this elusive collective is gearing up for greatness since releasing their assertive first single 'Speak Up' featuring vocalist Elsa Mickayla. In addition, their EP Ups & Downs will follow up in May. We definitely hear 'em out loud as one voice. "To us, creativity is about being expressive in your own unique ways. It's everything and yet nothing to us at the same time, because the more you chase it, the harder it comes by."
The duo certainly has the creative spirit in them. "The [Singaporean] creative scene is all about diversity, versatility and fluidness. There are so many different identities, sounds and stories to latch on to. Choose one, or choose as many as you'd like, mash them all up and you'd get the creative spirit of Singapore. One thing for sure is that regardless of how we sound, look or feel like, we're getting our voices heard slowly but surely. The ultimate creative project for us is to constantly stay true to ourselves and trust the vision. Living a meaningful life is the ultimate creative project for us."
Irfan Kasban
Artist
One of four recipients of the 2020 Young Artist Award, Irfan Kasban is a multi-disciplinary artist with more than 100 productions under his belt. And all involved him handling different aspects. His most recent award is not his first brush with national recognition of his many artistic talents. In fact, Kasban's 2013 play Tahan (of which he was the director, playwright and set designer) was selected to be part of the Esplanade's SG50 commemorative programme The Studios: fifty, as a recognition of its mark in Singapore's English theatre scene.
"Singapore is literally at the intersection of the East and the West; the world is our oyster. With so many talents inhabiting traditional and contemporary forms, the potential for exciting interactions and collaborations is endless," Kasban expresses. His next project is just that: a collaborative effort that combines the physical environment with virtual reality. In Demon States (slated to be part of the Singapore International Festival of Arts), local band The Observatory has tasked Kasban to create four different environments with virtual landscapes by multimedia artist Brandon Tay, in response to the band's four latest tracks —an expression that Kasban says he's very excited to work with.
Hirzi Zulkiflie
Comedian
"If anything, creatives are underappreciated in this country," comedian Hirzi Zulkiflie claims. The pandemic made that all too clear when it sparked discussion about which jobs were most essential. Artists were found at the very bottom of the list in a survey conducted among Singaporeans by Milieu Insight. "Art always takes the first blow and recovers last in a situation like this," he adds. "Especially because online content is so accessible and often free, people don't think twice to understand the resources and work that go into creating it."
Although Zulkiflie has watched his peers adapt to the times and continue producing work despite the diminishing returns, he can't bring himself to do the same. He's too precious with his process to see it stripped of nuance by the notion of producing economically. "I'm incubating some ideas for the future. That's a nice way of saying that my usually packed schedule has been botched by the pandemic lah. I'm free. Y'all need a coffee boy?"
Hafiiz Karim
Digital artist
What does Mrs Richard Brinsley Sheridan, a muse of 18th-century painter Thomas Gainsborough, look like taking the MRT to Bras Basah? Or a Disney princess speeding away in a Comfort DelGro taxi? Or Elizabeth I sitting down for a pint in a tourist-heavy pub? Through digital photo manipulation, artist Hafiiz Karim seeks to breathe new life into historic and fictional figures by placing them in contemporary, local contexts, revealing a certain beauty in the everyday and the mundane.
Given Karim's practice is rooted in new media, it makes sense then that he has grown a global following for his artworks via Instagram, where he publishes under the moniker of @thenextmostfamousartist, and he is exploring more opportunities in this fast-moving digital landscape, having transformed his Visitors of Singapore series into commercially available NFTs. "My goal is to tap into other new media technologies to further question cultural and social norms and the way we navigate life in this digital era," Karim explains. "I consider it my duty as an artist to always gain a better understanding of and reflect the times we are living in through the work I create."
Yafiq and Yais Yusman
Photographers
It pays to be unconventional. Embracing the technology boom and shift towards digital-powered devices, twins Yafiq and Yais Yusman struck gold experimenting with mobile photography while its traditional counterpart is the industry standard. But thanks to ever-constant smartphone hardware upgrades and Instagram, users can now capture quality shots of important moments, anytime and anywhere. The Yusman twins went further and leverage such progressive tech to their advantage.
"We always are inspired by the location itself. That's the beauty of mobile photography. Because sometimes we have no idea what we're going to get depending on the time and weather." In a city where pragmatism reign with job security meant having a good education and not veering away from the tried-and-tested path, being a creative is challenging. "It's not something that people think is possible. Through our work, we are able to showcase to people around the world. Compared to America, Singapore is small. [But] through our followers our Instagrams, we can still do something creative. No one knows the possibility [of success] until you actually do it."
Clare Chong
Film director
Intuition and discipline—filmmaker Clare Chong describes the two pillars of creativity which she values most. The first, an idea of doing what feels right, no matter the circumstance. "More often than not, artists doubt themselves," she explains. "Especially when there's a lot on the line or if [the project's] funded by a corporation. They don't stand up for their own intuition." To the same effect, Chong appreciates when brands allow her to freely express her creativity—her recent Valentine's Day team-up with Lego, for example. "I really enjoyed the process because it was so ballsy for a brand to say, 'Hey, we trust you. Go do your thing.'" The second, a notion often overlooked when discussing creativity. "It's not something that's just there," Chong says. "People actually have to work hard to be creative. It's countless hours of reading and researching; understanding people, politics, the world—it's about taking the time and effort to be aware of everything around you. That requires a lot of discipline."
Li Wanjie
Photographer
"I think there are a few questions we should ask ourselves as artists: how do we make the most of this privilege? How do we make work that is sincere? How do we make work that serves not just ourselves, but others too?" For Singapore-based fashion and documentary photographer Li Wanjie, being able to sustain a career from a creative pursuit—something he attributes to Singapore's growing affluence, when so many are alienated from creativity by gruelling wage labour—is an opportunity he seeks to make the most out of.
Through his narrative-infused imagery, Li explores different forms of desire with a particular focus on queer communities and the violence possible in realising desire. They're themes that, as an incoming freshman at Tufts University in Massachusetts, he'd like to delve deeper into as he continues to broaden his artistic practice. "Creativity," he says, "is a kind of obsessiveness, sensitivity and the courage of your convictions."
Daniel Chew and Rebecca Ting
Founders, Beyond The Vines
"Creativity, to us, is a way of life. To live a creative life, one must first lose the fear of being wrong," husband-and-wife duo of fashion brand Beyond The Vines, Daniel Chew and Rebecca Ting say. That's exactly how they've navigated the ongoing pandemic, opening a new standalone store in the heart of Orchard Road last year while dealing with ever-changing safety guidelines by the government and during a time where many businesses—both local and international—seemed to struggle. And this month, they're slated to open a new concept store in ION Orchard.
The opening was followed by a creative reset of Beyond The Vines, one that now feels more in line with their collective beliefs in approaching design as a whole. Taking the change head on, Chew and Ting have expanded Beyond The Vines to include designs that are not only fashion in nature, thus creating a more holistic design lifestyle. "Immersive experiences are important to us for the full sensory creative experience and we hope to be able to do that with all the projects we involve ourselves in," they assert. And in the future, that may include collaborations with creatives in industries away from their own realm of expertise—"That'd be real fun!"
"I think there are a few questions we should ask ourselves as artists: how do we make the most of this privilege? How do we make work that is sincere? How do we make work that serves not just ourselves, but others too?"
— Li Wanjie
Ryan, Morgan and Lincoln Yeo
Operations director, director and creative director, Roger&Sons
Carpentry is no longer what it originally was. What used to be a function-first craft has evolved to be part of a new conversation around handmade arts and craft. In Singapore, Roger&Sons has paved the way for carpentry to be seen as more than just usable furniture. The company that's run by brothers Morgan, Lincoln and Ryan Yeo was inherited from their father's untimely passing. And the trio has successfully pivoted the business towards more modern, creative pursuits with experimentation part of its ethos.
"Creativity to us means constantly challenging tried-and-tested methods. As makers, to be able to conjure a crafty way to fabricate an object while marrying the aesthetics is creative to us," the Yeo siblings say. Sustainable design has been something that Roger&Sons has taken great steps in refining, with its initiative, The Local Tree Project—where felled trees because of urban development are turned into objects and furniture—leading the charge. "Our ultimate goal is to create furniture and objects using sustainable methods from start to finish—such that when they've reached the end of their lifespan, we're able to break them down in a way that's useful for Mother Nature."
Jeanette Adrienne Wee
Ceramicist
Through her fluency in Korean, Japanese and Chinese, in addition to English, Singaporean ceramicist Jeanette Adrienne Wee's work is infused with elements of North Asian art forms and cultures. She studied in Japan in 2010 and later undertook a formal residency under the tutelage of sensei Kato Hiroshige. Her work is defined by organic shapes and multi-textural finishes, each piece imbued with the touch of the artist's hand. "In a saturated environment of producers and makers, it can be a struggle to find something that you can transform to be your own," Wee muses. "When you do find that, when you can be proud of being different, I think I can call it creativity."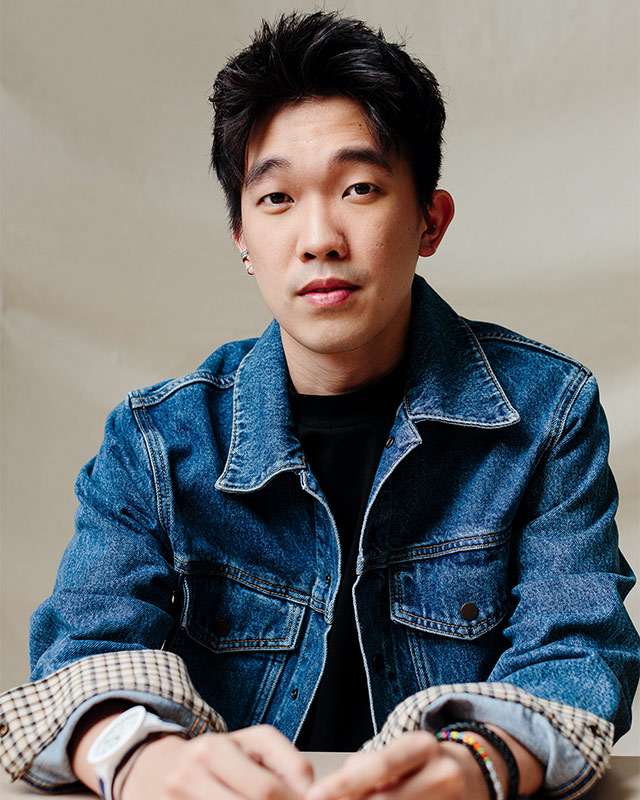 Nicholas Ong
Artist
"To be able to continually make artworks is honestly my ultimate goal—making art is not something that I can particularly resist," Singaporean artist Nicholas Ong explains. This boundless energy helps to explain that despite his young age, Ong has already had his works prominently exhibited by Sullivan+Strumpf, Yavuz Gallery and the Singapore Art Museum, and has collaborated with the likes of Facebook, M.A.C. Cosmetics and Zendyll Records.
With their exploration of the relationship between the two- and three-dimensional, Ong's abstract paintings comprise multi-sensory elements, such as neon lighting, which give them a cinematic quality that thwarts our initial perception and presents new ways of looking. That the past 12 months have been some of Ong's busiest and most successful—his solo exhibition, Absurd Theatrics, was presented as part of Singapore Art Week—confirms to the artist that the pandemic has changed the way we engage with and appreciate the arts. "I hope that the perseverance of creatives and artists to create artworks is something that presents a statement of hope, and that their artworks provide the experiences capable of adding perspectives to everyone, especially those that may feel trapped or stifled by the global pandemic," he says.
Arthur Chin and Yu Yah-Leng
Co-founders, Foreign Policy Design Group
"There's this unspoken common aspiration to lift the standards of the arts and creativity in Singapore," explain Arthur Chin and Yu Yah-Leng, the husband-and-wife duo behind one of the region's leading multi-disciplinary design firms, Foreign Policy Design Group. Having both worked abroad—Yu was trained at the Art Institute of Boston before working professionally in New York City, while Chin cut his teeth in the Big Apple before working in consultancy and brand strategy in Bangkok, Melbourne and Indiana—the pair's presence in Singapore has lent a visionary approach to projects including Park Bench Deli, The Clifford Pier, Bottura and Brand Guide: Singapore Edition, for which their remit spans print, graphic, product and interior design, plus interactive media and marketing.
A dream job, they say, would be to redesign the way finding of our city's train system, as well as the interior and experiential design of schools and hospitals. "We think everyone dreams of a Singapore that is more appreciative of design and the arts," they add.
Reza Hasni
Artist
Born in Singapore, born out of the internet—digital artist Reza Hasni's creations are often an amalgamation of the realities which he has experienced. His technicolour canvases feature a blend of Asian spiritualism and retro internet pop, brought together through patterns of sacred geometry. Each piece is marked by vibrance, with layers upon layers for the observer to unravel. Drawing a parallel to the local creative scene, Hasni says, "Singapore has a melting pot of ethnic cultures and religious traditions, and when you look at the work of local creatives, you can see some of this injected into their practice." It's a sentiment echoed by many of his contemporaries—the country is teeming with inspiration, all waiting to be interpreted and showcased. "We're catching up with international standards," he adds. "Especially since the pandemic, there have been a lot of creatives doing independent showcases of their works. The internet and NFTs have helped change the way in which people consume art."
Ng Pei-Sian
Cellist
According to cellist Ng Pei-Sian, music is a language. "It is a song, dance, storytelling, human expression, and it paints the world as we knew it, as we know it, and even how we imagine it," the Australian-born principal cellist of the Singapore Symphony Orchestra says. Through this language, Ng aims to communicate emotions and ideas with his audience through his instrument. "It takes great imagination and a broader understanding of our different cultures to interpret the musical notes we saw on the page and bring them to life." He will collaborate with that other universal language—dance—as part of this month's Singapore International Festival of Arts, during which he'll perform William Walton's 'Passacaglia for solo cello' with ballet dancer Chihiro Uchida of the Singapore Dance Theatre. "I see it as a wonderful opportunity to explore that inexorable connection between movement and music," Ng says.
Deon Phua
Co-founder, Tell Your Children, Death Threads
Three years into running creative studio Tell Your Children, visual designer Deon Phua found his ambition still yearning for more. And so, 2017 saw the birth of Death Threads—a vintage apparel pop-up which has since opened its doors for a weekend each month, attracting huge crowds of enthusiasts in their hunt for one-of-a-kind fits.
Four years on, rumour has it that Phua is working on an F&B project on the side too. Along with that, a feature-length documentary about the creative scene in Singapore through the 1990s and 2000s. He didn't mention discovering the secret to 30-hour days, but the idea doesn't seem all that far-fetched. Phua's motivation knows no bounds and each project only seems to lead him onto the next. "There isn't a specific goal," he explains. "I just want to keep creating and working on bigger and bigger projects that excite me."
Karyn Lim
Industrial designer
Choosing to pursue a creative career in Singapore isn't, according to industrial designer Karyn Lim, the easy or most traditional route. But as a result, she believes, "everyone working in the creative industry has at some point made an active decision to commit to it". And while the small size of the state has had the effect of creative talent leaving our shores—Lim herself has worked under the tutelage of European greats, including Erwan Bouroullec and Sabine Marcelis—it also means the Singaporean aesthetic, if it can be so-called that, is "a really nice mix of styles… we might get captivated by a culture that is not our own and mix this inspiration with our existing ideas for a unique blend. All of these influences show up in our work."
Lim's style might be described as minimalistic, though such a singular term is too reductive to encapsulate the effortless, organic shapes and soft tactility of the designer's luxurious objects and furniture, which she has created under the banner of her own name as well as for brands such as Marsotto, La Prairie, Samsung and Zanotta.
Daryl Qilin Yam
Writer, director, and co-founder of Sing Lit Station
"One look at the history of art here will show you that creativity has always been present in Singapore. It was always here, and has never left; it has been taught, nurtured and practised in spaces like NAFA, for instance, which has been active since 1938," Daryl Qilin Yam emphasises on the presence of creativity in Singapore. The writer, director, and co-founder of Sing Lit Station took such teachings, pursued literary craft, and birthed his first novel Kappa Quartet to critical acclaim.
Not resting on his laurels, Yam continued with a sophomore effort Lovelier, Lonelier that was shortlisted in the 2021 Epigram Books Fiction Prize and will be published later this year. But Yam's just getting started. "The aim [for me], I think, is to create a body of work that speaks for itself," he says. "It doesn't have to be voluminous, but it has to be substantial. It also has to be pure, or as pure as it can be, pure in the sense that the impetus for creation has to always come from within me, from some inner part of me, and with as much compassion as it can muster for anything that stands outside it."
Ng Yi-Sheng
Writer, researcher and LGBTQ+ activist
Emotions are never easy to pen down. But Ng Yi-Sheng has a knack of conveying them in detail with words. From the Singapore Literature Prize-winning poetry collection Last Boy to co-winning at the same awards ceremony in the English Fiction category for Lion City, the exuberant author doesn't rely on what's prescribed, what's obvious, and what's been done a million times before to fuel his creativity. "We're a multi-ethnic community that only began recently to think of ourselves as a nation, so we don't really have a sense of tradition. There's a positive side to this: we at least have good funding for contemporary work," Ng notes.
Currently, he is based at Nanyang Technological University working on a PhD project—a magical realist novel based on the precolonial history and legends of Singapore. "I'm trying to use these old stories to find a new way to imagine our collective identity. I've also been busy editing a book of vintage Singaporean horror fiction for Epigram Books—A Mosque in the Jungle: Classic Ghost Stories compilation by the late pioneering politician Othman Wok, originally written in Malay from the 1950s to the '80s. They're not just delightfully creepy; they're also a fascinating window into the world of independence-era Malaya, which was much more cosmopolitan and sophisticated than we remember."
brb.
Producer-singer-songwriting music triple threat
The meeting of kindred minds often results in a prosperous event. No stranger to local airwaves, music trio brb. was conceived through a passion project in a home studio one day while sharing their love for R&B, hip-hop and soul. Clarence Liew Oliveiro (left), Marc Lian (centre) and Auzaie Zie went forth with their common endeavours and cemented themselves as catchy hitmakers who amalgamate nostalgia tones of the '80s and '90s with contemporary sounds. Lian credits the band's creativity to "letting their imagination run wild, and not being afraid to try something new even if you know that it might not work".
The band has constantly released music throughout the circuit breaker confinement and even went ahead to deliver their debut album just before the lockdown. "We're pretty excited with our new music for 2021, experimenting with alternative sounds and being unafraid to push the boundaries in songwriting and production has been a liberating experience," Oliveiro chimes in. They've recently released 'Honeymoon' and lined up an EP release slated for June 2021. Zie also hints that "an album where every song is a collaboration is something we've been thinking of doing. Hopefully, that will come to fruition soon!"
Tiffany Loy
Textile artist
Though Tiffany Loy's practice as a textile artist spans close to a decade, having studied the art of textile weaving in Kyoto and specialised in weaving while pursuing her master's degree in textiles at the Royal College of Art, her work has found particular resonance with audiences more recently. As we increasingly yearn for a haptic experience and appreciate the art of the individual and the handmade, Loy's creations—with their material exploration of colour, structure and tension—offer the viewer and the user something incredibly unique. "Creativity leads us to an outcome that is often unexpected, not for the sake of novelty, but as a result of genuine inquiry or artistic development," Loy offers.
For more stories like this, subscribe to Esquire Singapore.
Words by

Wayne Cheong, Asri Jasman, Mitchell Oakley Smith, Ishan Singh and Derrick Tan

Photographs by

Sayher Heffernan

Styling by

Asri Jasman

Video by

Something Else Creative Studio

Grooming by

Christian M

Production by

Gabriela Edna Chan