The Covid crisis and ensuing lockdown of countries has wreaked havoc on the fashion industry, not only altering the way it does business—factory closures in manufacturing hubs, such as China and Italy, earlier in the year led to delivery delays; curfews and social distancing measures imposed almost universally across the globe through the middle of the year reduced retail's physical footprint entirely—but also in our relationship to it. Are we producing too much, too regularly, and using too many non-renewable resources? Are we buying too much and wearing things too infrequently? And does what we actually own suit our new normal?
This reckoning has led to a shift in paradigm whereby the industry has irrevocably changed more over the past six months than it had over the past decade, but they were questions that, for Jonathan Saunders, had been necessary to have long before the pandemic. "I was personally feeling the need to do things in a different way, because I got a little tired or the charm had disappeared," explains the Scottish fashion designer who, after shuttering his namesake label in 2015, also stepped down from his role as the chief creative officer of Diane von Furstenberg in December 2017.
"I was doing consultancies, six collections [per year] for men and women, and it was all-consuming," he says. "The speed at which I was doing it meant I never got to live with something I was creating to be able to develop it properly. I came to that conclusion and made that change, and I hope for so many of my close friends who are fashion designers that they're able to use this current opportunity to do things that work for them as a creative."
With his newfound freedom, Saunders used 2018 as a creative reset and found that, after a 15-year and positively critiqued career in fashion, he was being drawn to furniture. Having originally studied product design at the Glasgow School of Art (he graduated with a BA in textile design, which he further pursued with an MA in the subject at Central Saint Martins in London), the allure of products that are designed to truly last a lifetime, and which a designer can spend as long as he chooses developing and refining, was exactly what he'd been craving in fashion. This year, he unveiled his debut collection of made-to-order furniture, under the banner of Saunders Studio, at art fair Frieze Los Angeles.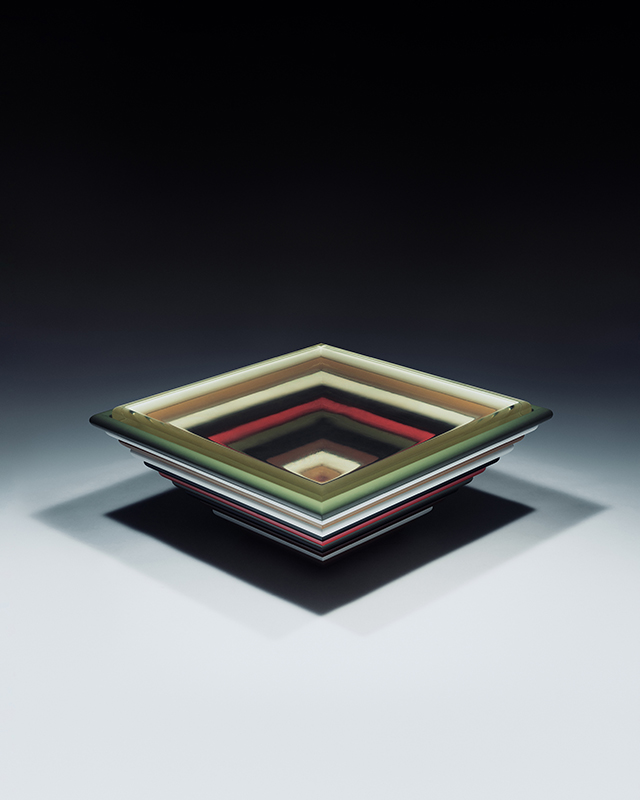 Saunders likens his venture to that of the Bauhaus, the German movement of the early 20th century, he says he was fascinated by when he was younger. "I think what was interesting is this combination of ideas and mediums all working together in unexpected ways. It's something that really inspired me as a designer."
While the Bauhaus is evident in Saunders's new approach to design business—which, for now, is made-to-order, but uses oftentimes simple or inexpensive materials, such as resin and metal—it's also there in the aesthetic, with the largely geometric forms and often clashing combinations of colour, like red with olive green, or canary yellow and beige. "I never plan it," he says. "Maybe it's because Glasgow is pretty wet and drab, it's my reaction to that? Maybe it's the result of me working as a fashion designer, imagining how someone might mix garments together from their wardrobe. I mean, it's clear that I love colour."
"I'm working at a pace that allows me to explore ideas, and that's really liberating."
He's also hands-on with his furniture in a way that hadn't been able to be in fashion, instead overseeing teams of young designers and those with specialist skillsets. "I missed that, so I've really tried to come back to the hand-processes, like screen-printing and marquetry," he explains, adding that he chose to start out with practices he was familiar with as a way of dipping his toe into an industry he'd never really actively worked in.
"I was nervous because I'd been out of product [design] for so long, so I started working with very simple materials, very traditional processes. I had this desire to work on my own more, to get my hands dirty again and not to have a two-month time limit and having to rush it, but I'm doing this for me. It's personal, so I don't necessarily feel the pressure of fitting into a formula. And I'm really enjoying it, and while there are definitely similarities it's a very different experience from working in fashion."
The greatest difference, Saunders says, is committing to your ideas. In fashion, designers have the luxury of draping fabric on a mannequin, of creating toiles to experiment with shape and style. "With furniture you just have to go for it, and mentally that's taken a lot of getting used to," he says. But that he's creating pieces bespoke for clients' homes, things that they'll have for decades to come, is the reward. "It's a very different type of consumer behaviour, one that hopefully will be embraced in fashion, too."
For now, Saunders is making no plans to grow the line into something produced and sold on a commercial scale, but he's also not ruling it out. "At the moment I'm just enjoying learning my craft, exploring it, and seeing where it takes me. I've always worked very hard, but now that I'm not responsible for a big team it feels manageable. I'm working at a pace that allows me to explore ideas, and that's really liberating."