ESQ: I am pleased to meet you. You attended the first Dior Men collection by Kim Jones last summer. How did you feel about the changed Dior?
Jung Hae In: Kim Jones's Dior collection showed the brand's unique strength and softness at the same time. In addition to clothes, all the things that I saw there, including the huge Kaws artefact covered with real flowers, impressed and amazed me beyond words. Not only did I see Kim Jones's first collection in person, I was also the first person to wear the collection after the show. It was a meaningful experience for me.
ESQ: How was your time with Dior in Paris? Seoul had a very hot summer, but I think you might have felt differently in Paris.
Jung Hae In: It was my first visit to Paris and my first time attending such a show, so I was very excited and everything was new and great. It was a short visit, but the weather was really good while I was there. I had many new experiences while taking part in the collection and photo shoot. I especially had a good experience working with nice people.
ESQ: You were a hot topic everywhere this year. I think the year 2018 meant a lot to you as an actor. How can you define that year in a single word?
Jung Hae In: 'Concentration'. I was so busy every day that year. I think concentration made those days meaningful and valuable.
ESQ: Following the airing of the TV drama Something in the Rain, you experienced a tremendous rise in attention and popularity. How did you feel?
Jung Hae In: I think the drama Something in the Rain enjoyed attention and popularity among a great number of people because they loved it. I would like to express my sincere thanks to the director, writer and actors who made it enjoyable and to those who loved and enjoyed the drama.
ESQ: Your character, Seo Joon-hee, showed unshakable love, which makes us believe it's real but is likely not to exist. After the drama ended, did you think that such love is likely to exist?
Jung Hae In: While I was playing the role of Seo Joon-hee, I thought about how I could express his love. I think 'unshakable love' is just enough. I doubted the existence of such love at first, but while expressing his feelings, I had the impression that such love is likely to exist in reality.
ESQ: It seems you achieved stardom from a single drama, but you have played many different roles in various films for quite a long time. You might have come into the spotlight quickly by playing conspicuous roles, but what made you do acting step by step as if you are trained?
Jung Hae In: I have never acted to receive attention, but I really appreciate people's love for me and my acting. Instead of talking about the reason I did acting step by step, I am just thankful that I had an opportunity to act continuously. I have acted silently and steadily until now, and I will keep it up.
Silver lurex large striped white silk poplin polo effect round collar shirt with a draped back and white Gothic CD embroidery; off-white wool twill high waist wide pants; belt in beige and blue Christian Dior cotton canvas with brass buckle palladium finish; high-top sneakers in black grained calfskin and technical fabric; all by Dior Men.
Brown wool and mohair canvas double-breasted jacket; white striped blue technical canvas blouson; all by Dior Men.
White silk transparent organza bomber with blue striped white lining; white 'Dior oblique' all-over devore technical jersey tank top with white cotton inserts; all by Dior Men.
ESQ: You played different roles in various areas, including TV series and historical and independent films, without hesitation. In an interview, you said: "I want to play more roles to know what I am afraid of and what I am poor at." Have you found out what you are afraid of and what you are uncomfortable with?
Jung Hae In: I found that there is no answer. I feel that nothing's easy every time I act. I felt afraid at every moment and experienced continuous challenges. I think this made me feel great every time I got through each film. And I believe it will continue.
ESQ: The more I pay attention to you, the more I see you as an actor who loves acting. I heard you were cast on the street by chance and it made you decide to major in acting in college. What made you decide to pursue acting as career? Or do you think it was natural for you to have come this far?
Jung Hae In: After taking the college scholastic ability test, I chose to major in acting because I was cast on the street. But I don't think it has come this far naturally. I decided to pursue acting as my lifelong career when I joined the military. The more I am into acting, the more I have professional consciousness and the more I like acting.
ESQ: Many people think Jung Hae In is an honest, modest and sincere actor. Do you mostly agree with this view?
Jung Hae In: I mostly agree with it. I am kind of serious and careful, but it might sound boring to somebody. (Smiles)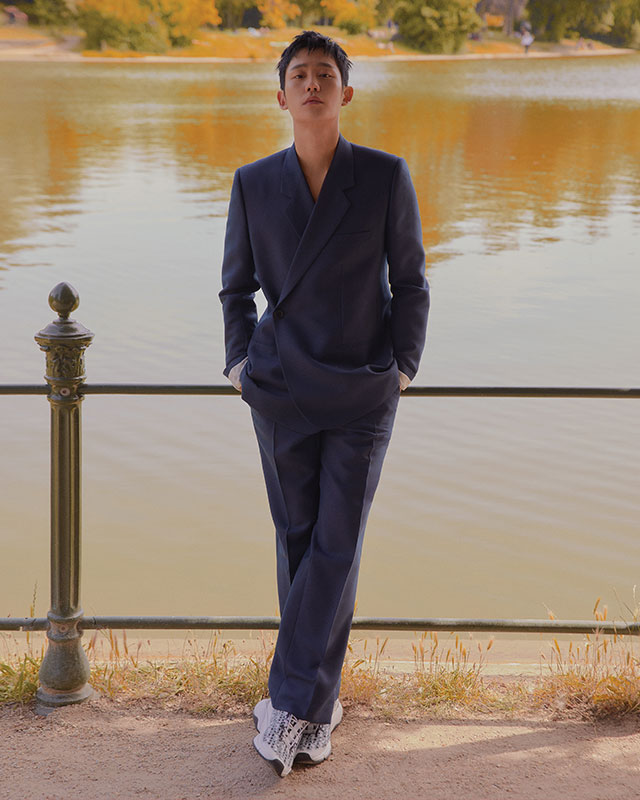 Navy blue wool and mohair canvas double-breasted 'tailleur oblique' jacket; navy blue wool and mohair canvas high waist pants; B24 sneaker in 'Dior oblique' white and black canvas printed, with 'cannage' detail, white rubber sole and Dior signature; all by Dior Men.
White and grey technical cotton 'toile de jouy' jacquard coat; beige cotton drill chinos with tulle cut-edge details at sides and cuffed hem; B24 sneaker in white calfskin and mesh with 'cannage' detail and white rubber sole; all by Dior Men.
ESQ: How can you describe Jung Hae In as a young man when he is with people he is really close to?
Jung Hae In: I am a little shy around strangers, but once I get to know a person, I crack jokes and become a mischievous boy. I laugh a lot when I am with people who make me feel comfortable. (Smiles)
ESQ: Your new movie, Yoo Yeol's Music Album, is also receiving great attention. Nothing is known about the film other than the fact that it's a love story of a couple who keep crossing paths but always at the wrong time. What kind of character do you play?
Jung Hae In: It's still hush-hush like you said, so I am also careful not to talk too much about it. This film has a lyrical mood and a unique story. I think it's the most difficult role I have had to play since I started acting.
ESQ: I heard you like singing. What kinds of songs are in your playlist these days? Is your playlist full of lyrical and calm songs in keeping with the winter season?
Jung Hae In: While I was shooting Something in the Rain, I mostly listened to its original soundtracks to concentrate more on it. But I often listen to jazz these days.
ESQ: Can you think of something that you couldn't do because you were so busy but you really want to do in 2019, such as learning something or travelling somewhere?
Jung Hae In: I like travelling, but I was too busy with drama and film to travel. I would like to relax while travelling. But I haven't decided yet where to go.
Styling by Yun Seulgi
Edited by Lee Kwanghoon
Hair by Sungchan
Makeup by Lee Soonyeol
Enjoyed the story? Subscribe to Esquire Singapore for more.