---
At a glance:
---
Lawrence Wong has a cough that sneaks in every now and then. At first, it starts as a conversational comma, a mild distraction, but as the hours tick by, it graduates into something that you can't ignore. Midway in the interview, his manager, a genial woman named Joyce, hands Wong his bag where he fishes out his medication.
I pause as he pops a pink pill into his mouth. Swallowing, Wong says: "Don't worry about me. Let's continue."
We had agreed to meet at the tail-end of June, which was when he would be back in Singapore for a fan meeting; his first. Organised by a local fan club called The Lawves—a portmanteau of his name and 'loves'—the meet will be held later at Chinatown Point.
Wong stifles a cough. This ailment was something he had been battling with for a while. "I'd notice that in the past few years, I've been falling sick quite easily," Wong says. (At this point, Joyce, who is standing to the side, nods.) "I may be ill but I have to push through.".
Wong's fanbase swelled after he appeared as Hai Lan Cha, the cordial palace guard, in Story of Yanxi Palace but there were some diehard devotees even before his China debut. "After all", Wong says, "they have stuck with me ever since I first started acting at Mediacorp. You can't take them for granted. I'm indebted to them."
There are some actors who are overnight successes and there are others who worked their way up the ranks. For Wong, he is in his own special category. He freelanced at Mediacorp, putting in the hours for cameos and bit parts. According to his filmography, one of the earliest roles was for a movie called One Last Dance in 2006. In it, Wong is credited simply as Man II.
"I was never embarrassed about the roles I took," Wong says. "I mean, when I look back at some of them, I would be, but it would be because of the acting." He got better. In 2009, his role in the telemovie, The Promise, got him a nomination for Favourite Male Character at the Star Awards in 2010. For the next seven years, Wong would nab roles in local drama series and in movies but they would be supporting roles. He had hit a ceiling.
"Back then," Wong says. "I'd wish that my roles would be… substantial. Meatier."
Did you think it was unfair that you didn't get the parts you wanted?
Wong thinks about this. "Maybe, I wasn't ready or good enough for it. Maybe it wasn't my time." If there was any resentment, Wong didn't voice it. Sure, there's the frustration of wanting to do more instead of taking on the same role, ad nauseam. But to him, that's just how the system is.
By his own admission, Wong is, at his core, lazy. But the only thing that stops him from going along with his natural instincts is his interest in acting. "I'm just passionate about acting that I want to get better at it, to excel in it."
Thus, it would be in his natural inclination to do more with it. Which is why, for him to flourish, he had to venture outside Singapore.
"I was never embarrassed about the roles I took."
The actress, Qin Lan, flew to Singapore for a campaign shoot for the Singapore Tourism Board. Along with other local actors, Wong was introduced to Qin Lan and the two got on like a house on fire. Soon after, Qin Lan asked Wong if he'd consider going over to China to work. He didn't take long to decide.
In 2016, Wong signed with Wow Star, a China-based management company run by Qin Lan, and soon won a part on Love and Passion, a remake of the 1982 TVB drama of the same name. Then, he got on Story of Yanxi Palace that also starred Qin Lan as Empress Fucha.
When Wong received his script, he felt that his character, Hai Lan Cha, could be funnier. "The whole series is about people being pitted against one another and I felt that my character could be a comic foil. Y'know, to allow the audience to breathe in the midst of the conflict." After his first day of filming, the director and screenwriter messaged him, saying that they liked the direction he took with his character and asked him to carry on.
The filming culture in China is different than what Wong was used to in Singapore. In an interview with Toggle, Wong said that when it comes to maintaining continuity, actors in Singapore have to "remember what [they] were wearing and exactly how [they] wore it, when [they] switch between scenes within the same episode". In China, most productions have sizeable budgets so they would have the manpower to deal with costumes and a script supervisor to oversee continuity.
There are challenges like the lines he had to remember given that he was acting in a period series and the dialogue was different from modern speech. And there was the weather. Eighteenth-century clothing in Beijing required many layers and filming was done in four months throughout the summer.
But Yanxi Palace proved to be a massive hit. It had up to 13 billion views in 2018 and was the most Googled series on Earth. The show also elevated Wong's profile. In 2018, he garnered Asia's Most Promising award at the Asian-American Television and Film Festival Golden Oak Award ceremony, Best Supporting Actor at the 14th Chinese American Film Festival and the Breakthrough Star Award at the StarHub Awards. Now, he finds it hard to walk around Beijing without concealing his identity.
"You can be a better actor by living life to the fullest."
When he was young, he wanted to be an architect like his uncle. "My uncles and aunties were largely uneducated but my uncle was the only one who had a degree." Wong says. "He's, like, the pride of the family."
But Wong later wavered and wanted to be a vet instead. "I love animals but I'm more of a cat person. I guess my personality is kinda cat-like. Lazy, bochup." He owns a ragamuffin named Coconut and lists several other breeds he'd like to own one day ("American Curl, Scottish Fold, Munchkin…")
"Maybe when I have a huge house, I could fill it with all the breeds that I like and one dog. So, yeah. A vet."
I pointed out that he graduated with a degree in mass communications from the Royal Melbourne Institute of Technology in Australia. "Yeah, but I only did that because I sucked at studying."
Wong's mom is a housewife and his dad is a businessman. His sister is studying in Australia and is the only member of the family who is most excited about what he does.
His extended family know what Wong does. Every time he returns to Johor Bahru for Chinese New Year, the relatives would fawn over him. This whole adulation feels odd to him. "It feels weird because they are family. But fan encounters are okay because they are part-and-parcel of the job."
If you ever meet Lawrence Wong in public and if you want to take a photo of him or with him, ask. He'll be more than happy to do so.
"I miss the freedom," Wong says. "The ease of spending time with family and friends. I was in Japan and I had to wear a surgical mask everywhere I went because the Chinese and Taiwanese tourists would recognise me. Sometimes, they would sneakily take a photo of me by pretending that they are taking a selfie but I'm in the shot.
"That's what I meant about the lack of freedom in my life."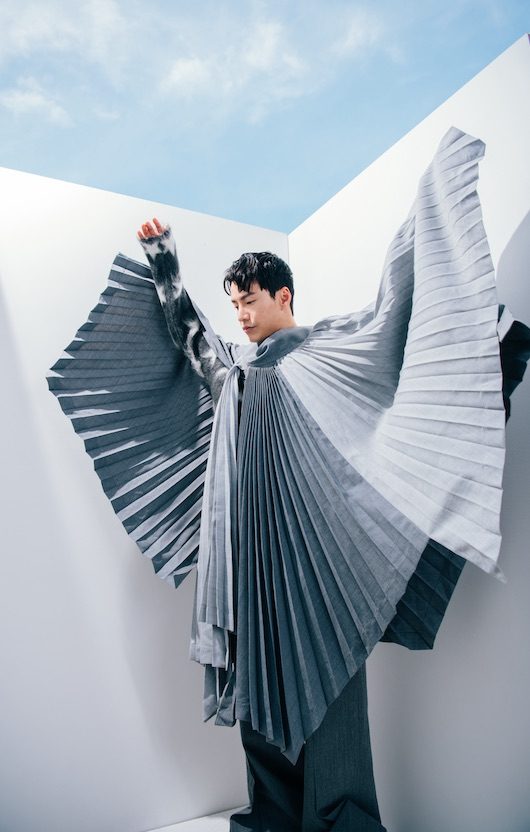 Even when he's not doing anything, Wong is still working. He sees from the sidelines, observing. It's an unconscious thing but he takes notes on what he sees in movies, from interactions. He calls it, 'adding to the bank'. "As an actor, you get better with age," Wong says. "You can be a better actor by living life to the fullest. You accumulate all these experiences that you can draw from for future projects."
Wong's life is now just a series of projects. Whenever he returns to Singapore, he tries to squeeze in time with friends and family. The rest of the time, it's just work. One of his more significant undertakings is his return to the local scene for Channel 8's My One In A Million. This will be his first lead role in a Mediacorp production and he will replace the late Aloysius Pang, who was killed in a freak accident during his reservist training in New Zealand.
Wong's comeback wasn't without its share of woe. Private messages between local actors, Ian Fang and Carrie Wong, were leaked. Other than the explicit nature of the exchange, the two attributed Wong's achievements to "connections, looks or luck". Wong hit back at them in a thinly veiled Instagram post. Carrie, who is also Wong's co-star in My One In A Million, has since apologised to him as has Fang.
While Wong did not specifically address the issue, he did touch on the genesis of his return to acting in a Mediacorp series.
"I had several offers on the slate that I was deciding on when Mediacorp asked if I could do the role. Honestly, I think they have their own reservations on casting their own people as well, because it's such a sensitive role to replace. But the role sounds interesting to me. What can I bring to the role, how can I do justice to it? What I can promise is that I'll do my best."
Will it be strange coming back to a landscape that he once struggled with? Wong doesn't see any problem with that or anything else for that matter. "The work of an actor is the same no matter where you are or what you play. Read not just your parts but everybody else's. Do your research on your role. You have to pin down the who of your character. What are his mannerisms? How does he talk? I'll even review my performance afterwards just to see what else can I tweak."
He'll still have to fly back-and-forth to China to shoot a film. It will be exhausting but Wong says: "When you have to work, you work. And when you have to rest, rest."
Lawrence Wong tells me that  there are companies trying to replicate his success story but, apparently, his was a unique case. A snowflake. Never to be repeated.
He's carried by the flow of his career. Yes, it can sometimes be draining on his psyche. He gets an average of a four-hour sleep each night. But he can't rest on his laurels. "China is a huge market so the competition is tougher."
Did he ever think he'll come this far, climb this high? Wong says he didn't have any illusions about being famous. He used to be afraid of being mediocre, but in the grand scheme of things, that doesn't matter. "I've come to realise that everything will pass. Don't be too hung up about stuff. Take it easy."
And then the interview ends. Lawrence Wong changes out of his T-shirt and jeans into a salmon suit from Sandro. He thanks us for everything we've done, the photographer and stylist for the shoot, me for the interview. His cough has almost dissipated as he and his management leave for the fan meet. Wong moves on to the next thing.
And the next,
and the next…
Photographs by Gabe Chen
Styling by Eugene Lim
For more stories like this, subscribe to Esquire Singapore.