INT. EDITING ROOM – NIGHT
It is a Sunday evening and you, Lewis Tan, are editing clips of a short film you've done.
It also happens to be the start of a new year. Normally, people would take this time to recuperate from the New Year's Eve partying over the weekend, but you are not most people.
Some context as to who you are: 34 years old, 1.88m, half-Chinese/half-English. You were born in Salford, which, at the time, had the reputation of being a rough district. Your father is Philip Tan, a stunt coordinator, and your mother is Joanne Tan née Cassidy, an ex-model.
If this was a movie, there would be a montage of you splicing footages, while some R&B tune worms its way into your ears from a portable speaker—but it isn't. Earlier you've worked the entire day, and now your eyes are tired and your posture is a little sloped from all the sitting. This short film is something that you've personally financed. Your own money.
You're telling this to a reporter halfway around the world through videoconferencing. You tell him that your family didn't come from money. The things that they have were earned through hard work.
LEWIS TAN
I understood the concept that people got
famous and they were rich but I wasn't
striving for that. It wasn't the goal.
The goal was to make enough money to live
so that you can continue to make films.
That's not to say you weren't immune to being irresponsible with your money. The temptation to just blow it all for the sake of drip niggles at you. Sometimes you give in to them, but when it comes down to it your earnings are funnelled into your passion projects. Much like the short film you're editing. You see this as a sound investment that can reap the rewards down the line.
You're Lewis Tan and you've scaled the ladder for so long that you're starting to break into the big leagues. Your CV includes Deadpool 2, Into the Badlands, Wu Assassins and Iron Fist. Lately, it as an original character in Mortal Kombat that's set to be released on 16 April.
If this was a movie, this would be the part where you, the hero of this journey, are confronted with the inciting incident; the moment that sets the story into motion. Like Dorothy being swept up from Kansas and into Oz. Or when the door to Boo's bedroom is left open in Monsters, Inc. Or in Inception, when Cobb accepted the job from Saito.
For you, what is the juncture that led you to pursue acting? What was the incident that sparked that love for the craft?
There's not one moment per se. It never is. Maybe it was finding out that your father was involved in the film industry. Maybe it was the family's move to Los Angeles during your formative years. You can see hints of your preference for the creative process. The standard syllabi in school didn't excite you but you lean towards design. You'll tinker about in Photoshop; you have an eye for visuals. What if your destiny lies in graphic or interior design? You were elated when you clinched an internship with the design department at Disney. Two years, you've driven to Burbank from school, working at the Happiest Place on Earth… only to find it wanting. It wasn't what you hoped it to be.
All the while, you were studying theatre, you were doing commercials. You auditioned for a lot of projects, most of which you weren't called back for and some that did.
You had a few roles with Nickelodeon and Disney but you were unsure if acting was your calling.
At the time, there was little to no Asian breakthrough moment in the film and TV landscape. Your father advises you to change your surname to something white, something that people won't push away when they read your bio. You reject this, of course. You know your father meant well but it's unfathomable that you'd do something like that. This erasure of your family tree.
---
EXT. CAMPUS GROUNDS
There is a turning point that cemented your decision to become an actor. On the first day of college, you received a call from a casting director who wanted you to do stunt work on Pirates of the Caribbean: At World's End.
LEWIS TAN
"We'd like you to go to the Bahamas
and it will be for a long time.
We need a decision soon."
So, either I stay in college to
study film or I can skip this
and make an actual film.
So, you left school and never looked back. You've trained your whole life for this moment: growing up around movie sets; listening to your father talk about movies; watching films with him.
If this were a movie, the scene would cut to your DNA; molecules shifting about to denote visually how ingrained film is to you. You soak it all in whenever you're on set. In fact, for Mortal Kombat, you refuse to stay in your trailer when you're not shooting. Instead, you're next to the director, noting the technicalities of the camera or the lenses used. You're watching the tapes or talking to the cinematographer. That has never changed since you did Pirates of the Caribbean, watching Gore Verbinski direct. That's how you improve as a filmmaker. That was your film school.
But there are other lessons to be learned. Realities that proved to be harsh teachers.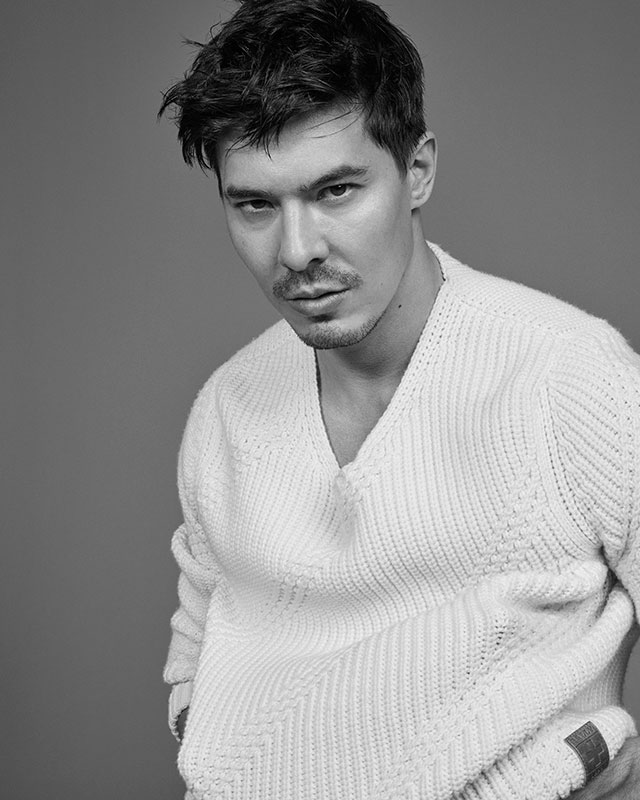 INT. APARTMENT – AFTERNOON
You can hear the commotion two blocks down from where you live.
It didn't sit right with you when the protests swelled in large numbers with regards to the killing of Black men and women at the hands of police. You can't stand idly by when your Black peers are screaming to be seen as equal and not as something less. After all, you have suffered from racism in your life. Someone offers a slight to how you look or a casual dismissal of your roots. It's a lot less than what the Black populace experience day in and out.
LEWIS TAN
It does feel personal, but mostly I felt
angry as a human being. I could hear the
protests from where I live, near Beverly Hills.
The chanting, the shouting, the marching
in the streets. I couldn't stay
inside and do nothing.
You join in the march. You support the Black community with your presence. Even in the face of the pandemic, where large groups are discouraged, the risk felt minimal compared to a racist system that has entrenched itself into everyday living. You mask up, you join in the chorus of "I can't breathe" and "Defund the police". Names of the victims are recited: Trayvon Martin, Breonna Taylor, George Floyd, Dion Jackson… the list goes on and on. The parchment spools, the ink barely dry.
As someone from mixed parentage, you have to contend with your place in the world. As an actor, casting directors have a preconceived notion of what an Asian would look. To them, you are a square peg trying to fit in a round hole; you look Asian but not quite. You look Caucasian but that's not it, either.
---
EXT. STREETS OF CHINA – AFTERNOON
If this was a film, we'll cut to you in China. There, a sea of people in the hot streets of a busy intersection and then you appear, a head taller than everybody else. Attention swivels towards you as you walk down the sidewalk.
The world doesn't know what to do with someone like that.
It took years to get the casting people to understand who you are as an actor and what you could bring to the table. It would be a dog's age before the entertainment industry evolved to a place where they can write roles that could fit you.
Such is the case with Iron Fist, a series based on a Marvel property about Danny Rand, a white martial arts expert who can call upon the powers of the 'Iron Fist'. The TV series was a chance to subvert the 'white saviour' trope by casting an actor of Asian descent.
Instead, the role went to Finn Jones who is white. Status quo maintained.
Then it was discovered that you were considered for the lead before you were cast as the villain, Zhou Cheng, instead. Your motivation as Zhou Cheng was to protect your masters from Rand. You fought against the Iron Fist using zui quan (drunken boxing in Mandarin). The cameo lasted about eight minutes.
But you make your own opportunities, you keep moving. That steel in your spine, that stubborn refusal to quit, came from your parents. They instil that in you. Your father especially, although initially communication with him was difficult because of his emotionally and physically abusive childhood. At the time you didn't expect much from him, but now that you're older and have seen the realities of this world, you understand why he is the way he is.
People will tell you that your father is one of the nicest people they have ever met. The sort that will give the clothes on his back if he could. But that wasn't always the case.
Your father—untamed and quick to anger—would get into street fights. Stare at him wrong at a traffic stop and he'll jump out of the car to confront you. But then, he had a 'come to church moment', his demeanour changed for the better.
It had even moved him to forgive your grandfather, who passed away this year. This makes for a good story. Something on the big screen even.
As you work on a story about your father, about his life: what would a film of Philip Tan look like?

Blazer and trousers, both by Burberry. Chair, by Jordan Gogos.
INT. SOUNDSTAGE – AFTERNOON
You are Philip Tan and you're still working, still paying your dues even though someone of your age and of your status should be enjoying the fruits of your labour. But while this sort of luxuries is welcomed, there is a gratification in the work. You've just finished a film with Mickey Rourke down in New Mexico. And now you're back in England, prepping for another project.
Your son, Lewis, says, with tongue firmly in cheek, that you will "happily die with a camera in hand". Lewis is also trying to make a film about your life. You asked him why that is even a thing. You are a man trying to provide for his family. What you do is simple and expected.
PHILIP TAN
Why are you making a story about me?
It is not a good story.
And Lewis tells you. After good responses to the scripts he wrote, Lewis decided to work on his own dramatic take of an action film. No one was doing it so he decided to create his own opportunity to do so. He was meditating in a sensory deprivation tank when he was struck with this vision, his own Road to Damascus moment. Your son heard a voice telling him to start writing about you.
LEWIS TAN
I didn't know why I didn't think
of it before. Maybe, subconsciously
I wasn't ready. But this revelation
was real. It had urgency.
EXT. SINGAPORE STREETS – DAY
If this was a movie, there would be a scene of you as a child standing alone in a street filled with people too busy with their lives to notice you. It will start to drizzle before the sky opens its wrath. This evokes an emotional response from the audience; the rising sadness of you being abandoned on the street by your father. The trauma of your childhood that's shared by the viewers.
If this was a movie, it'll flash-forward and present you as someone who arrived in London. You'll take up martial arts, you'll win national titles before finding the love of your life, Joanne Cassidy. You'll settle down, there is a child on the way. You saw an ad in the papers about Peter Sellers looking for an Asian man who could perform martial arts, acrobatics and dance. You are one such man.
You nailed the audition and before you know it, you're acting and fight choreographing in Sellers's film, The Fiendish Plot of Dr Fu Manchu. It would be critically panned and it would be Sellers's last film before succumbing to a heart attack. But it won't be the end of the road for you as it led to more jobs in the industry. You moved the family to Hollywood; you worked in Batman; you found Jesus; you want to give Asians more presence in the industry; you're part of the Directors Guild of America; you expressed regret over Sellers's use of yellowface but it was a different time back then. You were just happy to work and you didn't know about the racial politics.
You, Philip Tan, your history is a rich vibrant tapestry that's filled with brilliant cross- stitches and frayed ends. And that story is carried through your sons.
INT. EDITING ROOM – NIGHT
As Lewis Tan, the enormity of your father's life is a yoke and a quail's egg—both heavy and fragile at the same time. That's where the short film you're editing comes into play. It's a 20-minute action piece that you've directed as well as acted in. You wanted to see if you can do it. If anything, the process can be described as juggling—first as a director, you can address the performance, the light, the camera angle, costumes, every single thing within the frame; then as an actor, you need to be present, your only function is to live and respond as the character living and responding, as the character. You can't inhabit both roles at the same time, you always need to switch between the two.
LEWIS TAN
Then when we cut, I'm immediately bombarded
by a hundred questions: what are we going to do
after this? What lens do you want to use
for this scene? What colour should it be?
And I'm still thinking about what I just did
and how I can make the scene better.
It may have been an exhausting ordeal but strangely enough, you enjoyed the process. If the experience had taught you anything, it's that if you're able to get through a 20-minute action film, you can do a feature-length film.
For now, the current thing that occupies your plate is Mortal Kombat. Your role in it remains a secret. Mortal Kombat was in development hell for the longest time, but now it has finally finished production and has a tentative release on 16 April. Joe Taslim is in it. So is Hiroyuki Sanada. You gushed about working with them and the immense gratitude for being part of this. You've never worked harder on a film than Mortal Kombat.
And yet at the same time, you don't see it as work. Beneath the sore muscles, the fatigue, there is still that sense of play. It's a mentality that you still hold on to.
LEWIS TAN
You lose a lot of your imagination and
your creativity when you grow up.
We become tainted as adults.
You get stuck in a cycle and cinema
breaks you out of that by reminding you
of the beautiful things
like hope, freedom, love…
If this was a movie, the scene would be of you, adrift in a rolling ocean as you cling on to a lifebuoy; the gunmetal sky flashes and thunders above you. This would illustrate how creatives are the ones who cling on to the transformative powers of film.
But it's not.
This isn't the part where we end on a happy note, where peace washes over the world and there is no death nor illness. Happiness reigns and everybody is empathetic to one another's needs.
In fact, you're not Lewis Tan; he is his own person and you're an objective observer. Lewis Tan has his own role to play as Hollywood slowly becomes more receptive to more diversity in its films. Tan will gladly talk about representation in Hollywood, but he would also like to talk about his art—what he believes and says as an artist, not as an Asian artist.
Is it unfair for Tan to carry this burden? Like many other Asian actors before him—Ng Chin Han, Ming-Na Wen, Dev Patel, Bruce Lee… the list goes on and on. The parchment spools, the ink barely dry—having to lug this expectation to be a representation, is it required of him to take up that cross? He shouldn't have to but this won't be the last time a journalist will ask him, "What do you think about being Asian in Hollywood right now?"
There is a word 'sonder', where you realise that the people around you live lives as rich and complex as your own. This may be Lewis Tan's story but when you see him or someone like him, you realised that you too can be the protagonist of your own narratives.
Lewis Tan, who recently appeared as part of Esquire Neighbourhood, stars on the February 2021 cover of Esquire Singapore.
Mortal Kombat opens in Singapore on 15 April 2021.
Photographs by Pierre Toussaint
Styling by Jolyon Mason
Grooming by Joel Phillips