According to the Guinness World Records, Frenchwoman Jeanne Louise Calment remains, to this day, the oldest known person to have ever lived at 122 years old. It was said that Calment, born in 1875 (before the Eiffel Tower was even constructed), lived a relatively quiet life until her death on 4 August 1997.
That particular date just so happens to be the birthdate of one Louis Vuitton. He was born on 4 August 1821 with a life that was perhaps a stark contrast to Calment's. The Frenchman was, after all, the founder of what is now known as one of the world's most recognisable brands, calling mega-celebrities the likes of South Korean boyband BTS and tennis champion Naomi Osaka among its growing list of ambassadors.
The Louis Vuitton business has grown from its trunk-making roots to become a multifaceted luxury maison that includes everything from menswear and womenswear to objets d'art for use in interior spaces. But the legacy set by the late founder has endured the test of time, even with the trunk no longer commonly used for travelling. Trunks are still continuously referenced by the maison's artistic directors. In menswear, the late Virgil Abloh's invention of the Soft Trunk—essentially a pliable and more mobile version of a Louis Vuitton trunk in leather—exemplifies the kind of ingenuity that has helped propel the maison into contemporary consciousness.
In honour of that spirit, Louis Vuitton has been celebrating the birth of its founder for the past year, both in the traditional physical space as well as in the metaverse. The latter saw the launch of a beautifully rendered mobile game themed around travel and embedded with of-the-moment NFT elements by famed digital artist Beeple. It was by no means the maison's first entry into gaming, but signalled its innovativeness to be part of the metaverse in its own way.
Louis Vuitton's physical, real-world project for the bicentennial however, is probably its largest-scaled one yet. What initially began as a window display project has been reimagined into an immersive, touring public exhibition. That's not saying that the former was by any means a much simpler execution. Two hundred chosen visionaries—spanning different backgrounds and talents—were given free rein to interpret a blank, trunk-sized 'canvas'; a congregation of individuals that only a maison like Louis Vuitton could have brought together.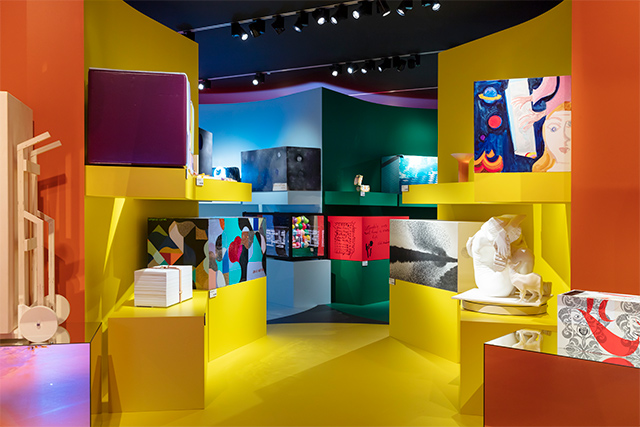 "The project unfolded as part of the celebrations around the 200th birthday of Mr Louis Vuitton," explains Faye Mcleod, Louis Vuitton's visual image director who collaborated with the visionaries on the project. "Vuitton's lasting legacy is the trunk—the flat-top, canvas trunk that he designed—and so it seemed the evident medium to work with. From there, the idea progressed to collaborate with 200 visionaries who would design their own trunk—a vast, visual tribute to creativity and to the man behind the maison. These were then displayed in our global store windows, before being regrouped for 200 Trunks, 200 Visionaries: The Exhibition."
The exhibition made its fitting debut at the Vuitton family house in Asnières, France. Since 4 April, Singapore is its first international stop, occupying the space adjacent to the Louis Vuitton Marina Bay boutique. While the façade of the temporary space may perhaps be a subtle nod to the maison—designed to mimic the Louis Vuitton Damier with alternating windows—its aerial view is branded with 'Louis 200' right across the roof. And of course, its interior is filled with all 200 trunks.
In keeping with the theme, Mcleod tells us that it took "200 hours of Zoom calls to give the initial brief to each visionary" before continuing conversations and back-and-forth exchanges. The project itself manifested after about a year.
The trunks are displayed together with the crates used to ship them.
"We wanted to work with people that amaze us and continue to amaze us. Those people were not necessarily the usual suspects, but a vast, global, democratic variety of 'visionaries' from all fields who capture the spirit of creativity of the maison and of Mr Louis Vuitton—a boy from the Jura in the east of France who travelled to Paris, dreamed big and created the unexpected," Mcleod expresses. "With this in mind, we approached 200 participants—from inventors to athletes, artists and singers—[and gave] them all some brief to think of their trunk as a vessel for one object, a dream, a future, a reflection, a desire. It was fascinating to see how this was interpreted through the creations."
Supreme and former men's artistic director Kim Jones recreated their industry-shifting collaboration for their trunk, enveloping it in the collection's key motif. Dazed magazine's fashion stylist and editor-in-chief Ibrahim Kamara decorated his with colourful bird figurines. All seven members of BTS added their own individual stamps to their trunks with personalised illustrations. And perhaps the most personal trunk is by the craftsmen of the Asnières workshop: a collage of images of them formed to recreate the image of the family house and workshop.
Trunk 180/200 by Théo Curin.
Trunk 4/200 by Supreme and Kim Jones.
Trunk 80/200 by Ibrahim Kamara.
Trunk 101/200 by Nigo.
Trunk 7/200 by Marc Jacobs and Stephen Sprouse.
Trunk 60/200 by Samuel Ross.
Trunk 9/200 by Asnières maison de famille.
But for Mcleod, it's the trunk by music curator Benji B that holds a particularly special place for her. "It was one I was very excited about from the beginning and wanted to share with Virgil Abloh, who I knew would also love it. He was a big supporter of the project and would have been in his element in Benji's room," she explains. All these and 195 more are housed in different rooms within 200 Trunks, 200 Visionaries: The Exhibition, with the aforementioned room by Benji B—an audio speakeasy featuring his jukebox trunk that's fitted with a curation of 200 tracks—closing the entire journey.
To say that the entire undertaking of producing a travelling exhibition for a monumental bicentennial celebration is a mammoth task seems like an understatement. Add to the fact that Louis Vuitton had already openly committed to being more conscious as an overall business, there's an added pressure but one that also forces the stretching of creativity and innovation.
"We are always questioning how we can do more, beginning all projects thinking of the second life of what we use and create," Mcleod says. "Eco-design is now really at the core of the visual studio. It's also a great lesson in creativity—ensuring we are working with a maximum of recycled, recyclable or repurposed materials, while constantly creating visually impactful displays. With this exhibition, part of that was using the crates that the trunks travel in as the scenography—building this warehouse-esque environment." It is perhaps something the average visitor may not immediately notice or think about, yet is a hallmark of the Louis Vuitton experience—that hardly anything is done just for the aesthetics.
It is impressive that Louis Vuitton managed to bring together 200 visionaries to be part of this project. And even more so that these selected individuals directed all of their fees to charitable organisations that focus on helping young creatives, as part of the project. In fact, the full phase of LV200 aims to help support young and talented creatives.
Trunk 146/200 by BTS.
Trunk 146/200 by BTS.
Trunk 146/200 by BTS.
While it's true that Vuitton's legacy is steeped in innovation and creativity, it's instances like this that truly capture the essence of Louis Vuitton as a maison. LV200 is more than just a self- indulgent celebration of one's legacy; it's the possibility of the future and what's next in the creative space, all while respecting the foundations that had been laid.
Mcleod says it best when asked if there's a further evolution to the project that she helped to coordinate: "All I can say is that there is no end to creativity at Louis Vuitton; it's always evolving. So, who knows what is next for this project and indeed the next 200 years?"
The 200 Trunks, 200 Visionaries: The Exhibition runs until 27 April 2022 at the Marina Bay Sands Event Plaza. Reserve your tickets online now.