When we talk about collaborations and how they've become part of luxury fashion's ecosystem, it's often the level of hype that's a consideration. Is this partnership the next thing that's bound to sell out within an hour? Or is this something that's bound to reap huge profits on the secondary market?
What's rarely talked about is how a collaboration pushes a brand's level of craftsmanship and design—that in itself has been the raison d'être for Moncler Genius. The collaborative project that started back in 2018 has been a continuous exploration of Moncler's limits as a brand that was formerly largely known as just an outerwear brand. Before designers such as Pierpaolo Piccioli of Valentino, and Craig Green added their own interpretations of Moncler's signature down fabric, it was much of the same.
And in today's ever-changing fashion landscape—where conversations shift from one brand to another—being safe and predictable rarely cuts it.
But to simply call Moncler Genius a series of collaborations, seems to trivialise the projects as mere face-value partnerships. In reality, they're much more nuanced with each designer involved stretching the limits of design and craftsmanship, coupled with fresh perspectives of what's needed today.
Jonathan Anderson for 1 Moncler JW Anderson.
Sergio Zambon and Veronica Leoni for 2 Moncler 1952.
Sandro Mandrino for 3 Moncler Grenoble.
Yukiko Ode and Hideaki Yoshihara for 4 Moncler HYKE.
Craig Green for 5 Moncler Craig Green.
Matthew Williams for 6 Moncler 1017 ALYX 9SM.
Hiroshi Fujiwara for 7 Moncler FRGMT Hiroshi Fujiwara.
Francesco Ragazzi for 8 Moncler Palm Angels.
Moncler + Gentle Monster.
Moncler + DingYun Zhang.
Moncler returned to the Milan Fashion Week calendar with MONDOGENIUS, a large-scale presentation that spanned five global cities—Shanghai, Milan, Seoul, Tokyo, and New York. Not only were they representative of the international slate of designers that's part of the latest instalment of Moncler Genius, but they also sought to unite audiences the world over in experiencing MONDOGENIUS.
The live event kicked off in Milan as host Alicia Keys interacted with her counterpart, Victoria Song, all the way in Shanghai. Throughout, both of them introduced the 11 designers and brands that make up the latest edition of Moncler Genius. Of the 11 are returning designers Sandro Mandrino (for Moncler Grenoble), Hiroshi Fujiwara, Jonathan Anderson, Sergio Zambon and Veronica Leoni (for Moncler 1952), Craig Green, and Matthew Williams of 1017 ALYX 9sM. New additions come in the form of Palm Angels's Francesco Ragazzi (a pioneer member of Moncler Genius and was last part of it in 2019), DingYun Zhang, HYKE, and Gentle Monster.
There was a lot to take in during MONDOGENIUS. Introducing 11 new collections that were presenting in 11 different ways was quite an overload. But we're breaking down each collection so you'd know what to expect from Moncler Genius's latest and greatest.
1 Moncler JW Anderson
Who: British designer Jonathan Anderson of JW Anderson with his third outing for Moncler Genius.
What: While previous collections may have focused on unmistakably JW Anderson silhouettes and motifs, this time, the emphasis is on colour for a sense of optimism as well as a visual escape. Pretty much what's needed in the world right now.
Why: JW Anderson is known for its clever juxtaposition of materials and textures. 1 Moncler JW Anderson amplifies that with padded shorts as well as an array of statement separates.
2 Moncler 1952
Who: Sergio Zambon and Veronica Leoni, designing for the men's and women's collections respectively.
What: 2 Moncler 1952 is often looked at as Moncler's more wearable line, while still remaining as technical as needed. Both the men's and women's lines are often designed separately but run along the same lines of practicality and fashion.
Why: The latest edition of 2 Moncler 1952 (both men's and women's) works on contrasts, with the men's line especially taking lead with pop infusions of bold colours.
3 Moncler Grenoble
Who: Sandro Mandrino for 3 Moncler Grenoble, who's been designing the line since its launch in 2010.
What: There's no doubt that 3 Moncler Grenoble is Moncler's most technical offering—these items are designed to work for performance against the cold. And as evident in MONDOGENIUS, the collection may look bulky, but they're crafted to be lightweight at the same time.
Why: If there's any doubt at all that Moncler is serious about its high-performance gear, 3 Moncler Grenoble remains one of the many reasons why it's achieved such success as a brand.
4 Moncler HYKE
Who: Yukiko Ode and Hideaki Yoshihara of cult Japanese womenswear brand HYKE that gained international prominence from its collaborations with adidas and The North Face.
What: There's a reason why there's such a strong following of the brand because HYKE does minimally designed, form-and-function fashion exceptionally well. And while the brand is basically womenswear, its designs are largely quite voluminous that even men have gravitated towards them.
Why: For 4 Moncler HYKE, the duo applied the same design principles for a collection that's rooted on military inspirations and set against an easy palette of navy and khaki. And in fact, the entire collection consists of the same pieces available in just the two colours—simple but so beautifully constructed.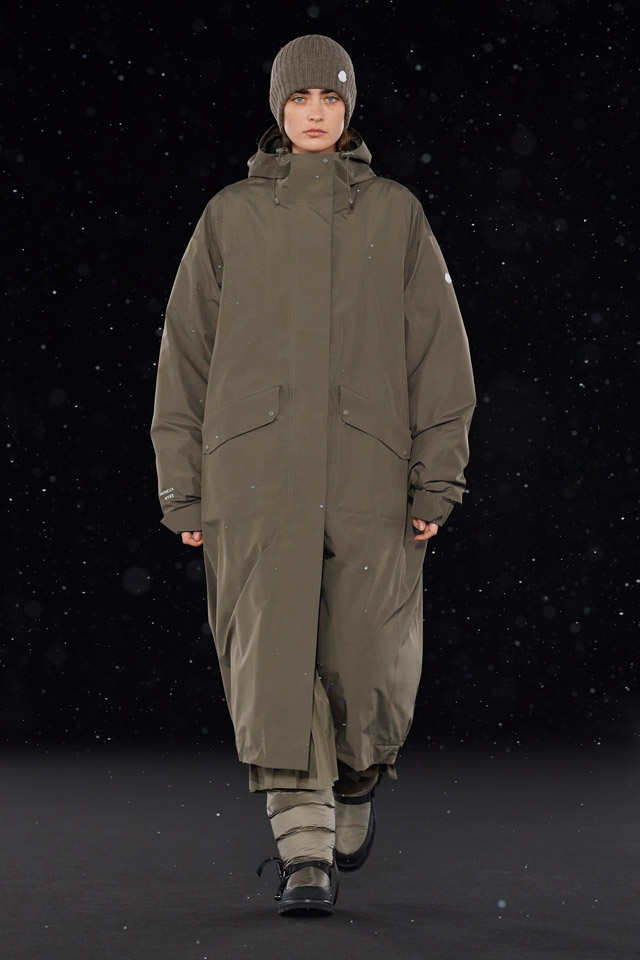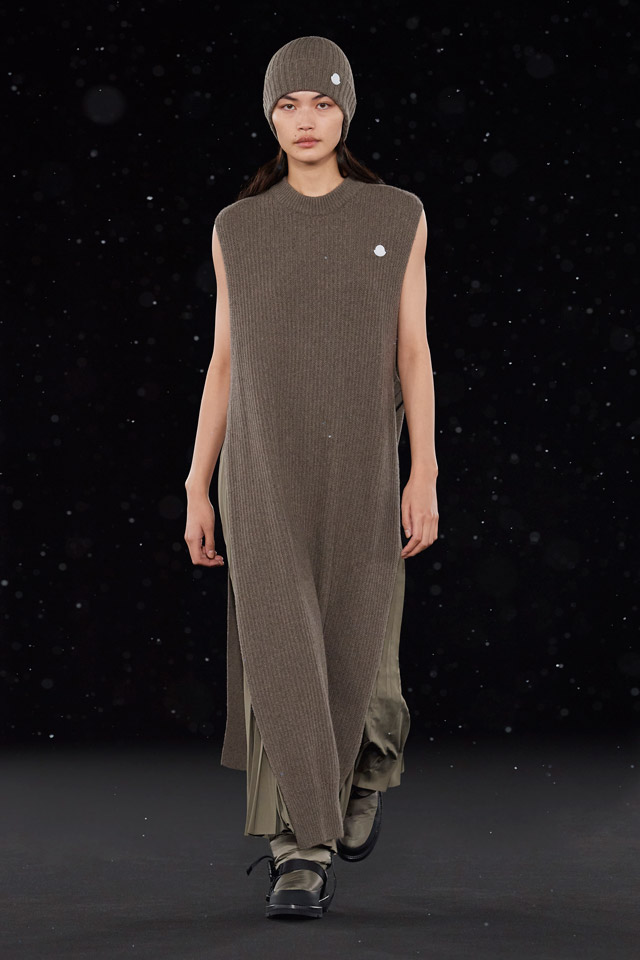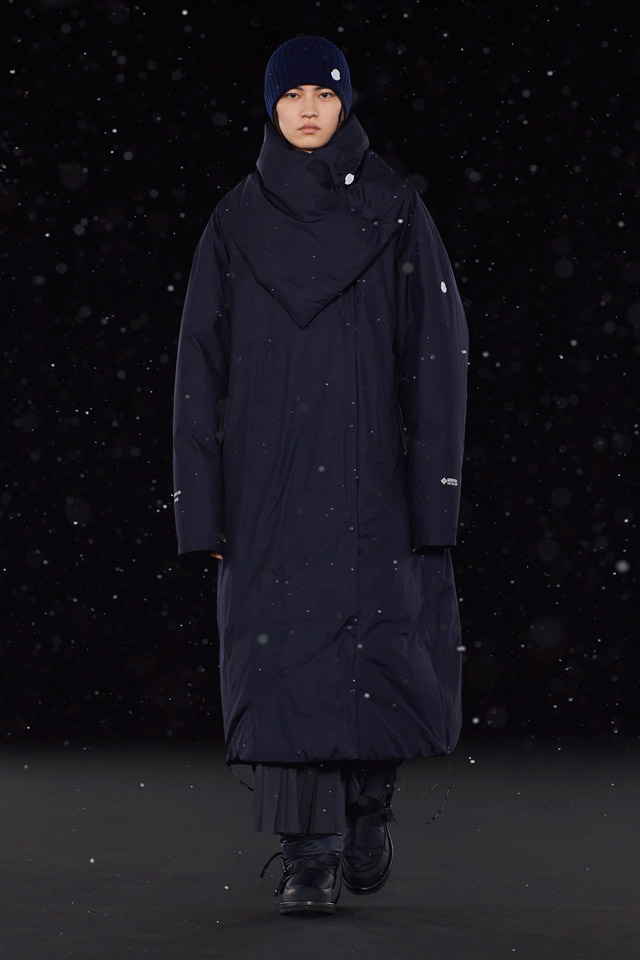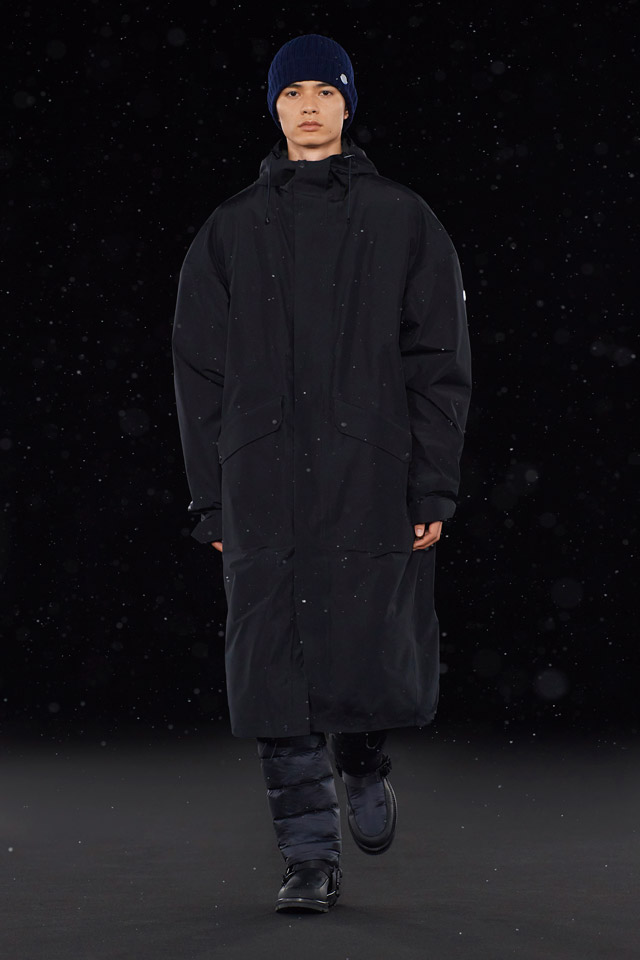 5 Moncler Craig Green
Who: Craig Green, who's been with Moncler Genius from its inception and has been a fixture ever since.
What: 5 Moncler Craig Green is conceptualised around a sense of working with the elements of nature—a power of combined effort. For the presentation, a sculptural sail-like contraption was designed as a way of visualising that idea.
Why: Craig Green has consistently pushed the qualities of Moncler's down fabric, arguably in the most technical of ways as compared to the rest of the Moncler Genius members thus far. But also, at the same time, doing them in distinctly Craig Green silhouettes.
6 Moncler 1017 ALYX 9SM
Who: Matthew Williams of luxe streetwear-inspired brand 1017 ALYX 9SM.
What: In his third outing for Moncler Genius, Williams does what he does well: create luxurious, high-gloss versions of classic favourites. For 6 Moncler 1017 ALYX 9SM, the collection is super chic and the kind of futuristic minimalism that Williams is known for.
Why: For anyone looking for fashionable technical wear with healthy doses of streetwear influences thrown in.
7 Moncler FRGMT Hiroshi Fujiwara
Who: The streetwear legend that is Hiroshi Fujiwara of FRGMNT.
What: 7 Moncler FRGMNT Hiroshi Fujiwara is by far the collection that's always cool. And usually packed with collaborations with other streetwear-stamped brands.
Why: There's little information about the collection this time around but there's no reason to not look forward to it just based on track record alone. It's Fujiwara; everything he touches instantly turns to something highly covetable.
8 Moncler Palm Angels
Who: Francesco Ragazzi of Palm Angels returning to Moncler Genius after last working with the brand in 2019.
What: Americana references, summer-esque California sunset prints, and even one for dogs, 8 Moncler Palm Angels is back with a strong offering of the best of both brand's style codes.
Why: Palm Angels is more than just mere streetwear and as the collection shows, Ragazzi knows how to revive old-timey references and refreshes them for the now.
Moncler + Gentle Monster
Who: Korean eyewear brand Gentle Monster.
What: For the first time, Moncler and Gentle Monster have come together for a series that marries futuristic applications with classic shapes. There are even riffs on high-performance eyewear shapes but reworked with different treatments and lenses.
Why: Gentle Monster always does some of the most fashion-forward eyewear in the industry. And it's evident from Moncler + Gentle Monster's highlight: a pair of sunglasses fitted with an LCD screen that changes its display with a swipe of the finger. Brilliant.
Moncler + DingYun Zhang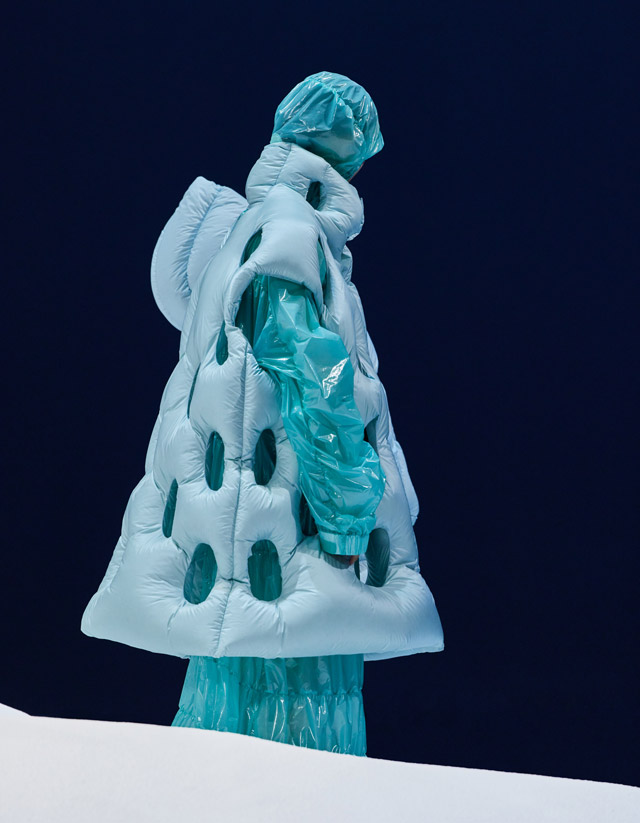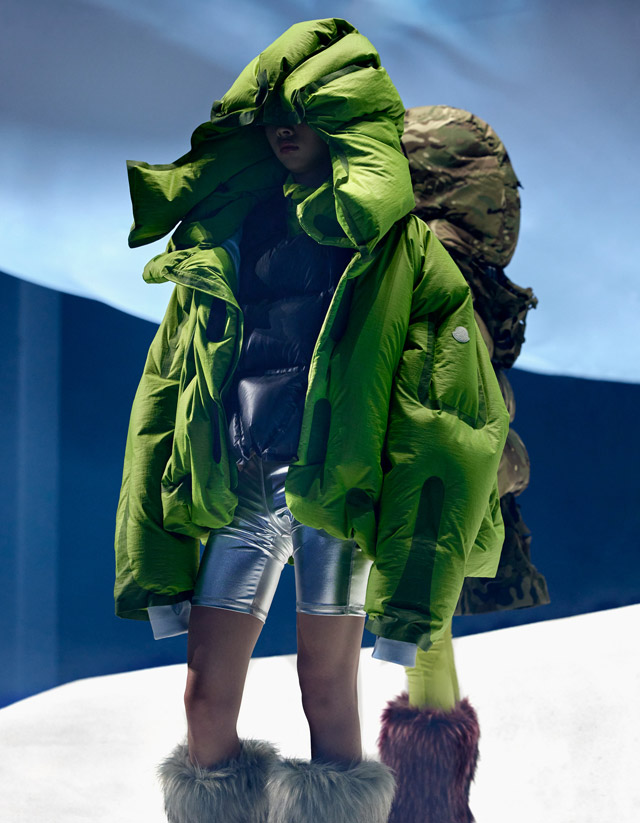 Who: Young up-and-coming Chinese designer Dingyun Zhang.
What: Already known for his oversized puffer jackets, Zhang's involvement is seemingly a match made in heaven. Moncler + DingYun Zhang is inspired by the underwater world, especially the sculptural elements and then merging them with more organic forms.
Why: There's a reason why there's excitement with Zhang as a designer. He's ideas and concepts about streetwear and fashion in general are fresh. And he's even caught the attention of Kanye West, designing some of the multi-hyphenate's Yeezy footwear.